If you are torn between buying a home in 2023 or to continue renting before getting onto the property ladder, then this article is for you.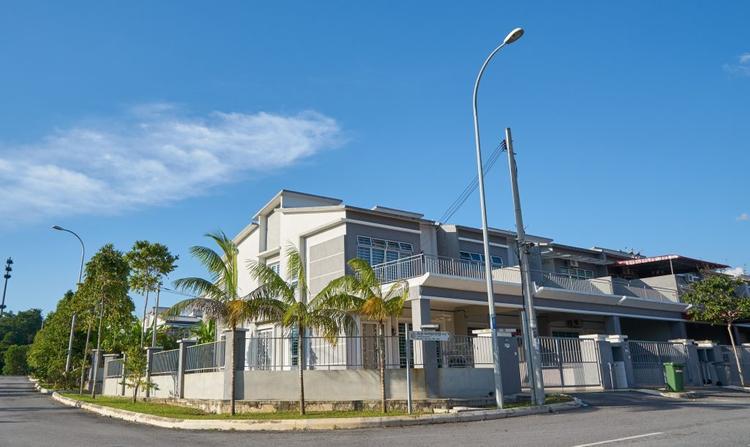 You have heard this a million times before – buying your own house or residential property is one of your biggest life milestones. The idea of investing a huge sum into such an asset seems daunting and it is something that needs to be given a lot of thought. Even as economies around the world are pretty much back to business as usual after the COVID-19 pandemic, economists are predicting a slowdown in the global economy in 2023.
Not to mention the costs involved when buying a house is not for the faint-hearted – on top of your mortgage payments, you have stamp duty, legal fees, valuation fees, mortgage insurance (MRTA) and real estate agent fees to think about!
But then again, just like most Malaysian millennials out there, you are probably tired of having a sizeable chunk of your salary go towards monthly rental payments. And wouldn't it be nice to own the roof over your head, which could give you good capital appreciation down the road?
However, the answer to the buy or rent debate isn't so cut and dried. It ultimately depends on an individual's circumstances and future plans. Here we answer 7 questions you might have and by the end of this guide, you should have a clearer picture of which route to take.
What are the median prices of homes across Malaysia?
Your buying decision obviously depends on the price of the property and whether you have enough money to buy a home in your preferred location. Before we dive into the critical aspects of home ownership, let's take a look at the latest median prices for residential properties across Malaysia.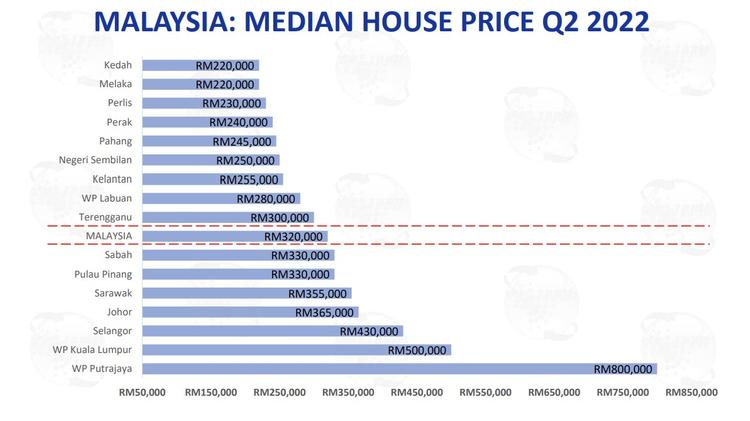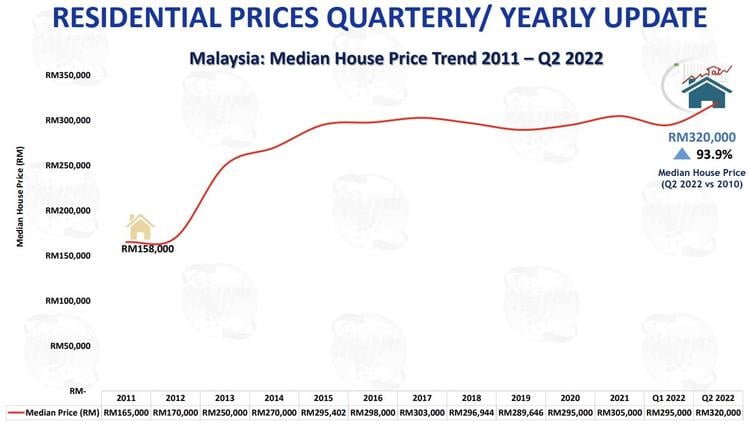 According to the National Property Information Centre (NAPIC), the 2022 median price of a house in Malaysia was RM320,000 – an increase from the RM305,000 median price in 2021, though it did drop to RM295,000 in Q1. However, this price varies between states, with Putrajaya, Kuala Lumpur and Selangor topping the list as the most expensive location to own a home. Kedah and Melaka have the lowest median house prices at RM220,000, half that of Kuala Lumpur.
Bear in mind that median prices depend on actual transactions and are not based on advertised selling prices. Transactions here refer to the transfer of both primary and sub-sale homes within the review period at all stages of construction – completed, under construction and planned.
Why did median housing prices increase in 2022?
Malaysia's median housing prices in Q2 2022 have seen an increase since the 2019 low of RM289,646. What is median house price? It is the middle point of housing prices from the lowest to the highest. The higher median price does not necessarily reflect higher home prices in general.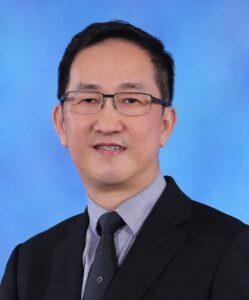 According to Eric Lim, Founder and Group Managing Director of Hartamas Real Estate Group and past president of the Malaysian Institute of Estate Agents, the higher median price could be caused by an increase in transactions in the high-end segment.
"When the inflation rate and cost of living go up, those in the B40 and the lower-end of M40 group tend to prioritize basic needs, thus affecting the demand of the affordable housing segment," he said.
But why did actual property prices drop in 2022?
In fact, while the median house price has increased, NAPIC 2022 report shows that the Malaysia House Price Index (MHPI) has dropped to 203.5 in Q3 2022 from a high of 207.8 in Q2 2022.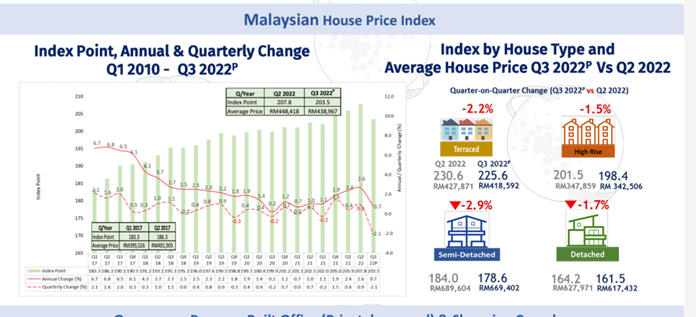 Historical data has shown that regardless of economic slowdowns, political turbulence and changes in government policies, the country's housing market is quite resistant to drastic price drops. Often, fast market recovery is observed after a crisis due to favourable lending policies, optimism over future capital appreciation from property investment, as well as the drumming-up of market sentiment from developers via special rebates and discounts.
According to Lim, the drop in the house price index could be caused by an increase in launches and supply in the affordable segment. Due to the scarcity of land, more developers are looking at building more affordable options outside of Klang Valley area.
"I don't think that we'll see Malaysia housing prices drop in the coming years. Inflation rates are going up, and so is the cost of building materials. When the prices of new launches increase, it will also affect the prices of the sub-sale market," said Lim.
While Malaysia did experience a period of political uncertainty in 2021 with the change of Prime Ministers and speculation of elections, Lim said that Malaysian homebuyers are less affected by the political climate. However, it would affect the sentiments of foreign buyers to some degree.
It is interesting to note that there was a 34.5% increase in property purchasing activity in 1H2022 with 188,002 transactions worth RM84.4 billion compared to the same period in 2021 across all sectors (residential, commercial, industrial and agriculture). Residential properties below RM300,000 saw the biggest increase of 34.7%, from 85,280 transactions in 1H 2021 to 114,902 in H1 2022.
There will be some challenges in the property market in 2023 as higher inflation will mean less spending power for many Malaysians. The good news is that contrary to expectations, Bank Negara Malaysia did not raise interest rates in January 2023. Some people could be looking at opportunities to buy property while the prices are low and interest rates remain unchanged.
"I expect the property market to be moderately bullish in 2023, especially in the high-end segment. Higher interest rates and cost of living have a higher impact on the affordable segment. We could also be seeing fewer new launches as developers are doing a "balancing act" between higher selling prices due to higher building materials and general market sentiment, partly owing to the uncertainty of the US and Europe economies.
"On a brighter note, we are more hopeful of the economy in this region with the re-opening of the China borders and its economy. As we forsee the property prices to increase, now is a good time to buy if you have the financial means to do so," he said.
Is buying cheaper than renting a house?
To provide a rough illustration of the cost comparison between buying and renting, we will be using a Buy vs Rent calculator.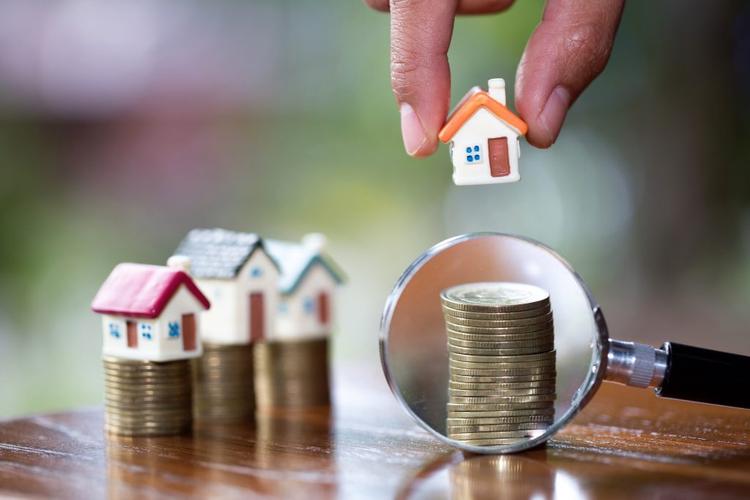 Let's say you have decided to buy an RM560,000 condominium unit in Casa Tropicana, Selangor. To commit, you will have to pay:
A 10% down payment upfront
A 4% closing cost (legal fees, stamp duty and valuation fees)
A 3% home insurance cost
Monthly instalments of roughly RM2,500. This is calculated based on the following terms: a 30-year loan tenure at 4.25% interest and a 10% down payment. *Note: The interest rates of current mortgage products vary between 4.0-4.5%, hence we will be taking the average which is 4.25%.
A RM250/month for maintenance costs
Meanwhile, if you rent the same unit, it will cost you RM2,100 per month. To commit, you will have to fork out: A deposit of RM5,750 (equivalent to 2.5 monthly rent)
This Buy Vs Rent Calculator assumes the following:
Property prices appreciate at 2% YoY.
Rental prices for similar properties appreciate at 2% YoY.
A 4.0% investment rate (the percentage of annual earnings from any money you save from purchasing by investing them in FD, stocks, bonds, etc)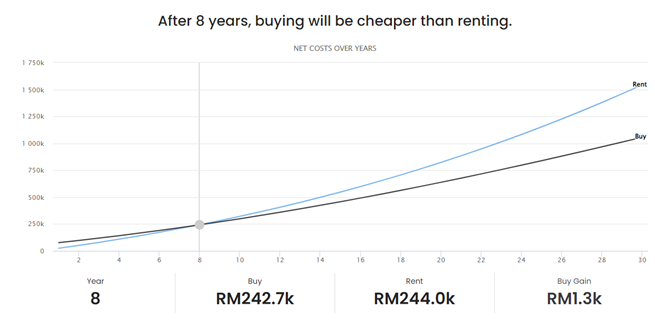 After 8 years, your total cost of homeownership (down payment, housing loan, property taxes, etc.) for an RM565,000 home in Malaysia would be RM904,654. Renting leaves you with RM654,905 in your pocket (including money not spent on a down payment).
Property Gain: After 8 years, if you buy, your home will have RM233,423 in equity (available to you when you sell). However, if you instead rent and invest your downpayment and the other money saved, at a 4% return rate it will earn around RM30,974 in 8 years.
Looking at your gross costs, equity and investment potential, it will be better for you to buy than rent if you plan to live in your home for more than 8 years. Thus, we recommend that you only purchase a home that you are certain will suit you and your family's needs for the longer term. Purchasers who plan to upgrade in 5 years or less have to keep RPGT in mind as well.
Do note that this is just one example. Property selling and rental prices could differ greatly by housing types, property age and across different locations. You should play around with the Buy vs Rent calculator to gauge if it makes sense to purchase your own piece of real estate now.
Discover properties for rent 
How to determine if you can afford to buy a house or not?
The best way to gauge your readiness to purchase is to calculate your Debt Service Ratio (DSR), the ratio of a person's total debt to their monthly income. It determines whether you will be able to secure a mortgage in the first place.
Debt-to-service ratio Formula = Debt/Net Income X 100
A good DSR proves to the banks that you can afford to pay the monthly instalments throughout the loan tenure. Generally, banks will not accept a DSR which exceeds 70%.
Do take note that banks will refer to your Central Credit Reference Information System (CCRIS) report too when reviewing your home loan application. Your CCRIS, which is available online displays all of your total credits, interest charges and other outstanding charges for all loans that you have taken out with any banks in Malaysia – these include personal loans, credit card loans and hire purchase loans.
Delay in repaying any of your debt obligations will show up in your report, where it is labelled as "1". Lending guidelines differ across banks, but most will require mainly zeroes as it shows that you are a good paymaster.
Do you have enough cash for the closing costs?
Buying a house requires making a number of payments at different phases. First, you have to fork out 10% of your purchase price as a deposit to lock in the property. Then, you have to pay the monthly loan instalments for the next 30 or 35 years.
Apart from that, there are also a number of fees you need to cover known as the closing costs. These amount to 3-5% of your real estate value and comprise expenses such as legal fees, agent fees, MRTA, valuation fees and stamp duties. Check out the 2023 Stamp duty, legal fees and 5 other costs when buying a house in Malaysia.
Besides that, first-time home buyers who are keen on capital growth will have to keep property tax in mind. If they sell their property within the first five years, the profit is subject to the Real Property Gains Tax (RPGT). The good news is, the Malaysian government had earlier announced that starting 1 January 2022, all Malaysian citizens and permanent residents will be exempted from RPGT when they sell their property after the fifth year.
If you determine that your DSR is within a healthy range and you have enough savings for a 10% down payment and the closing costs, you can then proceed to the next step.  However, if you are already struggling with your financial obligations, it is best to put your home ownership dreams on hold and continue renting. In the meantime, you can work on improving your finances first using the 50-20-30 rule, a simple budgeting guide that is suitable for all income brackets.
READ: Quit Rent (Cukai Tanah), Parcel Rent & Assessment Rates in Malaysia
What are the current housing market initiatives for homebuyers?
As mentioned above, aspiring home buyers could leverage on several government measures to secure their own property at a discounted price:
1. Housing Credit Guarantee Scheme (HCGC, or Skim Jaminan Kredit Perumahan)
HCGC was introduced to help those without proof of a fixed monthly income get housing financing. The applicant's average monthly income must be at least RM1,000. Under Budget 2022, the government allocated a total of RM2 billion for this scheme which will be expanded to freelancers and gig workers. Currently, the scheme is only open to those with irregular income such as small business owners, farmers, taxi drivers, fishermen, and others.
READ: How to apply for the Housing Credit Guarantee Scheme and what are the eligibility requirements
2. Keluarga Malaysia Home Ownership Initiative (i-MILIKI)
In July 2022, the Malaysian government announced a 100% stamp duty exemption for first-time home buyers of properties priced RM500,000 and below for sales and purchase agreements between 1 June 2022 and December 2023. Properties between RM500,000 to RM1mil will get a stamp duty exemption incentive of 50%. It was also announced during the first tabling of Budget 2023 that the stamp duty exemption for houses worth between RM500,000 and RM1mil will be increased from 50% to 75% but this has yet to be gazetted by Parliament due to the change in government in Q4 2022.
3. Recent Real Property Gains Tax exemption could mean more subsale property opportunities
The exemption of RPGT after the fifth year would encourage the listing of more sub-sale homes in the market – property owners who were previously holding off selling their property will be more willing to settle for lower selling prices as they would enjoy significant savings from the RPGT exemption. If you have been eyeing a sub-sale home, now is the perfect time to revisit the plan as you will be able to negotiate a better deal with the owner!
4. Residensi Wilayah (RUMAWIP)
The RUMAWIP scheme is specially designed for first-time buyers who fall under the low-to-middle-income groups. This program offers a variety of properties in the Federal Territories of Kuala Lumpur, Putrajaya and Labuan at affordable prices.
5. Skim Rumah Pertamaku (SRP)
Skim Rumah Pertamaku or My First Home Scheme was introduced to help eligible first-time buyers secure loan financing of up to 110% of the price of a property if their monthly household income is less than RM5,000 and the property is priced below RM300,000.
ALSO READ: 15 Government Housing Schemes Available For B40 And M40 Groups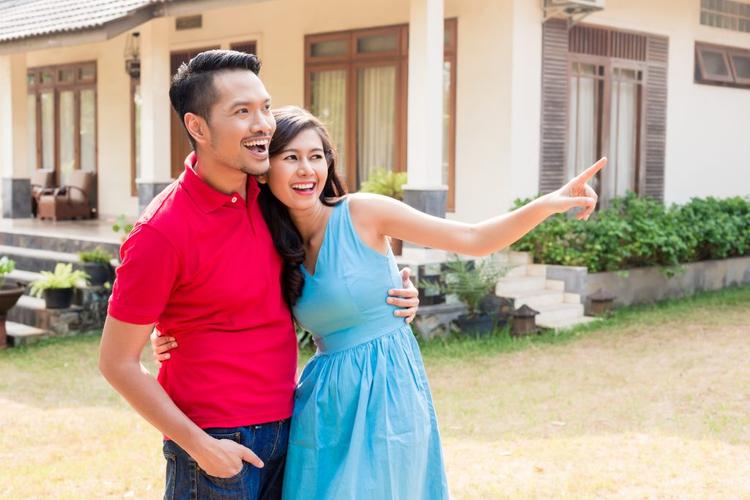 What are your next steps?
Buying a home involves a lot of research and personal assessments from your end, but this step-by-step guide could help you navigate the process smoothly from the get-go. Also, make sure to utilise our home loan eligibility tool, LoanCare to find out if you will be able to secure a mortgage from up to 17 banks across Malaysia for the property you have been eyeing.
It won't hurt to talk to a trusted real estate agent to help you think through the decision of purchasing a home now instead of later. Should you think renting is a better option for you then check out 10 things you should know before you rent a house in Malaysia.
Disclaimer: The information is provided for general information only. iProperty.com Malaysia Sdn Bhd makes no representations or warranties in relation to the information, including but not limited to any representation or warranty as to the fitness for any particular purpose of the information to the fullest extent permitted by law. While every effort has been made to ensure that the information provided in this article is accurate, reliable, and complete as of the time of writing, the information provided in this article should not be relied upon to make any financial, investment, real estate or legal decisions. Additionally, the information should not substitute advice from a trained professional who can take into account your personal facts and circumstances, and we accept no liability if you use the information to form decisions.