We take a look at the 2020 Property Market Report highlights including residential and service apartment sales performance, overhang figures and the latest Malaysia House Price Index.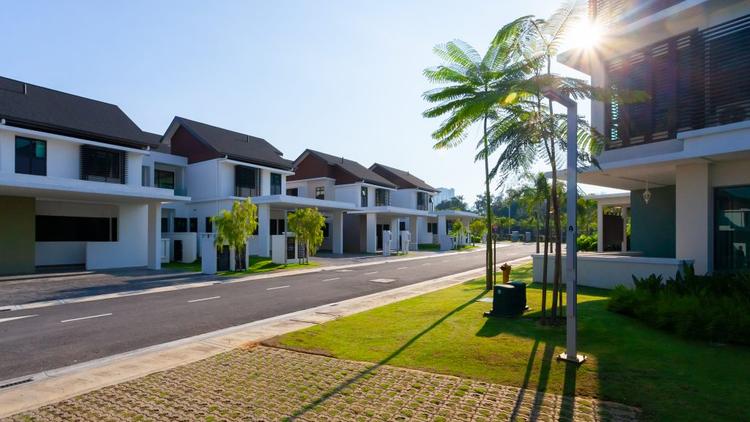 iProperty.com.my is now on Telegram! Subscribe for the latest property insights and updates.
According to the Valuation & Property Services Department of Malaysia or JPPH, the property market recorded 295,968 transactions worth RM119.08 billion, down by 9.9% in volume and 15.8% in value compared to 2019. We share other key takeaways from the 2020 Property Market Report below:
1. Selangor is the country's biggest contributor for residential property sales
The residential sub-sector led the overall property market activity, with a 64.7% contribution in volume. There were 191,350 residential property transactions worth RM65.87 billion, an 8.6% decline in volume and -9.0% in value compared with 2019.

Selangor contributed the highest residential property volume and value to the national market share at 23.0% (44,032 transactions) and 33.0% (RM37.79 billion), respectively.
2. Sales performance for new property launch was at a modest 28%
As most developers had deferred new property launches to focus on selling remaining unsold inventories, the primary market saw fewer release of new launches. There were 47,178 units launched in 2020, against nearly 60,000 units in 2019. Sales performance was modest at 28.7% in 2020, 11.7% lower than 2019 at 40.4%.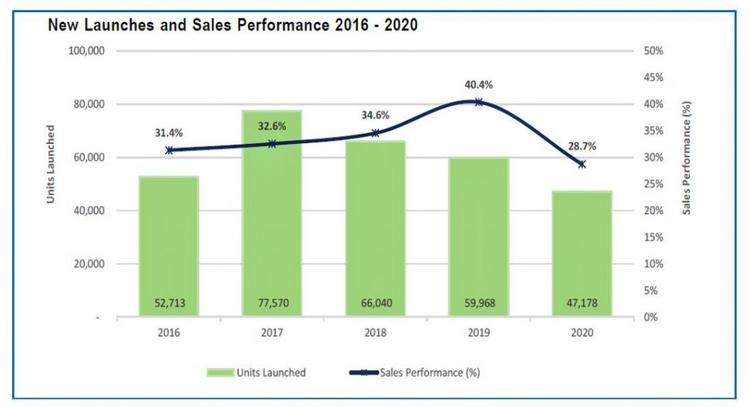 The low sales performance was partly due to the sluggish property market and cautious buyers' sentiment. Nevertheless, many developers had adopted new marketing strategies such as online deals, virtual property listings and mobile apps to market their new property launch across Malaysia.
Discover great property deals here and enjoy savings on your dream home with HOC projects, rebates, free MOT, SPA and more!
3. Overhang and unsold property situation improved in 2020
The residential overhang situation was better than expected with 29,565 overhang units worth RM18.92 billion recorded in Q4 2020, reduced by 3.6% in volume. However, the value increased by 0.5% against Q4 2019 (30,664 units worth RM18.82 billion).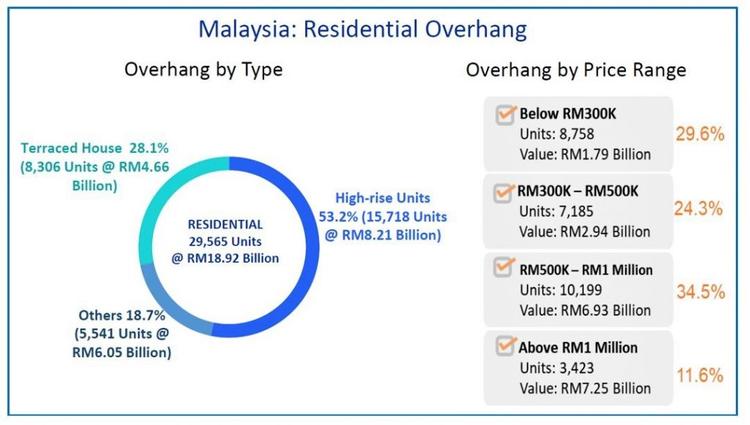 NOTE: JPPH classifies serviced apartment as a commercial property. Residential property includes only Terraced Houses, High Rise (Apartments, Condominiums & Flats), Semi-Detached Homes & Detached Homes (Bungalows).
By property type, condominium/apartment formed 51.9% (15,354 units) of the national total overhang, followed by terraced houses (28.1%; 8,306 units). By property price range, those priced at RM500,001 to RM1.0 million formed 34.5% (10,199 units) of the total overhang, higher than the 28.3% recorded in 2019.
READ: What you need to know about living in a bungalow house in Malaysia
4. Overhang for service apartment continues to increase, 69% are located in Johor Bahru itself!
On the contrary to the residential overhang situation, serviced apartment segment saw the reverse. Overhang continued to increase and formed the bulk of the property overhang in Malaysia. A total of 23,606 units were overhang with a value of RM20.76 billion, up by 37.7% in volume and 38.0% in value against 2019.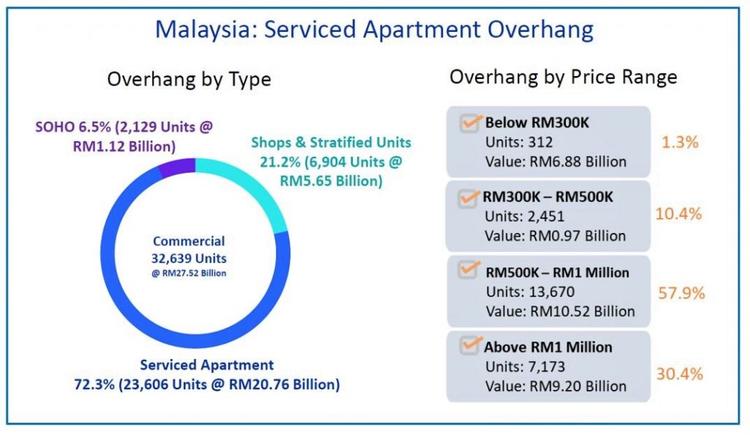 Johor had the highest overhang for service apartment at 69.7% share in volume (16,442 units) and 72.1% share in value (RM14.97 billion). Almost all of these overhang units were in Johor Bahru District (16,341 units).
By price, service apartment in the range of RM600,001 – RM1 million (12,092 units) formed 51.2%, followed by above RM1 million with 30.4% (7,173 units) and priced at RM600,000 and below 18.4% (4,341 units) of the total overhang.
CHECK OUT: Condo vs Service Apartment in Malaysia: What's the difference and which one is better?
5. Malaysia House Price records lowest growth since 2010
The Malaysian House Price Index (MHPI) stood at 199.3 points in 2020 with a low annual growth of 0.6%, the lowest since 2010.  Terraced House Price Index recorded an annual growth of 2.0% but it was the lowest in the decade. However, high-rise, semi-detached and detached houses dropped by 0.8%, 0.6% and 1.1% respectively.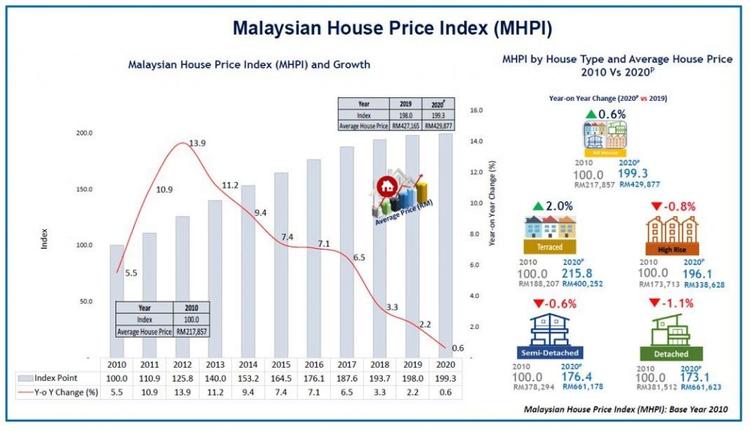 All states recorded annual growth in 2020 except for WP Kuala Lumpur (-1.0%), Selangor (-0.7%), Pulau Pinang (-0.1%) and Sabah (-1.3%). Johor saw moderate annual growth of 2.5%.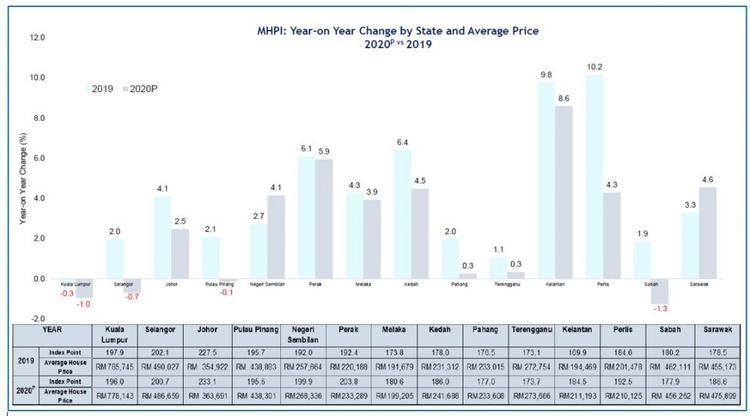 Find out why 2021 is the best time to buy a house in Malaysia. Also read Is it better to settle your housing loan or invest your extra cash?
Market Outlook in 2021
Based on the current prolonged Covid-19 pandemic and the foreseeable impact on the overall economy, the property market performance is expected to remain cautious and soft in 2021.
Bank Negara Malaysia is forecasting Malaysia's GDP to grow within the range of 5.5% to 8.0% in 2021 while the World Bank is forecasting Malaysia's economy to grow by 6.7%.
The government has allocated RM15 billion to fund the Pan Borneo Highway, Gemas-Johor Bahru Electrified Double-tracking Project and Klang Valley Double Tracking Project Phase 1 under Budget 2021.
Several key infrastructure projects will be continued such as Rapid Transit System (RTS) Link from Johor Bharu to Woodlands, Singapore and MRT 3 in Klang Valley.
Bandar Malaysia, a significant mega-project is expected to commence construction by June 2021. The first phase comprising several Grade A office towers, hotels, serviced apartments and luxury residences will be developed over 4 years.
Another significant mega-project that is expected to have a significant impact on the property market is the development of Kwasa Damansara by EPF. It will comprise commercial and residential, more than 25,000 houses including 10,000 affordable houses will be built.
In the service apartment segment, the overhang and unsold under construction situation will remain an issue of concern in the property market in 2021 as the numbers continued to increase in 2020 and are not likely to be absorbed in the near future.
The availability and rolling out of Covid-19 vaccine throughout the country is seen as fundamental to deter any new infection wave. It will help boost business confidence, consumer sentiments as well as the general economy –  the property market will likely see a soft upturn in the second half of 2021.
Read this article next: 4 Incentives Malaysian house buyers can look forward to in 2021.
Disclaimer: The information is provided for general information only. iProperty.com Malaysia Sdn Bhd makes no representations or warranties in relation to the information, including but not limited to any representation or warranty as to the fitness for any particular purpose of the information to the fullest extent permitted by law. While every effort has been made to ensure that the information provided in this article is accurate, reliable, and complete as of the time of writing, the information provided in this article should not be relied upon to make any financial, investment, real estate or legal decisions. Additionally, the information should not substitute advice from a trained professional who can take into account your personal facts and circumstances, and we accept no liability if you use the information to form decisions.