In celebration of Harry's would-be 39th birthday on July 31 we're reimagining how the homes of your fave characters would appear today. Spoiler: The results are spellbinding. 
It's been eight years since the final Harry Potter film was released, but the magic lives on each day in our memories and imaginations. Thankfully, we don't have to imagine how the homes of the beloved witches and wizards would look today, because Modsy, a virtual interior design firm, has taken the guesswork out completely by designing the modern-day homes of our fave motley crew.
From colour palettes that match Hogwarts house colours to enchanting Easter eggs from the saga sprinkled throughout, these spellbinding interiors will make you wish you could apparate back to Diagon Alley, stat.
But first, tell us
Harry Potter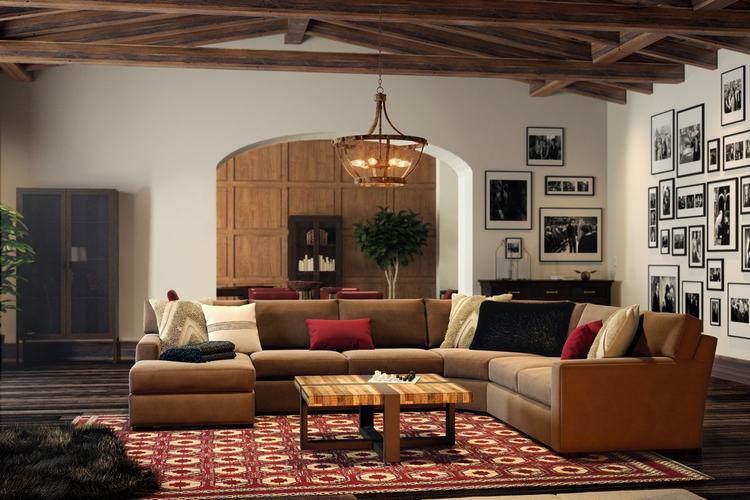 Harry's home carries a moody tone throughout as a nod to his darker past, but features bright decor and finishes reflective of his triumphant journey to saving the Wizarding World.
You'll notice the overall colour palette with dark woods, rich leather and red and gold accents is nostalgic to the Gryffindor common room – which Harry considered to be his first real home.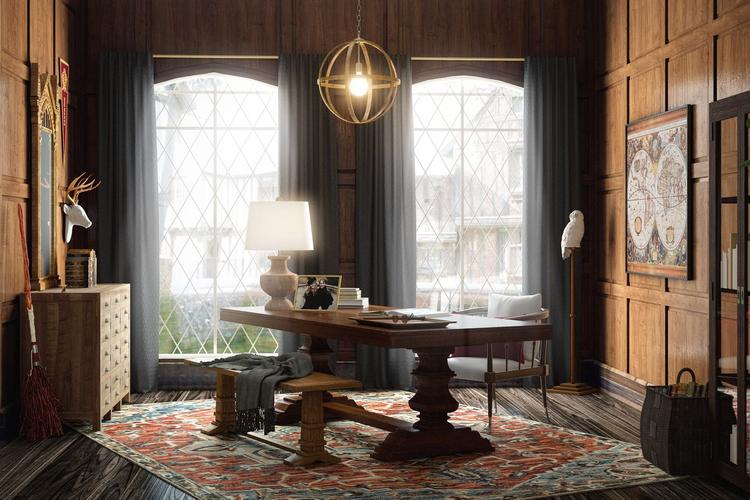 "We took inspiration from the colour palette of his time at Hogwarts and elevated it with deep wood tones, curated art and of course, a Hedwig lamp," says Alessandra Wood, VP of style at Modsy. "The gallery wall is a space that showcases the most important people and memories in Harry's life, and is front and centre in his design so he can feel like he is with his family at all times."
The pic of Harry's parents isn't the only Easter egg from his past. If you look closely, you'll also spot the Mirror of Erised, his wand, glasses, and a stag mount to mirror his Patronus.
Hermione Granger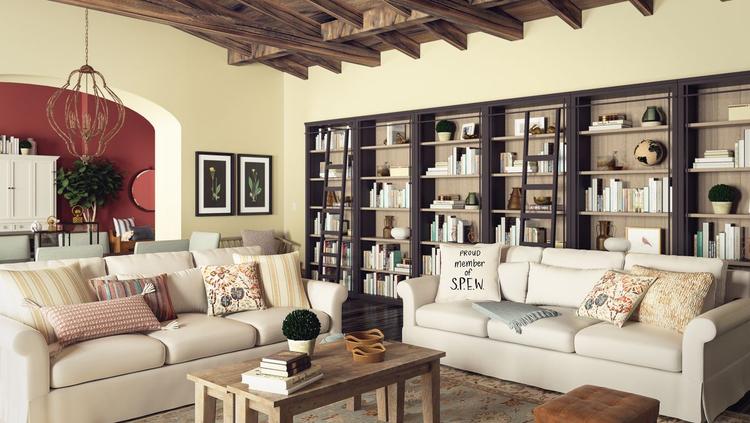 One look at Hermione's chic digs will surely bring just one word to mind… books! The living room features a floor-to-ceiling library and plenty of cosy nooks for 'light reading'.
Modsy describes Hermione's style as practical with a touch of femininity, and this really shines through in the bright yet soft colour palette and refined decor. "Her muggle upbringing inspired the traditional elements like the wingback chairs and Persian rugs," says Alessandra.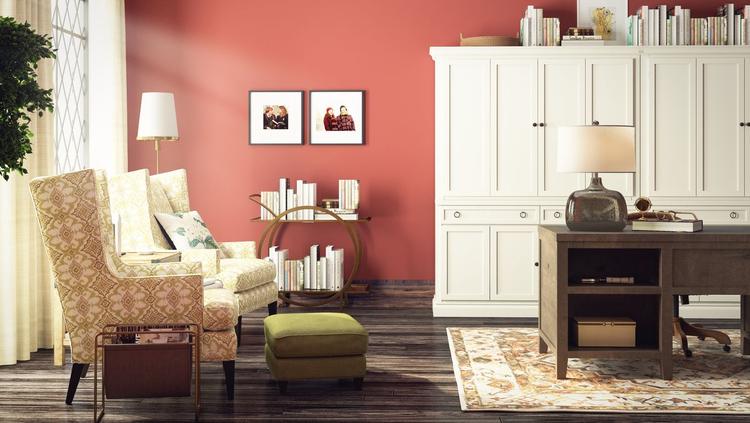 An academic, Hermione would surely have a winning study set up, whether she's working on Elf rights for S.P.E.W. or official Ministry of Magic business. Like the living area, her study is covered with books and features a chalkboard for brainstorming and mind mapping.
Again, more Easter eggs are littered throughout her space. Have a go at finding her cat Crookshanks and the long lost Time Turner.
Ron Weasley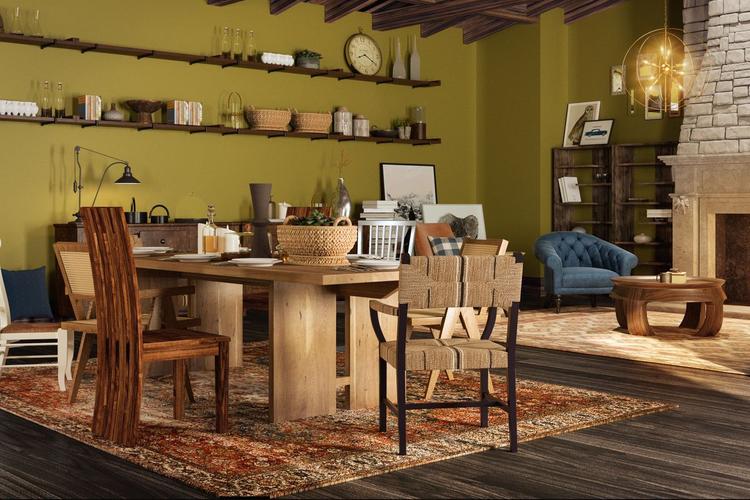 Ron's place is a mish-mash of decor and accessories, reminiscent of The Burrow where he grew up.
"Ron loves mixing and matching pieces (as he's used to hand-me-downs!) but after growing up with an abundance of clutter around the Weasley house, he would enjoy a cohesive colour palette and mix of similar styles for a space that feels well balanced, put together and casual," says Alessandra.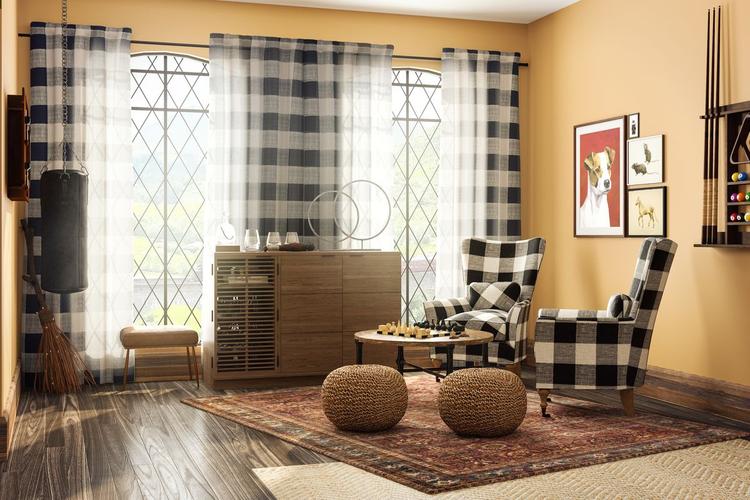 His living room is made for entertaining and is inspired by his short-lived career as a keeper on the Gryffindor Quidditch team. "It has all the essentials for entertaining – a bar for drinks, pool table, darts, and chess for game night with the family. Even though his Quidditch days are over, Ron is still a die-hard fan, seen through the bludger bat and broomstick on display," says Alessandra.
Look closer to spot chocolate frogs, art featuring the Weasleys' vintage blue car, chess set, and photos of the trio from the glory days.
Luna Lovegood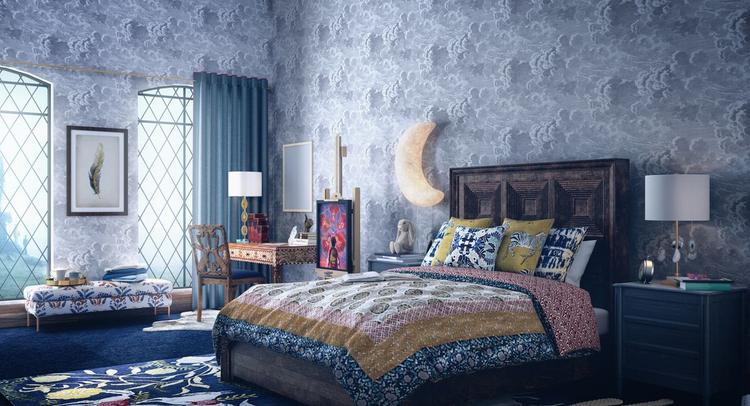 Luna's modern-day space is as dreamy and as whimsical as she is. Though her style has taken a turn for the chic in 2019, not all that much has changed about her decor preferences and overall theme.
"Her open space is all about making those bold statements with animal motifs, plants and layered rugs to create a cosy, eclectic retreat," says Alessandra, adding the dark blue colour palette is inspired by the Ravenclaw common room.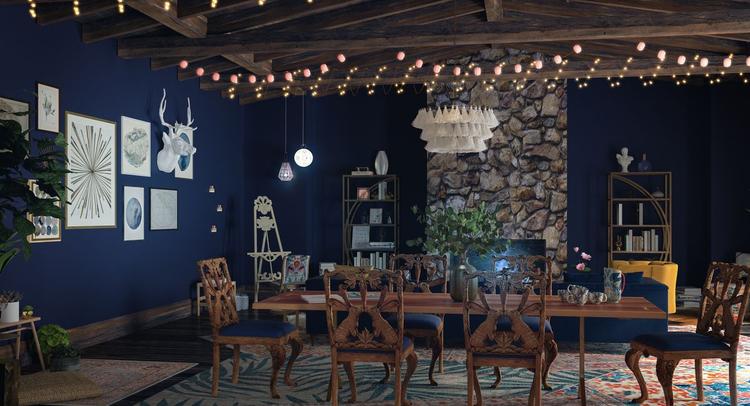 Luna is a collector and over the years she's worked to keep a slew of trinkets from her friends in good knick.
Look out for the Dumbledore's Army photo and signatures, Gryffindor hat, Spectrespecs and a copy of the latest Quibbler.
Albus Dumbledore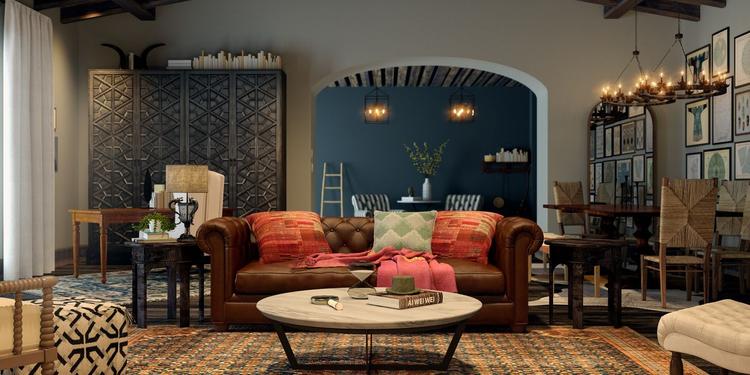 We never had a chance to see Dumbledore's digs outside of his office, but we imagine it would have looked a little something like this.
"Dumbledore's scholarly ways and drive for knowledge shine through with an abundance of books, collectables and curiosities," says Alessandra. "We envisioned him kicking up his feet (with socks on, of course!) to relax at the end of a hard day at Hogwarts, as well as entertaining muggles and magicians alike in his comfortable and humble great room."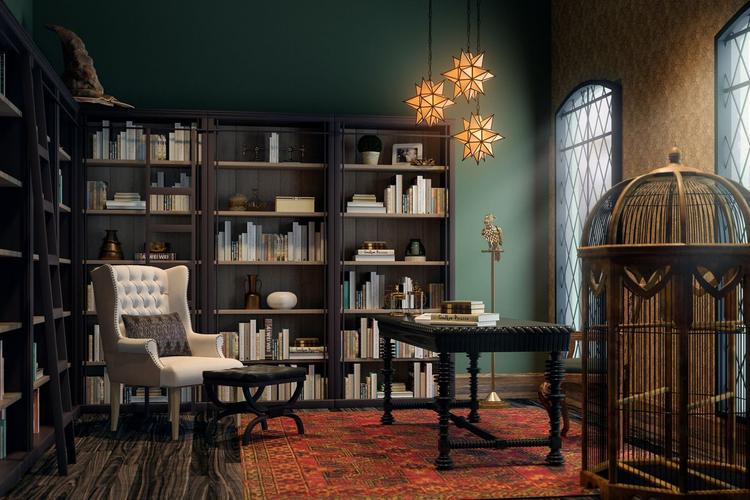 "The gilded and intricate wallpaper adds a mystical quality to the room and the wall of mirrors plays on the idea of a 'moving portrait', while the giant birdcage is the perfect perch for Fawkes the phoenix," she adds.
Dumbledore's collection of trinkets is extensive considering his ripe old age, and you can spot a bunch around the space. Look for the Triwizard table lamp, Gryffindor Crest throw, Sorting Hat and phoenix floor lamp.
Voldemort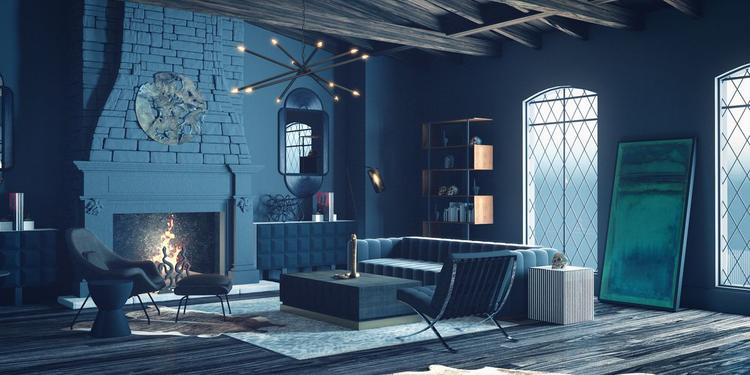 As one might predict, Voldemort's home is dark and cold with skulls and snake motifs hiding in every corner. "The space is designed to feel the opposite of lifelike, and should feel a bit spooky and uninviting," says Alessandra.
Of course, Voldemort isn't really considered an entertainer, and so the rooms are bare and minimal with a lack of chairs that really only caters to one.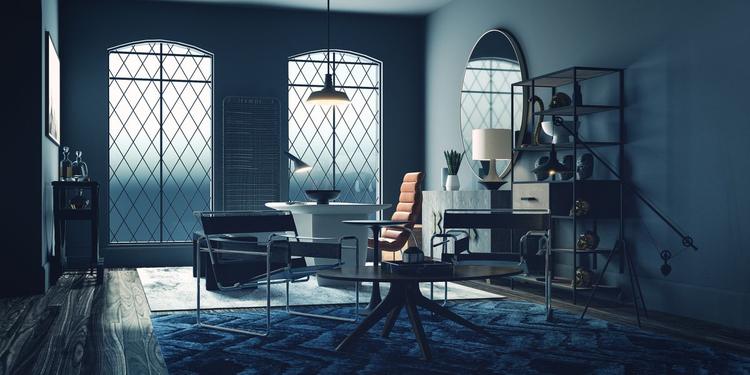 Death Eater masks and slithering snakes can be found on each of the surfaces in his evil lair, which according to the view, could be situated near the cave by the sea, where he stowed one of his Horcruxes.
This article was originally published as How Harry Potter characters homes would look today by www.realestate.com.au and is written by Katie Skelley.
Disclaimer: The information is provided for general information only. iProperty.com Malaysia Sdn Bhd makes no representations or warranties in relation to the information, including but not limited to any representation or warranty as to the fitness for any particular purpose of the information to the fullest extent permitted by law. While every effort has been made to ensure that the information provided in this article is accurate, reliable, and complete as of the time of writing, the information provided in this article should not be relied upon to make any financial, investment, real estate or legal decisions. Additionally, the information should not substitute advice from a trained professional who can take into account your personal facts and circumstances, and we accept no liability if you use the information to form decisions.