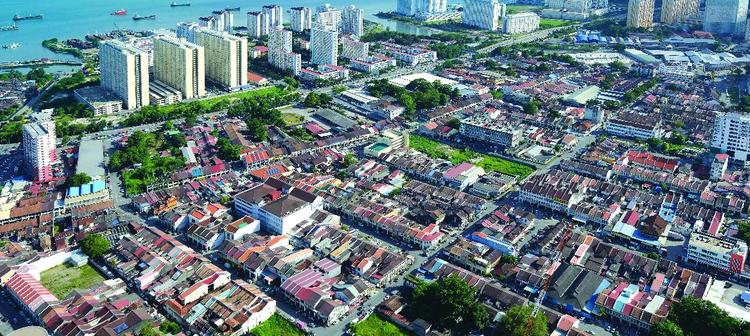 Terrace Homes
There is a high fluctuation in the median price for terrace homes in Georgetown.
Since Q1 2014, the highest capital growth for terrace homes was recorded in Bayan Lepas with 69.6% ([RM1,082,500 – RM638,000] / RM1,082,500) followed by Butterworth at 43.9% and Bukit Mertajam at 41.1%.
The median price trend for homes on the mainland (Bukit Mertajam and Butterworth) records steady growth from 2014.
Kaygarn Tan,Property Investment Coach and Founder of Freemind Works explains what with the limited supply of landed properties in the prime area of Georgetown, the fluctuations in median price could be credited to sporadic transactions in each quarter – the quarters with declining values may record more sales of newer terrace homes with more affordable price tags, as compared to the other better performing quarters, where mostly 'older' terrace houses which have appreciated in value over the years, were purchased.
Explaining the significant rise in the value of terrace homes in Bayan Lepas, Kaygarn says that these recent years have seen the emergence of a new trend – more Penangites are purchasing gated and guarded (G&G) landed developments, mainly for security purposes. Many families have also decided to upgrade from their condominium/apartment unit to a landed home instead.  In the past 5-10 years, renowned developers including SP Setia, Ideal Homes, IOI Properties, Mah Sing and Sunway Property have introduced such G&G developments in the southern part of the island, especially in the Bayan Lepas area.
At the same time, many Penangites are shifting from the smaller high-rise units in the island onto the mainland to more spacious landed homes there. Mainland Penang is now a hotbed for landed homes – as reported in Knight Frank's "2017 Asia Pacific Real Estate Market Outlook: Malaysia" – new supply that came into the market in the first nine months of 2016 was 3,877 units where 92% of them are on the mainland.
Moreover, these landed developments also offer exciting lifestyle concepts with round the clock security and clubhouses equipped with gymnasiums and swimming pools.
Asking rental for homes on the island have declined gradually since 2014 while the rental figures for mainland homes have remained stable.
As of Q2 2016, Bukit Mertajam has the highest rental yield at 3.54% ([RM900x12mth] / RM305,000) followed by Butterworth at 3.51% and Ayer Itam at 2.63%.
The gap in asking rental for homes in Bayan Lepas and Ayer Itam is moving closer together.
It is a well-known fact that the rental return for landed properties which averages at 2.63%-3.54% will not be as attractive as that for high rise properties. Kaygarn notes that overall, the asking rental have been somewhat stagnant during the sampling period and there has also been a drop in rental prices in prime areas, namely Georgetown. This could be due to competition from surrounding new high-rise condominiums which offer the latest and trendiest facilities. Hence, aspiring tenants would prefer to rent a unit at these high-rise properties instead, thus bringing down the rental prices for landed homes due to the declining demand in the area.
Rentals on the mainland, on the other hand, is more promising, as the figures in Butterworth and Bukit Mertajam, which range between RM900-RM1,200 per month are much more affordable to the masses in the current economic climate.
Apartments
For Q2 2016, there is a big dip in the median price per square feet for apartments in Ayer Itam.
Almost all areas recorded quarter-on-quarter fluctuations in median price.
From the table and data above, the median price for apartments are somewhat stagnant with minimal price growth–  according to Kaygarn, this trend aligns with the current lacklustre residential property market in Penang as both economic conditions and consumers sentiments are down.
Transaction activity for high rise properties especially has been experiencing a downturn – according to Knight Frank's Real Estate Highlights 2H2016", report –  there were fewer recorded transactions of high-end condominiums in the secondary market in 2H 2016 compared with 1H 2016. Also, the residential sub-sector is experiencing a period of consolidation and readjustment in terms of both sales and rentals, attributing to the sudden dip in the median price.
As of Q2 2016, Bukit Mertajam yielded the highest rental return at 8.8%([RM580x12 mth] / RM79,000) followed by Ayer Itam with 5.9% and Butterworth with 5.7%.
In overall, the asking rental remains stable for most areas from 2014 to Q2 2016. It should be noted that Bukit Mertajam yields the highest return as there is a great demand for landed homes among Penangites – thus homes on the mainland as well as in the previously 'not-so-popular' Ayer Itam are now a tenant target due to their much more affordable monthly rental.
MOST POPULAR AREAS (Oct 2015 – Sept 2016)
Based on the data above, it is pretty obvious that the property purchase trend in Penang has shifted to the mainland. The top 5 areas where terrace homes were purchased all on the mainland. For apartments, the top 2 areas for the highest number of transactions were also on the mainland.
BUYING TREND
Kaygarn agrees that these past few years have witnessed a rising interest in mainland properties, especially in areas such as Bukit Mertajam, Butterworth and Simpang Ampat. Projects such as Bandar Tasek Mutiara in Simpang Ampat is popular as it is a G&G development – a top requirement for family occupiers.
Similar well-planned township developments in Jawi and Nibong Tebal are fast gaining traction as they are located nearby the Batu Kawan mega-development, besides being within close proximity to the Penang Second Bridge. The migration trend of Penangites from the island onto the mainland can be observed by the increasing number of cars commuting in and out of Penang Island during peak hours.
Most importantly, these homes are certainly more affordable as compared to landed properties on Penang Island, where a typical double storey house easily costs more than RM1 million.
Meanwhile, for apartments, projects on the mainland namely Widuri, Taman Perai Utama and Limau Manis are within the affordability range of the majority of the locals and are in strategic locations with good connectivity and situated close to amenities and eateries. These units are also attractive to property investors as it has high tenant occupancy rate and strong rental demand.
On Penang island, a higher number of transactions was recorded in areas such as Bayan Lepas, Georgetown, Gelugor and Jelutong. These areas are densely populated and there is high demand for high-rise units there. For example, Penang Times Square which is located in the heart of Georgetown, is also within the UNESCO heritage city and Desa Permai Indah in Gelugor is situated nearby the Bayan Lepas Penang Free Trade Zone (FTZ) where many MNC factories are located. Thus, these projects generate high demand due to their strategic location and excellent connectivity.
MARKET PERFORMANCE MOVING FORWARD
Commenting on upcoming developments to take note of, Kaygarn says that the Penang Master Transport Plan (PMTP), slated to be carried out in the next 10-20 years will have a significant impact on the state's economy and will be a game-changer for Penang's property market.
The most exciting project would be the LRT network; where the first line will link the Penang International Airport and Komtar, located in Central Georgetown. The transportation infrastructure will definitely give a boost to nearby townships and projects located around the LRT stations.
Also, under the same plan, there will be a new highway which will further enhance connectivity between various townships on the island, besides easing traffic congestion. The highway projects outlined under the master plan comprises a 4.2km bypass from Gurney Drive to Lebuhraya Tun Dr Lim Chong Eu, a 4.6km bypass between Lebuhraya Tun Dr Lim Chong Eu and Bandar Baru Air Itam and a 12km paired-road from Jalan Tanjung Bungah to Teluk Bahang. The improved and increased connectivity will definitely help spur the property market in Penang.
Besides that, there might be a 'third link' or the 7.2km undersea tunnel which will connect Gurney Drive on Penang island to Bagan Ajam on the mainland.
The other development to look out for is the ongoing Batu Kawan township. There is a lot of mix developments undertaken by established property developers such as Aspen Group, EcoWorld and Paramount Properties.  Other catalysts or boom factors include the Penang Designer Village, which officially opened this year; and the IKEA & IKANO shopping centres which will open doors in 2018. There will also be a few universities and colleges, namely Hull University as well as a new branch of KDU.
Penang is also a popular investment destination for the electronics industry and due to land scarcity on the island, the state government has now developed the Batu Kawan Industrial Park to cater to this demand. We now see companies such as San Disk, Honda, Vitrox and Haemonitics operating out of Batu Kawan and moving forward their Business Process Outsourcing units will be located there as well. With an uptick in such commercial developments, there will definitely be an increase in the demand for residential properties in Batu Kawan in the near future.
CHALLENGES & OPPORTUNITIES
The proposal to revise the current density guidelines from 87 units to 128 units per acre is currently under purview by the Penang state government and is expected to be implemented sometime this year. What does it mean for homebuyers/investors and how will the new guidelines affect property prices, supply and demand moving forwards?
Kaygarn remarks that there will be a higher number of units for each project and that translates to more supply in the market. Hence, investors who are planning to purchase residential properties either to rent or sell off in the future will face stiff competition. Take for consideration, a project which has more than 1000 units and most of them are owned by investors who are looking for a tenant – even if investors manage to secure a tenant, the rental return will not be profitable.
His advice for investors – stand out from the rest by purchasing a unit that is unique in terms of size, layout or view. Also, these must be limited units, i.e corner units.
INVESTMENT ADVICE
What are the emerging property hotspots in Penang – If someone is looking to invest in property in Penang this year, what would be the best kind of property to buy?
Kaygarn stresses that investors must first ascertain their investment objective  – is it for rental or capital appreciation? Buying for rental returns versus capital appreciation calls for different due diligence in terms of research and profitability analysis.
Investors must watch out for and keep themselves updated with the latest developments surrounding their target properties – localities with high density and continuous demand as well those that will be served by the upcoming LRT lines are good bets. These include Georgetown, Jelutong, Ayer Itam and Bayan Lepas. At the same time, mainland locations like Bukit Mertajam, Butterworth, Perai and Seberang Jaya promises great potential as can be seen from the high transaction activity for both landed and high-rise in these areas.
Also, not forgetting Batu Kawan mega-development – an ongoing project with various mix developments and supporting commercial components underway, this township oozes potential. On top of that, nearby townships such as Simpang Ampat, Jawi and Nibong Tebal will enjoy the spillover effects.
WORKING AROUND FINANCING ISSUES
With home loan approvals being a challenge, which areas/projects should aspiring homebuyers be looking at?
Tighter lending rules contributed to high home loan rejection rates – Bank Negara Malaysia reported a further year-on-year decline of 3.5% in home loan approvals in 2016 (January-October).  Kaygarn advises aspiring homebuyers to buy according to their means – purchasers must determine how much they can afford to pay each month based on their monthly salary and other financial obligations. Factor in other commitments such as car instalments and credit card repayments during budget calculations. Only then, should they hunt for properties that fall within their affordability range.
The assessment criteria also differ between properties for own stay and for investment, respectively. Owner-occupiers must look for units that are convenient, i.e. easy commute to the workplace and located nearby schools and amenities.
CONCLUSION
Despite the current soft property market, Kaygarn believes that investors should continue to invest as properties are a medium to long term investment. Thus, any time is a good time to invest as long as one invests in the right properties with sound fundamentals; good rental returns, strong tenant demand, etc and not for speculative purposes.
In fact, there are more opportunities present during a soft market, where supply outstrips demand, making it a buyer's market. Sellers will be more realistic with their asking prices, and there are more opportunities to purchase below market value properties in the current market.
Disclaimer: The information is provided for general information only. iProperty.com Malaysia Sdn Bhd makes no representations or warranties in relation to the information, including but not limited to any representation or warranty as to the fitness for any particular purpose of the information to the fullest extent permitted by law. While every effort has been made to ensure that the information provided in this article is accurate, reliable, and complete as of the time of writing, the information provided in this article should not be relied upon to make any financial, investment, real estate or legal decisions. Additionally, the information should not substitute advice from a trained professional who can take into account your personal facts and circumstances, and we accept no liability if you use the information to form decisions.