We take a look at how Malaysian property developers might shift their approaches to sales and marketing in the wake of changes brought about by the COVID-19 pandemic.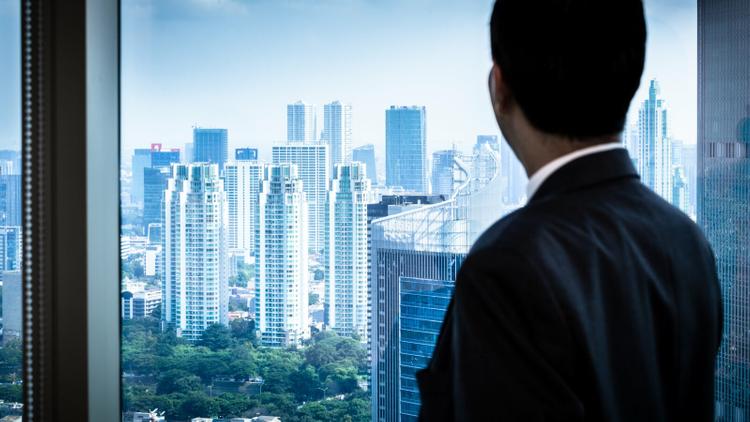 Property developers nowadays rely on marketing strategies more than ever to stand out. Since the outbreak of COVID-19, various innovative and aggressive marketing strategies have been deployed to push sales in a sluggish market. These include giving away freebies, offering incentives to lower house buyers' entry-level costs and easy home ownership schemes.
Meanwhile, owing to movement restrictions imposed during the pandemic, many property developers have aligned their marketing activities and property launches with online operations. This not only enables them to engage and follow up with buyers directly through digital channels but also helps them maintain a leadership position in the minds of prospective buyers. Besides, shifting from traditional to online marketing is said to reduce sales and marketing expenses.
Property developers forced to adapt due to COVID-19
A study on public-listed property companies on Bursa Malaysia has found that during the pandemic-induced recession in 2022, up to 95% of property developers spent less on sales and marketing activities compared to 2019. Some 45.5% spent less than RM10 million.
The companies selected for the study had the following criteria:
i. listed under property sector with traceable marketing expenses between 2010 to 2020. These included several reputable property developers in the construction and industrial sector;
ii. no significant changes to companies' financial structure during the respective periods (2019 and 2022)
iii. at least 60% of the companies' revenue is derived from the domestic property development
While such a decline can be partly attributed to more cost-effective marketing strategies through digital platforms, the main contributor is, in fact, the closure of sales galleries and a substantial decline in physical marketing activities such as roadshows and exhibitions by property developers during lockdowns. Most importantly, a downward trend in sales and marketing spending among developers had been underway long before the pandemic outbreak, alongside a global economic downturn that began in early 2018 due to the US-China trade tension.
Developers have found themselves leveraged in an environment of "excessive supply" and "slower absorption" after the housing market boom of 2010 to 2015. Previously, sales came easily with minimal advertising. Now developers have to channel ever more resources into sales and marketing in order to achieve higher revenue growth under a tougher business operating environment.
SEE WHAT OTHERS ARE READING:

Perfection of Transfer and Perfection of Charge: Everything property buyers need to know

Pros and cons: Is the higher or lower floor better?
Reduced marketing spending since 2017 with digital
Marketing is no longer the "fluffier" counterpart to planning and design, but an important investment that will shape how developers and their products are perceived by the public. This is reflected in the substantial increment in spending on sales and marketing where, in 2015, 68.2% of companies devoted more than RM10 million to sales and marketing compared to only 40% in 2010. The number peaked at 79.8% in 2017 (Figure 1).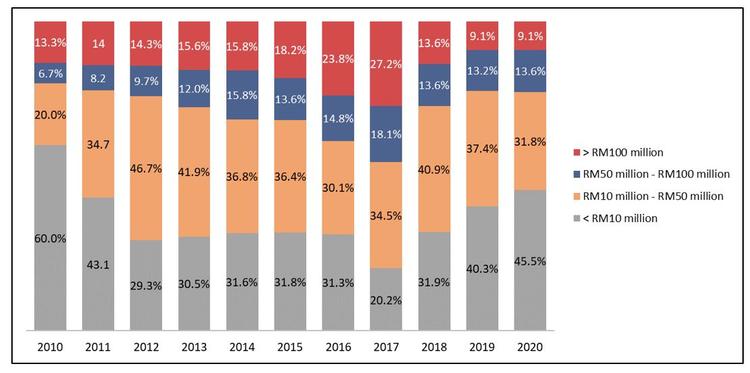 Apparently, there was a change in the property marketing landscape in this period. Instead of relying on billboards, print media advertisements and flyers, along with the tried-and-tested techniques of show units, buntings and roadshows, property developers began to diversify their marketing strategy by resorting to spam SMSs and WhatsApp messages, having their sales staff hound prospects to agree to a site visit, and outsourcing their marketing to external property agents and consultants.
Some developers even embarked on online marketing, though the spending is little compared to offline advertising. At this stage, "digital advertising" is only limited to company websites, Facebook pages, e-mail blasts and articles on property portals such as iProperty.com.my and PropertyGuru.
Aggressive marketing initiatives have contributed significantly towards positive sales performance. The percentage of companies that acquired revenue growth in excess of 20% in Compound Annual Growth Rate sits at 37% from 2010 to 2015 (Figure 2), while another 17% and 29% achieved a 10% to 20% growth and single-digit growths, respectively.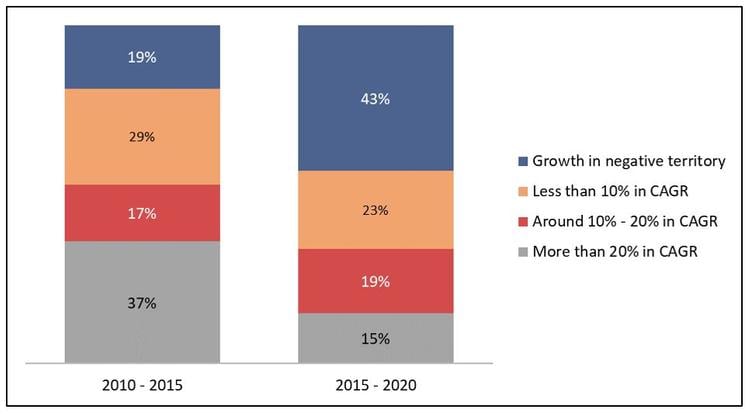 In terms of profitability (net profit divided by total revenue), 57% of the companies achieved double-digit profitability in 2010. Profitability was even higher in 2015 at 74% (Figure 3).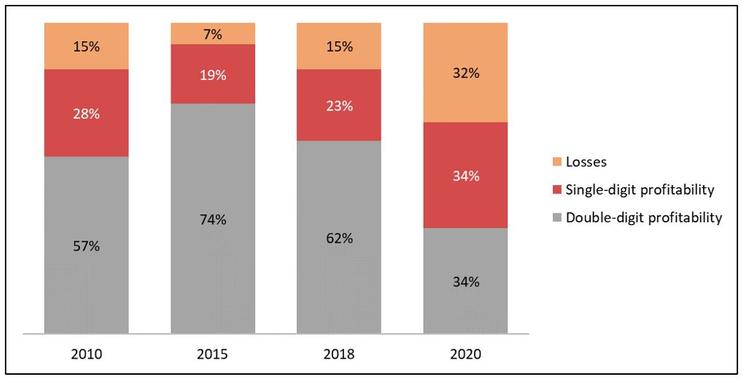 Weathering the economic recession
However, since 2018, there were contractions in both revenue growth and profitability. The average revenue growth is trending down from a CAGR of 17.38% in 2010 to 2015 to a CAGR of 2.47% between 2015 to 2020. The profitability is also converging from an average of 21% in 2015 to an average of 14% in 2018, and further down to 7% in 2020. As shown in Figure 2, up to 43% of the companies fell into the negative revenue growth territory between 2015 to 2020, as compared to only 19% between 2010 to 2015. In terms of profitability, up to 32% of the companies reported losses in 2020, in contrast to only 15% in 2018 and 7% in 2015 (Figure 3).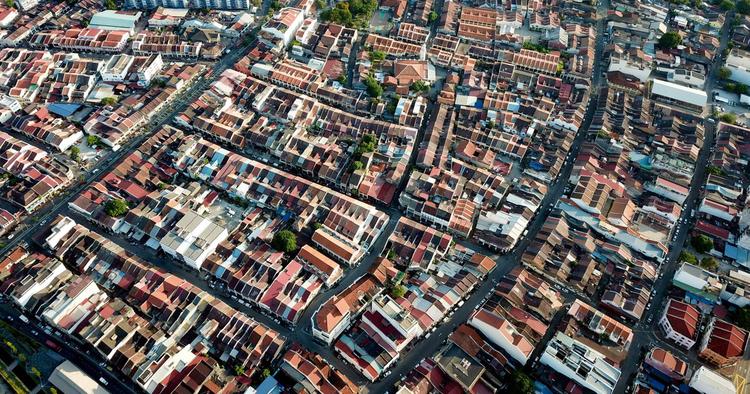 During a recession where buyers are adopting a more cautious approach in the light of economic uncertainties, developers across the board have reported a review of their products, reducing launches, and paying closer attention to pricing and property design concepts in order to enhance their market presence. Some are clearing their unsold stocks while pulling back launches until the market sentiment improves. At the height of COVID-19 in 2020, developers reportedly revised their sales targets in anticipation of poor sales as a result of disruption in economic activities and supply chains. Accordingly, these developers reduced their spending on sales and marketing. The percentage of companies that spent more than RM10 million has been declining from 68.1% in 2018 to 59.7% in 2019, and down to 54.5% in 2020 (Figure 1).
CHECK OUT: Are Malaysian Property Developers using Digital Marketing strategies to their best advantage?
How property developers might be spending marketing budgets from now on
Putting it together, Malaysian property developers have been facing a double whammy in the past few years. Not only have property demand and absorption rate been weak, but the market has also started to see an inflection point in its growth – where rapid expansion in investment volume is becoming less and less prevalent, especially in prime markets such as Penang, Kuala Lumpur, Johor and Selangor.
As such, developers have to rely heavily on marketing strategies to survive. A downward trend in spending on sales and marketing could become prevalent among developers amid the unprecedented pandemic, but this is unlikely to continue as developers regain their momentum in sales and project launches from 2022 onwards.
Though digital marketing is expected to play a more important role during the pandemic and in the post-COVID-19 era, property developers are unlikely to discontinue traditional marketing as it is still vital in capturing certain market segments. Depending on the levels of intensity and involvement in digitalisation as well as continuously optimising traditional and digital marketing approaches, sales and marketing expenses are expected to increase between 10% to 30%.
While little is known about how Malaysian property developers spend their sales and marketing budgets, a study by real estate data solution provider ATTOM on real estate stakeholders in the United States reveals that the bulk of a typical marketing budget goes to buying leads (56%), followed by social media (17%), websites (5%), branding (5%) and mailers (5%) (Figure 4).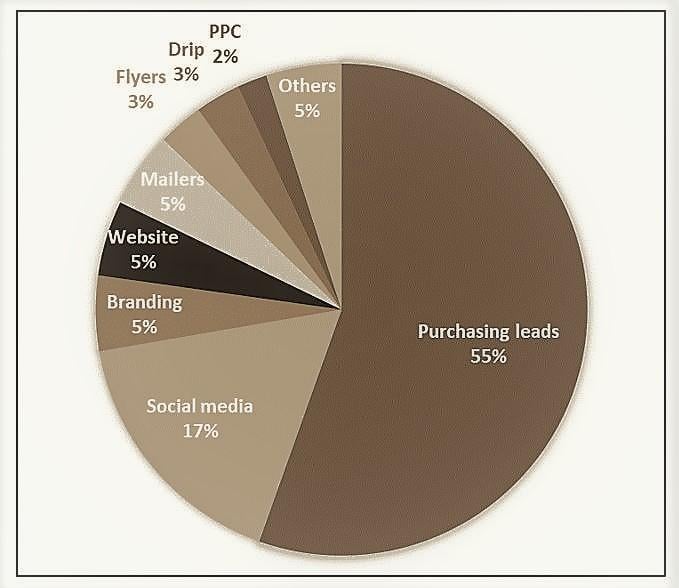 From here, one can anticipate Malaysian property developers to devote more funding towards the active use of digital platforms such as search engine marketing, Google, display networks and affiliate marketing in order to stay competitive in an increasingly challenging business environment. While these expenses at times may not translate into immediate results, it is worth noting that newer approaches and touch-points will always be necessary for sales and marketing for the sake of enhancing product awareness and visibility on alternative media, as well as building a credible and sophisticated image in the eyes of the public and potential buyers.
TOP ARTICLES JUST FOR YOU:

 Capital Growth or Rental Yield: Which is More Important in Property Investment?

 Top 10 most searched areas by Malaysian homebuyers in 2021
Disclaimer: The information is provided for general information only. iProperty.com Malaysia Sdn Bhd makes no representations or warranties in relation to the information, including but not limited to any representation or warranty as to the fitness for any particular purpose of the information to the fullest extent permitted by law. While every effort has been made to ensure that the information provided in this article is accurate, reliable, and complete as of the time of writing, the information provided in this article should not be relied upon to make any financial, investment, real estate or legal decisions. Additionally, the information should not substitute advice from a trained professional who can take into account your personal facts and circumstances, and we accept no liability if you use the information to form decisions.