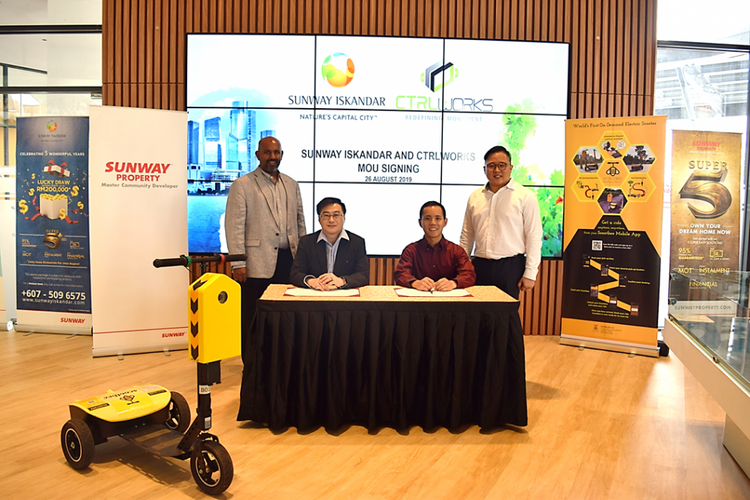 26 August, JOHOR BAHRU – Sunway Iskandar today announced that it will be having trial and test bedding Scootbee, the world's first self-distributing personal mobility devices in Sunway Iskandar today.
Sunway Iskandar had earlier signed a memorandum of understanding with Singapore technology company CtrlWorks, the creator of Scootbee, to be the first to debut the autonomous electronic scooters in Malaysia.
To use the Scootbee autonomous e-scooter, the rider need only summon up a Scootbee on a mobile application. An electronic scooter will then "drive" itself to the rider. Upon receiving the scooter, the rider will be able to navigate the scooter to the intended destination. When rider arrives at the intended destination, the electronic scooter will then depart on its own to self-park.
Sunway Berhad Property Development Division (Sunway Iskandar & International Projects) Deputy Managing Director Tan Wee Bee, said that the innovative and resource-efficient solution offered by the Scootbee is aligned with Sunway Iskandar's development as a smart sustainable township.
"Scootbee is truly an innovative urban solution. As it is autonomous, we believe that it will overcome the challenges that the first generation urban mobility solutions had – such as haphazard parking. The Scootbee provides an affordable, sustainable and clean mode of transportation, in line with our efforts to provide next generation urban solutions and improve connectivity in Sunway Iskandar."
CtrlWorks Operations Manager Jasmine Saini said, "Scootbee has undergone over a year of rigorous testing in public test environments in Singapore and we are confident that it is ready to meet the requirements of Sunway Iskandar's residents and visitors. We look forward to working with Sunway to implement and showcase Scootbee as a sustainable mode of transportation. We would also like to thank Enterprise Singapore for connecting us to Sunway Iskandar and providing guidance to startups like us in our first venture overseas."
Sunway Iskandar has continuously emphasis on bringing convenience to the doorstep of its communities by creating a conducive environment to live, earn, work, play in a safe, healthy and connected surrounding. Starting today, visitors and residents of Sunway Iskandar will be able to use Scootbee as a mode of transportation around the Sunway Iskandar township. During this time, there will also be free ride clinics for the residents and the visitors.