*This article was updated on 27 August 2021.
This article discusses the challenges faced by mixed-use developments, and in particular its core component – the serviced apartment, in the post COVID-19 era. Gentrification seems to be the biggest challenge, and possibly the main reason which contributed to the high property overhang rates.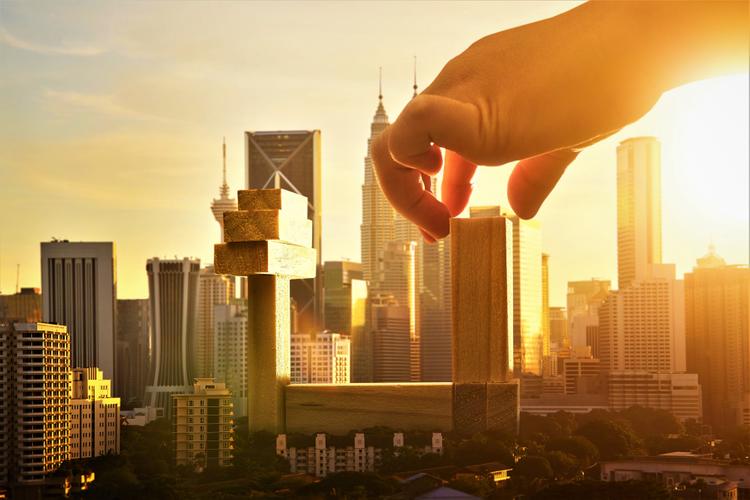 Mixed-use development is a type of urban development that blends residential, commercial, retail, entertainment, transport facilities and so on, into one space. It is an integrated community that features a comfortable live-play-work environment, that aims to create a vibrant and livable modern living for urban dwellers. In tandem with the intensifying urbanisation process; together with the changing demographics and buyers' profile; the popularity of mixed-use development is found to be surging across the country.
Why did we have many developers building serviced apartments?
In Malaysia, the component of mixed-used development is reflected in the planning guidelines of SOHOs and serviced apartments; where these property types are mainly for accommodation purposes, but are built upon commercial titled land and partly allocated for commercial activity. Such property type is generally perceived as the most preferable residence in highly urbanised areas due to its integrated, convenient lifestyle appeal. Most of the modern residential units in prime areas such as Mont Kiara, KLCC and Bangsar are attached to a mall / hypermarket or an office tower/suites. 
Though the existing stocks of SOHO and serviced apartments are still far behind other residential property types, their annual supply increment outperformed both the residential landed and high-rise properties (Figure1). 

This is especially true in the case of serviced apartments, as it has become a common property type for most of the newly launched projects today, targeted towards owner-occupiers. This type of property is seen as an effective means of revitalising current property values, especially during the economic slowdown as it can provide greater financial stability over time, through a diversified revenue stream.
For example, if the office component of a mixed-use building suffers due to the slowdown of the local market, the residential and retail components of the same building may continue to produce revenue growth. Besides, cost saving is made possible at the construction and operational stages through consolidated infrastructure provision, maintenance and management.
How does gentrification affect/influence serviced residence prices?
In the post COVID-19 era, the potential challenge faced by mixed-use development is not much on the change in property buying trends, but the process of gentrification that causes the upward pressure on property prices. In the local context, gentrification refers to the conversion or redevelopment of an old area (usually an industrial area) into a business-centric or mixed-use area, to cater for the influx of more affluent residents and social-economic activities. Some examples of areas that have been or are being gentrified include Section 13 in Petaling Jaya, Sentul, and Kampung Kerinchi in Kuala Lumpur.  
Gentrification often increases the economic value of a neighbourhood by creating more job opportunities and economic development. These would lead to a better and more successful township, but the direct outcome is the stimulation of upmarket properties. A comparison of median prices among four common housing types in selected areas tells us that prices for serviced apartments are relatively higher than others (Figure 2).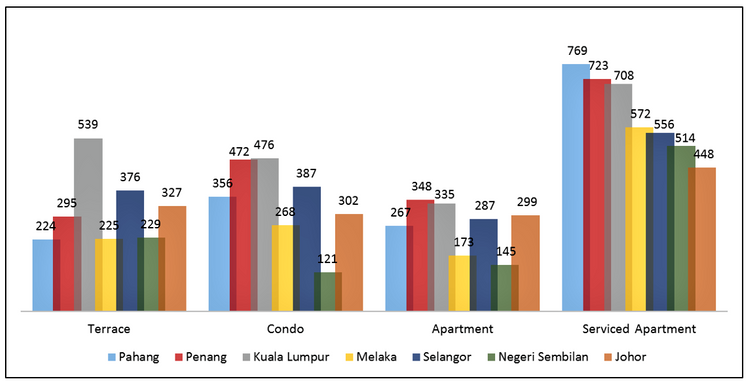 This is mostly due to the common selling point of serviced apartments which are the efficient utilisation of land resources, provision of a comfortable living environment, connectivity to transport hubs, as well as offering tenants with niche facilities and amenities. This will inevitably intensify a higher economic benefit and capital growth in a particular neighbourhood; and in turn, results in the newly launched serviced apartments to be tagged as a high-end market segment product.
READ: HOC extended until December 2021! Here's what homebuyers should know
Is gentrification to be blamed for the current serviced apartments overhang?
The impact of gentrification is increasingly apparent. This is well-indicated in the newly released 2020 first-quarter property market statistics by the Valuation and Property Services Department, where serviced apartments accounted for 34.8% of the total property overhang in Q12020 – the highest level of contribution since the introduction of such property type in the market – as compared to an insignificant portion of 0.8% in 2006 (Figure 3). To note, serviced apartments were initially considered as a residential property type back then, but were then separated from residential housing and placed under the category of commercial property in 2016. That was when a drastic increase in serviced apartment overhangs was found in the market.
The situation is even more critical in states like Johor, Kuala Lumpur, and Selangor, where the overhangs were as high as 67.1%, 45.2%, and 23.2%, respectively, in Q12020. Correspondingly, these areas also recorded an extensive growth of serviced apartments throughout the period of 2005-2020, where the respective growth rate in Johor, Selangor, and Kuala Lumpur is 30%, 25%, and 20%. This implies that property overhang in these areas are somewhat related to the excessive supply of serviced apartments.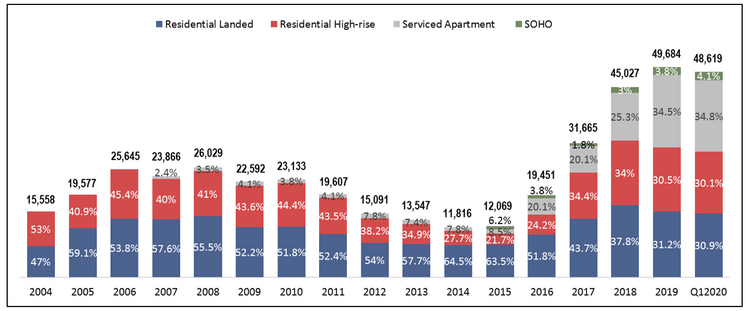 In terms of price range, most of the serviced apartment overhangs are contributed by products priced at RM500k-RM1 million (52.9%) and more than RM1 million (37.6%), which is in contrast to the other property types with products priced at RM500k and below (Figure 4). A further study on the breakdown revealed that products priced over RM1 million are more likely an intensifier of overhangs in Johor.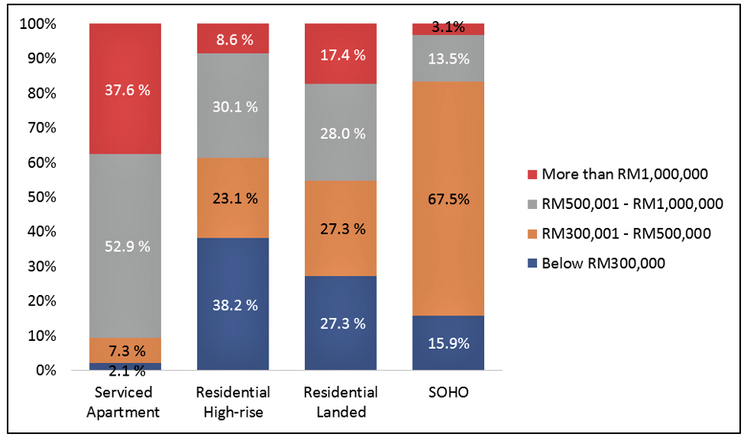 There are at least two messages can be derived here: 
Overhangs units is not due to a skewed-market that is in favour of building high-end properties, but rather, a structural problem of housing delivery system originating from the government's affordable housing policy (

which has been previously discussed here

)

The nature of mixed-use development – featuring a trendy and socially engaging lifestyle with full-fledged common facilities located in the prime land area – is always associated with the process of gentrification, which not only leads to a higher property price, but also contributes to a weaker sales, and hence, the spike of overhang units.  
READ: What caused Malaysia's residential property overhang and when will it get better?
Would buyers be interested in serviced apartments post COVID-19?
However, there could be a change in people's housing preference following the outbreak. People might reconsider the desirability of mixed-use development, as connectivity and human proximity are associated with the increasing vulnerability to the pandemic. 
Although low-dense suburban residences may appear innately better suited to social distancing and self-isolation, densely populated urban living environments offered by mixed-use development is still attractive – owing to its higher level of integration with the urban network. The reality is that humans cannot live in isolation, and a higher level of progress in human beings can only be achieved through interaction, collaboration, and cooperation with each other. While technology has made it possible for remote working and e-commerce, there are still plenty of business activities and services which require direct engagement. On this basis, a well-integrated and self-sufficient development will always be sought after.
 [embed_related_stories id='70061,70346,69885,16201′]
How COVID-19 could amplify the challenges faced by serviced apartments
The process of gentrification in mixed-use development could become more critical in the post COVID-19 era, due to the inclusion of disruptive technology that features smarter and healthier dwelling, to cater for the new normal and a higher standard of hygiene awareness amongst people.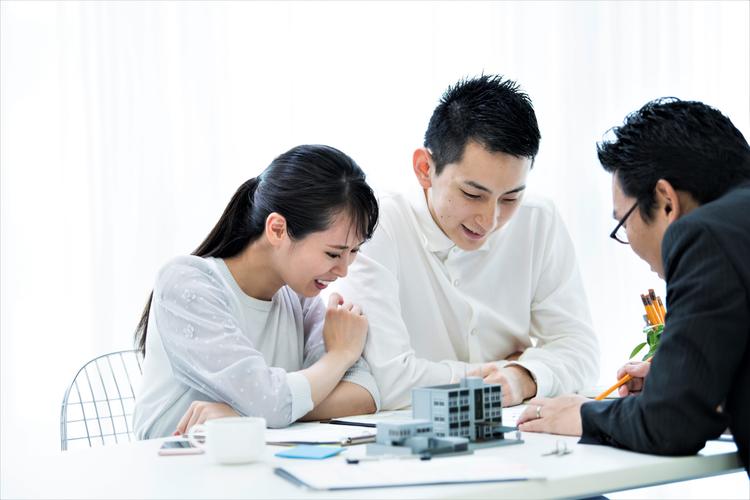 For example, developments may begin to provide spacious common facilities that enable social distancing, and a professional team of property managers to deliver a high standard of cleaning and maintenance. Having easy access to essential services, medical facilities and green spaces would also be desirable. Also, with a shift to working from home, home offices with good technological provisions to enable seamless working might become a new norm in development design. All these value-added features may further "gentrify" the prices of serviced apartments, leading to prices that go beyond the mass homebuyers' affordability.
Another challenge faced by mixed-use development is the decreasing demand for retail property. While online retail was already making a dent on traditional retail, COVID-19 has undoubtedly made online retail more relevant. As such, a rigid planning guideline that requires a certain amount of space to be allocated for retail activities – such as "a minimum of 30% of GFA in a mixed-use development should be allocated for retail" based on the Selangor Planning Guidelines – should be revised, to allow for more flexibility. 
These should be subject to the location, local demand, market trend, and timing of development. This is also to avoid the oversupply of commercial properties that are lower than the actual usage due to low occupancy rate.     
If you enjoyed this guide, read this next: Freehold vs Leasehold title in Malaysia: What property buyers should know
Disclaimer: The information is provided for general information only. iProperty.com Malaysia Sdn Bhd makes no representations or warranties in relation to the information, including but not limited to any representation or warranty as to the fitness for any particular purpose of the information to the fullest extent permitted by law. While every effort has been made to ensure that the information provided in this article is accurate, reliable, and complete as of the time of writing, the information provided in this article should not be relied upon to make any financial, investment, real estate or legal decisions. Additionally, the information should not substitute advice from a trained professional who can take into account your personal facts and circumstances, and we accept no liability if you use the information to form decisions.