The Valuation and Property Services Department (JPPH Malaysia) has launched its much-awaited annual property market report on 29 April 2020. Here are the key takeaways.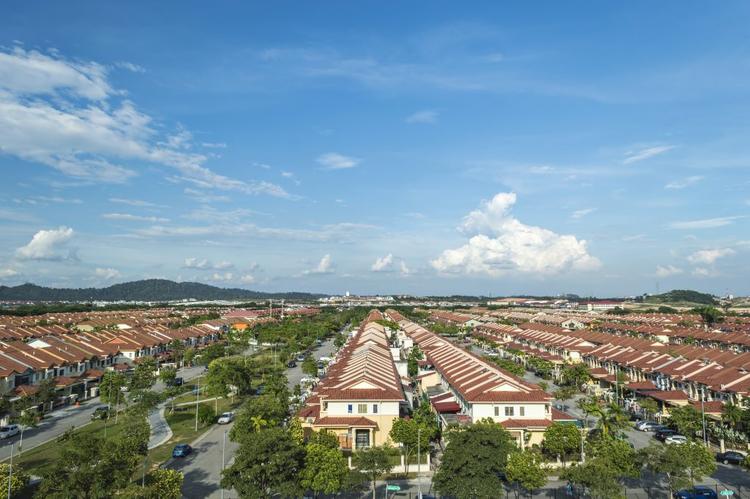 1. Malaysia's property market recorded a marginal improvement in 2019
Our country's property market performance recorded a slight improvement last year – a total of 328,647 transactions worth RM141.40 billion was recorded, translating to an increase of 4.8% in volume and 0.8% in value compared to 2018.
Almost all sub-sectors saw growth in activity: Residential property market (6.0%), Commercial property market (7.2%), Industrial property market (3.8%) and agriculture (2.0%). Meanwhile, the development land sub-sector declined slightly by 1.2%.
Residential property market was the only one which saw a positive value growth
In terms of the value of transactions, residential sub-sector recorded a 5.3% growth, whereas commercial, industrial, agriculture and development land sub-sectors recorded otherwise, decreased by -1.8%, -1.1%, -4.4% and -9.1% respectively.
The residential sub-sector provided the biggest weightage to the overall property market volume with a 63.7% contribution. This was followed by the agriculture sub-sector (20.9%), commercial (7.8%), development land (5.7%) and industrial (1.9%). In terms of value, residential took the lead with a 51.2% share, followed by commercial (20.5%), industrial (10.5%), development land (9.0%) and agriculture (8.8%).
→ Navigate Covid-19: Property knowledge, stay at home articles and tools. Get started now.
2. All states recorded higher residential property sales in 2019, except for Negeri Sembilan & Perak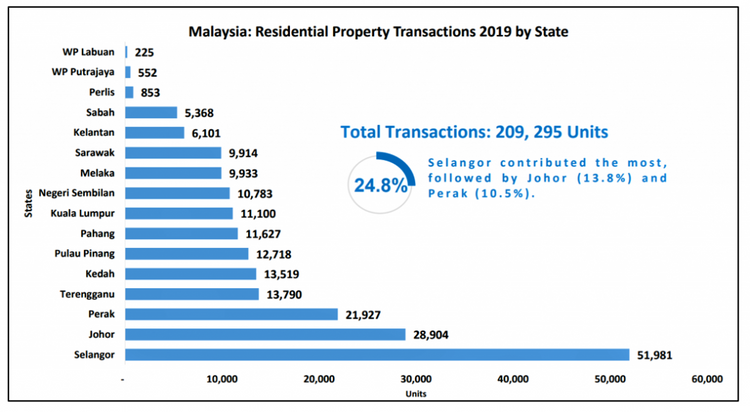 The number of residential property transactions across the states increased in 2019 – There were 209,295 transactions worth RM72.41 billion recorded in 2019, which is an increase of 6.0% in volume and 5.3% in value as compared with 2018 (197,385 transactions worth RM68.75 billion).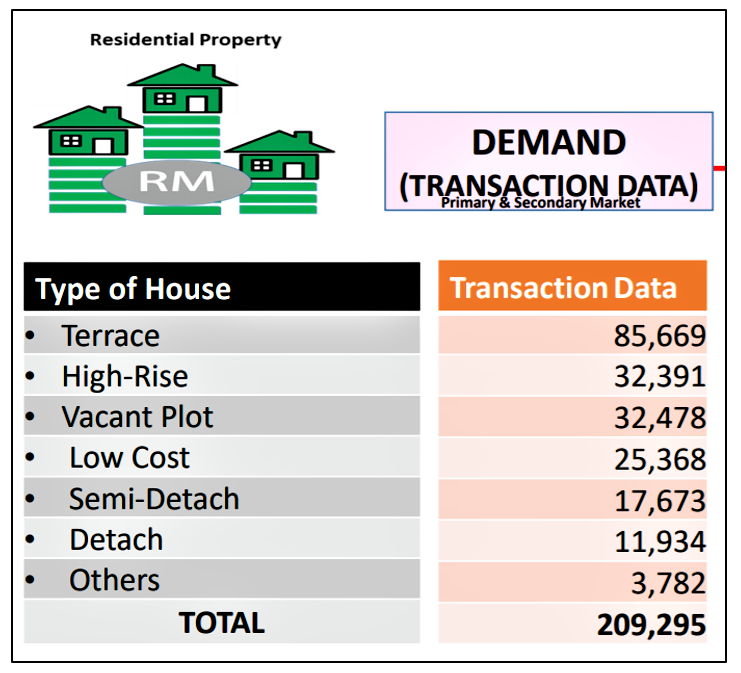 *Do note that JPPH classifies only condominiums and apartments as high-rise residential properties. Serviced residences are categorised under commercial properties. 
The uptrend in major states namely Kuala Lumpur (1.1%), Selangor (8.9%), Johor (7.5%) and Pulau Pinang (1.3%), supported the overall increase in the residential sub-sector. These four major states formed 50% of the total national residential property volume.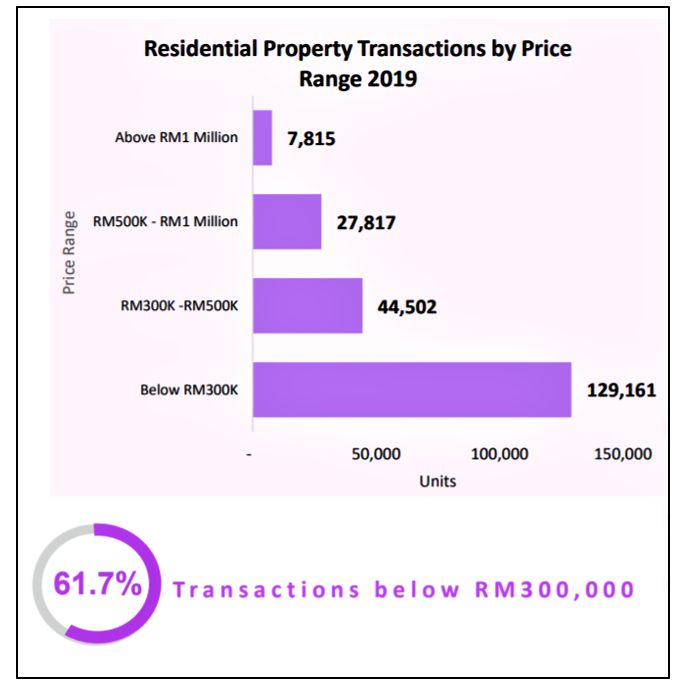 Residential property demand was focused on terraced houses, which accounted for roughly 40% of the total property sales, followed by high-rise units at roughly 15%.
The most popular property price range was RM300,000 and below – accounting for 61.7% of the residential market transaction, followed by the RM300,000 – RM500,000 range (21.3%), RM500,000 – RM1,000,000 (13.3%) and more than RM1 million (3.7%).
3. The sales performance for new launch properties improved by 5.8% in 2019
It should be noted that the primary market saw fewer new launches being released in 2019. There were nearly 60,000 units launched last year, compared to 66,040 units in 2018. The decline was expected as developers were holding back on their new launches due to the softening property market while trying to clear unsold stocks carried forward from previous projects.
Sales performance for new launches topped 40.4%, a slightly better figure compared to 2018's 34.6%. The improvement could be attributed to the various incentives and assistance given by the government to promote homeownership. Selangor recorded the highest number of new launches in the country, capturing nearly 17% (9,970 units) of the national total.
Johor recorded the second-highest (9,711 units), with a 16.2% share. Perak came in third with 15.8% (9,504 units) and Kuala Lumpur at 14.8% (8,865 units). Going by property type, terraced houses dominated the new launches. Single-storey terrace homes (10,690 units) and two to three-storey terrace homes (18,809 units) contributed to 49% of the total units, followed by condominium/apartment units with 36% (21,325 units).
CHECK OUT: Home Ownership Campaign (HOC) reintroduced & extended until 2021! Here's what homebuyers should know
4. The number of overhang residential properties in Malaysia decreased for the first time after 4 years – by 5.1% in 2019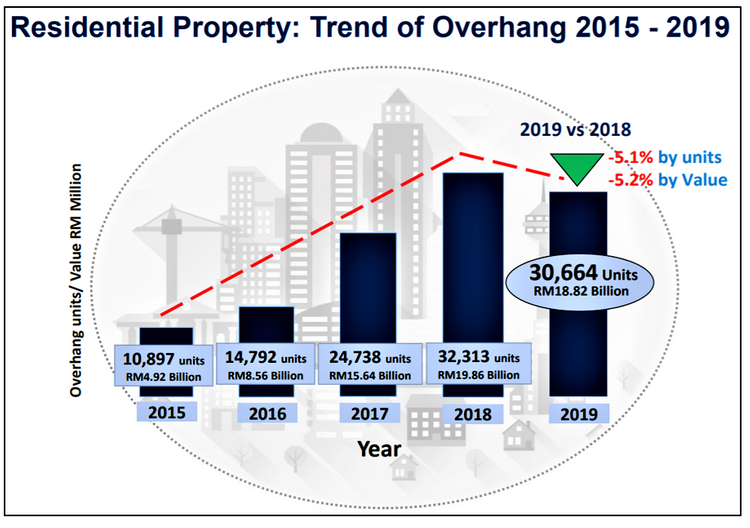 Fewer new launches in 2019 and better sales performance led to the decrease in residential overhang and unsold under construction and not constructed. After four consecutive years of increase, the overhang recorded a decline in 2019. There were 30,664 overhang units worth RM18.82 billion, which shows a decrease of 5.1% in volume and 5.2% in value against 2018 (32,313 units worth RM19.86 billion).
By state, Johor retained the highest number and value of overhang in the country with 5,627 units worth RM4.7 billion, accounting to 18.4% and 25% respectively of the national total. Nevertheless, the state's overhang situation improved as the numbers reduced by 7.2% although value increased by 2.1%. Perak came second with 5,024 units worth RM1.52 billion, followed by Selangor (4,687 units worth RM3.75 billion) and Pulau Pinang (3,353 units worth RM2.59 billion). As for Kuala Lumpur, though only 2,605 overhang units were recorded, the overhang value was the third highest at RM2.6 billion.
Overhang property Breakdown By Type & Price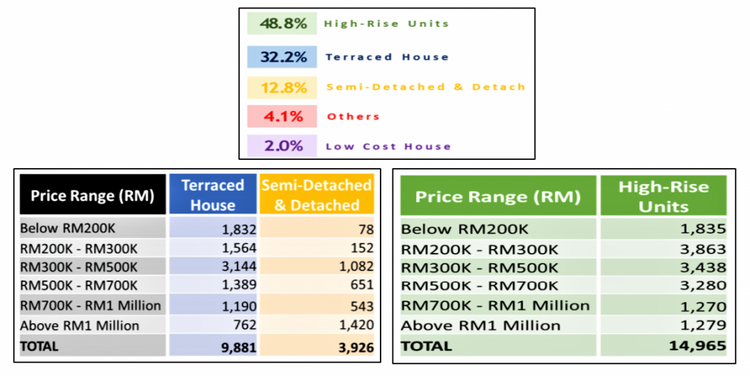 By type, condominium/apartment units formed 46.6% (14,276 units) of the national overhang and most were in the price range of RM200,000 – RM300,000 (3,863 units). Two to three-storey terrace homes (8,591 units) contributed 28%, where around 1,771 units cost between RM300,000 – RM400,000. By price range, homes priced RM300,000 – RM500,000 (7,883 units) formed 25.7% while homes priced above RM500,000 (12,528 units) accounted for 40.9% of the total residential overhang.
READ: What caused Malaysia's residential property overhang and when will it get better?
5. The Malaysian House Price Index (MHPI) increased by 1.9% in 2019. Average House Price is RM426,155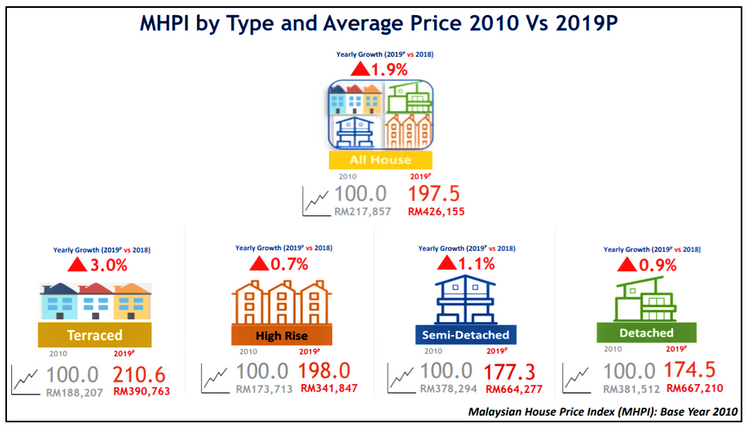 The Malaysian House Price Index (MHPI) in 2019 stood at 197.5 points (base year 2010) – it saw a year-on-year increase of 1.9% (3.8 points) when compared to (2018 (193.7 points). On the plus side, the 1.9% growth is the lowest annual MHPI growth recorded since 2010.
Meanwhile, the average house price in 2019 topped RM426,155. Detached houses were the most expensive property type with an average price of RM667,210 – followed by semi-detached houses at RM664,227; terraced houses at RM390,763 and high-rise (apartments & condominiums) at RM341,847.
Average House Price Growth by State
All states recorded positive annual price growth except for Kuala Lumpur, where the average house price decreased by 0.4% to RM785,000, from RM788,000 in the previous year.

Selangor, Johor and Penang enjoyed moderate annual house price growth of 1.8%, 3.8% and 1.9% respectively. By type, terraced houses commanded the highest annual price growth of 3.0%.
6. Serviced apartment overhang continues to increase in 2019

Unlike the residential overhang situation, serviced apartment overhang continued to increase and formed the bulk of the commercial property overhang. There were a total of 17,142 overhang units with a value of RM15.04 billion, up by nearly 51% in volume and 65% in value against 2018. However, the unsold under construction and not constructed situation improved and saw a reduction in volume by 9.3% and 40.5%, respectively.
By state, Johor recorded the highest serviced apartment overhang with 71.2% share in volume (12,207 units) and 76.9% share in value (RM11.56 billion). Most of these overhang units are in Johor Bahru district, accounting for 99.2% of the state's overhang – 12,105 units worth  RM11.5 billion. The state also held a 34.0% share (11,490 units) of the country's unsold under construction.
By price, units above RM1 million formed 37.4% of the total overhang, 20.3% of the total unsold under construction and 19.5% of the total unsold not constructed. For the latter, units in the price range of RM300,000 – RM400,000 formed 33.0% of the total.
7. The number of property loans approved increased in 2019
The amount of loan application and total loan approval for the purchase of residential property in 2019 increased by 8.3% and 8.6% respectively. For the non-residential property category, the amount of loan application and total loan approval increased by 0.6% and 4.0% respectively. The ratio of loans approvals against loans applications for the purchase of residential property stood at 43.2% (versus 43.1% in 2018). Meanwhile, for non-residential property it was at 37.5% in 2019 versus 36.3% in 2018.
FIND OUT: BNM's 6-month loan moratorium: What is it and how can it help you?
8. What is the residential property market outlook for 2020? 
There may be high near-term downside risks resulting from the unforeseeable outbreak of coronavirus (COVID-19) worldwide. This may dampen the anticipated economic growth, particularly for the first half of 2020. On that note, the residential sub-sector is expected to be challenging in 2020. With the Consumer Sentiment Index at 82.3 points as of Q4 2019, coupled with the insecurity of employment and household income, there is a high likelihood that the purchase for big-ticket items such as property may have to be put on hold by prospective purchasers.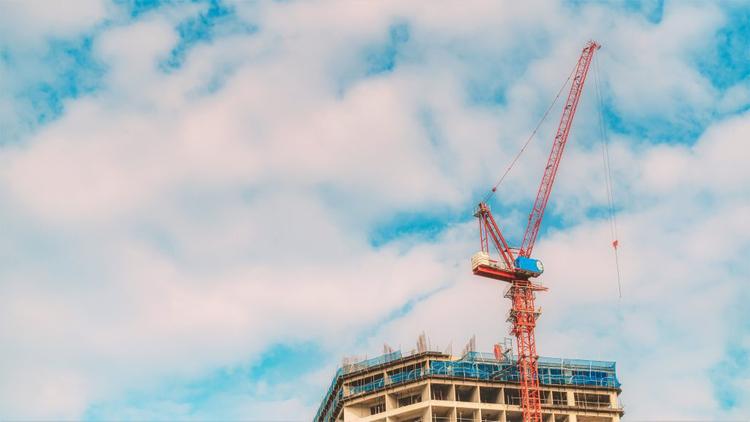 Meanwhile, new launches for the high-end segment are expected to slow down as developers are expected to hold back on new launches so as to allow the market to absorb the overhang and unsold units. The reducing numbers of overhang and unsold may probably level up in 2020 and market absorption may also be slower given the current economic and financial situation. The much-debated overhang issue which revolves on the mismatch of housing product, location and affordability appears to be more challenging to resolve.
The downward revision on foreign purchase minimum threshold (detailed below) should be seen as a temporary measure to reduce the overhang of high-end properties in urban areas.
Despite the economic headwinds, the Malaysian property market is expected to remain resilient in the coming year. Affordable housing and finding the right solutions will continue to be the main agenda of the government. The close monitoring on the
implementation of programmes under the National Housing Policy 2.0 (2018 – 2025) and various incentives introduced to promote homeownership among Malaysians, are expected to contain the overhang situation in the coming year.
As Bank Negara Malaysia expects the Malaysian economy to rebound in 2021, in tandem with projected global recovery, the property market is anticipated to move in a similar trajectory.
READ: What is the impact of Covid-19 on Malaysia's property market?
9. What is the government doing to help bolster the property market in 2020?
The government have introduced several incentives  to help cushion the impact on the property market namely:
1. The revision of the base year for Real Property Gains Tax (RPGT) to 1 Jan 2013 (initially 1 Jan 2000) for property purchased before the date.
2. The reduction of price threshold for foreign purchasers from RM1 million to RM600,000 for unsold completed high-rise properties in urban areas. Consequently, several states like Selangor, Kuala Lumpur and Penang have revised the minimum price for foreign purchasers. More details here: Guidelines for foreigners buying a house in Malaysia
3. The reduction of OPR by 50 basis points to 2% on 5 May 2020, will lead to lower borrowing cost for home loans, to remain accommodative and supportive of the property market.
In terms of housing, the Malaysian government will place a  special focus on the affordable segment and more affordable homes priced below RM300,000 would be built for B40 and M40 groups under the National Housing Policy 2.0 programmes. Other initiatives include:
1. Youth Housing Scheme by BSN – to extend the scheme from January 1, 2020 until December 31, 2021.
2. Rent-to-own (RTO) financing scheme for first-time homebuyers for housing projects priced up to RM500,000.
Disclaimer: The information is provided for general information only. iProperty.com Malaysia Sdn Bhd makes no representations or warranties in relation to the information, including but not limited to any representation or warranty as to the fitness for any particular purpose of the information to the fullest extent permitted by law. While every effort has been made to ensure that the information provided in this article is accurate, reliable, and complete as of the time of writing, the information provided in this article should not be relied upon to make any financial, investment, real estate or legal decisions. Additionally, the information should not substitute advice from a trained professional who can take into account your personal facts and circumstances, and we accept no liability if you use the information to form decisions.