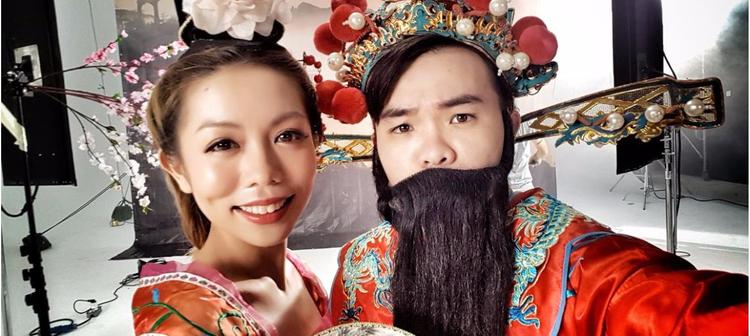 Kuala Lumpur, 25 January – To usher in the Lunar New Year, property developer Mah Sing Group Berhad released a series of interactive, light-hearted Chinese New Year videos to put a smile on the faces of viewers this festive season.
The first interactive video, titled "Choi San has a GIRLFRIEND", was released on Mah Sing's Facebook, and WhatsApp platforms on 20 January 2017. In just 2 days, the interactive video has been played more than 1million times, with 6,000 likes and 1,000 shares on Facebook. The interactive video is continuously gaining popularity every minute due to its engaging features.
Mah Sing's Group Managing Director, Tan Sri Dato' Sri Leong Hoy Kum said, "We decided to use a fresh and humourous approach to bring fun and laughter via our interactive video this festive season. This interactive video brings a different experience and we believe viewers will want to share out this special blessing from Choi San to their family and friends."
"This interactive video is our innovative approach to engage younger audiences via digital platforms. The Group is very active in digital platforms and we are always up to date with the latest online trends. Our digital marketing is one of the few important platforms for us to generate leads," shared Tan Sri Dato' Sri Leong.
Tan Sri Dato' Sri Leong further added "On behalf of everyone at Mah Sing, we wish you an abundance of wealth, health, luck, prosperity and success this Year of the Fire Rooster and many years to come! We would also like to invite our customers and their families to join us at all our sales galleries which will remain open throughout the festive period. There will be many fun Chinese New Year games and activities in store."
Mah Sing's CNY RM8,888 Campaign
The Group's CNY video also highlights the CNY RM8,888 Campaign which runs till 28 February 2017. Buyers can enjoy cash rebates ranging from RM888 to RM18,888 for selected Mah Sing properties. In one of the CNY videos, Choi San almost missed on this exciting campaign, but lucky for him, his trusty Pandora box brought him back in time to grab the special bonus.
Interactive Video: You Help Choi San Make Big Decisions and Receive His Generous Blessings
Even Gods face earthly problems; the storyline follows Choi San (the God of Prosperity) and his girlfriend, Seong Ngor. An ordinary day in Heaven quickly turned turbulent as Choi San has to tackle a series of tough questions from Seong Ngor. Viewers then have to assist Choi San in making the right decisions by engaging with the interactive video.
Among the interactive features include tilting their mobile devices – to the left or right to select whom Choi San thinks is better looking, Seong Ngor or his ex-girlfriend, Chat Xin Lui. Viewers also have to answer a WhatsApp text from Choi San himself and move the time bar which will allow Choi San to go back in time. The video will then play out a scenario based on the selected answer.
Catchy Trailer to Pique Attention and Promote Interactive Video
To promote the interactive video, Mah Sing released a trailer on the Group's Facebook page. Clicking the trailer will lead to a short clip before the actual interactive video begins. This interactive video is a hallmark of the Group's innovative approach to engage audiences via digital platforms.
Mah Sing Group's Chinese New Year video starred Reuben Kang (YouTube sensation) and Jenn Chia (also known as "So, I'm Jenn", a Malaysian singer-songwriter), and was partly filmed at Icon Residence, Mont Kiara which is one of Mah Sing's iconic series development.
Icon Residence takes its architectural inspiration from the Mediterranean and each unit of the developments is designed as a corner unit. The development is also surrounded by a network of highways for easy access and is one of the most sought-after addresses in Mont' Kiara.
Now Showing – Choi San Did It Again!
Mah Sing has just released the 2nd video of the Group Chinese New Year video series on 25th January 2017. Aptly titled "Choi San did it again!", the video is a continuation of Choi San's antics. The scene began with Choi San driving a red sports car to meet his girlfriend Seong Ngor. On the way, he bumped into his ex-girlfriend, Chat Xin Lui and ended up having coffee with her, reminiscing over old times. This resulted in Choi San being late to fetch his girlfriend, Seong Ngor who wanted to buy their dream home.
Upon reaching Mah Sing's sales gallery, they found out that they were late and they have missed out Mah Sing's CNY RM8,888 campaign which ends on 28 February 2017. Seong Ngor was upset as she was looking forward to buying the house together. To make things right with his girlfriend, Choi San whips out his trusty Pandora box and turns back time.
Given a second opportunity, Choi San chose to drive past his ex-girlfriend and head straight to meet Seong Ngor. This time, they arrived on time and Choi San was able to make Seong Ngor happy and successfully purchased their dream home while enjoying Mah Sing's CNY RM8,888 campaign.
To watch the video, click on the link  http://bit.ly/MahSing_CNY2017
Also check out Mah SIng's CNY video here: https://www.youtube.com/watch?v=NuFY_L5D0kk
******