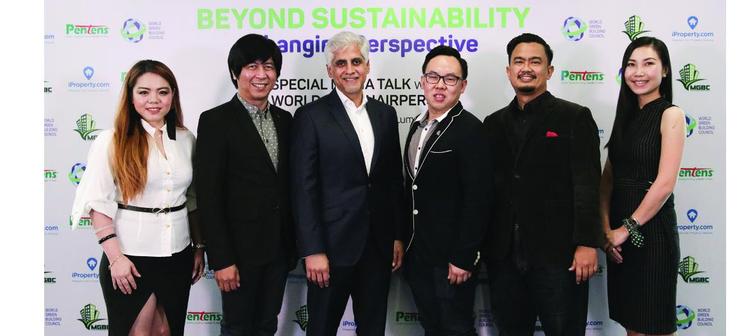 This Media Talk themed "Beyond Sustainability: Changing Perspective" was a timely reminder to everyone on the importance of building Greener and more sustainable homes in combating threats of climate change and global warming. The talk was held on the 10th April at the premises of Malaysian Institute of Architects (MIA)'s newly-completed, GBI-Platinum rated Headquarters along Jalan Tandok, Bangsar.
Panellists for the Media Talk included Tai Lee Siang, Chairperson, World Green Building Council (WorldGBC); Ar Alice Leong, Honorary Secretary, Malaysia Green Building Confederation (MGBC); Ir. Kok Yen Kwan, Chair of Events, Media and Communications, MGBC; Haresh Khoobchandani, CEO, iProperty.com Malaysia and Singapore; and Melissa Ng, Marketing Manager, PENTENS Holdings Sdn Bhd. The talk was preceded by MGBC-appointed moderator Ixora Ang.
The panellists each discussed their respective roles in shaping a change in the Green building industry while using differing platforms to drive sustainability advocacies, especially to the general masses.
Accelerated Growth And WorldGBC Taking A Lead Role
"WorldGBC is a 75-strong countries global nongovernmental organisation (NGO) with the main aim of encouraging and advocating Green building adoption. In today's context, we are talking about acceleration, and it's no longer about getting people to build Green buildings, as the issue of climate change is threatening.
And with that, the WorldGBC has set ambitious targets such as achieving Net Zero Building (NZB) by 2030, and all buildings to be NZBs by 2050," said Tai.
Regionally, Asia Pacific has huge potential for growth and is economically vibrant. Therefore, it is important to consider urban and cities' developments. WorldGBC also works with individual country Green Building Councils (GBCs) to drive the Green message across to local authorities and governmental organizations.
"More specifically, MGBC as an Established Member of the WorldGBC, has successfully driven the local Green building rating tool – the Green Building Index (GBI), which has been embraced by major developers in the country. In an overall context of Asia Pacific, MGBC has been one of the shining stars in the region," said Tai.
He also believed that the current generation is uniquely placed to experience a rapid transformation from countryside and villages to megacities over the past 50-years, all happening right here, in Asia.
According to Tai, there are many current cities still suffering below the poverty line; and this goes beyond the basic financial problems, as habitats suffer from poor living environment like diseases, unsafe water and contamination.
"Asia is also suffering from one of the worst air pollutions, from north to south, and this again is threatening to human health. It is important to continue driving Green building adoption and product developments but we must remember the importance of cities in the equation.
Cities may be the element that drives our downfall if we do not address the fundamentals like the cities' traffic management, which can create a dysfunctional city. This is for us to comprehend the cities' elements and for all our exciting champions here with us today to address the issue," he echoed.
One of the interesting facts Tai noted is that the public is increasingly keen on sustainable lifestyles such as driving electric cars. Unfortunately, many are not keen on living in Green buildings. As a lot of people's time are spent indoors, Tai said that it is imperative to consider Green buildings as a starting point in adopting a sustainable lifestyle.
"With technologies being developed at such rapid pace, buildings are also increasingly being capable of user-personalisation, with optimum performance and settings made possible for individual home owners or building occupiers.
Hopefully, this is going to be a key element whereby people sees Green buildings as the chosen lifestyle of the future. This I believe, will be the biggest disruptive influence across the entire history of real estate and something we look forward to," concluded Tai.
Professionals To Lead Sustainable Building Designs
MGBC has been steadfast in their regional engagements, having continuously worked with and started dialogues with GBCs of neighbouring countries to exchange ideas and share knowledge. As a Green champion, MGBC sets its vision and mission of creating awareness on sustainability since its inception and subsequent registration under the Registrar of Societies (RoS), among the key issues being Energy Saving, Water Conservation and Transportation Connectivity.
"For example, MGBC publishes a Green product directory called Green Pages Malaysia (GPM), which is driven by a dedicated group of Panel of Assessors comprising professionals such as architects and engineers, who evaluate each individual submission to ensure all products or services listed in the directory are sustainable. We are also very proud that the GPM has been such a success story that many countries are benchmarking it and using it as a role model in their own directory development," Leong explained.
Beyond that, Leong also saw sustainable architecture design as a basic need of future buildings and a norm rather than a 'special design'. According to her, architects of the future should understand how spaces are being used, and integrating human needs into both the structural and functional design elements of architectural work. On the other hand, engineers should also play their roles in researching and designing systems based on efficiency, both in the system's operation and financially.
"It is indeed pleasing to note that many construction projects in Malaysia are currently embarking on the GBI Green building certification. Both residential and commercial property buyers need to understand that investing on slight incremental cost on certified Green buildings will bring across long-term benefits for them. For instance, efficient buildings use less electricity and good ventilation ensures better indoor environment.
"It is also worth noting that as both professional architects and engineers in Malaysia are bounded by our respective Code of Professional Conduct, it is therefore important for us to act professionally and deliver sustainable designs and systems to the public," Leong opined.
MGBC Driving Sustainability With Performance-Driven Green Buildings
"For a start, MGBC anchors their drive for sustainability on three core pillars – the L.E.O. Pillars, i.e. Leadership, Excellence and Outreach. First, let's talk about Leadership, where MGBC is a key driver in Green building adoption in the country, and we are proud to announce that as of to-date, we have a total of 183 million sq ft GBI-Certified Green building spaces," said Kok.
Next on Excellence, Kok added that if one was to study the overall membership base of MGBC, it is noted that approximately half of their members consisted of Industry Partners.
MGBC works closely with all these partners of varying trades to push for excellence in performance. This helps the entire industry to differentiate between real sustainable products and Green washing.
"Lastly, Outreach, an area of which we felt have been lacking in our push for a more sustainable environment. Although we have been building many Green buildings, there is a real disconnect between the building industry stakeholders, and the end-users or home-owners.
This drove us to work with iProperty.com Malaysia, which is one of Malaysia's leading online property portal. We are also pleased to inform that we have signed an official Media Partnership Agreement with them to work together in driving Green building advocacies," said Kok.
Further, Kok explained that proper Green building commissioning is an increasingly vital element in the sustainability value chain. There are growing numbers of certified Green buildings both regionally and globally which are suffering from poor performances as compared to their original design intent due to various reasons.
"As building owners invest substantial capital in Green projects, there must be measurable, quantifiable and verifiable means of justifying the actual performance, efficiency and savings of Green buildings as opposed to 'Bussiness-as-usual' buildings. Building owners must be made to understand the importance and advantages of building Green," Kok further noted.
He also stressed that the masses should take full advantage of the advancement of both digital age and social media to gain further understanding on sustainability issues and to be important stakeholders in Green building developments.
Citing the adage 'sharing is caring,' Kok asked the question: "As developers continue to build more innovative and sustainable buildings, why can't they proudly share their vision and ideas with their property purchasers?
It is often the case that once properties are handled over to end-purchasers, the Green features will be lost as these are never addressed to them. This knowledge transfer is very important in connecting Green buildings and their end-users.
" Kok is a firm believer that dedicated cooperation across the entire value chain of the building and construction industry are keys in pushing the Green building movement.
He ended by stating the importance of marketers with knowledge of selling Green building features; media in pushing the right message to the masses; and home buyers with the willingness to adopt and practices Green as the completing elements in a sustainable lifestyle cycle.
Pentens Drives Green Products Adoption
"PENTENS, as a responsible water-proofing product manufacturer, base our entire value chain on contributing towards a more sustainable built environment. Our flagship product – the PENTENS T-202 Ceramic Coating was not only Green labelled, but awarded Asia's first ever Carbon Footprint Certification – by the Environmental Protection Agency of Taiwan. We are proud to share that our entire product range comprises of 23 Green Labelled Products.
We are committed to a target of manufacturing 100% waterbased and non-solvent products by the Year 2020," Ng introduced.
On the main reason PENTENS joining as MGBC's Industry Partner and working with them on many initiatives, Ng explained: "We share common vision and mission with MGBC, which was established to promote sustainability in the country.
MGBC as an NGO requires a lot of efforts and assistance from the building professionals and industry partners alike for the efforts to be sustainable. It was with this in mind that we decided to work with MGBC to drive a common agenda."
PENTENS has also signed up one of Malaysia's sporting heroes Dato' Lee Chong Wei as their Green Ambassador and Ng was asked of his role in helping PENTENS drive their sustainable message.
"Our marketing strategies are anchored on 3 main pillars – Innovation, Creativity and Thinking-Out-OfThe-Box. We needed a paradigm shift in marketing and moved away from conventional marketing of standard media advertisements and social media promotions.
As Malaysia is a multi-racial society, we strongly believe our Green Ambassador should be able to drive the message across multi ethnics and platform.
By signing on Dato' Lee as our Green Ambassador, we model our Green product push after his personal characters – the sheer determination to succeed, exemplary leadership qualities and being a continuous role-model to all fellow Malaysians." Ng proudly explained.
iProperty.com Malaysia To Promote 'Sustainable Home Living'
Sensing a leading role which media can play in driving across the right message, iProperty.com Malaysia formally partners with MGBC towards the end of 2016 to jointly advocate sustainability.
According to Haresh, iProperty.com started driving the property industry towards excellence by recognising the industry's best developers and developments in the country in raising awareness in the work they are doing.
"With this partnership with MGBC, we can further promote sustainable home living by introducing for the very first time the 'Green Development' category in our People's Choice Awards, which was well-received. Our main goal is to change how home owners experience property in every way.
Green building, sustainable living and educating the masses become important aspects of what we do. The award also gives us the platform to tell that story and the partnership gives us the ability to do it on a much bigger scale," Haresh added.
Being the number one property platform in Malaysia, Haresh believes iProperty.com is ideally positioned to reach out to the millions of home owners with information on sustainability to kick-start this education process.
"We are the prime place to start the Green movement as the young starts to embrace new habits that will be sustained throughout their lifetime. We are excited on what's ahead of us and this is the core part of the company. Being the best comes with responsibility and we're showing it through this partnership," Haresh continued.
As part of this drive for sustainability, iProperty.com Malaysia introduced the inaugural 'MEET Expo – Make Experiences, Enrich Tomorrow' that took place at the Kuala Lumpur Convention Centre from 21st – 23rd April. According to Haresh, MEET was an entirely new experience for property shows, as the company redesigned the exhibition by including immersive technologies as the heart of the show.
"There were many solutions for homebuyers to consider which will have impacts regarding Green initiatives. At the same time, there were games and activities that educated people to promote sustainability whether it is saving electricity or recycling.
We will continue to reinvent, innovate and take Sustainable Home Living to the next level together with MGBC," Haresh concluded.
* This is the first of a two parts Exclusive Report on the recently concluded 2-days WorldGBC Asia Pacific Regional Network Meeting that was hosted by MGBC on 10th – 11th April 2017. Look out for the second part of the report in our July 2017 issue next month.
Disclaimer: The information is provided for general information only. iProperty.com Malaysia Sdn Bhd makes no representations or warranties in relation to the information, including but not limited to any representation or warranty as to the fitness for any particular purpose of the information to the fullest extent permitted by law. While every effort has been made to ensure that the information provided in this article is accurate, reliable, and complete as of the time of writing, the information provided in this article should not be relied upon to make any financial, investment, real estate or legal decisions. Additionally, the information should not substitute advice from a trained professional who can take into account your personal facts and circumstances, and we accept no liability if you use the information to form decisions.