Climate change as well as a rise in steel price brought about by the COVID-19 pandemic are expected to push construction companies in Malaysia to look for alternative building techniques to cope with rising costs and poor workmanship. Structural lightweight aggregate concrete (SLWAC) could offer a way out.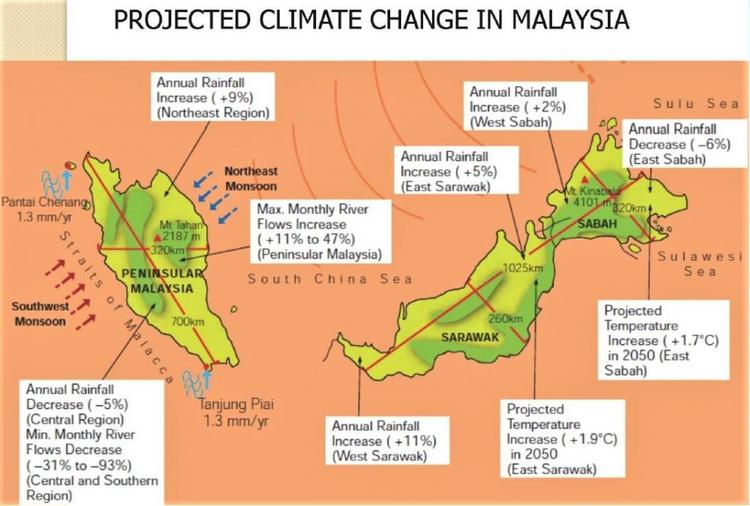 The year 2020 is definitely one for the books. The turn of the decade has brought about a global pandemic and with it, unprecedented disruption and challenges to most of us who have never experienced wars or major disasters in our lifetimes.
Although COVID-19 has brought untold deaths, it has not destroyed buildings, countries or living spaces. Nevertheless, the impact of the pandemic is felt in the property industry. As we enter the second year of the pandemic, we have become acutely aware of the many factories, shops and malls across Malaysia that have been forced to shutter following Movement Control Orders.
Current issues in the Malaysian construction industry
Impact of COVID-19
Construction supply has been halted, construction work stopped and there is little hope for a return to normalcy any time soon. Global vaccination effort has not been able to keep up with mutations of the SARS-CoV-2 virus which appear more virulent and have caused an exponential increase of COVID-19 cases in India and Europe. The World Health Organization (WHO) in April said the organisation is not certain at this stage that vaccination prevents transmission of the virus.
Based on Construction Industry Development Board (CIDB) records, the value of construction projects awarded in Malaysia fell 42% to RM55.3 billion between January and October 2020 compared with RM94.6 billion for the same period in 2019.
READ:  The impact of COVID-19 on Malaysia's construction industry & How to fix it
Climate change is real
Aside from the pandemic, climate change too, has contributed to disruption in the global supply chain. In March 2021, a container ship crashed into the bank of the Suez Canal during a sandstorm, causing extraordinary maritime traffic jam and blocking more than 420 vessels and trillions of dollars worth of goods for almost a week.
The United Nations Office on Disaster Risk Reduction (UNDRR) in October 2020 said there was clear evidence that with average global temperature in 2019 at 1.1°C above the pre-industrial period, the impacts were being felt in the increased frequency of extreme weather events such as heatwaves, winter storms and wildfires. While there has yet to be an estimate of the adverse impact of climate change to the global supply chain and economy, this increase in extreme weather is predicted to cause disruption.
The combined effects of COVID-19 and climate change have brought about a shortage of imported materials and products, leading to inflationary pressure on construction goods in general. Depletion of natural resources such as iron ores has contributed to a 48% price hike of steel bar reinforcements necessary for construction, from RM2,100.00 to RM3,100.00 per ton in Q3 2020. The massive loss amid a bleak economic outlook has alarmed contractors and builders.
Malaysia construction industry outlook 2021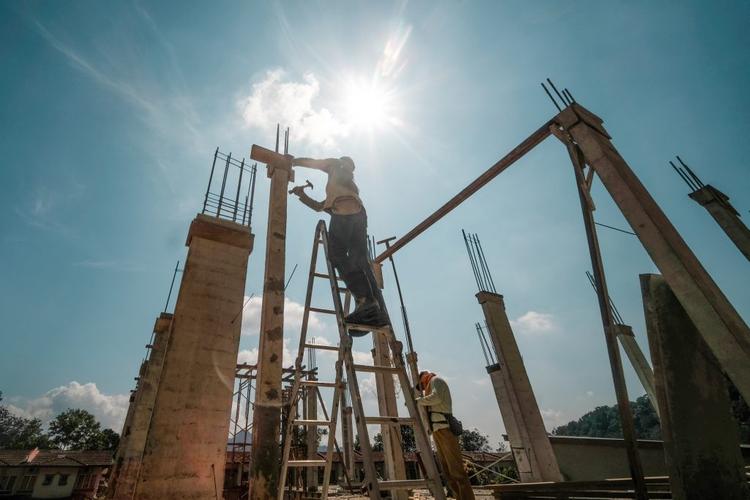 The steel price hike will lead to an increase in new property prices. Budget-constrained construction companies and builders must find ways to reduce costs. On top of "value engineering" and re-negotiating the various contracts involved in the construction process, they need to reduce reliance on foreign workers. According to CIDB, roughly 4,000 COVID-19 infections attributed to foreign workers have been recorded at various worksites as of December 2020.
Housing projects, which form a substantial portion of the Malaysian construction industry, will be delayed, resulting in a rise of Liquidated Ascertained Damages (LAD) claims against developers. Developers would attempt to recover their losses from their contractors who might, in turn, abandon the project when they are unable to pay.
Moreover, with rising awareness of consumer rights and the introduction of Limitation (Amendment) Act 2018 to allow property owners to claim for latent defects for up to 15 years, any compromise and drop in construction quality will lead to costly and painful litigation.
FIND OUT: Latent Defect Liability Claims: How much time do homeowners have to pursue legal recourse?
Adverse impact of climate change
Climate change also adversely impacts buildings. Greenhouse gases like CO2 and water vapour contribute to more intense and frequent heat waves, flash floods, strong winds and acid rains. Urbanisation causes heat islands effect – areas that experience higher temperatures than their surroundings.
An increase in air pollution exacerbates the negative impact of climate change. According to the Meteorological Department of Malaysia records, the first few minutes of rainwater in some major industrial and heavy traffic areas is as acidic as pH 2. Thermal stress also causes more cracks in building envelopes, causing accelerated degradation and more leakage in our buildings.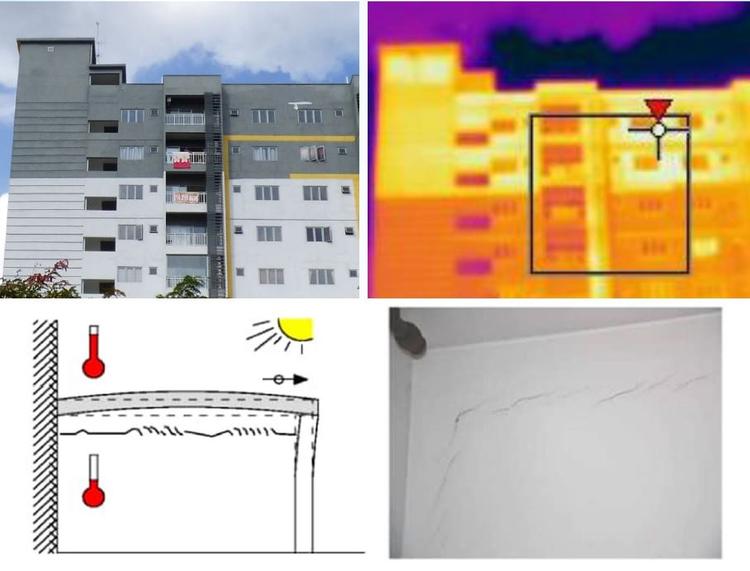 Excessive dampness is detrimental to indoor environmental health and contributes to the growth of mold, accelerated release of Volatile Organic Compounds (VOC) and the proliferation of unwelcome creatures like dust mites, cockroaches and termites.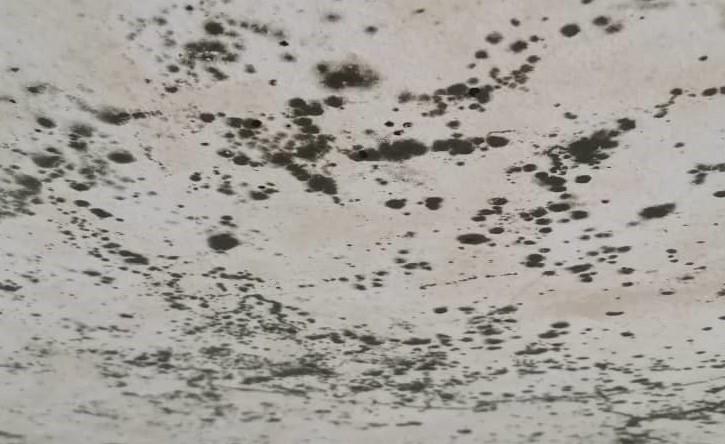 READ: How to remove mold and mildew once and for all
Increasing rainwater also contributes to the rising of water table of the groundwater. A higher water table results in a higher risk of groundwater penetrating basements and the lowest part of buildings like the foundation and lift pits. Depending on the pH of the groundwater and dissolved corrosive substances and minerals, it can damage reinforcement steel bars and concrete matrixes, and cause accelerated settlement (vertical displacement of soil surface) due to loss of frictional stability of a building's foundation.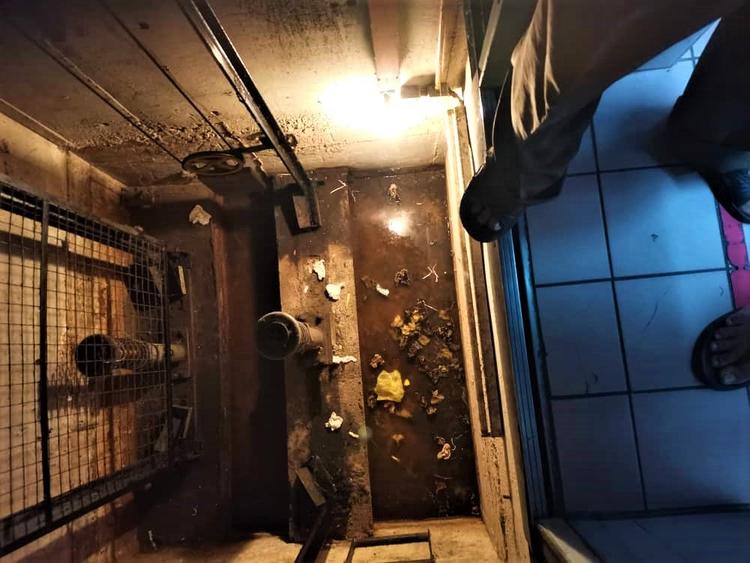 Time to review building hardiness
Section 84 of Uniform Building By-Laws 1984 requires suitable measures be taken to prevent the penetration of dampness and moisture into a building. Sub-section 3, 4 and 5 of Section 84 in particular contain requirements against groundwater penetration.
Designers and developers are urged to re-examine the broad definition of "suitability" of such preventive measures and understand the adverse impact of climate change on building structures. What was once suitable is perhaps no longer suitable in light of current conditions, and more stringent requirements against dampness are needed.
The way forward for Malaysia's construction industry
Price suppression on construction materials and a reduction in construction quality is inevitable in light of the inflationary pressure. But the lower quality and more defects will lead to loss of reputation and painful litigation.
At this juncture, what the industry needs is unconventional methods because we cannot do the same thing and expect different results. But new ways of doing things are risky, especially looking at the scale of application. High quality is also usually associated with high costs. Therefore, in view of the bleak economic outlook, a time-proven and cost-effective technology that does not compromise construction quality is needed.
Urgent need for stronger, climate-proof buildings
A resilient building design with flood-resistant design, stronger enforcement to roofing and fenestration and emphasis in passive design is the way forward to combat climate change. Besides, cool roof, control joints, rainwater harvesting, insulation and high-performance waterproofing systems must be integrated into the building design for crack and moisture control, too. Readiness and preparedness plans during natural disasters must also be designed and constructed in areas with a high risk of flooding and storm.
Historically, reducing the dead load (the intrinsic weight of a structure) is the most feasible way to bring down construction costs. Many building components have become lighter and slimmer in order to achieve a reduction in dead load. A lower dead load allows a smaller foundation, smaller structural members, longer span and smaller settlement. However, dead load reduction has been largely overlooked in Asia.
CHECK OUT: Water leak in condo: Who is responsible & how to prevent inter-floor leakage?
SLWAC can be a construction lifesaver
Structural lightweight aggregate concrete (SLWAC) has been widely adopted in the construction of structures and high-rise buildings in North America since the 1930s and in Europe, South Africa and Australia since the 1960s, due to its cost advantage.
Structural lightweight concrete made with rotary kiln solves weight and durability problems in buildings and exposed structures. It is comparable in strength to normal weight concrete, yet is typically 25% to 35% lighter. It offers design flexibility and substantial cost savings by providing less dead load, improved seismic structural response, longer spans, better fire ratings, thinner sections, decreased story height, smaller size structural members, less reinforcing steel, and lower foundations costs.
According to America Concrete Institute, ACI 231, SLAWC achieves standard cylinder compressive strength of more than 17MPa in 28 days with an air-dry density of 1,440 to 1,850 kgm-3. Normal concrete weighs around 2,400kgm-3 – almost 23% to 40% heavier than SLWAC.
Among the buildings and bridges which incorporated SLWAC and are still standing today are:
Australia Square (1967) in Sydney, Australia (30MPa at 1,860kgm-3)
The Standard Chartered Bank Building (1968) in Johannesburg, South Africa (35MPa at 1,950kgm-3)
Woodrow Wilson Bridge (1961) in Washington, USA (35 MPa, Density: 1840 kg/m³)
Martinez Benicia Bridge (1962) in California, USA (28 MPa, Density: 1840 kg/m³)
In Malaysia, SLWAC was first formulated by Associate Professor Dr Payam Shafigh of the University of Malaya and has been successfully implemented in the Terengganu Drawbridge by Zelan-Hasrat Sedaya Consortium. The bridge has been operational since mid-2019. The American designer specified SLWAC at 35MPa at 1,860 kgm-3 for the construction of the two bascules so that they can be lifted with minimal hydraulic force. The SLWAC used in Terengganu Drawbridge achieved 35MPa at 1,830kgm-3, resulting in huge savings in steel bars for the counterweight mechanism.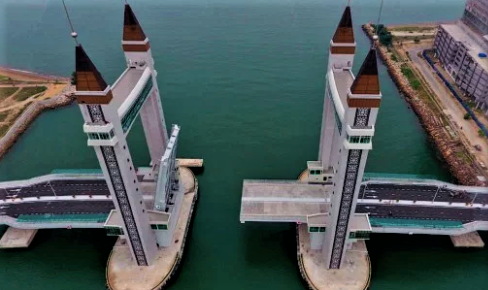 SLWAC has also been implemented successfully in an extension of a terrace house in Keramat, Kuala Lumpur in 2018. The strength of the concrete achieved was 30MPa at 1,770kgm-3. The savings included no modification and strengthening to the existing foundation, longer span and smaller structural elements.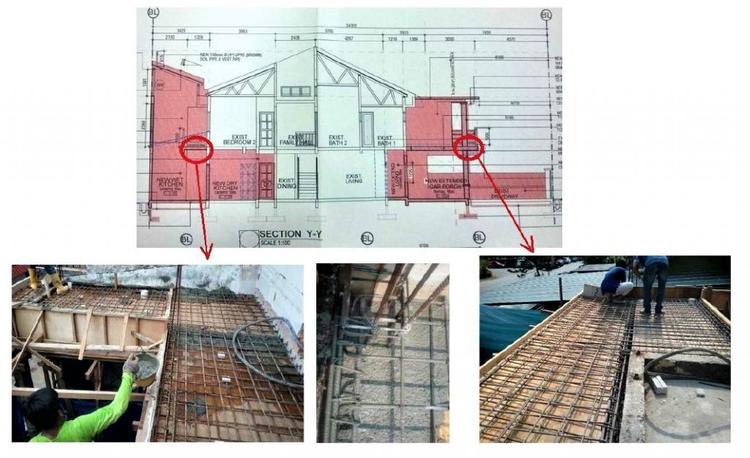 Benefits of SLWAC compared to normal weight concrete
SLWAC's other superior properties include low creeping, rapid curing within two to three days and higher thermal insulation than normal concrete. It is also perfect for areas with seismic activities. SLWAC's high thermal insulation reduces thermal bridging and transfer and consequently reduces the cooling load of air conditioning systems and, by extension, energy consumption and carbon footprint.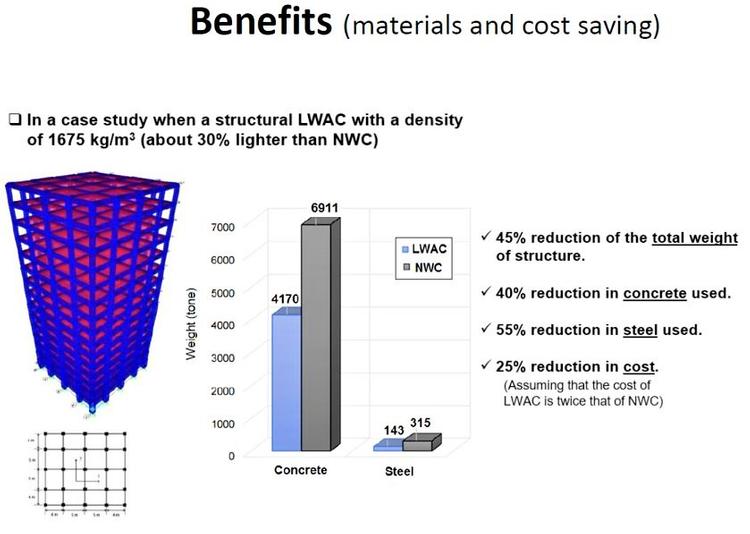 Conclusion
SLWAC has been implemented successfully in Malaysia thanks to R&D by the University of Malaya. The saving in reinforcement steel bars can easily offset the marginal additional costs of SLWAC, resulting in 20% to 30% in total construction costs as a whole, depending on the design of the buildings. Nevertheless, its implementation requires stringent quality control and assurance in all stages of mixing and casting. The cost advantage and other superior properties that SLWAC offers should be harnessed widely to overcome the current challenges in price hike, climate change and construction quality in Malaysia.
Disclaimer: The information is provided for general information only. iProperty.com Malaysia Sdn Bhd makes no representations or warranties in relation to the information, including but not limited to any representation or warranty as to the fitness for any particular purpose of the information to the fullest extent permitted by law. While every effort has been made to ensure that the information provided in this article is accurate, reliable, and complete as of the time of writing, the information provided in this article should not be relied upon to make any financial, investment, real estate or legal decisions. Additionally, the information should not substitute advice from a trained professional who can take into account your personal facts and circumstances, and we accept no liability if you use the information to form decisions.