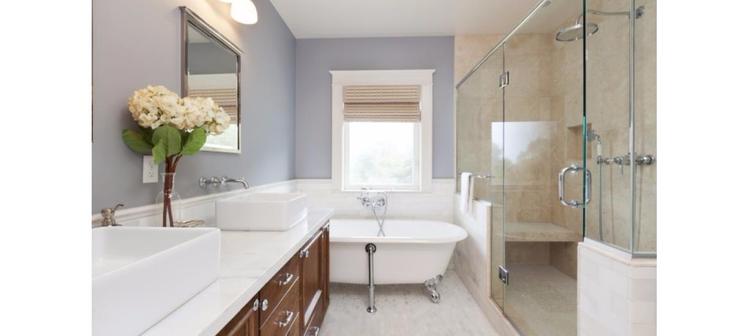 A design favoured by the Japanese for centuries, rather than having an enclosed shower zone the whole room acts as an enclosure in what is essentially an open bathroom.
So what do you need to consider when installing a wet room?
Illusion of space
A great alternative for small bathroom spaces, the absence of an enclosed shower screen means the space looks larger. And with minimal separation between zones, every centimetre of space is used – this look also complements the current penchant for open-plan, minimal design.
In addition, some wet rooms often forgo a bath, further freeing up space and contributing to that large, luxurious, spa vibe.
Cleaning
The absence of shower screen doors or base makes cleaning a breeze as there are fewer corners in which mould can lurk. On the flipside, you might find yourself cleaning a wet room more than a traditional bathroom due to the splash factor.
Safety first
Wet rooms are ideal for children and the elderly, as there is no need to step into a shower cubicle and there are no recesses to get caught on.
But with a large expanse of tiles, you have to be hyper vigilant when it comes to your selection – think mosaics or earthy, textured alternatives with plenty of grip to avoid slipping.
Drainage
The drain must always be at the lowest point of any bathroom but nowhere is this more important than in a wet room. Without a shower recess to collect the water, the floor waste, or drain, must be spot on to ensure the water drains efficiently. There are some simple ways to get around this so make sure you discuss this with you builder or tiler before renovating.
The splash factor
The position of the toilet, towel rails and shelving must be well clear of the splash-zone for obvious reasons. Power points and heated towel rails must be safely positioned too and all light fittings must be waterproofed and installed to code.
Also, as water is free to splash around the room, the whole space must be waterproofed making floor to ceiling tiles essential.
Property values
If you make the decision to forgo a bath in your wet room you could impact your sale price down the line, as well as eliminate young families from your buying pool. Aside from the fact that most people desire at least one bath in their home, the wet room's lack of privacy is an obvious disadvantage too.
Pros and Cons aside the wet room is a great way to great a spacious and zen space to enjoy as you would a day spa.
This article was sourced from www.realestate.com.au