Is it time for your kitchen to be remodelled? If you're looking to refurbish your wet kitchen or dry kitchen at home, then you've come to the right place. Take a look at some of the wet and dry kitchen design ideas in Malaysia below!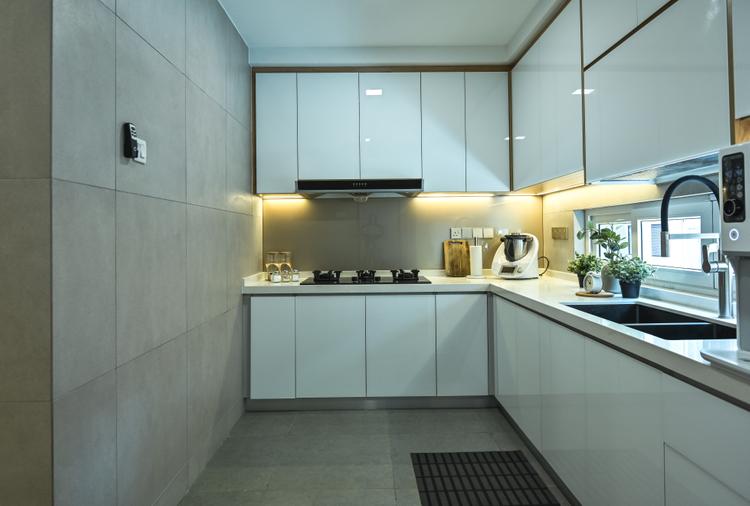 The wet and dry kitchen is something that all Malaysians are familiar with. Walk into any terrace home today and you'll find yourself standing in between kitchens — one catered for light meal preparation and the other for heavy cooking. Both wet and dry kitchens are usually positioned next to each other (and after the dining room), making it easier for us to move from one place to another. 
But why do we need to separate the wet and the dry kitchens, isn't it easier to just prepare and cook in the same place? Well, believe it or not, splitting the kitchen actually helps to manage your kitchen better and you get more kitchen storage space! Think about it, if you have a separate kitchen, you can focus on doing one thing in one place and it's much, much easier to clean the area as well. 
That said, not everyone can afford to have both wet and dry kitchen space. If you're living in a high-rise building, chances are, your home only comes equipped with one kitchen. Nonetheless, while it's convenient to have both kitchens at home where you can maximise their functionalities, it's totally fine to have a kitchen that serves both purposes. 
We asked the interior designers at IQI Concept what makes a wet and dry kitchen. 
SEE WHAT OTHERS ARE READING:
? Looking for kitchen cabinet design ideas? Here are some of the popular Malaysia kitchen cabinets.
? These small kitchen or kitchenette design ideas are beautiful yet practical.
What is a wet kitchen design?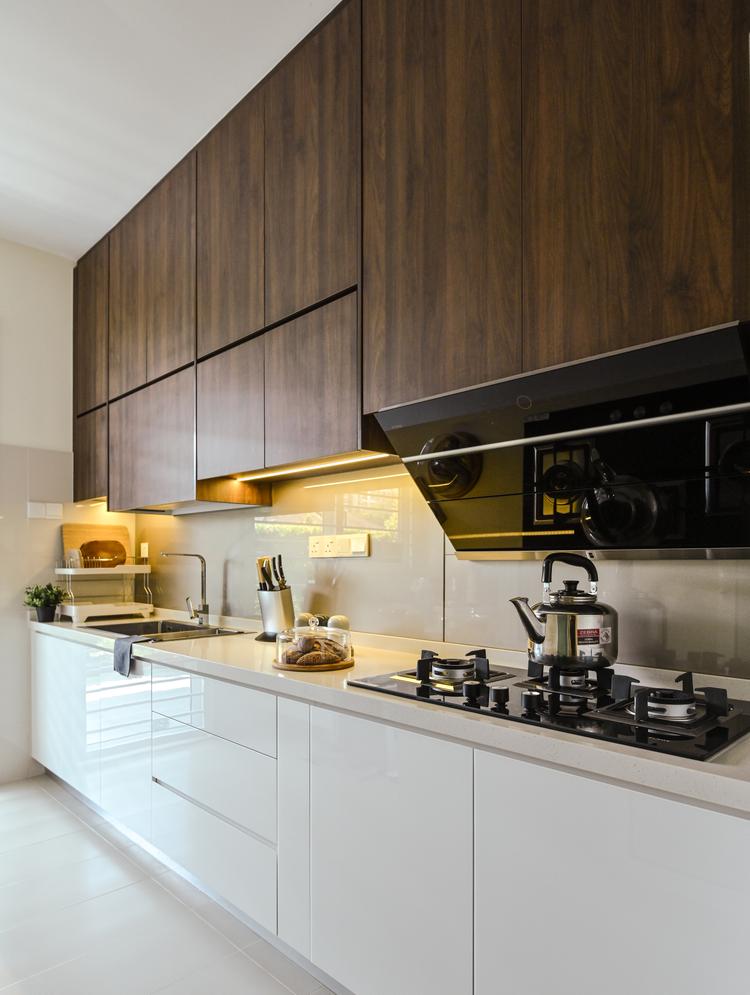 As mentioned above, the wet kitchen is typically reserved for heavy-duty cooking. In fact, it's the perfect place to cook things like sambal, chillies and other food that exude heavy cooking smells and grease — like most Malaysian food. This means this area is also prone to getting all messy and grimy after preparing meals for the family. 
When designing a wet kitchen, you should go for surfaces that are easy to be cleaned for this area will be stained with oil and grime after cooking. This will keep your wet kitchen in tip-top condition. Things like tiling up your walls and ceiling, installing a kitchen hood to limit strong odour and improve air circulation in the area, and raising kitchen cabinets will help significantly. 
You can also opt for industrial kitchen design as this style uses lots of stainless steel surfaces, and guess what, stainless steel surfaces are so much easier to clean when compared to the others.
Some even go as far as designing an outdoor wet kitchen design in Malaysia. The homeowners would expand their kitchen out to the backyard and the wet kitchen will be set up there. If this is something you're interested in having, talk to your contractor or interior designer, ask them to work out a kitchen floor plan that fits an outdoor wet kitchen for you.
Things to keep in a wet kitchen: 
Rice cooker
Gas stove or electronic stove
Tap and sink
Knives and chopping board
Pots, pans and woks
A variety of seasonings
Plates and bowls
Utensils like forks, spoons and chopsticks
Kitchen towels
Cloth
Read more: How to clean stainless steel appliances
What is a dry kitchen design?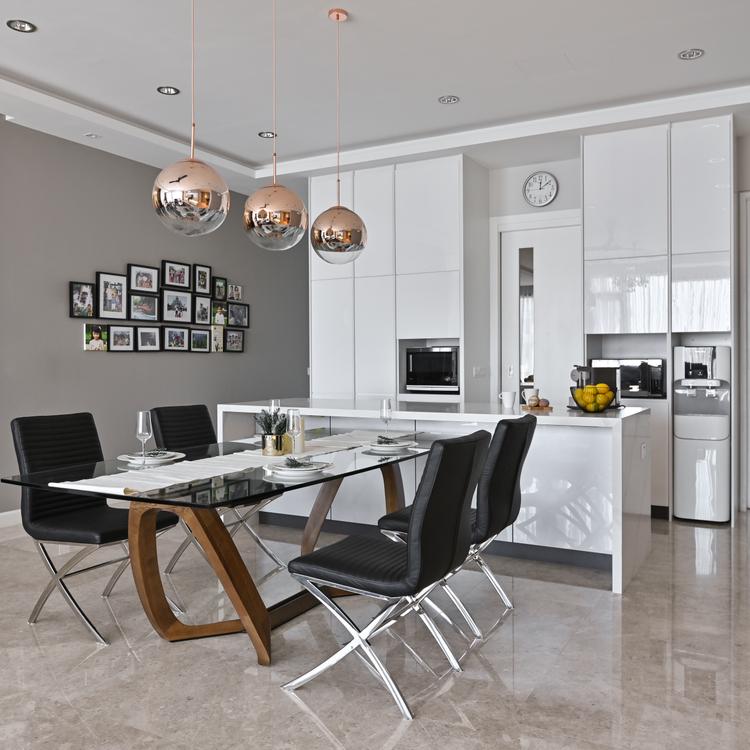 And then there's the dry kitchen. Unlike the wet kitchen where you'll typically find it at the far end of the home, it's usually positioned next to the dining area or living room. The dry kitchen area is used to prepare light meals like sandwiches and fruits. 
Here, you'll find things like the microwave, the toaster, the air fryer and the refrigerator. The dry kitchen dimension may be a bit smaller in some houses as sometimes it doubled as the dining table or bar area (remember to spruce it up with a couple of bar stools) where friends and families can mingle over food and drinks. 
Build a dry kitchen cabinet or a pantry cabinet to store all the dry food so that your kitchen looks neat and clutter-free.
Things to keep in a dry kitchen:
Toaster

or microwave toaster

Coffee machine 

Electric stoves

Tap and sink 

Fruit knives and chopping board

Serving plates 

Baking equipment 

Utensils like knives, forks, spoons and chopsticks

Salt and pepper  

Power towels or kitchen towels
Read more: 15 small beautiful kitchen decor ideas
What is the difference between a wet and a dry kitchen? 
As mentioned above, a wet kitchen is typically used for heavy-duty cooking, basically, a place where you can afford to dirty the kitchen during the cooking process. On the other hand, a dry kitchen is a spot where people used to prepare meals, so tink cutting, washing and peeling.
How to create an efficient wet and dry kitchen?
An efficient wet and dry kitchen will not only make food preparation much faster, but they're also easier to maintain. Now let's take a look at what makes a Malaysia kitchen functional. 
1. Separate the wet and dry kitchen
It goes without saying that both the wet kitchen and the dry kitchen should be split into two sections. Build a kitchen divider or partition to distinguish both areas — we recommend installing glass doors or glass sliding doors. This way you can visually expand your kitchen area while keeping both kitchens apart. 
2. Have easy access to both kitchenettes
Both kitchens should be close by if not next to each other so that you can manoeuvre from one place to the other effortlessly. You should also place shared appliances like a microwave, an oven, pots and pans somewhere close to both areas for easy access. 
3. Easy to maintain
Since the wet kitchen is reserved for heavy and greasy cooking, the area tends to get mucky easily. Grease and grime will stick to the wall and cabinets so it's important to keep the area as easy to maintain as possible. One straightforward way to do this is to install porcelain or ceramic tiles on the wall as they're easier to clean. As for kitchen cabinets, go for something with a matte finishing. 
The dry kitchen, on the other hand, is easier to maintain. Feel free to invest higher quality materials like marble and quartz for your countertop and cabinets. 
4. Ventilate the area
The last thing you want for your wet kitchen is poor ventilation. All that frying, washing and baking will generate heat and steam, and if you don't have good ventilation, the moisture-laden air will be trapped in the area and over time, mould and mildew will grow. 
To ensure proper ventilation, install a kitchen hood or get an exhaust fan to vent out strong odours and smoke. Or, just pop the windows open to invite fresh air in. 
Read more: 6 Malaysian kitchen layout ideas for any home
Wet and dry kitchen design ideas
There are so many ways you can beautify both your wet and dry kitchen areas. If you're looking for some home improvement tips for the kitchen, then you're in luck because we have some wet and dry kitchen design ideas for you. 
1. Opt for glass backsplash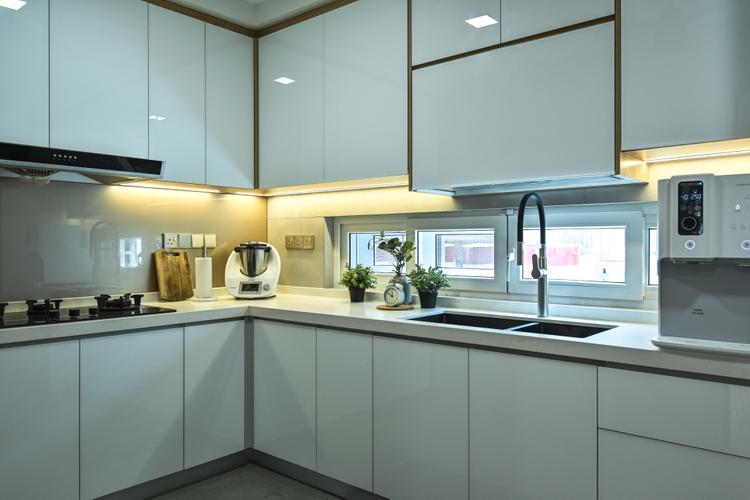 The combination of grey tiles in this all-white kitchen gives off a basic yet modern kitchen interior design. Coloured glass is used as tile backsplash in this wet and dry kitchen as it's easier to clean and it reflects light, making the space brighter (but you can also opt for tile designs like subway tiles) — a great option for kitchens that lack natural lighting. Instead of wood and melamine, the homeowner chose a glossy finish for the kitchen cabinet because its reflective surface helps make small kitchen feel bigger. Not to mention, it's also much easier to clean. You can install a sliding door to keep your wet kitchen and dry kitchen separate too. 
2. Add texture to an all-white kitchen
The open concept kitchen can look a tad bit boring, especially when everything's white (if you're looking for this design, check out IKEA Malaysia's kitchen cabinets as they're simple yet practical). Glam it up with pendant lights to add visual interest to the space. You can also add texture with marble-type tiles to add a subtle visual appeal to the all-white cabinetry. Match the marble backsplash and countertop to have a uniform and peaceful look throughout the kitchen. Try not to go for open shelving to avoid looking cluttered. 
3. Illuminate the space in this simple kitchen design
A glass backsplash is sleek, low maintenance and easy to clean because it has no grout lines as well as being much more durable. Kitchen looking bare? Put a pendant light above the kitchen island to illuminate the area and add visual interest to the space. Insert a small slab of marble-type tiles for the backsplash at the sink area to spruce up the dry kitchen. The simple kitchen cabinet design helps to keep things clean and tidy without making the area look boring. 
As for the wet kitchen, a tile backsplash and floor are preferred as it's easier to clean. The bottom cabinet is also raised slightly above the ground so you can mop the area with ease. Task lighting is also important here as it helps to illuminate the space and let you focus on what you have at hand easily. 
Read more: 8 modern and minimalist kitchen decor ideas and inspirations
4. Use contrasting colours in this condo kitchen design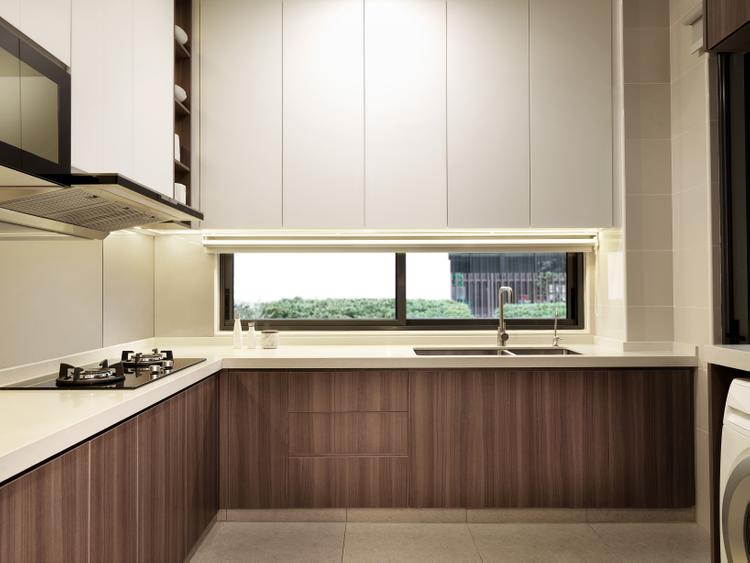 This wet and dry kitchen mixes a combination of two colours — beige and light brown for the cabinets instead of the usual all-white. The colour combination creates a strong contrast in the kitchen area, a great choice for those who are looking to add colours in the kitchen without overwhelming the space. The warm colour tones also help lighten up the mood in the kitchen. Instead of going for small kitchen cabinets, this interior designer extended the top kitchen cabinet to the ceiling to allow more storage space and to draw the eyes upwards, accentuating the height of the space. The homeowner even placed a laundry in the kitchen to maximise the use of the space.
5. Add statement tiles in a minimalist kitchen design
Create a small statement piece/section with the use of subway tiles as a backsplash to make the space more visually enticing. You don't have to tile the entire kitchen or it'll end up looking garish. We like the black countertop and white cabinetry for it creates a uniform style for the wet kitchen. 
For the dry kitchen, this kitchen goes with white tiles and white grout for a clean and timeless look. Hanging polished silver finish pendant lights above the kitchen island helps provide ample light. 
And there you go, with these tips and design ideas for the kitchen, now everyone can design their own wet kitchen and dry kitchen.
TOP ARTICLES JUST FOR YOU:
? There are a few types of kitchen table top designs to have in the kitchen, but which suits you best?
? Designing a kitchen island in a Malaysian home is not hard, here's how you can do it tastefully.
? Former banker reveal tips to help secure a home loan.
Disclaimer: The information is provided for general information only. iProperty.com Malaysia Sdn Bhd makes no representations or warranties in relation to the information, including but not limited to any representation or warranty as to the fitness for any particular purpose of the information to the fullest extent permitted by law. While every effort has been made to ensure that the information provided in this article is accurate, reliable, and complete as of the time of writing, the information provided in this article should not be relied upon to make any financial, investment, real estate or legal decisions. Additionally, the information should not substitute advice from a trained professional who can take into account your personal facts and circumstances, and we accept no liability if you use the information to form decisions.