*This article was updated on 13 February 2020.
This guide details everything you need to know when it comes to choosing, purchasing, installing and reaping the benefits from your home's residential solar system.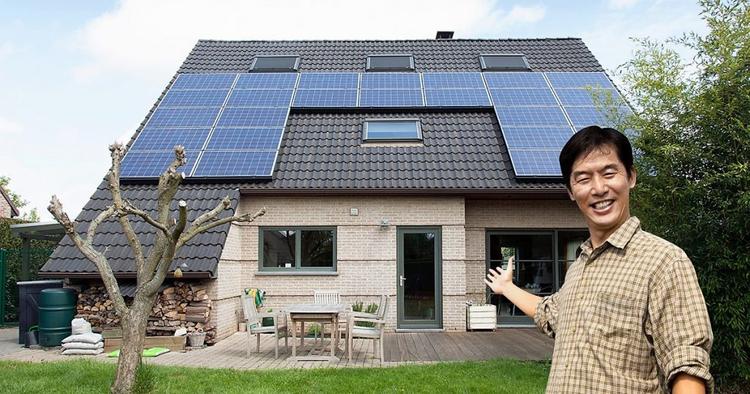 With the new normal amid Covid-19, many Malaysians have been spending a larger share of their time at home. This is mostly from having to work from home on a regular basis and as a result, home electricity bills are expected to have spiked by 20-30%, on average, in the recent months. If there was ever a time to consider installing a solar system for your home, now is the best time to jump onto the bandwagon! You could be saving quite a bit on your electricity bill.
What is a solar panel?
Solar panels are usually placed at open and sunny areas (most commonly on a house roof), and it uses photovoltaic PV solar cells to absorb sunlight which is then transformed into electricity. The bright and sunny climate in Malaysia makes it the perfect medium to generate sustainable solar energy all year long. 
As a result, you won't have to buy your electricity from the grid anymore, cutting down your electricity bill substantially. Moreover, if you happen to generate more electricity than you need, you can sell it back to Tenaga Nasional Berhad (TNB) via the Net Energy Metering (NEM) Scheme, as explained further down below.
To give you a clearer vision of how solar panels work, here's a graphic illustration by TNB: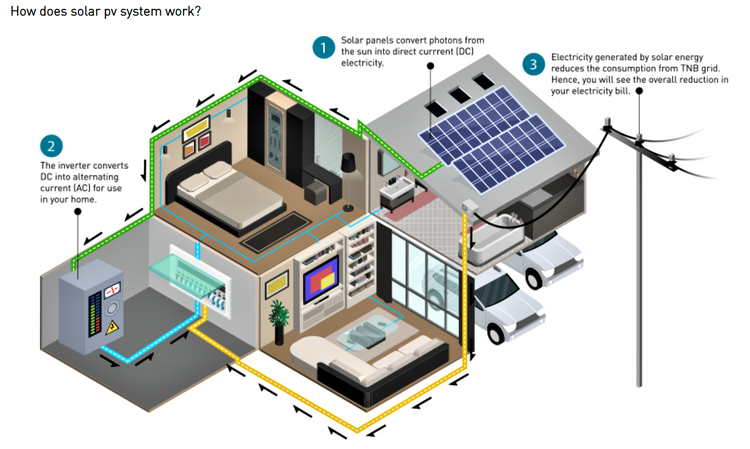 Why should you install solar panels for your home?
Solar panels are an awesome way to generate electricity on your own that not only can help you financially, but contribute to the environment and bring you some additional income. Here is a list of key benefits that you can look forward to, once you install your very own solar power system:
Savings on electricity bill from 54% up to 87% per month, depending on your electricity bill (according to GSPARX, a wholly-owned subsidiary of TNB and a registered solar PV investor under SEDA Malaysia).

Lucrative incentives from the Malaysian Government.

Investment Tax Allowance (ITA) from MIDA (If you are a Malaysian Incorporated Company that makes a formal application for the Green Technology Tax Incentive – Refer to footnotes)

10% sales tax exemption if you buy locally manufactured solar PV equipment.

Increased value of your property.

Nice addition to your eco-friendly home renovation.

Productive use of your spacious roof.

Making a positive environmental impact by reducing the use of fossil fuel and carbon dioxide emission.

A sustainable source of producing electricity that will last up to 30 years
What are the types of residential solar panels available?
Before you can purchase a solar panel, learn about the two types of solar panel systems that are available in the current market.
Grid-tied Photovoltaic PV System
If you incur a high monthly electricity bill and wish to reduce your utility cost, then this solar power system would be suitable for you. As it will be connected to a local utility grid, the only cost required would be for the purchase of the panels and equipment.
Stand-alone Photovoltaic PV System
The more expensive Stand-alone PV system works separately from the grid and relies on batteries, which are expensive. These are more suitable for areas which do not have proper electricity lines. However, installing this will help you save money on acquiring a power line and at the same time it will generate solar energy to cater to your electricity needs.
READ: 6 guaranteed ways to save electricity bills at home
What do homeowners need to do to in order to install solar panels in Malaysia?
After choosing the type of solar panel you want for your home, let's talk about what else you will need in order to proceed with your solar panel installation:
Be a registered TNB customer.

Own a landed property as apartments are usually not feasible to install solar panels.

Have a spacious roof or ground yard to accommodate all your solar equipment.

Have a strong roof without leaks or damage to support the hefty solar power system. 

You will need approximately 6.27 sq. metre of roof space to accommodate 1 kilowatt of electricity generation capacity.

A well-ventilated area to place your batteries.

Abide by local laws and meet your electricity provider's requirements to connect to the local grid.
Looking for a house with ready installed solar panels? Check our listing, Aster new house with solar panel.
How to install a solar panel?
In order to install a residential solar panel system, first, you need to have these equipment ready:
An inverter to convert direct current (DC) power to alternating current (AC) power, in order to generate electricity.

A charge controller to regulate your voltage capacity.

Lastly, a solar battery to harness renewable energy from the sun using photovoltaic PV solar cells.
Once you have all of the necessary equipment ready, follow these 3 simple steps to set-up your very own solar panel:
Install the mounts or racking for the solar panel as per the packet instructions.
Connect the solar panel to the racking equipment.
Install the solar inverter and you are good to go!
Where can you buy solar panels in Malaysia?
Solar panel equipment is not very common in Malaysia, as you can't just walk into any hardware store to buy them. Well, the Sustainable Energy Development Authority (SEDA) Malaysia has made it easier for you by compiling a list of credible and registered companies that supply solar power systems.
Currently, there are over 110 solar PV service providers and 27 solar PV system investors who are registered with SEDA where you can easily find their contacts. So, all you have to do is call a few of them and see who gives you the best rate. These service providers can even help you to fill out your application and install the solar panels, if needed.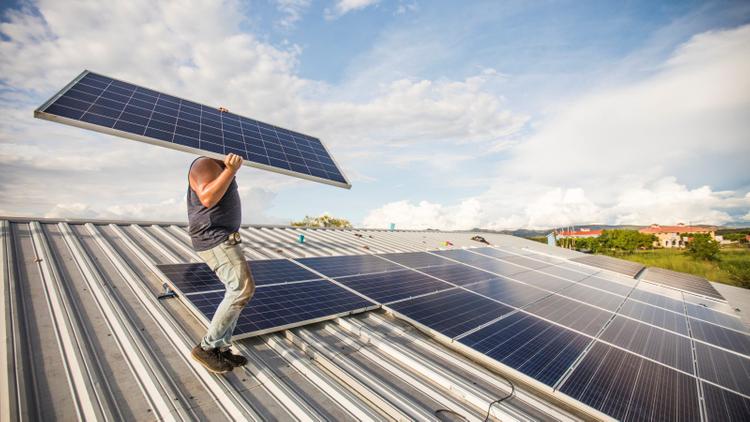 You can buy your solar equipment directly from these SEDA accredited service providers or you can opt to buy them online from local e-commerce stores such as Lazada and Shopee.
How much does it cost to install a residential solar panel?
The cost of your solar panel will depend on the quality of your equipment and the kilowatt of your solar power system. For instance, if you install a 4kWp solar power system in your 2-storey residential house, the full cost of the solar panel equipment including a hired professional may go from as high as RM50,000 to RM60,000.
According to Solar Panel Malaysia, here's how you can calculate the estimated solar panel cost more accurately:
Step 1: Check your average electricity consumption in kWh-per-year from your electricity bill.
Step 2: Note how many hours a day the sun shines in your area. 
Step 3: Determine the percentage of solar electricity you will need for your household.
Step 4: Use this global standard formula to estimate the size of the panels that you will be purchasing. By getting its size, you will have an idea of how much you will need to save or apply for a loan
Array size in kW = (average kWh/yr) ÷ (365 days) ÷ (solar hrs/day) x (coverage percentage) ÷ (75% constant efficiency)
For example, if your average electricity bill is RM 100/month with 1,000 kWh average consumption per month and you have roughly 5-hour solar hours per day at a preferred 75% coverage, then,
Array size in kW = (12,000 kWh/yr) ÷ (365 days) ÷ (5 kWh/day) x (75%) ÷ (75%) =6.58kW 
This computation is for the estimated cost for solar panels only – another cost you have to bear is the installation of solar panels, which price is affected by several factors such as;
average electricity consumption each month
the amount of electricity you want to offset,
the sun/solar source in your area.
As mentioned above, total cost could come up to between RM50,000 to RM60,000.
MORE: A homeowner's guide to Quit Rent, Parcel Rent & Assessment Rates in Malaysia
Are there any solar panel incentives for Malaysian homeowners?
1. Net Energy Metering (NEM)
SEDA Malaysia introduced the Net Energy Metering (NEM) programme to let you generate solar energy and earn from it, as it enables you to store electricity in your grid. The renewable energy that is generated can then be used for your household to save your electricity bill.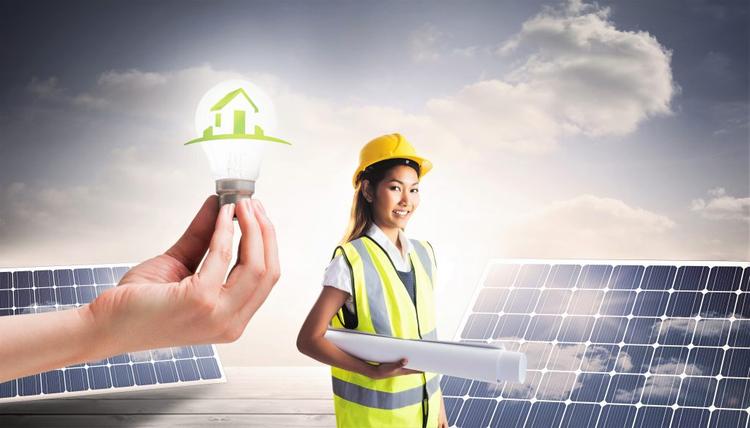 As of January 2019, a new concept for NEM was introduced –  the previous net billing was switched to true net energy metering, which allows excess solar PV energy to be exported back to the grid on a "one-on-one" offset basis. This would mean that every 1kWh exported to the grid will be offset against 1kWh consumed from the grid.
The more capacity (kwh) your solar panel has, the more electricity it can harness. This electricity is then used as credit.  When TNB bills you, this credit can be offset from your electricity bill to reduce your electricity cost significantly.
Applications for NEM are based on a first come first serve basis, up to the allocated quota. Applications may be made by your appointed registered PV service provider or registered electrical contractor and it should be submitted either manually or via SEDA's online application portal. Click here to learn the latest guideline for NEM application.
NOTE: The quota allocation for NEM was 500 MW in 2020 – so far, the government has not made any announcement for the NEM allocation in 2021.  
2. Solar Leasing under Supply Agreement for Renewable Energy (SARE) Programme
This option is for those who are interested to switch to solar energy but who do not have the financial capacity to invest in a solar panel system.
SARE functions in a way where the customer enters into an agreement or contract with an investor/ Solar PV owner and Tenaga Nasional Berhad. This programme is aimed at making it more accessible and affordable for Malaysian customers to adopt solar PV systems. Under SARE, the owner/investor leases the solar PV system to the customer whilst the solar energy purchase by the customer will be billed by TNB. Here TNB will assume the role of a contracting and billing agent. As a customer, you will pay a leasing fee to the owner via TNB and in return, you do not have to pay the upfront cost to install the solar PV system.
Here are some FAQs on the SARE programme:
Who is the investor/owner? For TNB, GSPARX will be one of the investors and there could be other investors such as banks, investment funds, private parties or PV system service providers itself interested to be an investor/owner.
What happens to the solar system after the contract expires? The solar system will be transferred to the customer (you). You will then be responsible for the operation, maintenance and upkeep of the solar system. There are many solar system vendors in the market that you can further engage for a separate maintenance contract.
How do I, as a customer apply for SARE? Generally, SARE is applied by the Investor/Owner as they are the party that require TNB to assist in the billing & Invoicing, revenue management and contracting service. You can get more information on SARE via sending an email to [email protected]
Check out the full list of FAQs on SARE here.
What are the financing options for your solar panel installation?
Since the solar panels are a little costly, you have 3 options to pay for it to ease your financial capacity.
The first option is to pay in full, upfront, via your credit card, debit card, bank transfer, or cash. Then you can recover the cost by selling your electricity via

Net Energy Metering (NEM)

over the long run.

You can opt for a low-interest personal loan to break down the cost into several installments. You can check banks like United Overseas Bank (UOB) who have 36-month interest free loans under their U-Solar initiative. Bank Islam also recently announced that it will be offering up to 100%  financing for the purchase of a solar PV package from GSPARX with an attractive floating rate that's as low as 4.67%.

You can lease your solar panel via the solar power purchase agreement (PPA) and solar lease programs offered by solar panel service providers. This would require no upfront payment on your end and you get to enjoy services such as maintenance and repair, system monitoring, insurance, and roof penetration warranty – in exchange for a fixed monthly payment for a designated time period.
What is the Return on Investment (ROI) for installing a solar panel?
The return on investment (ROI) of installing a solar panel comes from your reduced electricity bill – the energy harnessed from the solar panel can offer your substantial reduction in utility cost. 
Can homeowners install the solar panel on their own or do they need to hire a professional?
You can go either way depending on your preference. Here's a list of pros and cons to weigh out your DIY option or hiring a professional. 
DIY solar panel installation
Pros:
Home solar panel kits are relatively cheaper. You can easily buy them on most e-commerce stores. 

Installing the solar power system can be a cool new skill you can learn, most kits come with an instruction booklet.
Cons
You will need some prior electrical DIY experience, basic understanding and tools to properly install the solar panel.

The store-bought solar panel kits might not be as good as the ones from the professional solar installers, in terms of quality and longevity.

You may need to get the signature of a certified electrician for the utility company to connect the solar panel to the grid.

There will be minimal or no warranty for your kit.
Hire professional solar panel installers
Pros:
Better quality and longevity of your solar power system, with a professional warranty.

They will handle all your paperwork like getting permits and applications.
Cons:
Much higher cost than the DIY method.

Have to invest time in finding and comparing different solar panel companies in your area to get the best quotation.
So, if you are thinking of a value-added investment that will both earn you money and lead you towards a greener lifestyle, then you have everything you need to know right here to install your very own solar power system.
FOOTNOTES
Tax Incentives for Green Technology Industry 
If you enjoyed this guide, read this next: What is home loan refinancing & how can I do it?