The famous Malaysian TV Personality and host of Say Yes to the Dress Asia tells us why she grows her own plants and shares some useful tips for gardening beginners.

Despite being a self-professed "kampung girl", TV personality and professional emcee Daphne Iking admits to not having green fingers. So the thought of growing her own garden – on the balcony of her condo no less, was furthest from her mind. That was until she received encouragement from her mum.
"We hated to see the bare space on our balcony, and so my mum suggested we started a garden," says Daphne. As she has very little experience, she initially thought of just getting a few plants and perhaps a water feature to brighten up the landscape and to cool the area.
MORE: 9 awesome balcony garden ideas
"However when we looked closely, we saw that the balcony site was constructed for soil, or a garden, to be over it," she says. "It also had a water outlet for adequate drainage and a pipe, so it would be easy to water the plants. And the place had enough sun. So voilà, that was how my balcony garden or 'SkyGarden', as I like to call it, was born."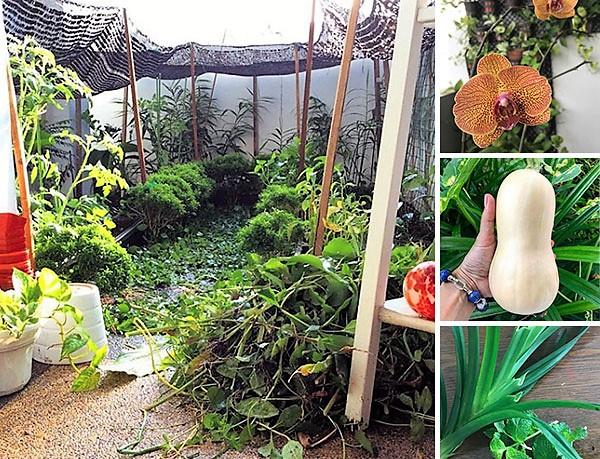 Getting started
Daphne's mum suggested that they drew up a landscape plan to see where the shade would hit and where it would be sunny or more prone to rain. This helped with choosing the right plant for each location in my garden. "It's important to know what you are up against and what works best for your own garden," she says.
Daphne then went to – where else, but Sg Buloh, to purchase about 300 packs of soil and started filling up the square hole. "Then I bought pearl grass and started planting it," she says. "I fertilized the soil with organic fertilizers and left one corner of the garden specifically for composting. I've not looked back since."
Pictured below is Daphne with her mum and number one gardening inspiration:
The basics
Sowing seeds are easy but caring for plants is a different story altogether. If you are a gardening newbie, do not make the mistake of going too fast, too soon. Dip your toes into the pool by first planting and nurturing 1-3 items until they bloom. "What I did was, to begin with, 3 easy-to-maintain plants. The plants I chose to start out with are pandan, curry leaf and limau purut (kaffir lime) tree plants – and they are still thriving," Daphne shares.
Once you gain more confidence, you can then move on to more challenging plants and start to fill up the rest of your garden space. Make sure to do your research beforehand on the different types of shrubs and plants out there, to ascertain which will best suit your level of commitment. Some plants are temperamental and may require you to be a constant gardener!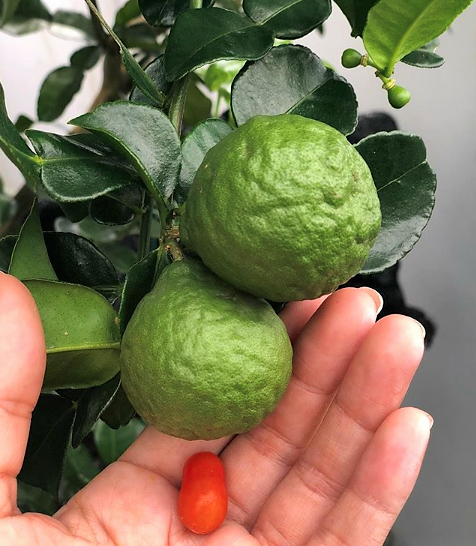 Can you grow veggies on a balcony?
Daphne replies with an emphatic yes! "Cucumbers and butternut squash are creeper plants that grow quite easily," she says. "And they produce a lot, very quickly! I planted them from the seeds. Make sure to germinate them first and then transfer them to a plot of soil once the first leaves begin to appear."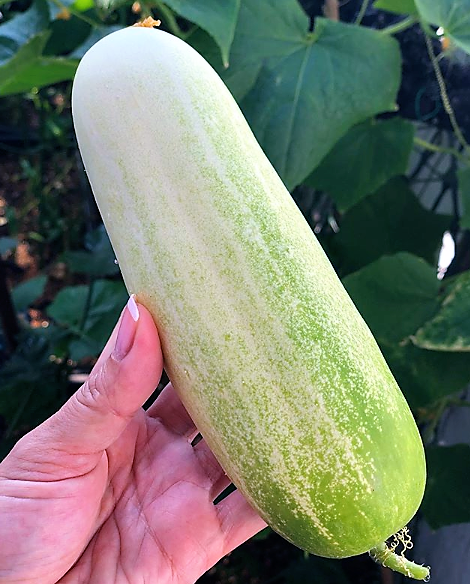 Daphne also had success with spinach, mustard plant, cherry tomatoes, and herbs like basil, peppermint and laksa leaf. Her only gripe? "I have not successfully grown a chilli plant! I'm trying to cultivate a seedling which I took from my mum's garden in Sabah. It's still growing, so fingers crossed!"
Cheatsheet
If you are someone who is always out of town, Daphne recommends installing a drip irrigation system (although this might cost a bit), or get low maintenance plants, "This way, even if you can't get someone to help water the plants for you, they will still be able to thrive."
Here is another top tip, "Orange peel can be used to keep slugs and snails away, these creatures will be attracted by the peels and will feed on them instead of your precious plants. You can then collect and remove them from your garden."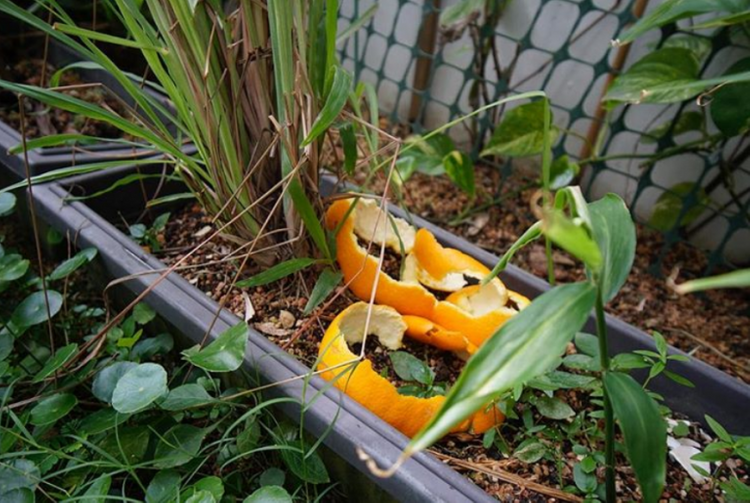 Turn it into a sanctuary
"Believe it or not, my sky garden is my refuge from the outside world, it never fails to lift my mood and recharge my senses," Daphne says. Every morning, the garden becomes her go-to place after dawn for the ritual watering, weeding if need be and fertilizing it twice a week.
CHECK OUT: 5 ways to make your balcony a new favourite hangout spot
Speaking of which, Daphne reveals that she does make her own compost from kitchen waste, and have recently started making more compost using extra waste like the dead leaves and twigs from her garden, which would take longer to compost.
She adds: "I have specific fertilizers for certain plants, like my citrus plants and for my flowering plants, respectively."
An added bonus is that gardening has helped bring my family closer together. I get to spend more quality time with my children as gardening together requires active participation. Also, it has been a joy watching my kids learn how to grow their own food.
Managing the weather
"The hot weather can be rough on some of my sensitive plants but there's nothing really one can do," she says. "I used shading nets but at the end of the day, if they were not going to make it, I'd remove them and let the soil rebuild itself with nutrients to prepare for other growth."
Final words of advice
Daphne admits that she never thought she'd be able to grow anything, as she was never really interested in gardening before. "And let's face it, the garden space was small," she adds.
"But when flowers bloomed and plants begin to produce edible food for us, it was truly a confidence booster and it made me more excited about growing my own herbs and reducing carbon footprints by composting my organic waste.
You'd never know if you have "it in you" until you try it for yourself. Start with something simple in a pot and try growing a plant from a seed. It's quite fascinating to watch something grow!"
Edited by Reena Kaur Bhatt
Disclaimer: The information is provided for general information only. iProperty.com Malaysia Sdn Bhd makes no representations or warranties in relation to the information, including but not limited to any representation or warranty as to the fitness for any particular purpose of the information to the fullest extent permitted by law. While every effort has been made to ensure that the information provided in this article is accurate, reliable, and complete as of the time of writing, the information provided in this article should not be relied upon to make any financial, investment, real estate or legal decisions. Additionally, the information should not substitute advice from a trained professional who can take into account your personal facts and circumstances, and we accept no liability if you use the information to form decisions.