OK, kini anda sedang membuat keputusan: Bagaimana untuk mengemaskinikan gaya dapur anda tanpa berbelanja lebih?
Anda tidak mempunyai bajet mencukupi untuk menggantikan permukaan kaunter dan kabinet dapur baru. Maka, selepas mengecat dinding dapur, apakah langkah terbaik yang patut dibuat?
Untuk dapur yang melebihi 10 tahun tentunya akan mempunyai kotoran atau pelbagai kesan-kesan pada adang percikan (splashback).
Sama ada ianya percikan minyak masak, tumpahan masakan mahupun kesan warna dari puding buah Acai yang melekat sejak tahun 2012, kesemuanya akan memberi efek dan sebuah dapur tidak akan kelihatan baru pada jangka masa lama.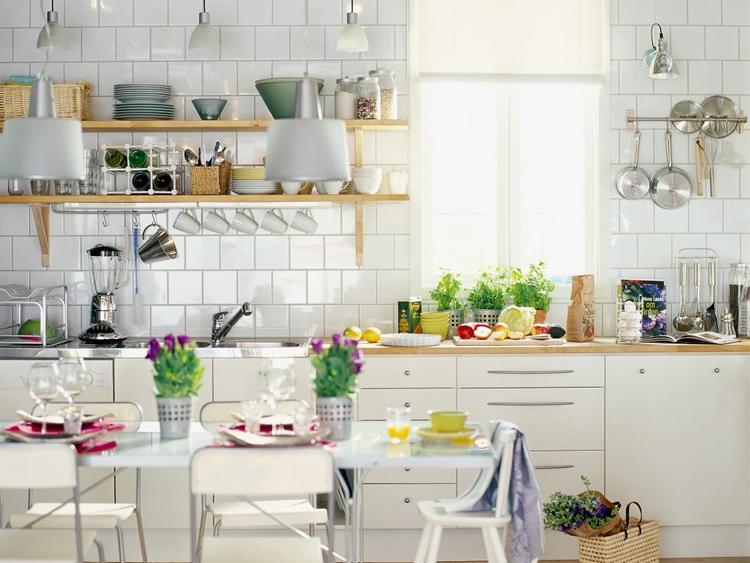 Apakah cara paling mudah dan pantas untuk mendapatkan gaya baru bagi dapur anda? Jawapannya adalah adang percikan yang baru. Anda semestinya akan terkejut bagaimana sesuatu yang sangat kecil boleh mengubah sesuatu ruang.
Salah satu cara mudah yang anda boleh lakukan adalah dengan meletakkan jubin di atas jubin percikan adang yang sedia ada. Tetapi, ada beberapa 'halangan' yang perlu diatasi dahulu.
Pertama sekali, anda perlu memastikan bahawa jubin yang baru boleh dilekatkan di atas permukaan yang lama dan pastikan juga ianya rata.
Periksa dahulu jika jubin yang sedia ada tidak mempunyai poket udara (drummy) di belakangnya dengan mengetuknya secara perlahan. Jika ia mengeluarkan bunyi 'kosong', ini bermakna jubin tersebut adalah berongga dan patut dicabut. Sebaliknya, jika ia berbunyi 'kukuh' atau 'mampat', maka ianya elok untuk digunakan.
Sebelum wujudnya primer khas, kita perlu menggores jubin lama dengan pengisar terlebih dahulu. Ia merupakan kerja yang menghasilkan banyak habuk – dan sesuatu yang enggan dilakukan oleh sesiapa.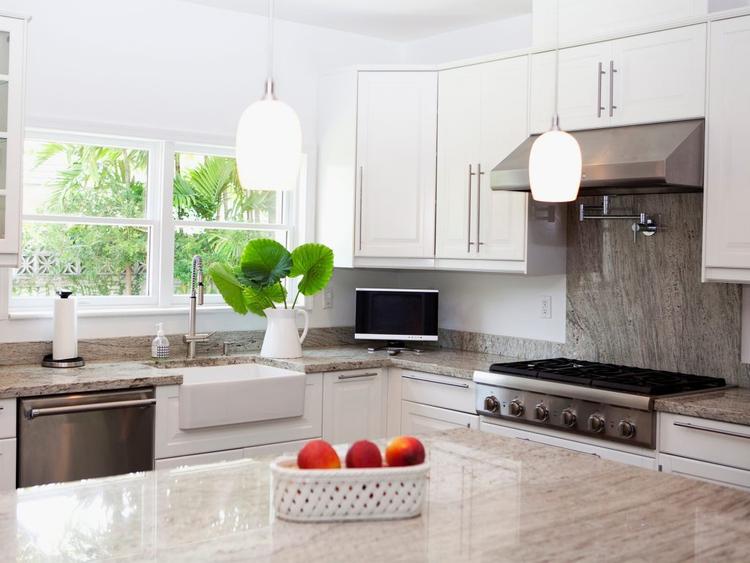 Sekarang apa yang anda perlukan adalah primer gores atau etch primer (untuk membantu gam jubin melekat ke atas permukaan berkilat). Anda juga boleh menggunakan gam khas yang boleh melekat terus ke atas kebayakan jenis jubin. Lihatlah di kedai jubin terdekat untuk alatan-alatan yang diperlukan.
Dengar terlebih dahulu: Jangan letakkan jubin di sekitar suis lampu atau soket elektrik kerana ia akan kelihatan murah dan tidak cantik. Tutup suis elektrik utama dan cabut kesemua suis elektrik – atau untuk lebih mudah, anda juga boleh memanggil juru elektrik untuk membantu anda. Suis dan soket eletrik baharu akan kelihatan lebih cantik dan moden jika dibandingkan dengan model lama yang selalunya bersaiz besar dan telah menjadi kekuningan dek zaman.
Selepas ini, anda cuma perlu meletakkan jubin ke atas permukaan yang telah disediakan dan buat sebagaimana anda akan lakukan ke atas dinding batu-bata biasa. Terpulanglah kepada anda untuk memilih saiz jubin sama ada besar atau kecil. Namun, jubin bersaiz besar lebih mudah untuk diletakkan.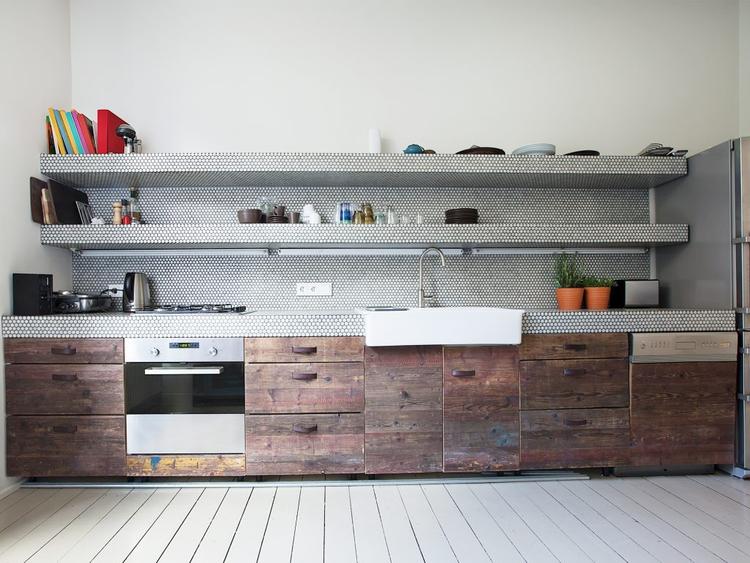 Berikut ialah tiga tip untuk membantu anda:
1. Untuk lebih mudah, penggunaan penurap epoxy (epoxy grout) akan membuatkan ianya lebih mudah dibersihkan terutama sekali selepas tumpahan dari memasak. Walaupun ianya sedikit sukar untuk digunakan, anda akan berterima kasih dengan keputusan tersebut di masa hadapan kerana ia akan membuat kerja-kerja pembersihan lebih mudah.
2. Jubin yang besar bukan sahaja mengurangkan jalur-jalur penurapan di antara jubin-jubin yang digunakan. Ia juga menghasilkan ilusi yang ianya kelihatan seperti dari sekeping permukaan batu dan bukannya jubin biasa. Sebagai contoh, anda boleh menggunakan Jubin Beaumont yang boleh didapati di dalam saiz yang panjangnya 3 meter.
3. Pemilihan warna untuk adang percikan juga amat penting. Jika dapur anda bertemakan warna putih (dan telah menjadi kekuningan selepas beberapa tahun), adang percikan putih yang baru mungkin akan lebih menampakkan bahagian lain sudah berusia. Sebaliknya, percikan adang yang berwarna gelap akan membuat kabinet tersebut lebih putih.
Artikel asal diterbitkan di bawah tajuk Splashing out on that tiled splashback oleh www.realestate.com.au dan ditulis oleh Shannon and Simon Vos
Disclaimer: The information is provided for general information only. iProperty.com Malaysia Sdn Bhd makes no representations or warranties in relation to the information, including but not limited to any representation or warranty as to the fitness for any particular purpose of the information to the fullest extent permitted by law. While every effort has been made to ensure that the information provided in this article is accurate, reliable, and complete as of the time of writing, the information provided in this article should not be relied upon to make any financial, investment, real estate or legal decisions. Additionally, the information should not substitute advice from a trained professional who can take into account your personal facts and circumstances, and we accept no liability if you use the information to form decisions.