Individual and business borrowers can apply for an unconditional, automatic six-month moratorium under the PEMULIH Package.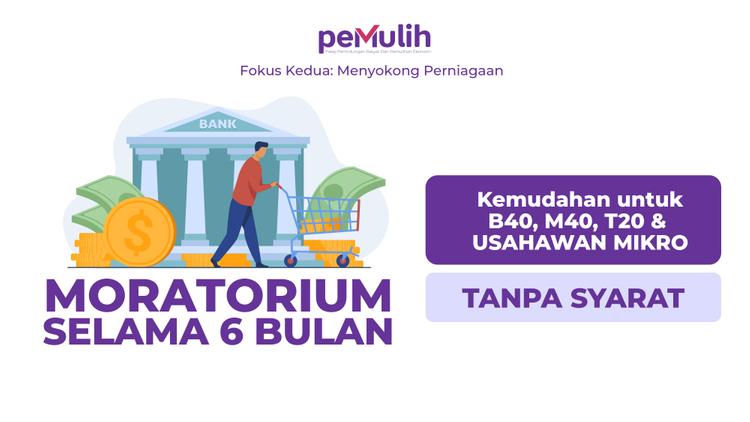 This article was translated from Moratorium PEMULIH: Apa yang anda perlu tahu tentang penangguhan bayaran balik 6 bulan by Rebecca Hani Romeli. 
Finance Minister Tengku Datuk Seri Zafrul Tengku Abdul Aziz said the six-month unconditional moratorium is expected to provide relief of up to RM80 bil to individual and business borrowers (entrepreneurs/ micro-entrepreneurs). The moratorium is one of the initiatives under the Pakej Perlindungan Rakyat dan Pemulihan Ekonomi (PEMULIH) that was recently announced by Prime Minister Tan Sri Muhyiddin Yassin.
The loan deferment was initially announced by the government in March 2020. Beginning April 1, 2020  borrowers were allowed to make a deferment on loan repayments for six months. Nevertheless, this round of moratorium is not a continuation of the last one. Continue reading to find out more about the PEMULIH moratorium. 
Pakej Perlindungan Rakyat dan Pemulihan Ekonomi (PEMULIH) Moratorium
The six-month loan moratorium is automatic, with no conditions, such as income reduction or loss of employment. This means that borrowers do not have to submit any documentation for a moratorium deferment application.
Type of loan
You can apply for a moratorium for all credit facilities (excluding credit cards).
Hire purchase

Personal loan

Business loan
Borrowers only need to sign an agreement to amend the relevant loan conditions. This moratorium is also offered to the affected Small and Medium Enterprise (SME) operators but is subject to banks' review and approval.
Who can apply for PEMULIH moratorium
An unconditional moratorium is offered to all Malaysians:
B40

M40

T20

Entrepreneurs, micro-entrepreneurs, SMEs
READ: EPF i-Citra: How to withdraw RM5,000 and what are the requirements
Who is eligible for PEMULIH moratorium
There are no conditions imposed on moratorium applicants and you do not need to submit any documentation. You can apply for this deferment if your income is affected by current COVID-19 pandemic circumstances such as:
Income reduction

Loss of employment 

Struggling businesses 
Automatic approval will be granted by banks after you sign the agreement to amend the relevant loan conditions.
How to apply for a six-month moratorium
Check with your bank to find out more information regarding this moratorium such as loan repayment interest rates, or if you need to extend the moratorium period. Please refer to Bank Negara Malaysia (BNM) website for more information.
When will the moratorium application be opened
The application for the PEMULIH moratorium is open from 7 July 2021.
Will I be charged compounding interest
If you apply for this moratorium, compounded interest will be waived by banks (the interest you earn on interest). This has been stressed by Tengku Zafrul. Only accrued interest is charged as usual when the borrower starts making loan payments after six months. Borrowers also will have to pay higher interest if you choose to extend the deferment period. 
FIND OUT: Moratorium Malaysia is ending soon: What to do if I cannot afford my loan repayments?
Will this moratorium be recorded in CCRIS
There are no penalties or records in the Credit Reference Information System Center (CCRIS) for those who choose to make a six-month repayment deferral.
READ: BSN MyHome (Program Perumahan Rakyat) 2021: Everything you need to know