Green building has never been more important in addressing the environmental issues in Malaysia. If you're looking for a sustainable and eco-friendly house, here are 5 green homes in Malaysia that might pique your interest. 
The advent of a 'new normal' means that a lot of us would be just a little more cautious about stepping too far away from home to do things. This means that it is even more important than home, or at the very least the neighbourhood you live in should provide you with the opportunities and amenities to do whatever you need to live a balanced and healthy life with positive environmental impact.
Many of us got a lot more acquainted with just how important it is to construct a nice, functional, environmentally responsible and green home recently when we had to spend extended periods in it. Naturally, the eco-friendly house concept has come up a lot more as people are starting to realise the importance of creating sustainability in Malaysia via addressing environmental issues such as creating a green home.
What is Green Building in Malaysia?
So what is a green building? According to the Green Building Index (GBI) Malaysia, a green building is a building that reduces negative environmental impact by increasing the efficiency of resources used during the building's lifecycle. Green buildings utilise resource-efficient methods of construction, thus eliminating environmental impact during construction as well as during its lifetime. In the long run, a green building not only helps in the preservation of earth's natural resources while improving our daily quality of life, it can also create a positive impact on our environment and earth's climate.
What materials are used in green homes?
Green buildings are termed so because they utilise the technologies of sustainable building and sustainable construction. In lieu of sustainable construction, they use recycled water instead of potable water during construction. This reduces the stress on natural resources and wastewater treatment plants, which simultaneously reduces usage of energy.
Green buildings in Malaysia also utilise green construction, such as by using sustainable building materials like ventilation bricks, renewable energy that leaves little or no carbon footprint, and building materials that are composed of natural resources. Other examples of energy saving furnishings incorporated into green homes include LED lights which consume up to 75% less energy than the normal light bulbs, and energy saving refrigerators and energy saving air-conditioners.
Following is a non-exhaustive list of 5 eco-friendly and sustainable developments in Malaysia.
1. Eco Ardence, Setia Alam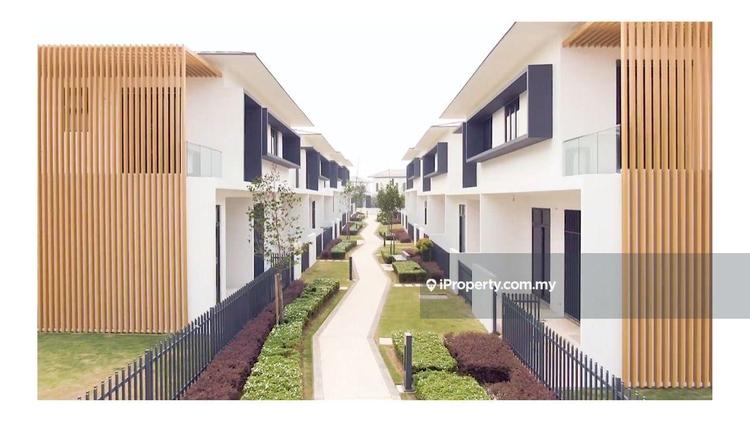 Located within the Setia Alam enclave, Eco Ardence continues Eco World's track record of developing environmentally friendly townships. A mixed township that is built on a luxurious-sized 533 acres of land. As with many of Eco World's developments, a sizeable amount of its layout is dedicated to greenery and parks, with linear parks and lake parks creating a conducive family-orientated atmosphere that encourages more outdoor activities.
The star of this development through has got to be the 20ft back lane gardens built between houses which gives residents the feel of having your very own private park that you have easy access to. Living here will feel like you are living in a park, literally.
Interesting fact: In an area with 100 per cent tree cover, such as contiguous forest stands within parks, trees can remove from the air as much as 15 per cent of the ozone, 14 per cent of the sulphur dioxide, 13 per cent of the particulate matter, 8 per cent of the nitrogen dioxide, and 0.05 per cent of carbon monoxide.
You can check out the latest properties for sale at Eco Ardence here.
2. PJ Midtown, Petaling Jaya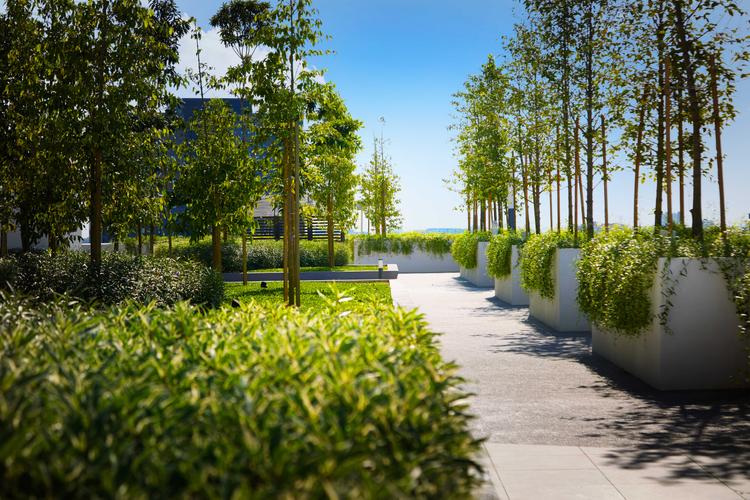 If you think eco-living is only for people who live in spacious landed properties in further places, think again. PJ Midtown located in Seksyen 13, Petaling Jaya aims to buck that trend. A development by reputable developers IOI Properties Group and Sime Darby Brunsfield, the development has achieved a Gold rating on the Green Building Index thanks to some pretty cool features.
Green landscaping takes up nearly 18.75% of the development's build space, making it greener than most developments in the PJ area, including vertical greenery along the building's façade to reduce heat gain. The eco-building also uses solar energy from the solar panels to power common areas and the installation of an Energy Management System allows for better efficiency of energy usage.
PJ Midtown is a completed project with a number of units available for sale in the market. You can check out the latest PJ Midtown properties for sale here.
3. Tropicana Aman, Kota Kemuning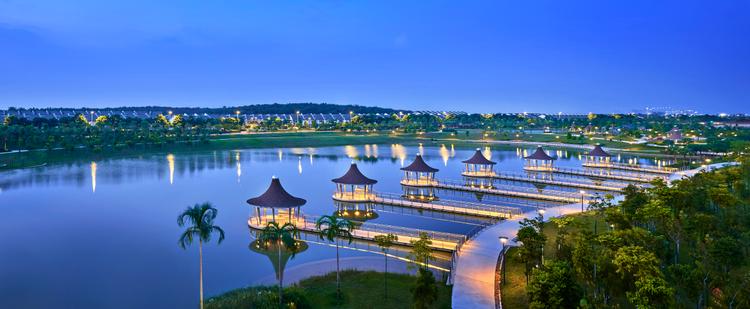 We can now all see the value of a great park in our neighbourhood, one that motivates us to step out of our homes or in cases where we are already aching to step out, provides a conducive place for us to head to, to take in some fresh air and sunshine. This makes Tropicana Aman at Kota Kemuning an attractive eco-development to consider.
The main focus of this development is well, an impressive 85-acre park. Dubbed the Central Park, the park is surrounded by a 100-feet tree-line boulevard which immediately makes the surrounding homes and living spaces feel greener and more immersed in nature. The 7km biking and running trails that flank the neighbourhood provides a great impetus for people to take to the outdoors and live an active lifestyle in a conducive environment.
The beautiful pavilions that dot the landscape also provide impetus for you to do these outdoor activities with other members of the community as they are great places to take a breather and to have a chat in between a run or biking.
Interesting fact: A study in Denmark found that childhood exposure to green space has 55% less risk for developing an array of psychiatric disorders during adolescence and adulthood.
Elemen Residences in Tropicana Aman is open for sale as of 8 March 2021. The development is slated for completion in the fourth quarter of 2022, and you can find the latest details for Elemen Residences in Tropicana Aman here.
Read more: Is now a good time to sell or buy a property in Malaysia?
4. Eco Spring Tebrau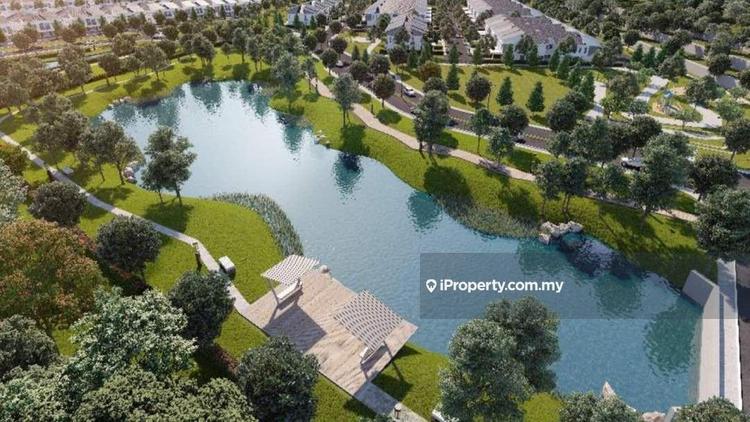 Another development by Eco World that would interest eco-tuned and sustainable home buyers who are looking to buy away from major city centres is probably Eco Spring in Tebrau, Johor. But that's a little of the reality we live in – if we are looking for spacious and breathable neighbourhoods to live in, there is a good chance we would be looking away from the major city centres.
Built again on a sizeable plot of 400-acre land, Eco Spring features 460 units of a mix of two-storey homes, semi-detached houses and bungalows. Most developments by Eco World tend to have some focus on eco-friendly fixtures and amenities and this would be no different.
For one thing, the development boasts a garden concept where an impressive 13% of its land area has been allocated for greenery. The concept of the development is rooted in the idea of spring, with boulevards lined with luscious trees and separate lanes for pedestrian and cycling, which encourages more outdoor activities amongst its residents. This idea continues with the availability of a sports and recreational facility for residents that features an outdoor fitness deck, gymnasium, basketball and futsal courts and even an outdoor skating rink.
Read more: Top 10 property developers in Malaysia
5. The Amber Residence, Kota Kemuning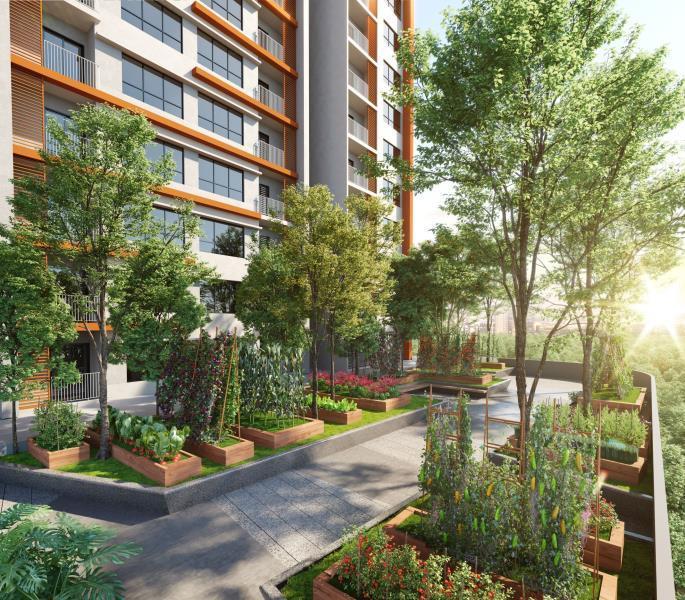 Now let's turn our attentions to a two-tower condo development in Kota Kemuning The Amber Residence at twentyfive.7 that's also flying the eco flag.
Developer Gamuda has ensured that this development showcases some more unorthodox facilities and features. Leading the way is a Rooftop Outdoor Cinema that encourages the community to come out and watch a film under the stars while breathing some fresh air.
The real showstopper though is the Urban Farm that will be part of The Amber Residences' designated area that should provide an impetus for residents with a green thumb to get into a bit of gardening. Neighbours can come together and tend to a community herb, vegetable and plant garden. A great green initiative. There is also a Multi-Court that would give residents with a hankering for sports and competition to get some blood pumping.
There are just so many benefits to living in an eco-friendly building. Not only does it improve our health but it also helps with the health of the environment as well. For every minute we spend in a park in our neighbourhood is another minute you aren't adding to carbon emissions by being in a car. Urban living has its necessities but living in an eco-friendly neighbourhood provides a way for us to achieve a balance between both tangents.
The Amber Residence in Kota Kemuning is one of the more affordable yet luxurious high rise developments in the township. While limited, there are still some units up for sale. You can try your luck in getting finding a unit at Amber Residence in Kota Kemuning here.
Going green and learning the environmental friendly zero-waste lifestyle is the next step to preserving earth's natural resources. Besides seeking an eco-friendly friendly home, you can also start zero-waste eco-shopping with these amazing stores.
Disclaimer: The information is provided for general information only. iProperty.com Malaysia Sdn Bhd makes no representations or warranties in relation to the information, including but not limited to any representation or warranty as to the fitness for any particular purpose of the information to the fullest extent permitted by law. While every effort has been made to ensure that the information provided in this article is accurate, reliable, and complete as of the time of writing, the information provided in this article should not be relied upon to make any financial, investment, real estate or legal decisions. Additionally, the information should not substitute advice from a trained professional who can take into account your personal facts and circumstances, and we accept no liability if you use the information to form decisions.