Air fryers are no longer the household appliance coveted only by makcik-makcik and housewives who love watching shopping channels while they fold their laundries. The kitchen appliance has now reached a godlike status among those who love to cook at home due to its convenience, among other things.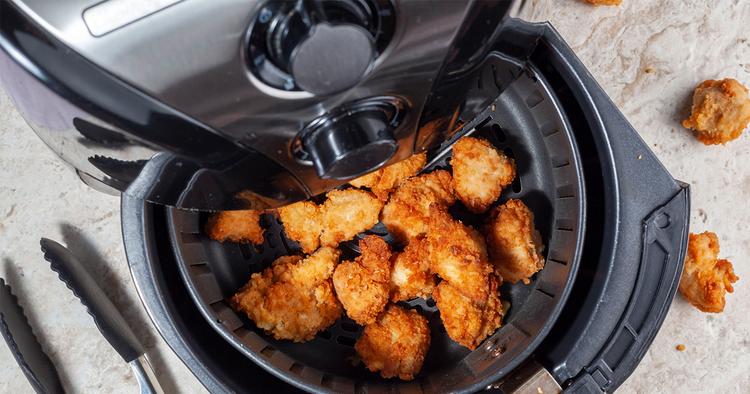 ✉️ We're now on Telegram! Subscribe for more recommendations and tips. 
Air fryers, once seen as one of the kitchen appliances only the rich could afford, have now gained huge popularity among foodies and those who love healthier home cooking. Air fryers can now be found in a variety of sizes, types, prices, and more on the market; giving us plenty of choices based on our needs and budget. If you're considering getting an air fryer, find out more about eight of the best air fryers in Malaysia and everything you need to know about each of them.
What is an air fryer?
First things first: what is an air fryer? In essence, air fryers are pretty similar to ovens due to their ability to roast and bake foods. However, air fryers' major difference lies in their heating elements located on top of the appliance with a powerful and large fan that circulates hot air.
This results in super crispy yet less oily foods cooked in a short time; making it convenient for those pressed for time and healthier for people on a diet. 
Air fryers can heat up within seconds. Air fried foods can be cooked very evenly and quickly. This is only possible due to the powerful combination of the placement and size of its fan as well as a concentrated heat source.
Additionally, safety is always a number one priority for those who own an air fryer at home. To ensure safety at all times, your responsibility is to:
Assess the voltage required by the air fryer  

Keep the power cords away from hot surfaces

Never place anything on top of the appliance

Take advantage of your warranty (in case you need to repair or replace the defective product)

Place the air fryer on a stable and even surface

Be very careful of the hot steam while removing the pan from the appliance

Clean your air fryer and maintain it regularly to lower the risk of damage
What can you cook in an air fryer?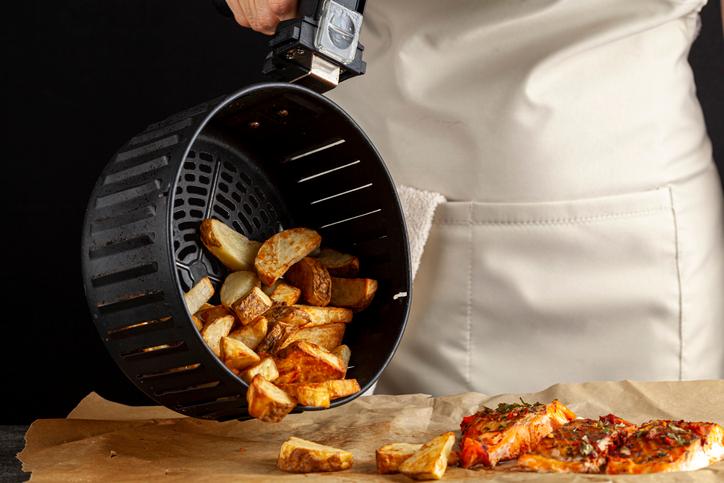 Another reason why air fryers are so well-loved by many is the fact that you can cook (almost) anything and various kinds of cuisine, for example:
Western cuisine:

Nuggets, pizza, doughnuts, french fries, onion rings, and many more deep-fried foods

Eastern cuisine:

Curry, pakoda, tandoori, vegetables, satay,

kerang bakar

, and many more local foods
A woman named Erynn Suhazreen went viral on social media earlier this year because of her amazing ability to cook mainly using her Philips air fryer with turbo technology. Among the simple recipes that she shared include: 
Kerang bakar

(cooked within eight minutes with a temperature of 180°C)

Fried prawns

(she was able to maintain the juiciness and rich flavour despite cooking them for 15 minutes with a temperature of 180 degrees)

Crispy fried anchovies

(cooked for 13 minutes with a temperature of 180°C)

Garlic bread

(cooked for six minutes with a temperature of 160°C)

Half-boiled eggs

(cooked without using water for five minutes with a temperature of 150°C)
Erynn's postings proved how fast and easy it is to cook with an air fryer. You can find plenty of recipes shared over Facebook as well as air fryer communities where you can ask for tips and tricks.
READ: How to clean and unclog a kitchen sink
What cannot be cooked in an air fryer?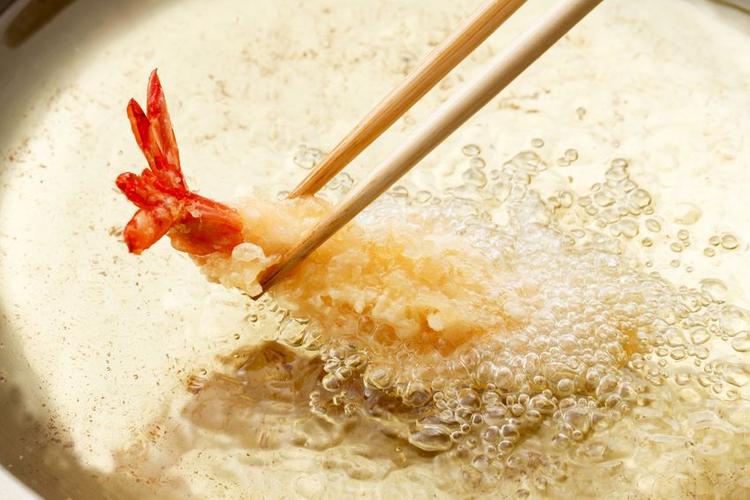 Not everything is perfect, and that includes air fryers. While all air fryers are pretty much flexible, there are still a few kinds of food that you cannot cook using an air fryer, and they include:
Raw vegetables (air fryers can reduce the nutrients, not to mention the shrinkage)
Fresh, leafy greens (like kale or spinach) Cheesy food (this will create a mess, which makes it difficult to wash)
Raw rice and other types of grain (the rice cooker is much better)
Large whole chicken (it's best to cook them in pieces)
Wet battered food (like tempura shrimp)
Foods with loose seasonings (any food that is coated with herbs, spices, salt etc.)
Avoid cooking these types of food to ensure a long-lasting air fryer. If in doubt, you can always check the consumer guidebook included by the manufacturer.
What are the best air fryers in Malaysia?
Since there are so many air fryers to choose from on the market, it can get pretty overwhelming especially if you're new to air fryers. We've done some research so you don't have to go by all of them one by one. These are the eight best air fryers in different categories for you to choose from.
1. Best for crispiness: Haier HA-AF253 Air Fryer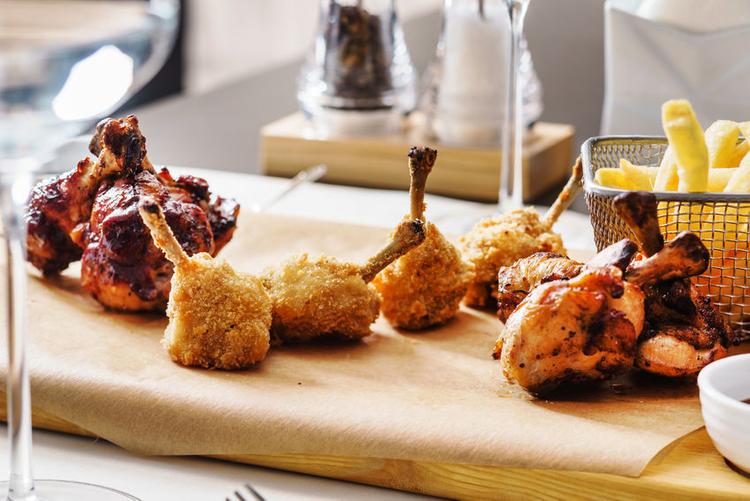 Don't let the word 'digital' scare you. This user-friendly air fryer comes equipped with an LED digital panel, featuring a 360 Degrees High-Speed hot air circulation technology for maximum crispiness. You no longer need hot oil! Its 7 preset cooking modes include easy Fish, Steak, Chicken, Cake, Shrimp, Roast, and French Fry. Other features include the following:
Power: 1500W Max

Food capacity: 2.5 Liter

Rapid heatwave technology

Variable cooking functions (oil-free frying, grilling, baking, roasting, BBQ)

Detachable frying basket

Digital temperature control max 200°C

Adjustable timer up to 60 minute

Auto shut off

Overheat protection and handle button cover

Removable pot with non-stick coating
There's a free recipe manual book included when you purchase this air fryer, priced at RM229 and comes with a 1-year warranty period. The air fryer is available online at Lazada and Shopee.
Customer review
Here's Haier HA-AF253 Air Fryer review by a user:

"It works really great and super easy to use. There's a recipe book featuring simple yet delicious recipes, and we have done wedges and roasted chicken so far. It's superb!" – A user on Lazada.
2. Best overall value: Philips Avance Air Fryer PLP-HD9643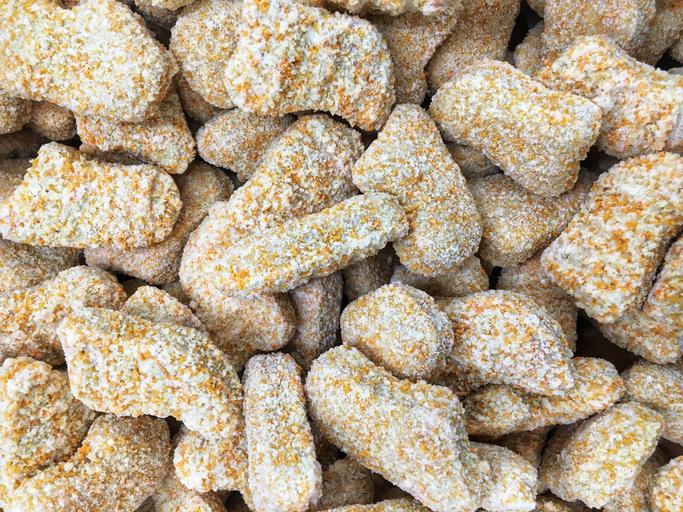 This high-performing air fryer is one of the most powerful air fryers in the country. For the health-conscious, you'd be pleased to know that this air fryer is BPA free. Plus, its Max Crisp Technology cooks crispy food in minutes at up to 240°C and up to 50% faster with up to 75% less fat compared to traditional frying. The air fryer would be great for frozen foods. Other features include:
Capacity: 5.2 litre (1.4kg Fries)

Product Weight: 5.2kg

Wattage: 1750W

Product Dimensions: 37.5 x 27.5 x 33.5 cm

Functions: 6 Auto-iQ Programs (air fry, max crisp, roast, bake, reheat, and dehydrate)

Temp & Timer Control: 40°C – 240°C
Priced at approximately RM1,233, the air fryer also comes with a 1-year warranty period, dishwasher-safe components, and non-slip feet. You can get it online at Ninja Kitchen's website.
Customer review
Here's what a user says about this air fryer:
"Excellent build, quality, and performance. Really easy to use too. Aside from the fried meat, we love our homemade cheese toast and potato chips. We will continue to experiment with healthy dishes and snacks because that's the reason why we got this: to eat healthier." – A user review on Ninja Kitchen.

3. Best in size (largest): Milux Digital Turbo Air Fryer MAF-1360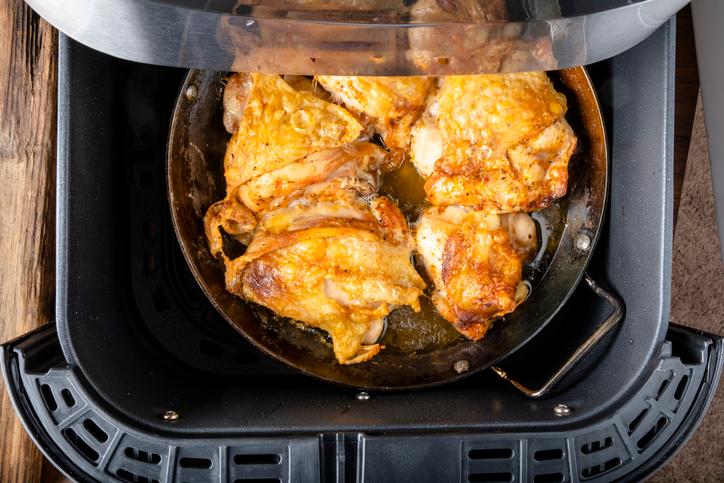 If you've got plenty of space in the kitchen, then this one's for you! Not only that, its extra-large 12L capacity with Double Heating Element allows you to cook your meals quickly in full capacity.
It's also fully equipped with a user-friendly control panel with an 80°C – 240°C temperature setting and 99 minutes timer. With seven cooking preset functions, you'll also get seven cooking accessories: tongs, skewers, non-stick grill plate, rack, fish cage, cage, and chicken forks!
Priced at RM498, the air fryer comes with a 1-year warranty period. You can purchase it online at Shopee or Lazada.
Customer review
Here's a user review of the product:
"Good product quality and the product is as described." – A user on Shopee.
4. Best in size (smallest): Tefal Fry Delight Air Fryer (FX1000)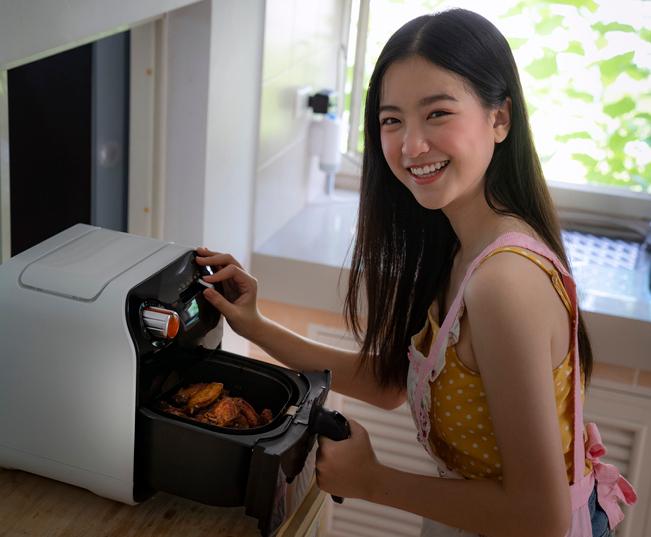 If you have a limited kitchen space, this air fryer would fit nicely in your tiny kitchen. Despite its small appearance (315mm x 282mm) and weight (0.8kg), the air fryer is powerful enough to grill, roast, bake, and fast fry in 15 minutes. Its pan and basket are dishwasher safe, and with a 2-year warranty period, the air fryer is such a steal at RM399. You can get it online at Shopee or Lazada.
Customer review
Here's what a user has to say:
"The packaging is very neat. I tried to cook a few sausages, and it cooks perfectly and very fast (it took only 5 minutes). The cleanup is also very simple. Definitely worth buying especially if it's on sale." – A user on Lazada.
5. Best multifunction air fryer: Ninja Foodi Multi-Cooker and Air Fryer OP300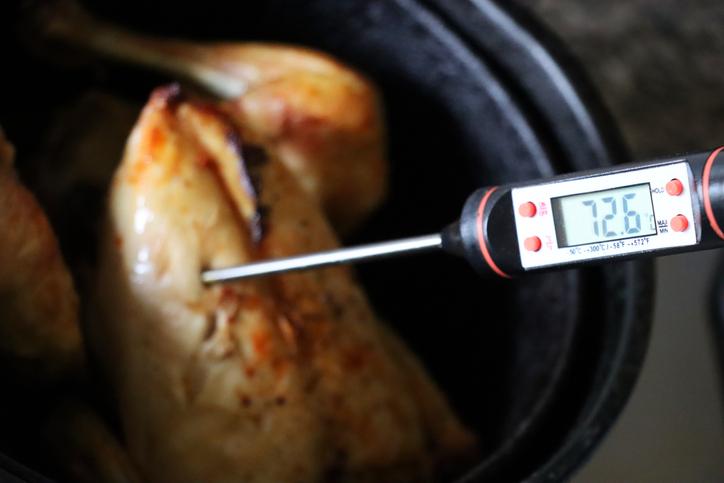 If you're looking for something versatile and money is not an issue, this air fryer is your best bet. Perfect for those who love cooking and experimenting with a variety of new cuisines, the air fryer is equipped with TenderCrisp™ technology for that crispy yet juicy food texture that's normally difficult to achieve through normal cooking methods. These are the product's great features worth highlighting:
Multifunctional (works as an air fryer and pressure cooker)

Able to reduce up to 75% fat levels

Able to cook up to 70% faster

8 different Auto-iQ Program functions (pressure cooking, steam, slow cook, sear/saute, air crisp, bake/roast, grill, and keep warm)

A 360° True Convection fan system

A reversible layered multi-rack for grilling or steaming
Priced at approximately RM1,541, the air fryer comes with a 1-year warranty, pressure and crisping lids, a 3.7 litre Cook & Crisp™ Basket, and a 6-litre cooking pot. You can get your hands on this sterling air fryer at Ninja Kitchen.
Customer review
Here's what a user is raving about this product:
"Certainly a must-have item in the kitchen! With one around, it saves the hassle of watching food cooked over the fire. You can simply season a chicken and place it in the air fryer, bathe your baby and you've got food ready at the same time! Space-saving as well since it's an all-in-one multicooker!" – A user on Ninja Kitchen.
6. Best for curry: Khind Stir Fryer FR358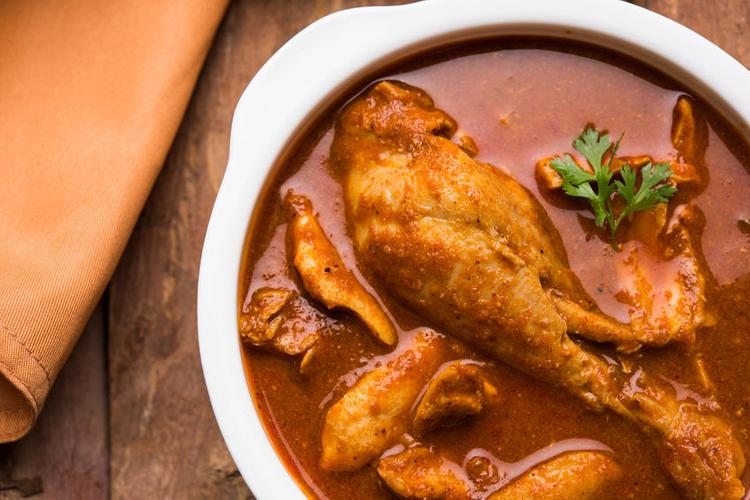 Curry lovers, don't think air fryers weren't made for you, because there are plenty of air fryers made for cooking curries! And one of them is Khind Stir Fryer, which can be used to cook pretty much any kind of curry, including chicken curry, beef curry, and fish curry.

The fully automatic air fryer also features five settings: stir fry, pan fry, saute, toast, and braise. For health enthusiasts, you'd be glad to know that it requires less oil for cooking. Plus, there won't be any messy oil fume or stains on the kitchen counter or pantry walls. And it's easy to wash too. Priced at RM590, it comes with a 2-year warranty period. Grab it at Lazada or Shopee.

7.  Most aesthetic air fryer: Philips Premium Airfryer XXL HD9860/99
For those who want an aesthetically pleasing kitchen appliance that complements their equally beautiful kitchen, this eye-catching air fryer would be the talk of the town! If that's not enough, the air fryer's smart technology would surely blow everyone away. Talk about beauty with brains! Just how smart is this air fryer? Check out the features:
Smart Sensing technology

Smart Chef programs

Rapid Air function for 90% less fat

Able to remove excess fat from food

Has four settings: Bake, Grill, Roast, and Reheat

Has an exclusive NutriU app for a better diet

QuickClean function and is dishwasher-safe
With a price tag of RM,1499, it's an investment. You can get it online at Shopee or Lazada. Here's a glowing review about the air fryer:

"The product looks really sleek and elegant, and it definitely stands out!" – A user on Lazada.

8. Most affordable air fryer: Airbot Air Fryer AF100
If you're new to air fryers and don't cook often, perhaps you might want a simple and affordable air fryer for starters. We recommend this air fryer if you want the most affordable one on the market. Priced at only RM199, it has the following features:
4 cooking functions: frying, barbequing, making dessert, and baking

Heating insulation that saves 20% energy

Cooking temperature of up to 200 degrees Celsius

Turbo Airflow technology with magnetic heating core (for even cooking)
Comes with a 1-year warranty period, you can find this air fryer online at Lazada or Shopee.
Customer review
Here's what a user has to say about this most affordable air fryer:

"Glad to find out that the chicken wings I cooked were super juicy and tender!" – A user on Lazada.
READ: 6 easy DIY kitchen upgrades anyone can do
Undoubtedly, air fryers are pretty much catered to everyone who cooks. It doesn't matter if you're single, married with children, on a tight budget, have a hectic lifestyle, prefer healthy home-cooking, and more; air fryers' featured benefits can help you in a variety of ways. Not just that, there are countless air fryer recipes online, complete with cooking times.  However, they also pose their kind of dangers, so use with caution. 
Edited by Rebecca Hani Romeli
Disclaimer: The information is provided for general information only. iProperty.com Malaysia Sdn Bhd makes no representations or warranties in relation to the information, including but not limited to any representation or warranty as to the fitness for any particular purpose of the information to the fullest extent permitted by law. While every effort has been made to ensure that the information provided in this article is accurate, reliable, and complete as of the time of writing, the information provided in this article should not be relied upon to make any financial, investment, real estate or legal decisions. Additionally, the information should not substitute advice from a trained professional who can take into account your personal facts and circumstances, and we accept no liability if you use the information to form decisions.