Everything you need to know about installing a digital door lock or a smart lock for your home along with the advantages and disadvantages of using them.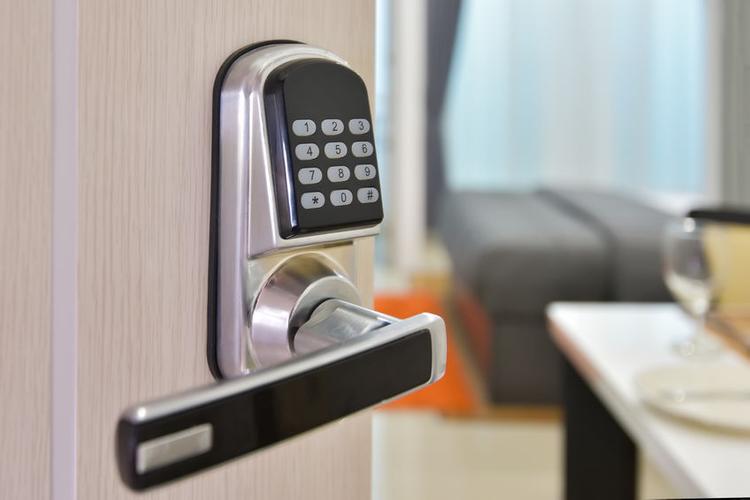 Padlocks and keys are starting to become a thing of the past. Today, digital locks and smart door locks are commonly used in most homes, as they are affordable and easy to install. On top of that, a digital or smart lock looks sleek and aesthetically modern (just take a look at all the smart locks in K-drama houses). Some even come integrated or can be combined with a camera, alarm, or intercom function too – making your security door even more secure. 
Are you thinking about doing away with door locks and keys for a digital or smart door lock? Then you've come to the right place as we give you the lowdown on digital smart lock and why it's time for you to make the switch. 
SEE WHAT OTHERS ARE READING:
? See how this interior designer design this 821 sq. ft. home.
? Looking for an interior designer? We listed the top 20 ID firms in Malaysia.
What is a digital door lock?
To put it simply, digital door locks, keypad locks, e locks, keyless door locks or smart locks are locks that operate by means of an electric current. They function very much like the traditional padlock, but instead of using a key to unlock the door, digital door locks use actuators to link the locking bolt mechanism to a small motor, controlled electronically. 
What type of electronic digital locks are there? 
Depending on the door lock system, it can be opened with: 
Biometric door lock – using your fingerprint 
Electronic keypad – using a PIN code
Smart card

– using a keycard 

Remote control – using an app
Think of a digital lock like an electronic safe or safe lock but for your front door.
What type of door can a digital lock be fitted on? 
This is highly dependent on the model and type of digital locks you choose. However, these type of doors are suitable for most digital locks
UPVC doors

Timber doors

Wooden doors

Aluminium door

Glass doors

External doors
Digital door lock vs Smart lock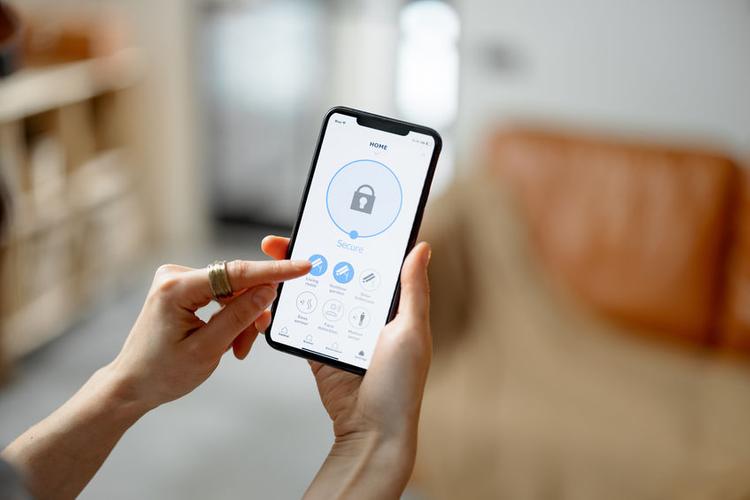 Most people use the terms digital lock and smart lock interchangeably, but there is a small difference when it comes to these types of door locks. With a digital lock or keypad lock, you still need to be physically present to unlock the door. On the other hand, a smart lock is a digital lock door with Wi-Fi or Bluetooth integration, so you can control and access the lock remotely via your smartphone.
Traditional lock vs Smart door lock
Traditional locks, usually padlocks, deadbolt locks, mechanical locks, door latches, mortise locks, or knob locks, aren't that much different from smart locks. In some cases, a smart lock may use the existing padlock mechanism but the lock is engaged electronically. When it comes to keeping your security door locked and protected from intruders, you're getting the same secure lock. However, smart locks do include additional features like an alarm and a notification direct to your phone should there be a break-in.
Convenience-wise, it's much easier to enter a passcode or use your fingerprint to enter your front door, rather than spending minutes fiddling around searching for your keys. Plus with a smart lock, you can even lock the door remotely—especially when you're late for work and think you might have forgotten to do so.
You will, of course, be spending so much more to replace your padlock with a new smart lock, but if you do decide that the extra cost is worth it, you will enjoy all the benefits of a smart lock: 
What are the advantages of using electronic locks?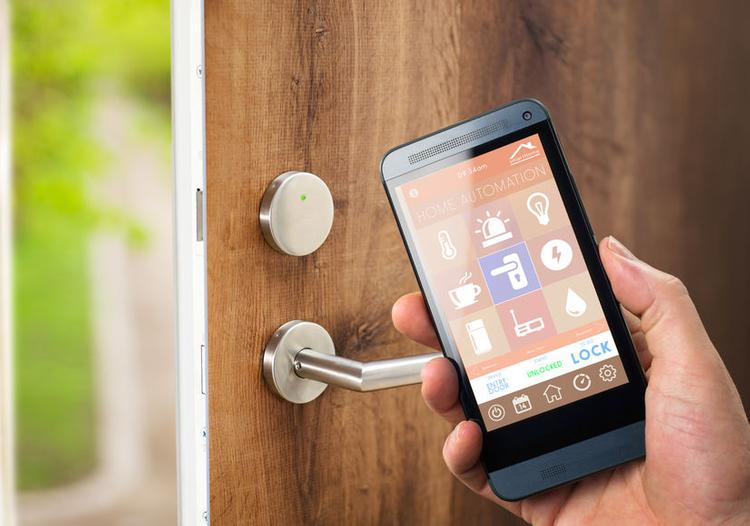 Are you the type that spends minutes in front of your front door fiddling for your keys? 
1. Offer better convenience
With a digital lock or smart lock, say goodbye to neighbours staring at you while you awkwardly search for your keys to prove that you're not an intruder. Just enter the passcode or use your fingerprint, and you're in! Plus with a smart lock, you can even lock your security door remotely.
2. Offer remote access
A digital lock or smart lock is also perfect for those with friends that come around often or if you need to let a caregiver in for your elderly parents. No more stashing a spare key under the flowerpot or floor mat! Just simply give them the PIN number (which you can always change later) or with a smart lock, give them access remotely through the smart lock's app. You can also allow users to enter your home with a PIN during specific times too, say Monday to Friday from 12 pm to 2 pm for instance if you would like to prevent any rude shocks.
3. Offer high security
The lack of a physical security lock does mean that there are fewer ways for someone to break into your home, especially if your smart lock doesn't even have a keyway to pick. And with a smart lock, the ability to change the PIN anytime eliminates the need to change a complete set of locks and keys in the event you feel that security may be compromised with your current PIN.
With a digital lock or smart lock in place, you can set an alarm to go off if there is a potential break-in. With a smart lock, you will also receive a notification for unwanted entry into your home. Some digital locks or smart locks also come with a scramble code function to add more numbers before or after your PIN code, just in case you're worried someone is looking above your shoulders as you type your password.
The type of grille you use for your front door is important too, check out this guide on how to upgrade your home with these 9 material choices for grilles.
How long do digital locks last?
No matter how good your digital locks are, they won't last forever. According to numerous sources, digital locks have a lifespan of 5 years or less. Some brands and varieties last longer, while others break down after using for a couple of years. If you want to extend the lifespan of your digital and smart lock, we've got some tips for you: 
Keep it clean as dust and grime will damage your lock.
Use only the right cleaning products. Don't use petroleum-based or harsh chemicals to clean or it will deteriorate the condition of your digital lock. 

Don't fiddle with the keypad or risk damaging the lock. 
What are the disadvantages of using smart locks?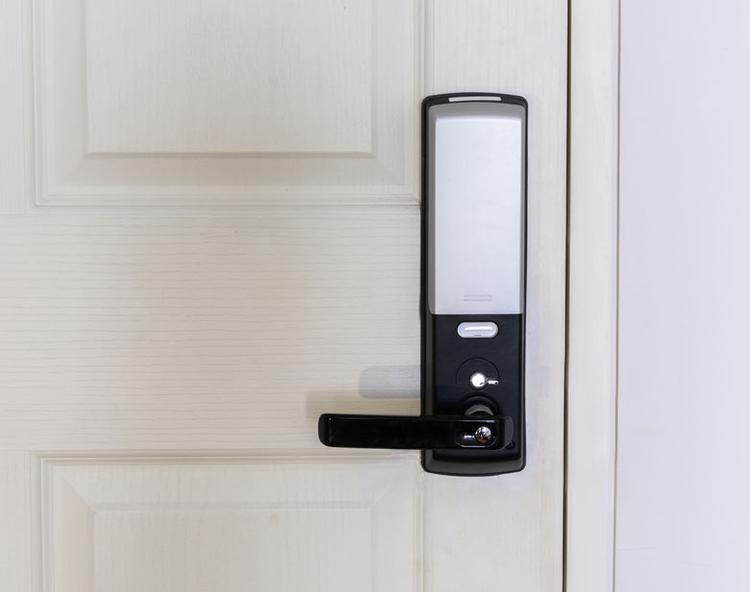 One slight disadvantage of using a keypad lock for a door is that it runs on batteries. Using a Samsung smart lock as an example, Samsung says its electronic locks should last about 9 to 10 months when powered by good quality alkaline batteries. This can vary depending on how often you use the smart lock. You may also need to check your digital lock or smart lock for battery leakages every few months.
You might be worried if people could "hack" into your smart lock. Our advice is to always purchase your smart lock from reputable brands, such as Yale or Samsung. These brands outfit their smart locks with better password encryption standards to prevent possible hacking. 
When setting the password for your door locks, remember not to key in numbers that contain any personal information like birthday, anniversary dates, IC number or address. Don't come up with a random pin code that none of your family members can remember either.
Here are some tips to set a secure smart lock password: 
Don't choose a personal passcode like birth date or any number someone could guess after doing a little digging into your personal life. 

Keep it short and simple.

Combine meaningful numbers in random order. For example, if you have a family of four, combine the birthday month to create a strong password. To make it harder for intruders to guess, randomise it. 

Create a strong password with an acronym like "We Are Happy Family", which would translate to WAHF or 9243 in numbers. 

Change the passcode to your smart lock every few months. 

Don't leave any paper trails for people to find. Memorise the password instead. 
Looking to install smart home devices at home? Here are 7 of the best smart home devices and systems to have at home.
Which type of door lock is the best?
These are some of the most highly recommended digital padlock or smart anti-theft door locks you should check out:  
1. Samsung SHP-DP728 Smart Lock
Most homes choose a Samsung smart lock as their preferred smart lock. This Samsung smart lock model is the world's first "push-pull" model door lock, so you can push or pull your door depending on your fancy. It can store up to 100 fingerprints, as well as 30 RFID cards or PIN codes. The Samsung sHome app not only allows for remote unlocking but also has a warning tone that alerts you if someone is lingering around your door.
2. Yale YM170
Yale has been the gold standard for conventional lock and keys for years, and their digital lock and smart lock offerings are just as reliable. The Yale YM170 comes with fingerprint and PIN entry, and a voice guide to guide you through setting up all the features. There's also an alarm feature in case of break-ins, plus it works with the Yale Link app to allow remote access to your lock.
 3. Kaadas K9 Digital Door Lock
Kaadas is a brand from Germany, which is known for precision engineering. This K9 Push Pull Smart Lock has a biometric fingerprint scanner on the universal door handle and can store up to 100 different fingerprints. The K9 is at 1.3cm thick, so it can fit into most metal gates seamlessly.
4. Hafele EL9000
We won't judge if you're one to usually forget your passwords. This is where the secret code backup function on the EL9000 will come in handy. If remembering when to replace your lock battery is too much of a chore, the EL9000 has got you covered as it comes with a battery residual identification system that lets you know when your lock battery needs replacing.
5. PHILIPS Easykey ALPHA
If you're looking for an anti-theft door to secure your forever home, look no further than this Philips Easykey ALPHA's with Anti-theft C Grade Lock Cylinder. It utilises multiple antitheft technologies, a good way to futureproof your home. With its dual verification unlocking mode, you can use a combination of any two factors (fingerprint, password or card) for added security.
When choosing the right digital or smart lock, consider the pricing with its features—is it more than what you need? There are many different digital or smart lock options at varying price points so you can definitely find one that best suits your budget. You should also check for its warranty period and if there are any installation costs before locking in your purchase.
TOP ARTICLES JUST FOR YOU:
? Check out the top house cleaning services in Malaysia.
? Love gardening but worried about snails eating your leafy greens? Here's how to get rid of snails and slugs.
? There are so many things baking soda can clean at home. Check them out here.
Disclaimer: The information is provided for general information only. iProperty.com Malaysia Sdn Bhd makes no representations or warranties in relation to the information, including but not limited to any representation or warranty as to the fitness for any particular purpose of the information to the fullest extent permitted by law. While every effort has been made to ensure that the information provided in this article is accurate, reliable, and complete as of the time of writing, the information provided in this article should not be relied upon to make any financial, investment, real estate or legal decisions. Additionally, the information should not substitute advice from a trained professional who can take into account your personal facts and circumstances, and we accept no liability if you use the information to form decisions.