The second round of opt-in for the AstraZeneca COVID-19 vaccination in Malaysia was over in a matter of minutes. Here's what you need to know about the vaccination process.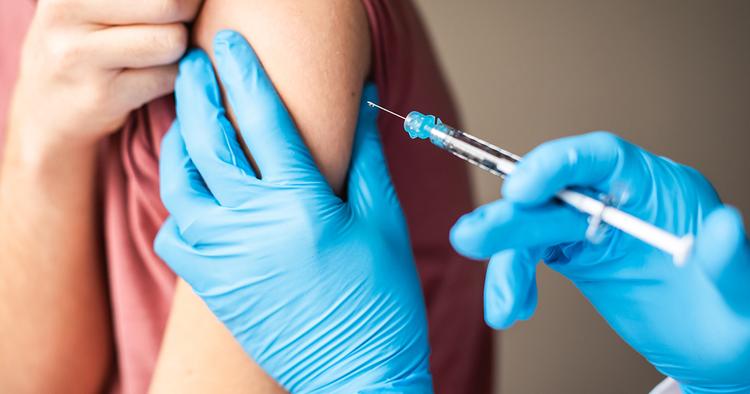 ✉️ Subscribe to us on Telegram for the latest tips and info.
In the second phase of #CucukMyAZ, registrations were opened to residents in the Klang Valley, Penang, Johor, Kuching, and Miri who are above the age of 60 and it was later opened to the general public.
One of the highest trending local stories to emerge on May 26 was Round 2 of opt-in for the AstraZeneca COVID-19 vaccination. It caused quite the stir. A total of 956,609 vaccination slots were booked in a matter of minutes during the chaotic booking process on the Jaminan Akses Bekalan Vaksin COVID-19 (JKJAV) website. Many had complained about the difficulties of making a booking through the site.
However, despite some anti-vaccine movements in the country, the incident proved that Malaysians are very much eager to get their vaccine shots. As a response, the government has decided to cancel the opt-in stream for the vaccine. Instead, it will be returning the shot to the mainstream National COVID-19 Immunisation Programme (PICK).
Note: The information in this article is not intended to substitute for professional medical advice, diagnosis, or treatment. They are intended for informational and educational purposes only.  Always seek the advice of a qualified healthcare provider with any questions regarding a medical condition or personalised medical advice.
Types of COVID-19 vaccine available in Malaysia
As of 7 June 2021, three vaccines are approved for usage in Malaysia under Malaysia's National COVID-19 Immunisation Programme (PICK)  They are:
Pfizer-BioNTech: BNT162b2
An RNA type vaccine. It has 25 trials in 14 countries and approval in 85 countries. May also be referred to as Tozinameran, Comirnaty.
Oxford-AstraZeneca: AZD1222
A Non-Replicating Viral Vector type vaccine. It has 31 trials in 18 countries and approval in 102 countries. May also be referred to as Vaxzevria.
An Inactivated type vaccine. It has 15 trials in 7 countries and is approved in 26 countries.
Two vaccines are currently undergoing clinical trials in Malaysia:
 

ReiThera: GRAd-COV2

 

Chinese Academy of Medical Sciences: Inactivated (Vero Cells)
The National COVID-19 Immunisation Programme (PICK)
The vaccine is provided for free to citizens and non-citizens of Malaysia. As of February 2021, Malaysia has gained access to 66.7 million doses of COVID-19 vaccine through the COVAX Facility and the advance purchases from five COVID-19 vaccine manufacturers. The following is Malaysia's COVID-19 Vaccine Portfolio.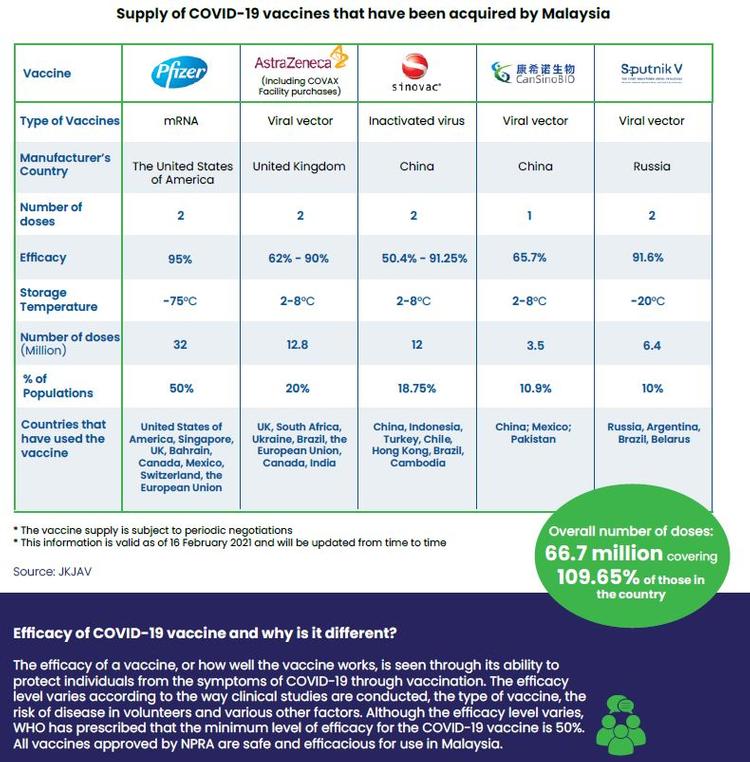 Is Covishield and AstraZeneca vaccine the same
Yes. Covishield is a version of the AstraZeneca vaccine that manufacturers in India produce locally.
READ: MCO 1.0 vs MCO 3.0: How we reacted then and now
Preparing for AstraZeneca vaccination
Here are things you need to know and what to prepare if you have yet to receive your first vaccine shot.
1. Before the AstraZeneca vaccination
First, get your vaccination slot via MySejahtera or JKJAV website. Your vaccine appointment and vaccination centre (PPV) will be updated on the MySejahera app within 48 hours after securing a slot. The first round of AstraZeneca COVID-19 vaccine Malaysia registration was opened to Klang Valley residents on May 2, 2021, where all 268,000 slots were fully booked in less than four hours.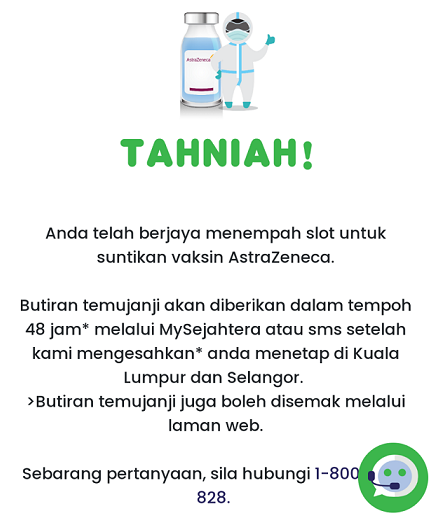 Unlike the Pfizer and Sinovac vaccines, the AstraZeneca COVID-19 vaccine was offered to the public on a voluntary "first come, first serve" basis. This was in response to concerns surrounding the vaccine after several cases of blood clotting emerged among receivers of the vaccines. It is important to point out that these were rare cases.
However, as mentioned earlier in the article, the government has decided to cancel the opt-in stream for the vaccine after the overwhelmingly positive response. Instead, it will be returning the shot to the mainstream inoculation programme.
2. Vaccination day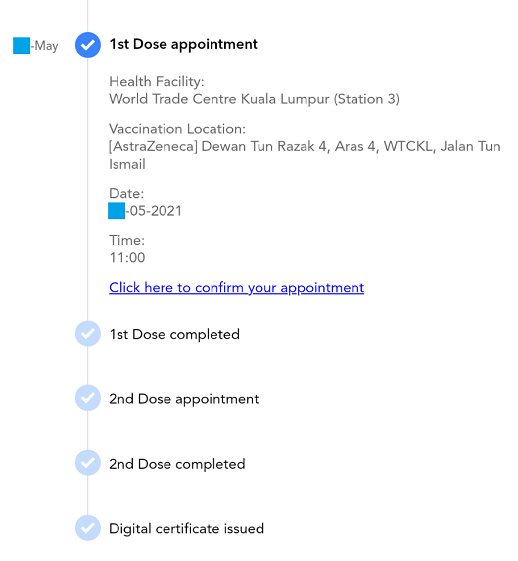 Prepare these items before you leave the house. At the PPV,  you will need to :
show your IC or passport
bring your mobile phone with your registered MySejahtera app (appointment details)
sign a consent form, so you are advised to bring your pen to minimise contact from sharing
The vaccine will be administered to your upper arm. Therefore, avoid wearing restrictive or hard-to-roll sleeved clothes. Muslim women can wear a cardigan or light jacket over short sleeves that can easily be removed when it's time to get vaccinated.
Unlike other health screenings, a COVID-19 vaccination doesn't require you to fast before your appointment. Eating a balanced meal helps prevent you from feeling weak, calm your nerves, and regulate your blood sugar.
You are advised to not turn up too early to avoid crowd congestion at the vaccination centre. An ideal time to arrive is 15 to 30 minutes before your scheduled vaccine appointment. If your designated vaccination centre requires you to do interdistrict or interstate travel, you'll only need to show your appointment details (on the MySejahtera app, website, or SMS) when passing through police roadblocks.
3. What to expect after AstraZeneca vaccination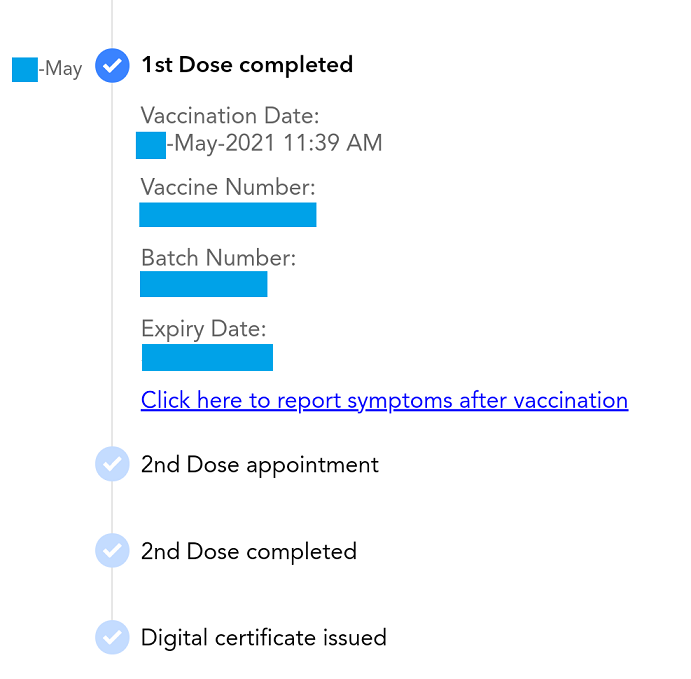 After your first jab, you will be given a COVID-19 vaccination card. Your appointment for the second dose will be available on Mysejahtera within 12 weeks after the first dose ( the government has decided to shorten the interval between the first and second doses of the AstraZeneca vaccine from 12 weeks to nine). Side effects from the vaccine are common.  It's the result of your body's immune system responding to the vaccine. This means that it's working! You are encouraged to take the rest of the day off.
Side effects may vary from one person to another and different degrees. You can also prepare for your post-vaccination days ahead of time by stocking up on food and over-the-counter pain medication such as paracetamol (Panadol) or ibuprofen. Also, don't forget to report symptoms after vaccination on MySejahtera!
Walk-in vaccinations in Klang Valley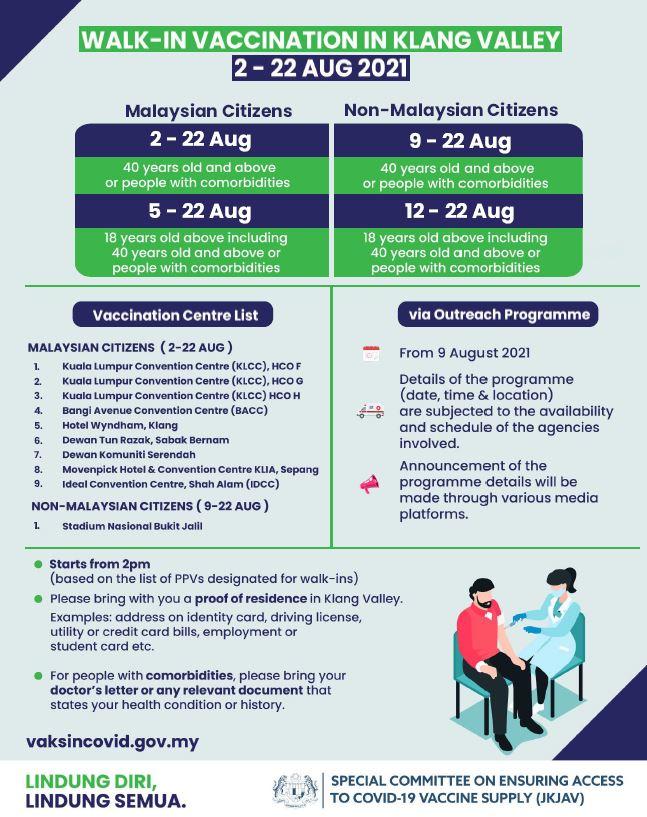 This walk-in vaccination programme is open to only Klang Valley residents, beginning August 2, 2021. 10 PPVs have been specifically designated for the walk-in vaccination initiative, including areas in the suburbs of the Klang Valley through the outreach programme.
Walk-in vaccination schedule
This walk-vaccination programme is open to Malaysians and non-Malaysians. The vaccination schedule is as follows:
2 August to 4 August: Malaysian citizens aged 40 years old and above and those with comorbidities
5 August to 22 August: Malaysian citizens aged 18 years and above
9 August to 11 August: Non-Malaysians aged 40 and above and non-Malaysians with comorbidities
12 August to  22 August:

Non-Malaysians aged 18 and above
Walk-in vaccinations will only start from 2 pm and will be based on the designated PPVs
Malaysian citizens ( 2 August – 20 August)
These PPVs are accepting Malaysian citizens only:
KLCC Convention Centre – HCO F
KLCC Convention Centre – HCO G
KLCC Convention Centre – HCO H
Pusat Konvensyen Bangi Avenue (BACC)
Hotel Wyndham, Klang
Dewan TAR Sabak Bernam
Dewan Komuniti Serendah
Movenpick Hotel & Convention Center KLIA, Sepang
Pusat Konvensyen Ideal, Shah Alam (IDCC)
Non-Malaysian citizens (9 August – 22 August)
The only PPV available to non-Malaysians for walk-in vaccinations
Stadium Nasional Bukit Jalil
Document to bring at the PPV
Those who wish to get vaccinated must bring along proof of residence in the Klang Valley. Please bring with you any of these documents:
Identity cards 

Driving licences

Utility or credit card bills

Employment cards

Student cards etc. 
People with comorbidities must bring along a doctor's letter or any relevant document that states their health condition or history. 
What are the side effects of COVID-19 vaccines
In general, all COVID-19 vaccines have similar side effects. They may vary from person to person and different degrees. Some people have reported no side effects at all. The side effects of the vaccine include pain at the site of injection, body chills, feeling tired, and feeling feverish. They are typically mild and moderate.
As with all vaccines, there's a chance that there will be a serious side effect, but these are rare. This can be something like an allergic reaction. Speak with your health professional about any serious allergies or other health conditions you may have before you receive this vaccine.
For the AstraZeneca side effects, they tend to be milder with the second dose. The types of side effects are the same and should still only last a day or two. The overall vaccination benefits far outweigh the vaccine dangers.
How long do COVID-19 vaccine side effects last?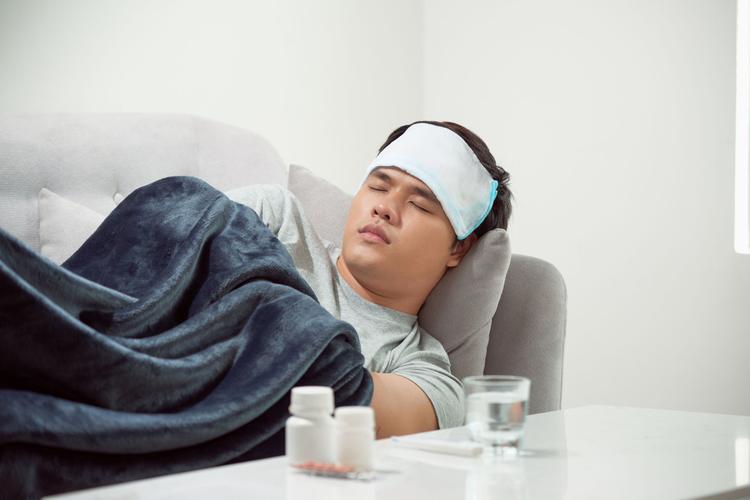 The soreness in the arm is usually felt immediately after being vaccinated and more severe, systemic side effects like fever and chills usually kick in within 8 to 12 hours. However, most side effects will resolve within 48 hours. If severe symptoms persist, seek care from a doctor.
Rare side effects of COVID-19 vaccine
As for the AstraZeneca vaccine, there is the risk of developing rare blood clots which were linked to low platelet levels after receiving the first dose. However, the European Medicines Agency (EMA) has concluded that this should be listed as very rare. 
Meanwhile, the United Kingdom (UK)'s Medicines and Healthcare products Regulatory Agency (MHRA ) has said that while there is stronger evidence of a link between the vaccine and the blood clots, more research is needed. They have emphasised that any risks of the AstraZeneca vaccine continue to outweigh the risks for the vast majority of people.
According to the MHRA, there had been 79 reports of blood clotting cases with low levels of platelets as of March 31. All of these cases occurred after the first vaccine dose administration, and 19 were fatal. Out of the 79 cases, 51 occurred in women, and most occurred in those below the age of 50 years. The MHRA noted, however, that a greater number of women than men had received the vaccine overall.
How to cancel AstraZeneca vaccine appointment in Malaysia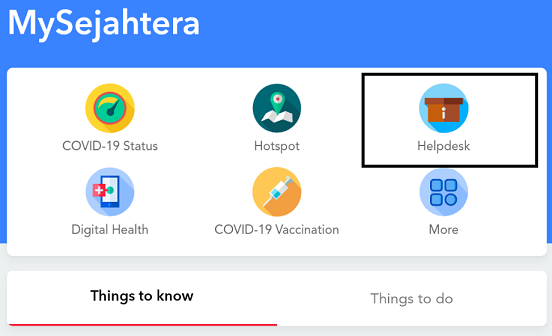 The MySejahtera app recently added an option to its "Helpdesk" feature. This includes options for people to cancel or change their AstraZeneca vaccination dates.
Is the AstraZeneca vaccine effective against the Indian variant
A study found that two doses of the Pfizer/BioNTech or the AstraZeneca vaccine protect against the COVID-19 variant first detected in India, as well as the variant first found in the UK.  The study emphasized the need for two doses, saying one dose of the vaccines provided much less protection.
A compensation fund for COVID-19 vaccination in Malaysia
The Malaysian government has agreed to compensate individuals who suffer severe reactions due to inoculations. An initial fund of RM10 million has been allocated for this purpose, and a maximum of RM500,000 will be compensated to affected individuals by the National Disaster Management Agency (NADMA).  Individuals requiring extended hospitalisation due to a vaccine reaction will be eligible for RM50,000 or RM500,000 if this results in permanent disability or death.
READ: Latest MCO 3.0 SOP: Activities that are allowed and not allowed
Why are vaccinated people still wearing masks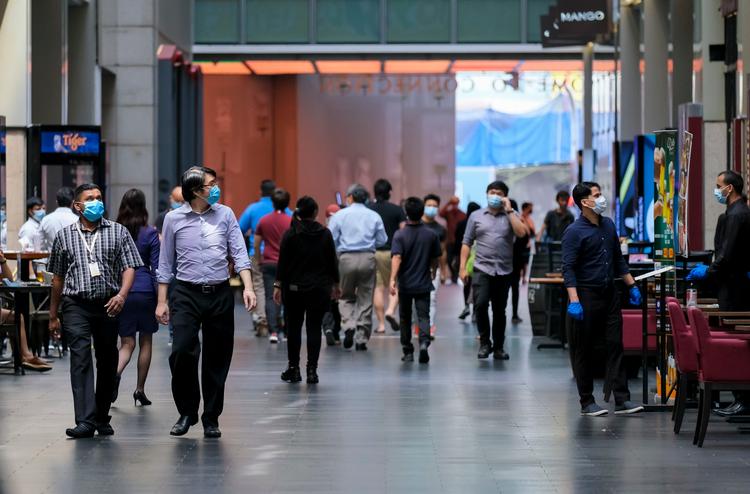 Are you still advised to wear a mask in public areas and adhere to the existing SOPs if you have received two doses of the COVID-19 vaccine? Yes, you are advised to do so. Well, at least until we reach herd immunity, which is 80% of the population being vaccinated. This boils down to five reasons:
It takes time for the vaccine to kick in
You only achieve a 95% effectiveness rate two weeks after receiving your second vaccine dose. After the first dose, you do get a partial immune response.
The vaccines do not provide 100% protection
Vaccines only offer 94% to 95% protection. You could belong to the 5% who don't respond to the vaccine and will still be at risk for COVID-19.
Those who have been vaccinated might be asymptomatic spreaders
Experts are concerned that vaccinated people can still become infected without symptoms and then spread it to others who have not been vaccinated yet.
We still need to protect those with compromised immune systems and those who can't be vaccinated
You might feel healthy and be free of symptoms but the person who you infect might not be so lucky. Some people want to be vaccinated but can't do so. This includes pregnant women and those with allergic reactions. Wearing masks isn't only for yourself but for the safety of other people.
There are still limited doses of the vaccine
The current population of Malaysia in 2021 is 32,776,194. To reach herd immunity, 80% of the population needs to be vaccinated. As of June 7, only 2,503,655 people residing in Malaysia have received at least one dose of vaccine. This is equal to 7.64% of the population. The number of people who are fully vaccinated is only 1,135, 157 or 3.46%.
Edited by Rebecca Hani Romeli
Disclaimer: The information is provided for general information only. iProperty.com Malaysia Sdn Bhd makes no representations or warranties in relation to the information, including but not limited to any representation or warranty as to the fitness for any particular purpose of the information to the fullest extent permitted by law. While every effort has been made to ensure that the information provided in this article is accurate, reliable, and complete as of the time of writing, the information provided in this article should not be relied upon to make any financial, investment, real estate or legal decisions. Additionally, the information should not substitute advice from a trained professional who can take into account your personal facts and circumstances, and we accept no liability if you use the information to form decisions.