Meskipun dengan dapur kecil, anda masih boleh mendapatkan pengalaman memasak yang mudah dan menyeronokkan.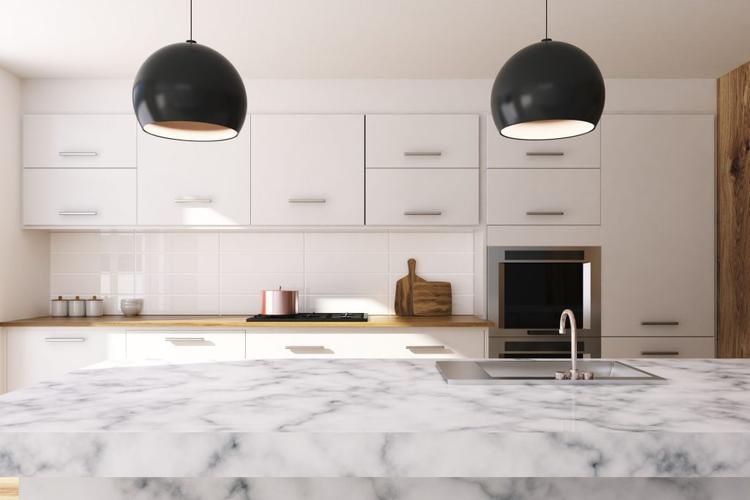 Selepas sehari suntuk di tempat kerja atau sekolah, atau di rumah menjaga anak-anak, anda pastinya tidak mahu ke dapur untuk menyediakan makanan dalam keadaan stres.
Untuk pengalaman memasak yang mudah, pastikan susunan dapur sesuai dengan cara anda, terutama sekali jika anda mempunyai ruang yang terhad. Jika dapur anda mempunyai reka bentuk yang baik sekalipun, tips berikut mampu membantu anda memaksimumkan penggunaan ruang yang ada.
1. Dapatkan papan pemotong atas sinki
Papan pemotong jenis ini memberikan lebih ruang atas kaunter dengan serta-merta. Ia juga mengurangkan masa untuk membersih selepas siap memotong. Perkakas ini boleh didapati di mana-mana kedai menjual perkakas rumah. Periksa ukuran sinki anda sebelum membeli!
2. Gunakan bahagian atas kabinet
Jangan takut menggunakan ruang bahagian atas kabinet dapur anda. Gunakan bakul untuk menyusun item. Jika anda sedang membuat desain untuk dapur kecil anda, minta tukang bina kabinet hingga ke siling berserta pintu untuk ruang penyimpanan yang bebas daripada habuk.
3. Rak beroda
Sebut tentang almari, anda juga boleh menggunakan idea rak beroda yang memudahkan anda untuk mencapai setiap bahagian almari dengan mudah. Jika ada ruang dalam almari yang sukar dicapai, rak jenis ini boleh membantu anda memanfaatkan ruang yang ada.
4. Pintu almari sebagai ruang penyimpanan
Gunakan rak gantung, penyangkut atau rel untuk menukarkan bahagian dalam pintu almari menjadi ruang penyimpanan yang berguna. Anda boleh menyimpan apa saja, daripada rempah ratus pada jalur bermagnet, kepada kotak kertas aluminium, penutup periuk dan plastik sampah. Ayuh jadi lebih kreatif!
5. Rak kecil di atas meja
Gunakan rak di atas meja untuk menambah ruang kaunter dapur. Susun dengan kemas perkakas yang sering digunakan dan bekas kegemaran anda.
6. Bertukar kepada perkakas 2-dalam-1 atau 3-dalam-1
Sebut tentang perkakas, ruang yang terhad dalam dapur yang kecil boleh dimanfaatkan dengan perkakas pelbagai guna seperti ketuhar gelombang mikro yang juga berfungsi sebagai ketuhar olakan, atau pengisar yang mempunyai ciri-ciri pemproses makanan dan pembuat jus. Mungkin anda terpaksa membayar lebih untuk produk seperti ini, tetapi anda boleh menjimatkan ruang dan mengurangkan bersepah.
7. Rak gantung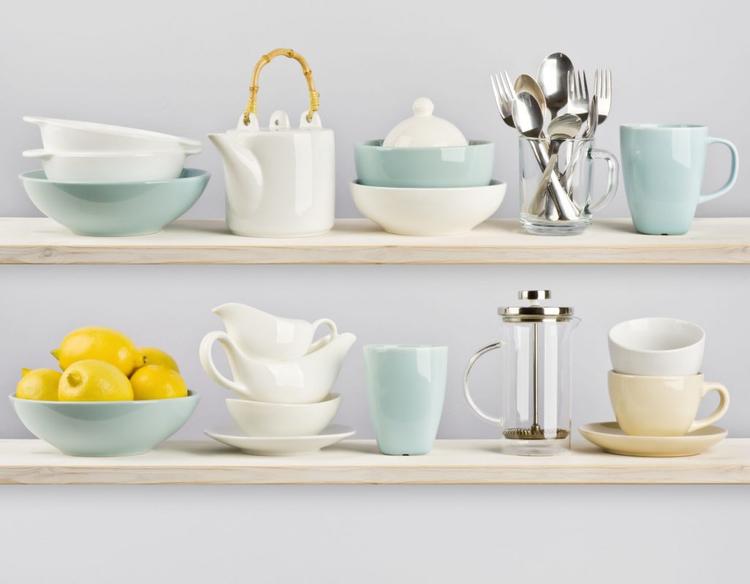 Manfaatkan dinding anda dengan memasang rak gantung untuk meletakkan item kecil seperti rempah ratus dan cawan. Bukan itu sahaja, anda juga boleh tambahkan penyangkut atau pelekat magnet di bawahya untuk menggantung perkakas ringan atau juga pasu herba.
8. Meja lipat
Meja yang boleh dilipat memang sesuai untuk menjimatkan ruang. Anda boleh menyimpannya dan hanya buka sekiranya memerlukan ruang kaunter dapur tambahan. Satu lagi alternatif adalah meja tersembunyi yang boleh ditarik keluar dari bawah kaunter dapur menjadi pulau
9. Buatkan satu dinding untuk papan pasak
Papan pasak merupakan kegemaran peribadi saya. Ia serba guna dan sesuai untuk sebarang bilik. Cari dinding yang kosong di dapur dan pasang papan pasak. Ia juga sesuai digunakan sebagai latar belakang untuk menggantung periuk belanga yang kerap digunakan, sarung tangan, pasu herba, atau untuk menggantung bekas sampah. Ia boleh diubah suai mengikut perubahan keperluan anda.
10. Rak pisau bermagnet
Magnet sering dipandang rendah sebagai alat penyimpanan barang. Cara terbaik untuk menyimpan pisau supaya tidak mudah dicapai oleh anak-anak adalah dengan menggunakan rak pisau bermagnet, bukan di dalam laci. Gantungkan jalur bermagnet ini di tempat tinggi yang hanya boleh dicapai oleh orang dewasa. Ia juga mampu menjadikan dapur anda nampak lebih profesional.
Tapi ingat, sebelum mengamalkan petua yang kami kongsikan ini, periksa segala perkakas di dalam dapur anda. Simpan hanya apa yang perlu atau yang benar-benar diingini. Yang lain, dermakan. Kemudian barulah mula susun semula dapur anda. Dapur yang kecil dan tidak bersepah adalah dapur yang menyeronokkan.
Disclaimer: The information is provided for general information only. iProperty.com Malaysia Sdn Bhd makes no representations or warranties in relation to the information, including but not limited to any representation or warranty as to the fitness for any particular purpose of the information to the fullest extent permitted by law. While every effort has been made to ensure that the information provided in this article is accurate, reliable, and complete as of the time of writing, the information provided in this article should not be relied upon to make any financial, investment, real estate or legal decisions. Additionally, the information should not substitute advice from a trained professional who can take into account your personal facts and circumstances, and we accept no liability if you use the information to form decisions.