Most retirees would balk at the idea of being sent away to old folks homes when they are old and frail. After all, not many people like the idea of losing their independence and family ties. In this article, we take a look at how people can age in place by way of open-plan home designs.
The global population is experiencing a marked demographic shift. Due to increasing life expectancy, falling fertility rates and lifestyle changes, the number of seniors aged 65 years and above has been increasing steadily from 150 million in 1960 (5% of total population) to 722 million in 2020 (9% total population). This number is expected to double in 2050, resulting in an elderly population of 5 billion or 15% of the total world population (Figure 1).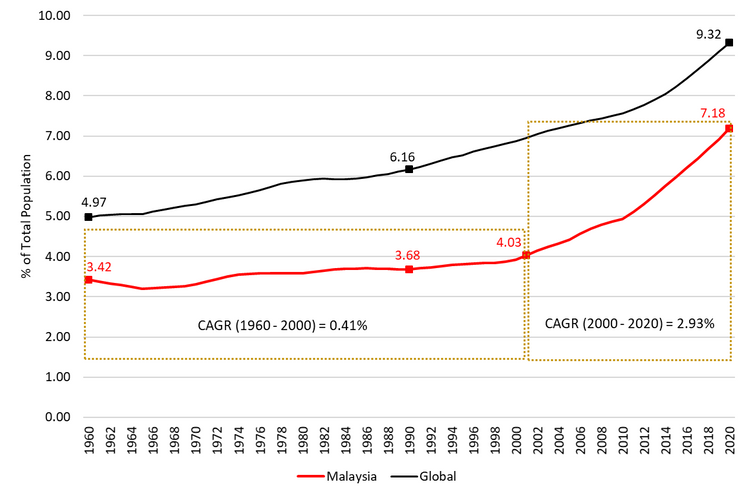 Malaysia is also moving towards an "Ageing Nation", defined by the United Nations (UN) as a country with 15% of its population above the age of 60. In 2020, seniors make up 2.3 million or 7.2% of the country's total population – an increase from 0.3 million or 3.4% of the total population in 1960. Notably, a drastic increase in elderly populations was observed in the past 20 years (2000 to 2020) with a compound annual growth rate of 2.93%, compared to a CAGR of 0.41% in the period between 1960 to 2000. This indicates a massive socioeconomic transition in the country and gives rise to the concern of how our elderly will be supported and cared for in the 21st century.
The rise of retirement villages in Malaysia
In tandem with the changing demographics, a gradual shift in caregiving has also been observed. Caring for the elderly – traditionally a family responsibility – now appears to be eroding due to changes in values, norms, expectations, behaviours and attitudes towards the elderly. Consequently, a new market for recreational retirement homes – a private sector construct that is different from the conventional notion of old folks homes – is blossoming in the country to cater to a burgeoning seniors population looking for independent and active living within a community.
However, this emerging senior living settlement is not always affordable to the elderly, as many tend to be financially vulnerable after retirement. While some might have sizable pensions, the rising costs of living and other necessities will eventually eat into their monthly allowances. And for those who depend entirely on their EPF savings, statistics have shown that as high as 50% of EPF contributors do not have enough saved to last the remainder of their lives.
How can we enable ageing in place?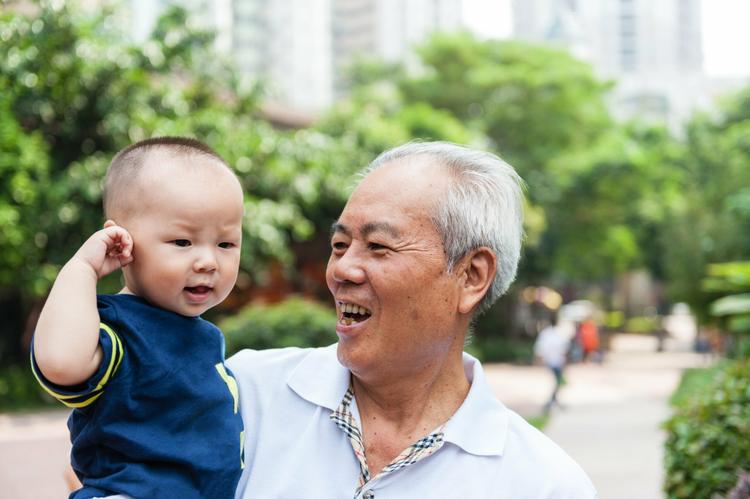 Few elderly people would willingly move into nursing homes. Because of the stigma and stress associated with relocating to a strange new place, seniors would rather stay in an environment they are accustomed to. This is called ageing in place – the ability to manage one's home and live with greater autonomy, choice and control while maintaining emotional attachments to family and community without the costs and hassles of moving.
For ageing in place to be possible, a housing architecture needs to be adaptable to the changing lifecycle of its inhabitants. Residential homes must be designed with considerations for the needs of the residents as they age, which may include support services to allow them to continue engaging with their communities.
Making homes elderly-friendly
There is significant evidence that making homes more accessible and with better spatial configuration not only can reduce the need for care and prevent falling and accidents, but also can improve independence and quality of life for the elderly. Additionally, optimising lighting and air movement, maintaining a comfortable temperature and providing safe outdoor spaces can make homes more comfortable and healthier for the elderly. All in all, an environment that is designed to be intuitive, easy to use and flexible will enable seniors to experience a sense of competence, choice and control, thereby making a positive difference to their self-esteem.
A big design obstacle in today's housing is the layout: houses tend to be divided into smaller spaces with rigid and fixed purposes. A typical terrace house layout usually comprises a front space as a living area; an intermediate space for dining and stairwell; and a rear space for kitchen, storage and bathroom (Figure 2). With these fixed functions, there is very little room left for a more flexible arrangement.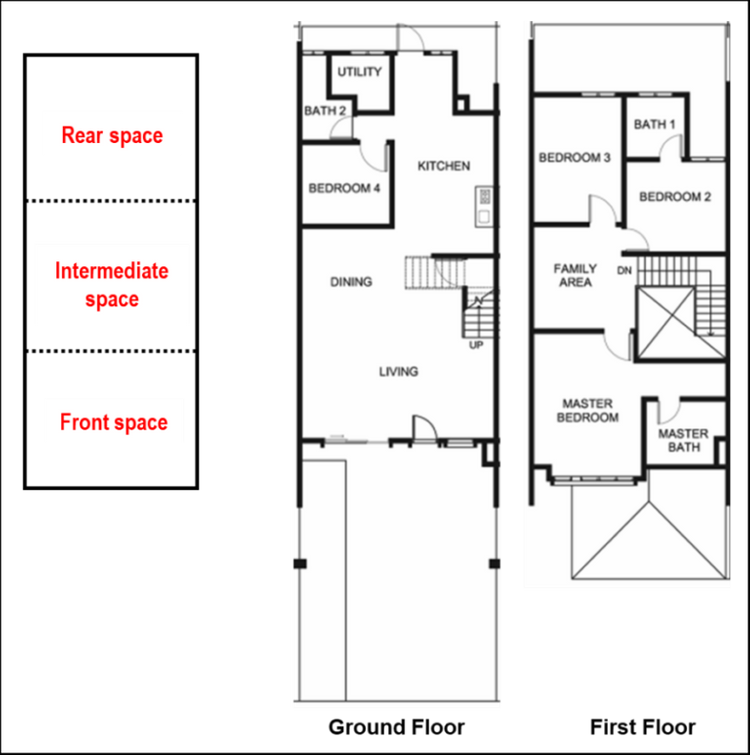 Besides, since the development of terrace houses is driven by an efficient use of land and setbacks (the minimum distance a building must be set back from a street or road), the resulting narrow and deep floor plan often gives rise to poor ventilation and lighting, and thermal discomfort. Coupled with the constricted spatial planning and a "boxy" design meant to protect dwellers' privacy, residents end up being restricted within the defined boundaries of their fenced units. This leaves them with little access to private open spaces outside their immediate house and discourages interaction with neighbours.
CHECK OUT: PEMULIH loan moratorium: Is there really no interest on interest?
Why the open plan design is elderly-friendly
An open plan home design that enables easy and quick changes in the division, expansion and arrangement of space is deemed a smart play for ageing in place. Eschewing functionalism where buildings are designed solely around their purposes and functions, an open plan allows for spatial modification of buildings to meet user requirements by accommodating technological, cultural and economic changes that occur over time.
In a terrace house, an open plan can be achieved by dividing the longitudinal layout into two distinct zones: (i) a service zone that contains the staircase well, kitchen, bathroom and all plumbing and piping services; and (ii) a Flexi zone – a large, independent and flexible area offering unblocked space, air and light across the entire floor (Figure 3).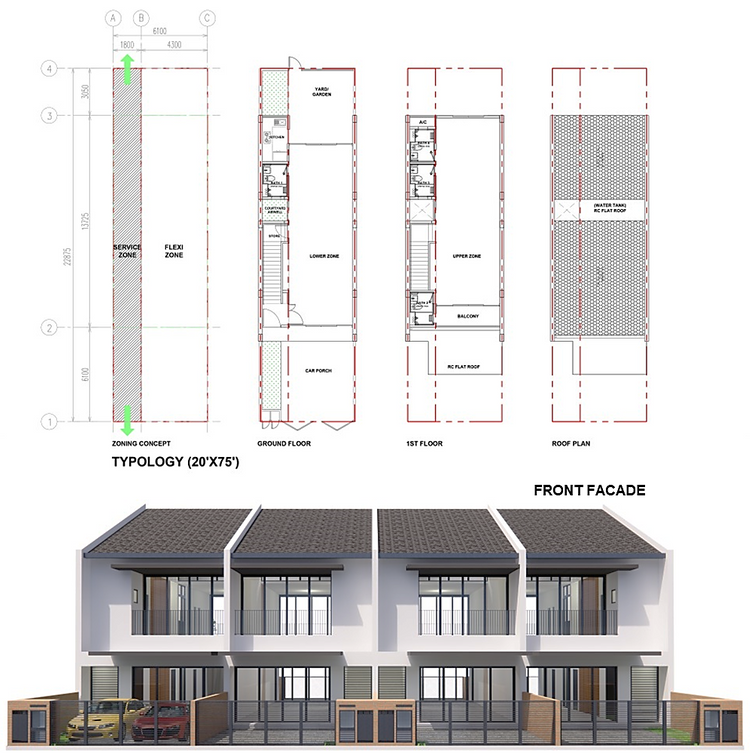 Simply by installing sliding doors or drywall partitions, the flexi zone can be configured to meet a variety of purposes, including changes in household demography and living requirements. From a conventional family-oriented home with a dining room, a living room, a study room on the ground floor and three bedrooms upstairs, the house can be converted into a multi-generational suite as the family members grow, with a common area and a granny room at ground level and a living area for the younger generation upstairs.
Since the house has two entry doors that can provide independent access to the upper floor, the double-storey terrace house can be transformed into a dual-key housing with two separate 3-bedroom residences. This enables multiple generations to stay under one roof while allowing privacy (Figure 4). In case the number of inhabitants decreases, the upstairs unit can be rented out or converted into a homestay to generate income for the senior inhabitants.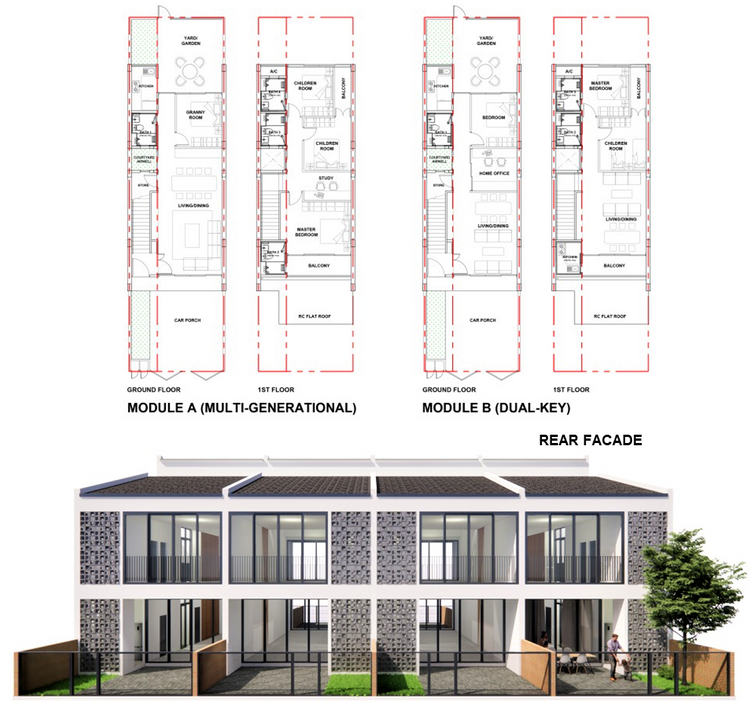 Another unique feature that can be introduced in an open plan is an internal courtyard. By positioning the courtyard in the middle of the longitudinal layout, a porch that opens to the sky is created. Not only does it promote airflow and provides thermal comfort to the inhabitants, but it also functions as a natural solar chimney through which inhabitants may enjoy the sunlight. (Figure 5). On top of that, natural elements can be harnessed and added to the courtyard to provide significant health benefits to the seniors. This air well courtyard also promotes accessibility; a platform lift for ageing or handicapped family members can be installed, if necessary.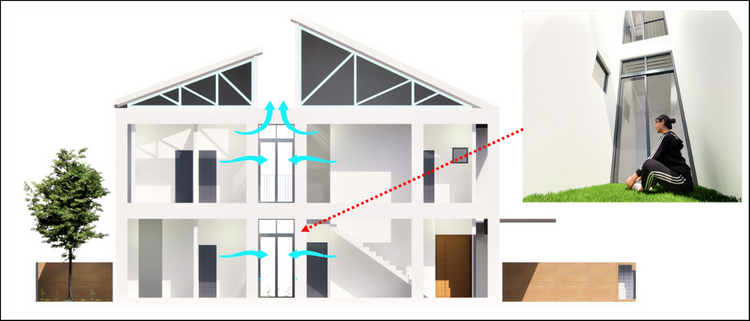 A sizeable backyard provides an additional social space by functioning as a semi-outdoor convivial family area. To further add value to this backyard, the back lane directly attached to it can be spruced up with landscaping (Figure 6). The back lane is open and unfenced, making each individual backyard undefined and merging it with the public space. This setup facilitates leisure and recreational activities, improves the health of its users with therapeutic effects, and fosters community interaction. Most importantly, the comfortable, clean and safe private escape can provide enjoyment to the elderly, the handicapped and children who require near-home recreation spaces.

MORE: Commercial vs residential: Can I convert commercial title to residential title?
Senior-friendly features in high-rise homes
The role of an open plan in facilitating ageing in place is no less important in vertical residences such as small apartment units. Not everyone can afford a landed property. Due to ever-increasing development costs, prices for terrace houses have increased in a CAGR of 6.1% over the last three decades. Not only is this the highest among existing housing products, but it is also higher than the nation's income growth rate (a CAGR of 4.9% as shown in Figure 7). In urban areas such as Kuala Lumpur and Selangor, terrace houses are even marketed as high-end products, out of reach of the masses.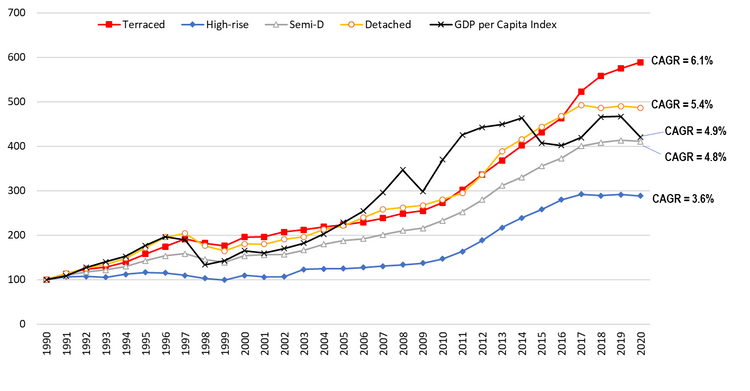 Considering that house purchase is likely the biggest investment in one's lifetime and the home ownership rate in Malaysia is as high as 76.9%, vertical living looks set to become the dominant house type for ageing in place. As such, designs for vertical living in small apartment units should make the most of spaces, while providing flexibility to occupants to make changes to their living spaces at minimal costs and less destructive alterations.
Small house design for the elderly
Consider, for example, the versatility of an open plan in an ordinary 500 sq ft serviced apartment unit, a basic unit complete with essential utilities, minimum internal wall or divider, and a barrier-free longitudinal flexi zone (Figure 8). Every corner of the unit is configured to maximise spaciousness. A 10ft-tall ceiling can add volume to counteract the small square footage of the unit. Meanwhile, oversized (6-8ft-high) windows that can be opened and closed easily and bay window designs can be incorporated to increase airflow and sunlight penetration, making the unit feel bigger than it really is.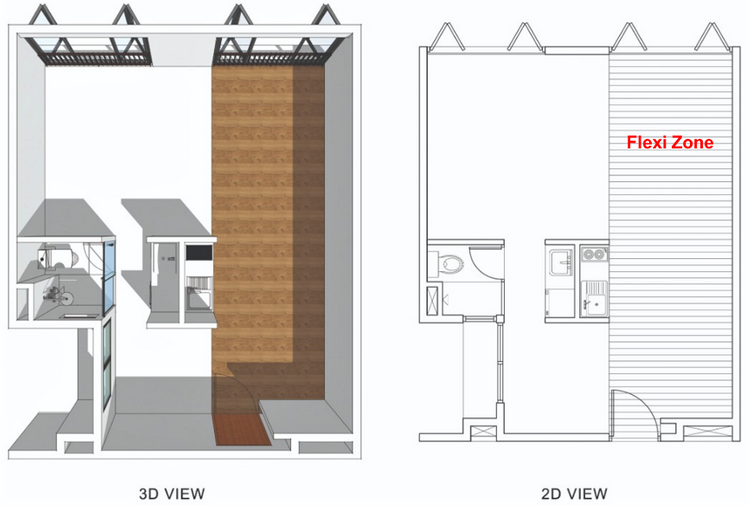 Again, with just simple partitions and carpentry works, this versatile layout can be turned into a single conventional family-oriented home with a dining/living room, a bedroom, a study room, a small kitchenette and a bathroom. Or, by adding a wall in the middle of the plan, the unit can be converted into two smaller units of 250ft2 each, featuring an enclosed studio residence and a home office. By adding an additional toilet pot, it can be converted into a dual-key residence with two independent units for the elderly and their children (Figure 9). Or, one of the independent units can be rented out while the other is used for ageing in place. The possibilities are endless.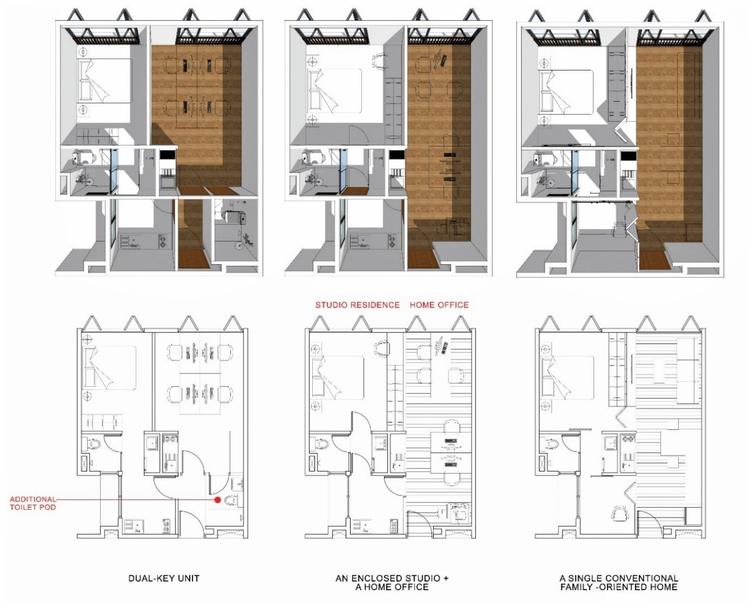 To make a small unit even more comfortable, it is necessary to include built-in or flexible furniture systems to compensate for the lack of space. Seatings with storage underneath, fold-down wall beds and floor-to-ceiling vertical shelves or wardrobes can definitely remove the need for large furniture. Of course, in order to allow ageing in place, various supporting amenities need to be present too such as hand and safety rails, levered handles, wider doorways, emergency call systems and towel bars that incorporate universal design principles.
This article was jointly written by  Ar. Tan Yu Hoe (Jerry), Principal of YHDA/Yuhoe Design Architect and Ts. Dr. Foo Chee Hung, Manager Property Development, Product R&D at MKH Berhad.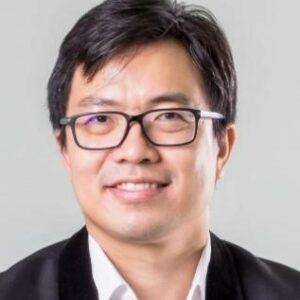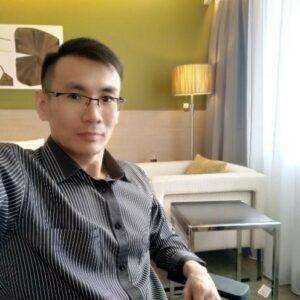 Disclaimer: The information is provided for general information only. iProperty.com Malaysia Sdn Bhd makes no representations or warranties in relation to the information, including but not limited to any representation or warranty as to the fitness for any particular purpose of the information to the fullest extent permitted by law. While every effort has been made to ensure that the information provided in this article is accurate, reliable, and complete as of the time of writing, the information provided in this article should not be relied upon to make any financial, investment, real estate or legal decisions. Additionally, the information should not substitute advice from a trained professional who can take into account your personal facts and circumstances, and we accept no liability if you use the information to form decisions.