Now that MCO 3.0 is here, there's no better time to give your house a refresh than now. Check out these viral TikTok home hacks that you can do to make your space look brand new again.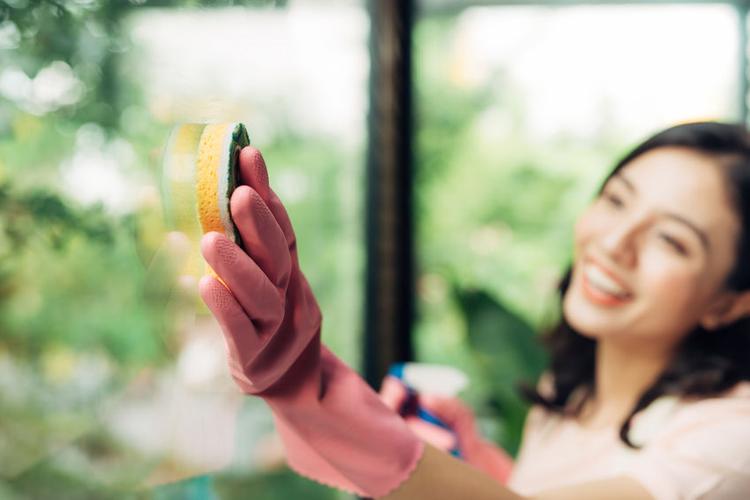 Thanks to the Covid-19 pandemic and the implementation of MCO 3.0, more and more people are hopping on to the TikTok bandwagon to relieve the boredom. Like most social media platforms, TikTok provides a gateway for us to feel connected and entertained while we self-quarantine at home. 
While TikTok is best known for its viral dance challenges (even celebrities are taking part in some of these), lately we've been seeing a lot of people sharing home hacks that blow our mind (and we thought we've seen it all). 
From cleaning your plastic containers to removing stains from your white sneakers, here are some of the most amazing cleaning hacks we've seen on TikTok. And trust us, you're going to want to try them out after watching the videos too.
1. Cleaning an oven 
After all the cooking and baking during the Movement Control Order (MCO) lockdown, your oven must be looking pretty nasty with all the hard-baked grease and grimes stuck on the oven wall. Enough to make you lose appetite even before you cook. Now that we're under full lockdown again, maybe it's time to give your oven a little TLC. 
Step 1: Prepare baking soda, white vinegar and dishwashing liquid for this trick.
Step 2: After mixing them up, spread them all over the oven.
Step 3: Let it sit for a few minutes before wiping it down. 
And now you have a clean oven for your next batch of baking goods!
2. Removing stains from white shoes
Anyone who owns a pair of white shoes will tell you that while they look pretty and can be paired with literally any outfit, it's a pain to keep them clean and spotless. Since you won't be going out as often during this lockdown period, take this time to clean your sneakers and make them look brand new again!
Step 1: Prepare hydrogen peroxide, baking soda and water.
Step 2: Mix them up using an old toothbrush
Step 3: Start scrubbing
And there you have it, your sneakers now look like they're straight out of the store. 
3. Washing plastic containers
What's worse than washing a load of dishes? Washing a greasy plastic container. It's one of those house chores that we'd put off for as long as we can or bribe our siblings to do it because it's just taking too much effort. Not to mention, no matter how many times you clean it, the grease just won't come out! But thanks to TikTok user @adikempler, we can now wash it without pulling our hair out. So here are the instructions:
Step 1: Fill the container with dish soap, water and just one paper towel.
Step 2: Close the lid and shake it for a minute.
Step 3: Rinse it with clean water and voila, no more oily containers in your cabinets. 
4. Keeping paint cans clean
Ever attempted to paint your own house? Then you'll understand how irritating it is when the paint builds up in the rim and prevents you from closing the can airtight. To stop this from happening, @goodlyearth suggests these easy steps.
Step 1: Stick two pieces of tape on the rim perpendicular to each other.
Step 2: After finish pouring paint on the paint tray, just remove the tape and you're done! No more dripping paint on the side of the paint can!
5. Sweeping like a pro
Having trouble removing the strands of hair and dust on the broom? You're not alone. It seems like no matter how many times we tried sweeping the dust into the dustpan, they just won't get in. Worry not, this sweeping hack from @tiktok_malaysia showed us two easy ways to sweep without the headache of removing the dirt.
Step 1: Stick a duct tape at the edge of your broom to collect the dust or wrap it in plastic to allow easy sweeping. 
Step 2: Remove the tape or plastics and you're all done!
6. De-foaming pasta water
This is one TikTok hack that everyone who cooks should know. While cooking pasta is easy, it's, however, annoying when the foamy water starts leaking out of the pot. Instead of lowering the heat, try this clever hack by @rodewitahoodie.
Step 1: Just put an ice cube into the pot the moment it bubbles. 
You can thank us later. 
7. Softening butter
@soyummy

This hack is as smooth as butter 🥞😋 [Full video on YouTube: So Yummy] 💗 #lifehack
Find yourself baking more often during FMCO? Then you'll be happy to learn this neat trick by @soyummy. For those who are looking to soften butter either for their pastry recipe or to spread it on their toasts, follow this guide.
Step 1: First, pour hot water into a glass.
Step 2: Drain it and put the glass over the butter and let it sit for 5 minutes.
Step 3: Remove the glass and now you have softened butter. 
Read more: 10 shops to get baking supplies and ingredients in KL and Selangor
8. Scrubbing bathtubs with grapefruit
When it comes to bathtub, we all want to soak ourselves in it after a long, hard day. But cleaning it? Not so much. If you're looking for a fuss-free and natural way to clean your bathtub? @aligrams3 has the solution for you.
Step 1: Sprinkle a dash of sugar on a halved grapefruit
Step 2: Start scrubbing.
Step 3: Rinse the tub and you can check "washing the tub" off your to-do list!
According to the TikTok user, the acidity helps to remove soap scum and it smells heavenly after. 
9. Saving wardrobe space
Unless you have a closet as big as the Kardashians' or you only shop for clothes once a year, you'll likely face this issue: not having enough space in your closet. Thankfully, @hollyvlogsofficial is here to save your wardrobe space.
Step 1: Get yourself a few of the metal ring pulls from soft drink cans
Step 2: Loop it around the hanger on one side and hang another item of clothing on the other loop.
Now you have more space for your new pieces that you bought from your online shopping! 
Read more: Your ultimate guide to the different types of wardrobes in Malaysia
10. Fixing carpet dents
https://www.tiktok.com/@ericaburkhardt_/video/6807117130543156486?referer_url=https%3A%2F%2Fwww.fm104.ie%2Fnews%2Fbuzz%2Fspring-cleaning-here-are-some-tiktok-home-cleaning-hacks%2F&referer_video_id=6807117130543156486
Got a carpet at home? Then you'll know the pain of seeing the little dent in your carpet after you've moved a piece of heavy furniture. Definitely not a sight we want to have in the living room. Before you throw the carpet out, take a look at the video above (or the instructions below) to see how TikTok user @erica.burkhardt fix the dent. 
Step 1: Rub an ice cube on the flat surface 
Step 2: Use a hairdryer to fluff it back to its original state. 
Read more: 5 carpet cleaning hacks you need to try to make it look new
11. Growing vegetable scraps
Instead of going out to the market to buy vegetables and risk getting infected by the virus, try regrowing them with your vegetable scraps! Yes, you heard that right. You can regrow vegetables and you don't even need a big garden, a pot or fertiliser for this.
Step 1: Fill a plastic container with water
Step 2: Place your veggie scraps like bok choy or lemongrass on it 
Step 3: Wait for it to grow!
You can also click here to read this article for a full list of vegetables that you can regrow with just water.
12. Clean window track
When was the last time you cleaned your window track? If it's filled with grime, then take this opportunity to scrub it clean with @heeeyol's trick.
Step 1: Get a kitchen sponge and line it up with the window track.
Step 2: Use a permanent marker to mark out where each rail is on the sponge.
Step 3: Using a Stanley knife, slice where you've marked, but don't go all the way through.
Step 4: Wet the sponge with soapy water and slide the sponge along the track. 
And there you have it. We hope these cleaning tips and tricks from TikTok help you with your house chores. If you're looking to deep clean your house, check out these eight essential items that you should clean regularly.
Disclaimer: The information is provided for general information only. iProperty.com Malaysia Sdn Bhd makes no representations or warranties in relation to the information, including but not limited to any representation or warranty as to the fitness for any particular purpose of the information to the fullest extent permitted by law. While every effort has been made to ensure that the information provided in this article is accurate, reliable, and complete as of the time of writing, the information provided in this article should not be relied upon to make any financial, investment, real estate or legal decisions. Additionally, the information should not substitute advice from a trained professional who can take into account your personal facts and circumstances, and we accept no liability if you use the information to form decisions.