Smart cities which marry information and communication technology (ICT) with physical devices connected to the Internet of things (IoT) are touted as being faster, greener, safer and friendlier. This article takes a look at the smart city concept from a layman perspective and provides some pointers on how to assess it when investing in a property.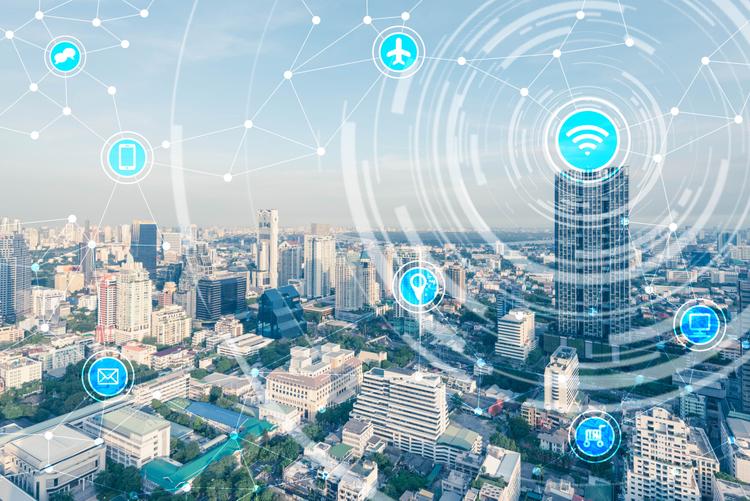 There has been considerable news over the past few months on smart cities in Malaysia. According to several online media:
The Sabah government will be establishing several smart cities at choice locations in the state, with an aim to create a digital economy eco-system and promote digital culture to raise the quality of life.
Datuk Seri Mustapa Mohamed, Minister in the Prime Minister's Department (Economy) shared that the Malaysian government has stated its intention to introduce an enhanced mechanism to accelerate the roll-out of smart cities via plans highlighted in the digital economy blueprint.
A Google search for the term "smart city" showed that the public's interest had peaked over the past decade not just in Malaysia, but globally. Given this trend, more Malaysian property developers would be using the term "smart city" to market their properties.
But are the smart city projects by private property developers the same as what the government is proposing? This article will help you make sense of all the tech and smart city offerings by property developers. It is based on my experience in developing i-City as the No 1 Technology City in Malaysia.
What is a smart city?
The concept of a smart city has evolved over the past 2 decades. Malaysia's first smart city was Cyberjaya. The then Prime Minister, Tun Dr Mahathir launched the Multimedia Super Corridor (MSC) in Cyberjaya in the mid-90s, with the aim to spearhead the country's push into digital technology. A smart city then meant a connected city, but today, broadband connectivity is considered a basic infrastructure.
While there are many definitions of a smart city, they all centre on using digital technology to better serve the community. According to the Malaysian Government, a smart city uses ICT and technology and innovation advances to address urban issues – all of which is to improve the quality of life, promote economic growth, develop a sustainable and safe environment as well as enable efficient urban management practices.
McKinsey & Company, the global consulting company imparts that smart cities put data and digital technology to work to make better decisions and improve the quality of life. Three layers work together to make a smart city hum:
The technology base, which includes networks of connected devices and sensors
Specific applications and data analysis capabilities
Adoption and usage by cities, companies, and the public.
Smart city concept: The grey areas
Smart city may be a common buzzword among property developers and the Malaysian local authorities alike, but these parties have different interpretations of it. The term "smart city" as used by the authorities focuses on providing better township and/or community services and tackling various urban issues. This is a comprehensive picture, as only touches one aspect of the lives of its citizens.
I would argue that a comprehensive smart city is one that covers not only the township/community services but also the home or workplace. In the context of the property sector, it should also cover all the processes that a person would experience when buying or renting premises. In other words, it is the convergent picture. To differentiate this convergent picture, I will use the term "tech city" to describe this convergent concept while the term "smart city" will refer to the focus on township/community services.
To complicate it further, most of our urban issues fall under socio-economic activities. These are the purview of the government and not the private sector. Sure, the private sector property development may be involved in the development of some public infrastructure and amenities but this is a far cry from covering the full urban living issues.
However, in the Malaysian context, private property developers do promote their projects as smart cities. When you throw in words like smart home, AI and PropTech, you can imagine a layman house buyer being overwhelmed by the tech stuff. But do remember that in looking at properties, the focus is not on the technology. It is very much similar to selecting a car – a layman will not worry extensively over the vehicle's technology.
When looking at properties in a tech city development, the more important questions to ask are:
How will all of the smart city features improve its residents' quality of life?
Will you have to bear additional costs to have these tech city features?
I am old school hence my main consideration when it comes to buying a property, is still "location, location, location". Technology will only come into the picture once I am happy with the location.
SEE WHAT OTHERS ARE READING:
✅ 10 qualities of a good neighbourhood

Pros and cons: Is the higher or lower floor better?
Where do smart homes and Proptech fit in?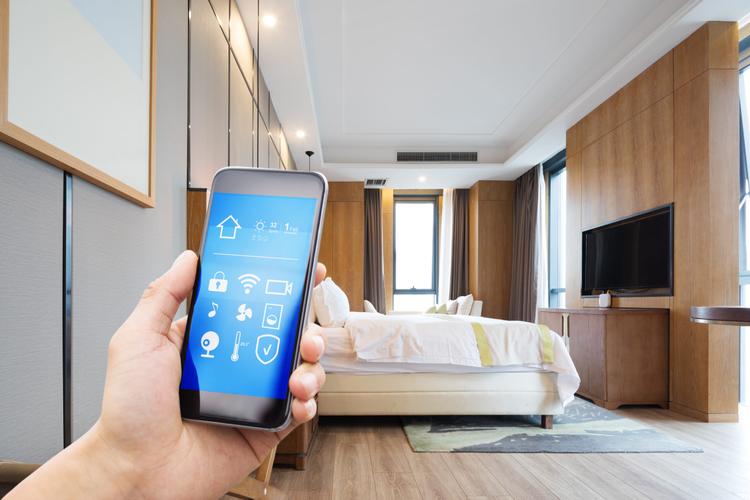 There are 3 converging technologies in the property field – smart homes, PropTech and smart cities (as used in the government sense). 
I think of a smart city as the evolution of a smart home. For smart homes, you are connecting the sensors of a single home and the focus is on occupiers. But for a smart city, the connection is between various organizations, various domains as well as multiple segments of a city. Smart homes and smart offices have their roots in a home and/or building automation.
But just like managing a home is very different from managing a city, smart homes are not smart cities. Standalone smart buildings even if it involves AI and cloud services are not smart cities. Along the same line, using digital technology to provide better township/community services is only one aspect of a digital lifestyle. A smart city as envisaged by the Malaysian authorities only addresses one component of a tech city.
What is PropTech then? It is referred to the use of technology to solve challenges in the real estate sector. Think of PropTech as using digital technology to optimize the way people research, rent, buy, sell and manage properties. It is about the interaction among the various property intermediaries. Examples of PropTech are property management using digital dashboards and tech-enabled brokerages.
Smart homes, PropTech and smart cities had different roots but I would say that the technologies are converging. Probably one day in the future, there would be a new term for these converged technologies just like how the term ICT was coined. To summarise:
Smart homes focus on providing a better quality of home life.
PropTech focus is on better delivery of the various property processes.
Smart city focus is on the township/community issues.
Savvy property investors should be aware that a truly comprehensive smart city should be one where all the 3 technology components are offered. A property buyer will benefit from living in a smart home, being part of a smart community and having a convenient buying or renting process.  A good example is i-City as illustrated below.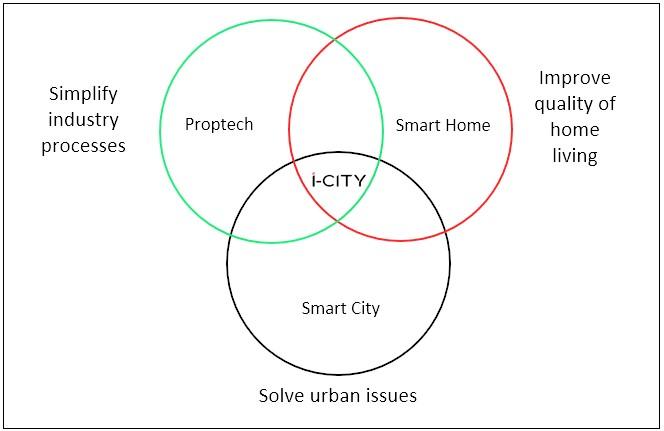 The tagline for i-City is "No 1 Technology City" because it is at the intersection of these 3 technologies.
MORE: A Complete guide on Property Maintenance Fee in Malaysia
Which countries are developing smart townships and community services?
The smart city terminology currently refers to using digital technology to provide better township/community services. In this context, the first smart city was probably Amsterdam with the creation of a virtual digital city in 1994. Other large tech companies got into this field in the mid-2000s. Listed below are the major milestones in the development of smart cities around the world, as identified by Global Data.
1994 – Amsterdam created a virtual 'digital city' to promote Internet usage.
2005 – Cisco put up USD$25 million over five years for research into smart cities.
2009 – IBM unveiled its USD$50 million Smarter Cities campaign to help cities run more efficiently.
2011 – 6,000 visitors from over 50 countries attended the first Smart City Expo World Congress in Barcelona.
2014 – China launched the second batch of 103 pilot smart cities.
2018 – Singapore won the Smart City of 2018 award at the Smart City Expo World Congress.
Since smart cities leverage digital technology to enhance citizen well-being, sustainability, and economic development, you should not be surprised to see that almost all smart city projects are undertaken by the government and/or municipal councils. Many of the projects are still in their infancy stage.
McKinsey took a look at the current deployment of smart cities in 50 locations around the world. This included looking at each city's technology base, its current application rollout, and public adoption. It showed that even the most advanced city still has a long way to go.
Among the most advanced from a technology standpoint are Amsterdam, New York, Seoul, Singapore, and Stockholm.
Mobility has been a top priority for most cities.  The cities with the most applications implemented were London, Los Angeles, New York, Seoul, Shenzhen, and Singapore.
What are the benefits of a smart city?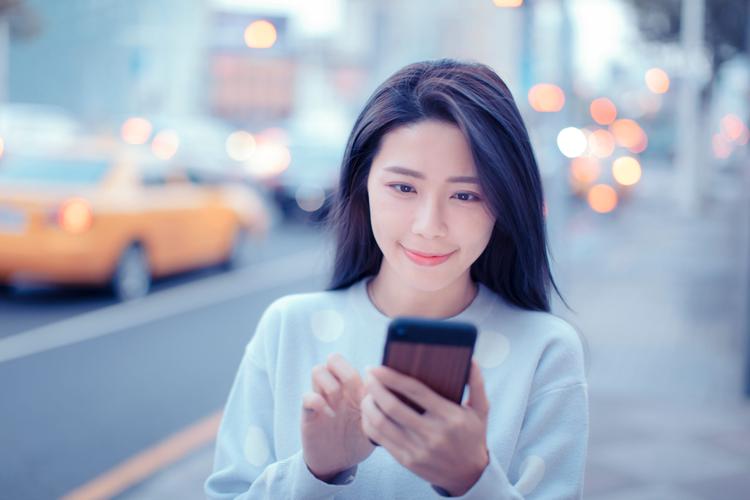 With government and local councils as the key adopters, the following are often quoted as the benefits of having a smart city:
Enhanced citizen and government engagement.
Safer communities.
Improved transportation.
Reduced environmental footprint.
Efficient public utilities.
New economic development opportunities.
You must be wondering – these are very public and/or township types of services and facilities. Private property developers are not providing township services on an ongoing basis. Why should they make the development smart given the costs involved?
Who is building the technology for smart cities?
A decade ago, American companies such as Cisco and IBM were cited as leaders in providing digital city solutions. Today we have Chinese tech companies such as Alibaba, Baidu, Tencent and Huawei offering the same too. A Google search for the leading smart city companies threw up the following results:
Cisco.
Schneider Electric.
Siemens.
Microsoft.
Hitachi.
Huawei.
Ericsson.
Toshiba.
The key point here is that they are all technology companies and more importantly, the list focuses on township/community services. If you take the convergent tech city view, then these tech companies should include those that provide smart homes and/or building automation as well as all the PropTech companies. If nothing else, it demonstrates that the term "smart city" is still very government-centric.
You do not see any property developers or property companies on the list. You should not be surprised by this. Think of the role of a Malaysian property developer, which typically involves:
Purchasing the land,
Determining the marketing of the property,
Developing the building program and design,
Obtaining the necessary public approval and financing,
Constructing the structures,
Selling, or renting the properties.
Note that the above describes the Malaysian property development model; different countries could have varying approaches. For example, in the USA, they have land developers and home builders. The latter does the design, construction and marketing of the homes whilst the former undertake the land acquisition and approval parts.
In Malaysia, a housing project could take years to complete and upon completion, the developer hands over the infrastructure and public amenities to the local council. Upon which, the developer doesn't have any more role to play. Property developers in Malaysia generally do not stay back to manage the township services. So where are incentives to invest in smart township/community services solutions?
Smart cities by Malaysian property developers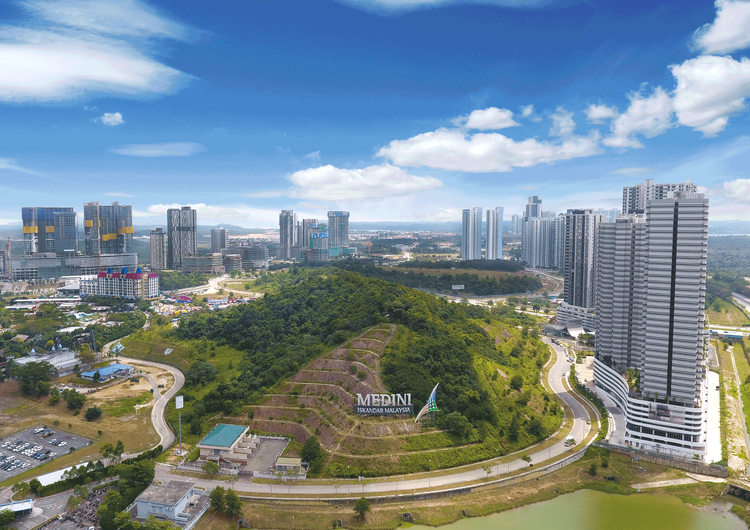 According to the Real Estate & Housing Developers' Association (REHDA) Malaysia, there are over 1,000 developers across Peninsular Malaysia.  They are responsible for some 80% of the total real estate built in this country. However, there are only a handful of developers who have more than a decade-long track record of developing smart cities. These include:
Cyberjaya: Spanning about 7,000 acres, the idea of this IT-themed city arose out of a study by McKinsey in the mid-90s. Cyberjaya was started as a Malaysian government project. Even today, the developer of Cyberjaya, Cyberview is a government-owned corporation.
Medini City: This 2,230-acre integrated urban township development is located in Iskandar Malaysia, Johor. It is being developed by Medini Iskandar Malaysia Sdn Bhd (MIM) whose shareholders include the Malaysian and Johor governments, Middle East investors and Mitsui & Co.  In 2015, MIM entered into a joint venture agreement with Telekom Malaysia to provide ICT services to Medini City.
i-City: A 72-acre urban centre development in the Selangor Golden Triangle by i-Bhd, a public listed property developer. i-City owns the last mile infrastructure. It is also responsible for the broadband and other ICT services within the development. i-City has an agreement with the authorities for it to provide some township services such as street lighting and landscaping within the development. i-City was the first Cisco Smart + Connected Communities project in the SEA region and is probably the most advanced private smart city development in Malaysia.
These 3 smart city developments are greenfield projects in that they were planned as smart cities. This is unlike the smart cities projects currently undertaken by the government and/or local councils. These generally covered "re-engineering" of established town areas or brownfield areas.
There are other recent private sector greenfield smart city projects as well as the re-engineered ones:
Aspen Vision City is a 245 acres freehold commercial and mixed development in Batu Kawan, Penang. Launched in the mid-2010s, it is touted as a smart city project. In 2016, it entered into an agreement for Telekom Malaysia to facilitate the deployment of smart city services.
In July 2020 Sunway Berhad, the developer of Sunway City sealed an MOU with Celcom Axiata and Huawei Technologies. This was to collaborate on advancing smart township solutions. It focused on public safety and security, telehealth, e-learning, hospitality, leisure and retail. Initially covering the existing Sunway City, the solutions would be rolled out to other Sunway's property projects.
Keep in mind, as an investor, you have to ask which of them are offering the tech city facilities and services. Otherwise, you would be caught in the marketing hype.
TOP ARTICLES JUST FOR YOU:
? Maybank Houzkey: An unintended financing scheme for investors?

Capital Growth or Rental Yield: Which is More Important in Property Investment?

 Top 10 most searched areas by Malaysian homebuyers in 2021
Questions you should ask a smart city developer
For the layman house buyer, the first thing to understand is what is actually offered by the property developer.
Is it a smart home? You can easily identify this as most of the features would be focused on the home.
Is it related to property management? This is the current focus of PropTech.
Is it about township services such as traffic management? This is the government's focus.
If what is offered covers township services, you should follow up with these questions for the property developer: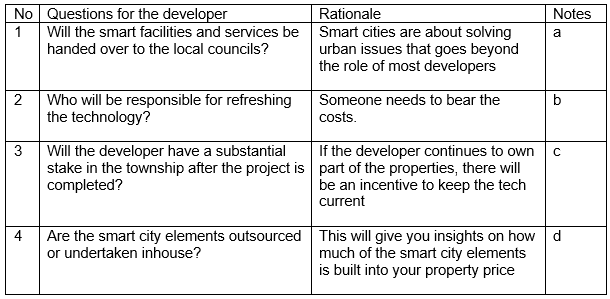 Notes
(a) In Malaysia, the local councils are responsible for providing township services. i-City is one exception where the developer is responsible for the services within the site on an ongoing basis. 
(b) If the parties do not have a good track record of refreshing the technology, the smart city features will soon become outdated. 
(c) Developers like Sunway and i-Bhd own substantial properties such as hotels and offices on the site. 
(d) In the outsourced model, there is an ROI question for the service provider. This will impact whether the house buyer will have ongoing costs in the future to benefit from the services.
The tech city is here to stay. This is because it is about improving the quality of life.  But it is still in its infancy in Malaysia and there are very few tech city projects.
The various Malaysian government-led smart cities are still pilot projects that focused on one or two township services.
Most private sector property developers surrender the public amenities to the local authorities. Thus, their smart township features are also pilot project types.
Most Malaysian property developers talk about smart homes and PropTech as the centrepiece of their technology.
Considerations for an ideal Tech City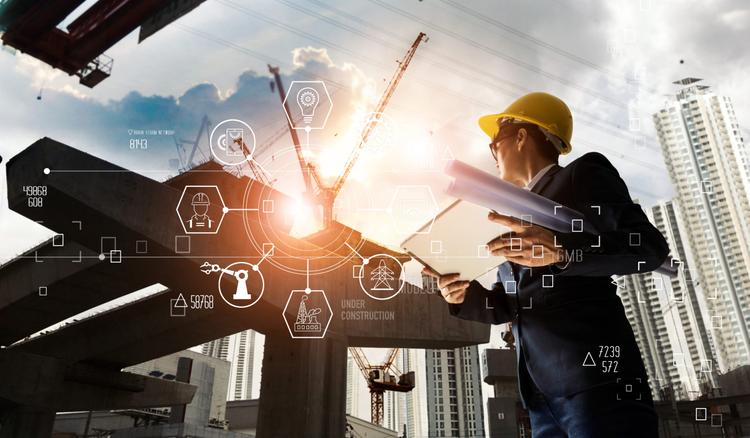 A tech city relies heavily on the deployment of technology. Rather than reinvent the wheel, I quote the following from The rise of the Smart City by Leonidas G. Anthopoulos, University of Thessaly. It summarizes the architecture of a tech city into 5 levels:
Layer 1 – Natural Environment: all the environmental features where the city is located.
Layer 2 – Hard Infrastructure (Non-ICT-based): it contains all the urban facilities such as roads and buildings.
Layer 3 – Hard Infrastructure (ICT-based): it concerns all hardware such as data centres and networks.
Layer 4 – Smart Services: theses cover township services such as smart safety and intelligent traffic management.
Layer 5 – Soft Infrastructure: individuals and groups of people for which the smart services are executed for.
Traditional property developers focus on Layer 2. To undertake a smart township/community services development, a property developer has to also cover Layer 3 and Layer 4.
Looking at Layers 3 and 4, you will realize that over the past 2 decades, the technology for them has evolved. For example, 20 years ago, Wi-Fi was still in its infancy. Today we are talking of 5G! There were hardly any apps as well then. Technology will continue to evolve. Whatever technology investments made today will have to be refreshed in a few years' time to be relevant.
The question then boils down to who bears the cost of this tech refreshment? From a property developer's perspective, what is the incentive to refresh the technology? This is especially if the developer is no longer involved in the public facilities and amenities when the project is completed.
Imagine the following analogy. The developer provides the latest mobile phone as part of the smart home or smart city attraction. Do you think that in 5 years' time, the developer will upgrade the phone for you?
This is the crux of the tech city's technology. Whatever is cutting-edge today will be probably be outdated within a decade. A decade is a short life for house ownership. So as a layman, you have to ask what will happen when the technology needs to be refreshed:
Smart home/building technology upgrades will be done by the property owners.
I am sure the property companies will be upgrading the PropTech part.
Who will upgrade the township/community services part? The most likely scenario is that the authorities will do so. Property developers are unlikely to volunteer to do this:
What should you do when you are considering a property in a tech city?
Check whether it is a "convergent" smart city or only one or two components.
Ask yourself how you will benefit from the smart features. Do not be mesmerized by the tech. It will be outdated within a few years.
Ask who will bear the cost of the tech refreshment. If it is about smart township/community services, the cynical view is that even if the development is not a smart one, given the push by the government, you will eventually be living in a place with smart township/community services.
This article was originally published as How to make sense of smart city developments by i4value.asia and is written by Dato Eu Hong Chew. 
Disclaimer: The information is provided for general information only. iProperty.com Malaysia Sdn Bhd makes no representations or warranties in relation to the information, including but not limited to any representation or warranty as to the fitness for any particular purpose of the information to the fullest extent permitted by law. While every effort has been made to ensure that the information provided in this article is accurate, reliable, and complete as of the time of writing, the information provided in this article should not be relied upon to make any financial, investment, real estate or legal decisions. Additionally, the information should not substitute advice from a trained professional who can take into account your personal facts and circumstances, and we accept no liability if you use the information to form decisions.