Shah Alam isn't just the administrative centre for the Selangor state, but a city that has grown exponentially with increasing demand for residential homes over the years. Discover what it's like living here, what's there to do, what to eat and the type of property you can find. 
Shah Alam may have its roots as a rubber and oil palm estate, but the city and state capital of Selangor has become a place with its own unique charm and character. Home to the famous blue mosque (or its formal name the Sultan Salahuddin Abdul Aziz Shah Mosque), Shah Alam has plenty of green lung and is well-connected to the rest of the Klang Valley.
There's plenty for residents to do in Shah Alam such as hiking, go-karting, rope climbing at the extreme park, checking out the street art and more.
Where is it located?

Shah Alam is located in the state of Selangor, approximately 25km from Kuala Lumpur and 15km from Port Klang. This Klang Valley city sits within the Petaling district, with a portion of Shah Alam in the Klang district.
Towards the east of this state capital of Selangor is Petaling Jaya and Subang Jaya (the Sultan Abdul Aziz Shah Airport is also located near to the city as well), with Klang to the west, Kuala Selangor and Selayang to the north, and Kuala Langat to the south.
History of Shah Alam
Covered in rubber and oil palm estates by origin, Shah Alam was once known as Sungai Renggam before it was named as the new administrative centre of the Selangor state in 1963, replacing Kuala Lumpur which was made a Federal Territory in 1974.
It was designated and proclaimed as the capital city of Selangor by the then Sultan of Selangor, DYMM Almarhum Sultan Salahuddin Abdul Aziz Shah Al-Haj on December 7, 1978. The name of the state was chosen by Sultan Salahuddin after his late father, Sultan Alam Shah.
From a mere 41.69 km sq, Shah Alam flourished and expanded to its current size of 290.3 km sq (in accordance to Pelan Warta 1190) with more than 650,000 residents now living in Shah Alam.
Shah Alam was granted city status on October 10, 2000 with Dato' Haji Abu Sujak Haji Mahmud as its first mayor, with the vision of a "Bandaraya Melayu" (Malay City).
What is this area known for?
Shah Alam is regarded as one of Malaysia's well-developed green cities. Instead of entertainment venues, the city is filled with outdoor spaces for leisure activities. The Shah Alam National Botanical Garden (previously known as Bukit Cahaya Seri Alam Agricultural Park) for example, is the region's only agro-forestry park and one of the largest in the world. The park was designed for recreational and educational purposes.
Shah Alam is also known as an industrial city equipped with modern facilities. It is located strategically from Port Klang and Subang Airport (which served as an international airport previously). In fact, Shah Alam is home to Proton, Malaysia's first national car brand.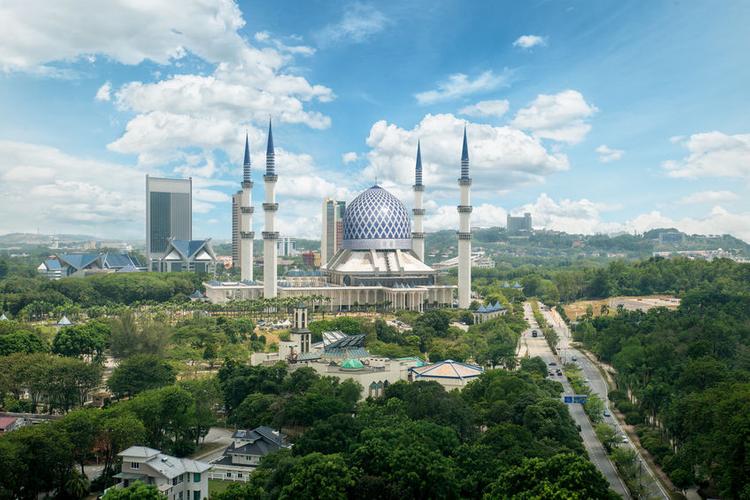 Shah Alam's beautiful Blue Mosque stands out in the city. Formally known as the Sultan Salahuddin Abdul Aziz Shah Mosque, the prominent landmark can be seen from every corner of the city centre, thanks to its massive 142-metre tall minarets and dome. The mosque was among the world's tallest when it was first constructed. Today. it is still regarded as one of the largest Islamic places of worship in Southeast Asia.
Read more: The ultimate neighbourhood guide to Puchong
Living in Shah Alam
Shah Alam is regarded as a well-structured and planned city, unlike its neighbours Petaling Jaya and Kuala Lumpur that have grown organically over the years.
The city consists of different sections (or zones) for sports, education, industrial activities, and a government administrative centre. One might view that the housing developments in Shah Alam are low in density with plenty of green spaces in it, in addition to the recreational parks that are readily available in the city.
Besides healthy living, Shah Alam houses many schools and educational institutions. Some of the notable higher education institutions that can be found in Shah Alam are Universiti Teknologi Mara (UiTM), KDU University College and Management, and Science University (MSU).
Like other cities, there are shopping malls and hypermarkets located in Shah Alam such as SACC Mall, Kompleks PKNS, Space U8, Aeon Mall, Plaza Alam Sentral, and Setia City Mall.
Fun Facts
Shah Alam has a total of 56 sections. The roads in each section are named according to a chosen theme. For instance, the roads in Seksyen 6 are named after birds while the roads in Seksyen 24 are named after vegetables. Some of the road names in Seksyen 24 of Shah Alam are Jalan Timun, Jalan Sawi, Jalan Bayam Merah.

The official flower of the city is the orchid (anggerik). The city has its own orchid hybrid called the Shah Alam Renantanda. It was born in 1986 as a hybrid of the Kalsom Renanthere and Penang Vanda. The Shah Alam Renantanda is registered at the Queen Elizabeth Botanical Garden, London.

Shah Alam is a land of roundabouts. Interestingly, you might find more than 18 roundabouts built in the city.

The popular Bon Odori Festival (Japanese traditional dance festival) is held in Kompleks Sukan Negara Shah Alam every year.

The Shah Alam Stadium is the home of Selangor FA, and has a capacity of 80,372.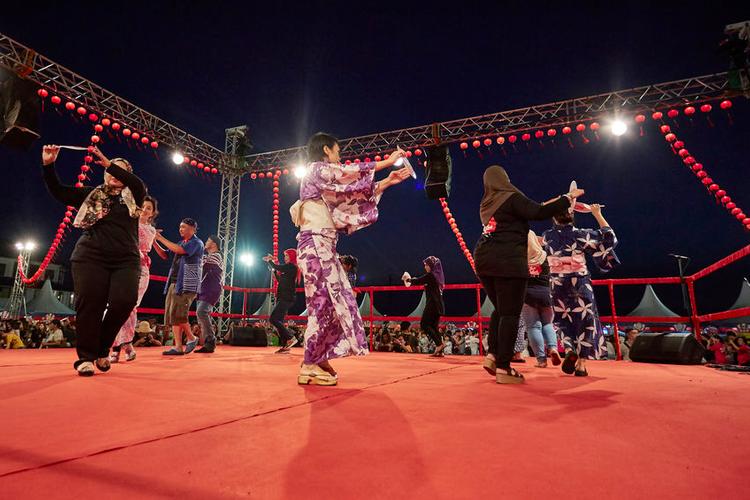 What are the top attractions to visit in Shah Alam
1. Enjoy the rainforest experience at Shah Alam Botanical Garden
The go-to place if you wish to be surrounded by green lush without venturing too far from the city. The Shah Alam Botanical Garden covers a massive 817 hectares of land, and is home to more than 422 species of plants and trees. There are many activities you can do at this botanical garden. If you're not afraid of heights, try the Skytrex Adventure Park that offers aerial ropeway rides and balancing on poles high above the ground (equipped with a safety harness, of course!).
2. It's time for a tee
Shah Alam has not one, but seven golf courses in total! If you are an avid golfer, consider purchasing your dream home near to these golf courses. Here is a list of golf courses in Shah Alam.
3. Immerse yourself in the City of Digital Light, I-City
Awe in the sprawling 'forest' of artificial maple and pine trees as well as quirky, plastic figures such as peacocks, flamingos and giraffes illuminated with millions of LED lights. The attraction is among 25 of the world's brightest, most colourful places by CNN Travel, and listed as a Malaysian Night Tourism Spot. In addition to this colourful illumination of lights, I-City is a 72-acre theme park packed with exciting rides and unique museums. Visit the largest snow park in Malaysia at i-City.
4. Enjoy a wet family time at Wet Water World Shah Alam
Touted to be the biggest chain of water parks in Malaysia, Wet Water World Shah Alam is where you can enjoy a variety of water attractions with your family over the weekend. The park's main highlight is the Monsoon Buster ride, a 225-metre long water slide where riders are propelled upwards by powerful water jets.
5. Pick up a good book at Raja Tun Uda Library
Situated in the middle of a golf course, The Raja Tun Uda Library or Perpustakaan Raja Tun Uda is a modern library that's not only packed with good reading materials, it's also equipped with high-tech facilities like 6D motion cinema, a gym and a Mac computer zone. Certain areas are shoes-off zone, so make sure to walk in barefoot.
6. Visit the 'lorong belakang' called Laman Seni 7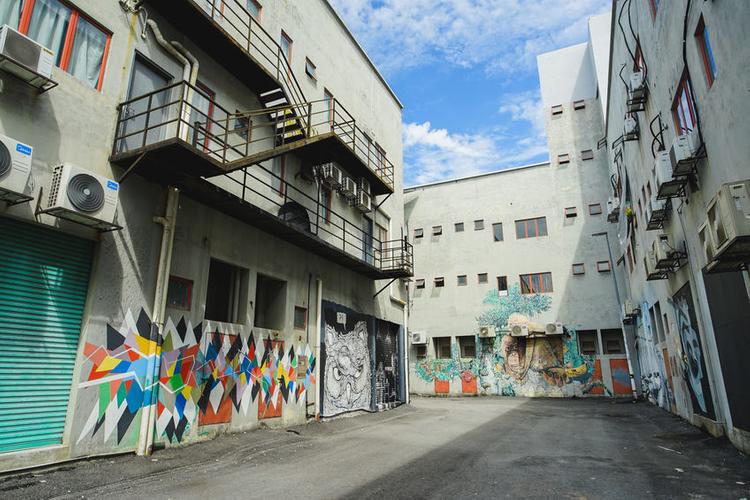 Located behind an alleyway of the commercial area on Jalan Plumbum Q 7/Q in Seksyen 7, Laman Seni 7 is a programme initiated by the Shah Alam City Council (Majlis Bandaraya Shah Alam, MBSA) to transform the back alleys of commercial and industrial areas into safe, clean and visually pleasing spaces with murals and street arts.
Murals and street arts in Laman Seni 7 were chosen after several competitions were held to determine the best art under four categories: 3D Painting, 3D Installation, Street Furniture and On-site Painting. If you are into photography or finding a place for your next social media post, consider this place as your next to-go destination. You can find a similar 'lorong belakang' at Shah Alam in Laman Seni 2 in Seksyen 2.
What to eat in Shah Alam?
Shah Alam offers a plethora of local restaurants, warungs, and a slew of insta-worthy cafes for your dining options. Here are some recommendations:
1. Warung Ambo
This restaurant serves authentic Kelantan Nasi Kerabu. Located in Laman Glenmarie, Warung Ambo is always packed to the brim especially during peak hours.
Address: 38, Jalan Novelis U1/86A, Laman Glenmarie, 40150 Shah Alam
Opening Hours: Daily 8:30 AM – 4:00 PM
2. Naan Lounge
A restaurant specialising in Pakistani cuisine, Naan Lounge serves comfort Malaysian food such as naan with curries or dhal. Aside from the traditional naan on its menu, those with a sweet tooth will find its signature Nutella naan irresistible. You may find more than 30 types of naan and other mouthwatering dishes such as sizzling Tandoori Chicken a the Naan Lounge.
Address: 44, Jalan Plumbum N7/N, Seksyen 7, 40000 Shah Alam
Opening Hours: Daily 11:30 AM -11:30 PM; except on Friday 2:30 PM – 11:30 PM
3. Rojak and Cendol Shah Alam
Rojak and Cendol Shah Alam does not only serve your typical cendol pulut and cendol durian, but over 100 different varieties of cendol! You might want to try their cendol madu or cendol marshmallow if you're looking for a truly unique bowl of cendol.
Address: Medan Selera Delima, Lot G.2, Jalan Bawang Putih 24/34, Seksyen 24, 40200
Opening Hours: Daily 12:00 PM – 12:00 AM; closed on Monday
4. Andra by Gula Cakery
Gula Cakery is a heaven for cake lovers in Shah Alam, with its first store opened in Kota Kemuning in 2015. It's spin-off Andra by Gula Cakery, named after founder Arieni's son also serves hot hearty meals such as pastas, burgers and nasi tomato on its menu, in addition to more than 100 cake flavours. Cake lovers can indulge in some of their freshly baked daily cakes such as Cempedak Burnt Cheesecake, Pandan Gula Melaka Cake, Double Chocolate Nutella Cake and Chocolate Pavlova – just to name a few.
Address: Lab 12-INT-G, Ardence Labs, Eco Ardence, Persiaran Setia Alam; or Lab 15, Grandeur Labs, Eco Grandeur, Puncak Alam
Opening Hours: Daily: 12:00 PM – 10:00 PM
Read more: The ultimate neighbourhood guide to Cyberjaya
How to get around Shah Alam
Public transport: Shah Alam has plenty of public transport options. Residents in Shah Alam can enjoy the complimentary Selangorku bus service that starts from Stesen Komuter in Seksyen 19 and ends at Hospital Shah Alam in Seksyen 7. The route covers approximately 21 km and has 22 stops.
A new free Smart Selangor bus route was started in 2019, connecting residents from Kota Kemuning to Alam Megah LRT station in Shah Alam. The new bus route, SA08, goes from Shah Alam KTM station through Kota Kemuning Commercial Centre towards Bukit Rimau.
The central bus terminal in Shah Alam connects residents in the city to various parts of the Klang Valley, including KL Sentral
Taking the train is an alternative option with the RapidKL LRT line extension expanded from Kelana Jaya to major stops in Subang as well as Shah Alam. Feeder buses are available from Seksyen 14 to Putra Heights LRT station. Seksyen 27 also has an adjoining LRT station.
The long-running KTM Komuter train service is another good option. There are two stations in Shah Alam, namely the Shah Alam KTM and Batu Tiga KTM stations.
There are taxis and e-hailing ride options readily available for those who want to get in and around Shah Alam.
Highway: Shah Alam is well-connected to other main cities and towns via a network of major highways. Among them are the Federal Highway, New Klang Valley Expressway (NKVE), Shah Alam Expressway (KESAS), North-South Expressway Central Link (ELITE), Guthrie Corridor Expressway, and Kemuning-Shah Alam Highway (LKSA).
If you own a car, getting around Shah Alam will be a breeze. It's less than an hour drive from Shah Alam to the KL city centre. 
Properties for sale in Shah Alam
If you are looking for a greener place and quieter environment to live in, consider Shah Alam. It is a family-friendly city with good infrastructure, a host of amenities, as well as plenty of options for schooling, be it public or private institutions. Needless to say, Shah Alam is sufficiently self-contained and has everything else you might need – from banks, hospitals, and shopping centres, to government offices.
With the increasing demand for housing in Shah Alam, there are many developments to choose from – from high-end condominiums to single-storey landed properties. Overall, Shah Alam is still a reasonably priced neighbourhood to buy into. The overall median transacted price for residential homes is RM390,000.
For instance, an 809 sq ft serviced residence with two bedrooms will cost under RM300,000, while a larger unit with a built-up area of 1,200 sq ft will cost about RM426,000. For landed properties, one can get a spacious two-storey link house for RM460,000 or semi-detached for about RM1.3 mil.
You may want to consider some up-and-coming developments that were launched recently, such as Dian Residence which offers two- and three-bedroom serviced apartments, priced from RM270,000 and RM415,000 respectively; Ilham Residence, the first gated-and-guarded development in Elmina Grove, comprising 513 freehold double-storey link houses; and Tuai Residence in Setia Alam that will feature 330 condominium units with built-up sizes ranging from 1,109 sq ft to 1,927 sq ft. Check out the new properties in Shah Alam.
Read more: 4 Properties in Shah Alam near LRT Bandar Utama-Klang Line (LRT3)
Properties for rent
Renting in Shah Alam is a suitable option when you are not ready to buy just yet. There are many home options in Shah Alam that's great for living solo or housing a family. The overall median rental price for residential homes is RM1,600. You can rent an affordable PKNS flat located in Seksyen 17 for RM850 per month while a semi-detached unit with built-up of 3,200 sq ft will set you back RM2,800 per month.
What's nearby
Shah Alam is well-connected to a network of highways, meaning it is easily accessible to:
Petaling Jaya
Klang
Subang Jaya
Shah Alam is a great place to call home, being a well-planned and self-sustained city. Besides its modern amenities, the city offers natural green spaces in abundance – a plus point especially for families with young kids. It's extremely accessible to nearby Petaling Jaya, Subang Jaya, Klang through its highway connectivity, plus getting around the city is a breeze with many public transportation options.
This article is written by Geraldine and is edited by Stephanie Yap.
Disclaimer: The information is provided for general information only. iProperty.com Malaysia Sdn Bhd makes no representations or warranties in relation to the information, including but not limited to any representation or warranty as to the fitness for any particular purpose of the information to the fullest extent permitted by law. While every effort has been made to ensure that the information provided in this article is accurate, reliable, and complete as of the time of writing, the information provided in this article should not be relied upon to make any financial, investment, real estate or legal decisions. Additionally, the information should not substitute advice from a trained professional who can take into account your personal facts and circumstances, and we accept no liability if you use the information to form decisions.