Baking soda (also commonly known as bicarbonate soda or soda of bicarbonate) has the ability to clean almost any area of the home, in a completely natural way. It can tackle tough stains, mould and mildew and even deodorise smelly odours. Find out burning questions like what's the difference between baking soda and baking powder, and how to clean with baking soda here.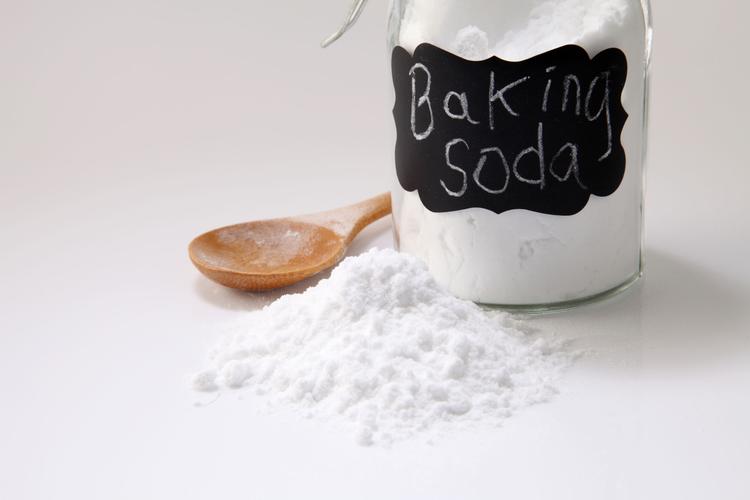 Want to adopt a natural cleaning solution for your home? Look no further than this kitchen staple, the baking soda (or widely known as sodium bicarbonate or bicarbonate of soda. Baking soda in Malay is also known as soda bikarbonat). This chemical compound is mildly abrasive, making it perfect to clean various surfaces without damaging them. Baking soda is also often paired with distilled white vinegar to get rid of stubborn stains. When both items are mixed together, it will create a reaction that will remove any dirt and grime in its way. Aside from its versatility in cleaning different types of surfaces, what makes baking soda such a well-loved product is the fact that it's cheap, convenient and, you can just walk into your kitchen and grab hold of one. Without further ado, let's take a look at what baking soda is and what you can clean with it.
What's the difference between baking soda and baking powder?
Perhaps one of the most confusing subject in the world. While both baking soda and baking powder appear similar, they're worlds apart. Baking soda is sodium bicarbonate (or bicarbonate of soda), which requires acid and a liquid to become activated and help baked goods rise. On the other hand, baking powder includes sodium bicarbonate and acid, and it only needs liquid to become activated.
Does sodium bicarbonate kill bacteria? 
Unfortunately, they don't. While bicarbonate of soda is effective in cleaning household items, they can't get rid of bacteria like E. coli, salmonella and staphylococcus. For surfaces that have been contaminated with bacteria, we suggest you put the baking soda and vinegar aside and use disinfectants to combat this issue.
How to make a baking soda cleaning paste?
Many solutions and methods that include baking soda as a key ingredient make use of a baking soda cleaning paste. The good news is, creating the paste is so simple it can be done in less than a minute. Simply follow these steps:
Step 1: Add 1 cup baking soda to a bowl.
Step 2: Slowly add warm water to the bowl, mixing thoroughly as you go.
Step 3: Continue stirring until the mixture has the consistency of toothpaste.
Now, you're ready to start using this eco-friendly paste around the home.
Read what this cancer survivor did to improve air quality at home
How to clean kitchen with baking soda?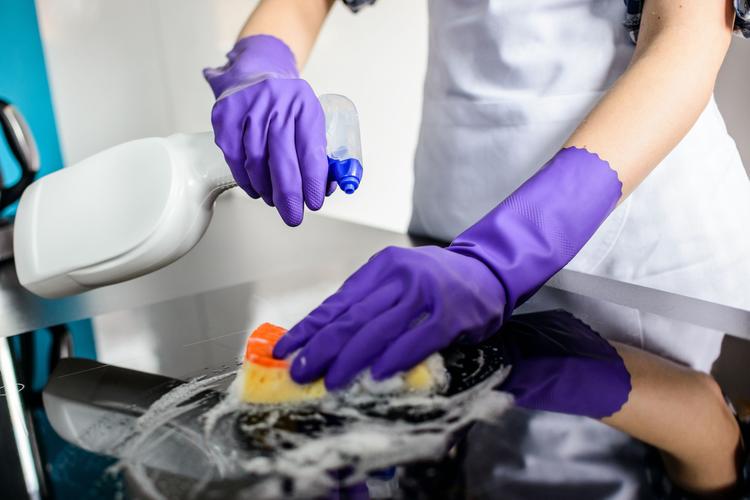 Baking soda makes short work of a messy kitchen. Whether it's the floor or appliances, no stain can withstand its awesome power.
1. Cleaning the oven
Apply the paste to all areas of the oven. Leave the mixture to sit until it dries, then wipe it off with a sponge or rag. Spritz vinegar to get rid of grime. Wipe the oven down with a clean cloth and let it dry before using it.
Read more: How to clean your oven naturally with baking soda and vinegar
2. Cleaning the kitchen sink
Apply some of the paste to a microfibre cloth or sponge, and scrub away. With a little elbow grease, your sink will be shining like new. For sink drains, pour baking soda down the drain and follow with lemon juice to clear a minor clog.
For more tips on cleaning the sink, click here.
3. Cleaning the fridge
Clear out the fridge and wipe it down with a wet rag that contains a small amount of baking soda paste. When you're done, place a bowl of dry baking soda inside the fridge for a couple of days to eliminate any odours.
If you want to deep clean your refrigerator, find out how here.
4. Cleaning the stove
Oil splashes and cooking stains call for baking soda paste. Apply to any stains, allow to sit for 10 minutes and then use a rag to thoroughly remove both the paste and any stubborn stains for good.
Read more: How to clean your stove top like a pro
5. Cleaning the dishwasher
Sprinkle a teaspoon of baking soda inside the dishwasher and add a little vinegar. Run the machine through a cycle and it will be looking and smelling fresh as new.
For more tips on cleaning your kitchen, click here.
How to clean bathroom with baking soda?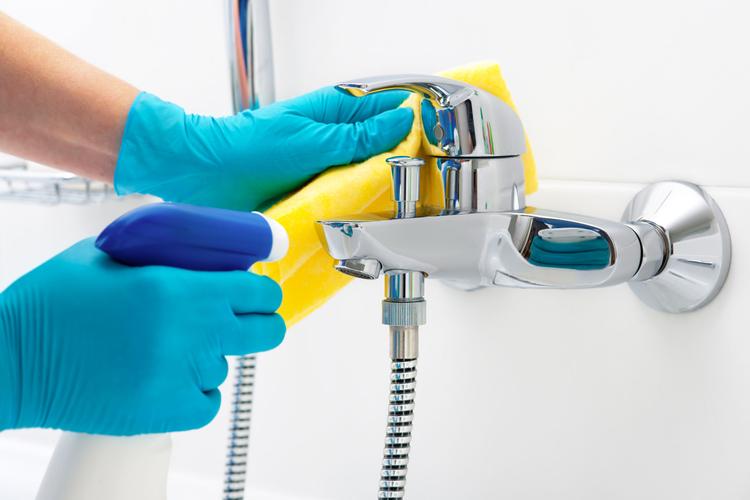 The bathroom is an often neglected area of the house when it comes to cleaning, not to mention a prime place for mould and mildew to build up. Just like the kitchen, however, it's no match for baking soda.
6. Cleaning the toilet
Sprinkle the baking soda on the toilet and around the bowl to neutralise odours and germs. You can use a rag to wipe down the top for a whiter than white shine.
Clogged toilet? No worries! Just follow these tips and your toilet will be all clear.
7. Cleaning tile grout
Apply the baking soda paste to a coarse sponge and apply all over bathroom tiles. Allow it to sit for 10 minutes then scrub off to have the grout looking clean again.
Read more: How to clean bathroom tile grout until it sparkles
8. Cleaning a bathtub
Apply the baking soda paste around the bathtub and scrub off thoroughly with a brush. Your bathtub will look like new in no time.
How to clean the entire house with baking soda?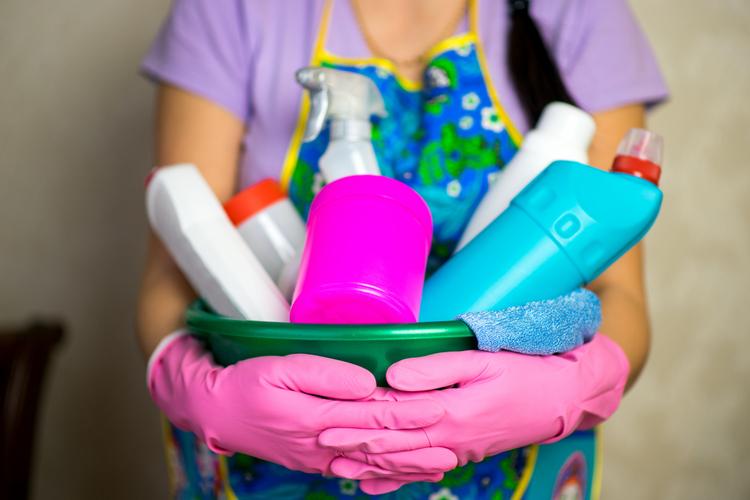 Baking soda can be used for cleaning almost anywhere in the home. Here are a few more options:
9. Cleaning outdoor paving
Simply sprinkle baking soda over your outdoor pavers, scrub with a brush and hose off.
10. Cleaning carpet stains
Work the baking soda paste into any carpet stains, allow to dry and then vacuum up.
Read more: How to remove every type of carpet stain
11. Clean smelly towels
Wash your smelly towels with hot water and baking soda to deodorise and brighten them.
12. Clean mattress
Freshen up your age-old mattress by sprinkling soda of bicarbonate on it. Let it sit for approximately ten minutes before vacuuming it. Baking soda is also effective against odour, so if your mattress starting to smell, this trick will work too.
13. Clean white shoes
Did you know that you can clean your white shoes with baking soda too? First, you need to make a solution. Combine one tablespoon of baking soda with two tablespoons of distilled white vinegar and one cup of water in a bowl. Then use a clean toothbrush or brush to cover your shoe with the solution. Scrub it until all dirt and stains are removed.
Baking soda is no longer just a kitchen staple. As mentioned above in the article, there are lots of ways to use baking soda in the house. So instead of using harsh chemicals to clean your home, just grab the sodium bicarbonate in the kitchen and your home will be clean in no time.
This article was originally published as Nifty ways to clean with baking soda by realestate.com.au written by Michael Benkovich. 
Disclaimer: The information is provided for general information only. iProperty.com Malaysia Sdn Bhd makes no representations or warranties in relation to the information, including but not limited to any representation or warranty as to the fitness for any particular purpose of the information to the fullest extent permitted by law. While every effort has been made to ensure that the information provided in this article is accurate, reliable, and complete as of the time of writing, the information provided in this article should not be relied upon to make any financial, investment, real estate or legal decisions. Additionally, the information should not substitute advice from a trained professional who can take into account your personal facts and circumstances, and we accept no liability if you use the information to form decisions.