Can they exist today? The future may already be here.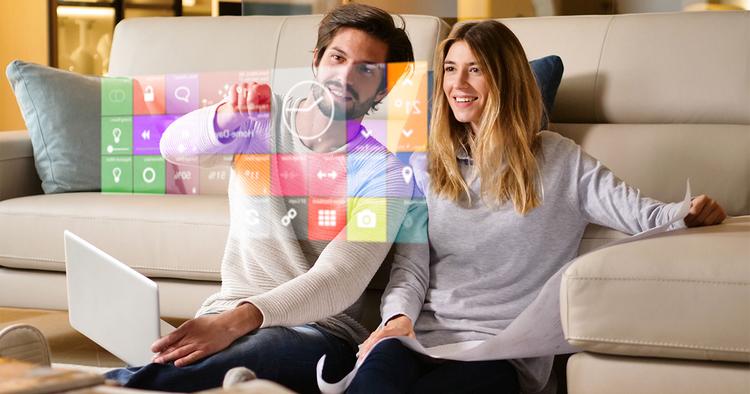 What is a movie without some imagination? We love movies because they can take us places that reality sometimes can't. This may be true in the case of things like time travel, the ability to fly and alien civilisations, but it also true of our homes. For decades, Hollywood has been re-conceptualizing home-living and the technology associated with it. The only limitation is how far their imagination can go.
The Back to the Future movies in the 80s offered us a glimpse of what the future could look like. The movies were truly remarkable back then, but a lot of the snazzy technology like the hoverboard and self-lacing shoes have already become reality in recent times. It's probably the same for some of the futuristic iconic homes you've seen in movies. What are some of them?  Is technology even available?
Here is a list of some of our favourite futuristic homes and whether it is possible for you to own them today.
1. Theodore Twombly's apartment – Her (2013)
Her-Official trailer. © Joblo Movie Trailers / YouTube 
Removing the fact that Theodore's Twombly's apartment, workspace and the world in the 2013 film Her seems fashioned out of an interior designer's pipe dream, the real magic in the movie is his 'OS' Samantha. She is not a passive artificial intelligence (AI) that responds only to command, she proactively improves his life, from setting up blind dates for him, combing through his email to understand him better and conversing with him intelligently on a broad range of topics from romance to existentialism.
Admittedly, it all feels a little freaky but wouldn't some of us like an AI that can manage and organise your home just the way you want it? Unfortunately, while we do have AI-based tech that can help organise your home to an extent, our current home-organising AIs is possibly years away from achieving the kind of intelligence that Samantha has in the film.
2. Officer K's apartment – Blade Runner 2049 (2017)
Blade Runner 2049. © Jon Stargaryen/ YouTube
It's one thing for an AI to be able to converse with you intelligently through earphones, quite another when they can walk around like an actual person. Joi, from the movie Blade Runner 2049 is not a robot, but an AI that resides in protagonist Officer K's (Ryan Gosling) apartment. Joi is given holographic form by a series of high-resolution projectors that are installed around the apartment. Like Samantha from Her, she is a good conversational companion, but she seems to be able to do a little more, like lighting K's e-cigarette and seemingly picking up a book from the table and interacting with it in hologram form.
She can even be upgraded, using an 'emanator', which allows her to materialise incorporeal form, to be able to touch and feel things in the world. It also allows her to physically be anywhere the device is present. Devices such as Amazon's Alexa may seem to suggest we are not far away from companion-based technology but the technology that would allow us to project the AI into a realistic hologram to follow you around the world seems more than a couple of decades away.
3. Stark's mansion – Iron Man (2008)
Iron Man (2008)- Tony Stark's workshop. © TopMovieClips/ YouTube
While the Stark Mansion is a sight to behold, built from a cliffside and with a view to die for, the true wonder of this very aesthetically pleasing home is JARVIS. Tony Stark's AI has become not only a technological wonder in the Marvel Cinematic Universe but also a wonderful character. Granted, it doesn't have the sex appeal of Samantha or the affection of Joi but it does a pretty good job of keeping up with Stark's mind.
Besides the usual features of turning on the lights, music and displays by voice (technologies that are readily available today), it also measures Stark's fluid intake, analyses his blood and alerts him when guests arrive and who they are. It even has a cool alarm clock feature which elegantly wakes up one of Stark's 'friends' with a gentle opening of blinds, a report on surf conditions and the glass acting as screens showing the weather and all info one would need to well, wake up.
4.  Nathan's Bateman's lab/home – Ex Machina (2014)
Oscar Isaac as Nathan Bateman in Ex Machina. © io9/ YouTube
Smart lighting? How about smart clubbing. It's one thing to have lights that are voice-activated, quite another to be able to transform an unassuming space into a party venue at the click of a button.
Not that this is the first thing that stands out about the location of this slow-burning sci-fi thriller (that being the gorgeous jaw-dropping home that the movie mostly takes place in), but it's a nifty thing to have if you're the type that entertains a lot of people during weekends.
5. John Anderton's apartment – Minority Report (2002)
There is much to be loved about Tom Cruise's character John Anderton's apartment when this movie first dropped way back in 2002. Besides the fact that there will no longer be traffic jams thanks to flying cars, how about having that self-driven car that can fly and drop you effortlessly at the front door/balcony of your highrise apartment? Or what about voice-activated home automation (Anderton turns on a screen with a simple command)?
Well, the truth is, most of these technologies are available in some form or another. Devices like Amazon's Echo allows you to hook up appliances to and control them from a central control that is voice-activated. These devices can play music, turn lights on and off and even lock doors. While they are not widely used in this region at the moment, the technology is becoming more available and affordable by the day to home users.
Oh, and while it is not the same thing, there are currently luxury condominiums that you can drive your car up to and park in a garage within your apartment. Close enough?
6. The Jetson's home – The Jetsons (1962)
The Jetsons was a wholesome cartoon that first aired way back in 1962 about a family who lived in 2062. It featured a range of home technology that was considered outrageous back then.
Fast forward to the present and are we really that far off from the future The Jetson's proposed way back then? Yes and no. While technology such as robot vacuums, video phones/conferencing and flat-screen TVs have become a norm in our everyday lives, 'technological wonders' such as the 'Foodarackacycle' machine (basically a machine that can create any food you want at a click of a button), buildings that float on air and space boots that allow you to walk on the ceiling of your home are probably some decades off from happening.
And there are probably more than a few people who wouldn't mind having a 'husband ejector' in their home.
As you can see, some home technology that may once be considered sensational decades ago has become more commonplace today. Some of them can probably be purchased from electrical stores today. In some ways, perhaps movies and their uninhibited approach to imagining home living in the future have somewhat informed the kind of technology we've developed in recent times. Don't bet against how different our home living can be decades from now if we continue to imagine big, in the movies.
Edited by Rebecca Hani Romeli
Disclaimer: The information is provided for general information only. iProperty.com Malaysia Sdn Bhd makes no representations or warranties in relation to the information, including but not limited to any representation or warranty as to the fitness for any particular purpose of the information to the fullest extent permitted by law. While every effort has been made to ensure that the information provided in this article is accurate, reliable, and complete as of the time of writing, the information provided in this article should not be relied upon to make any financial, investment, real estate or legal decisions. Additionally, the information should not substitute advice from a trained professional who can take into account your personal facts and circumstances, and we accept no liability if you use the information to form decisions.