How to maintain your gas stoves, the best cookware and essential safety tips when using a gas stove.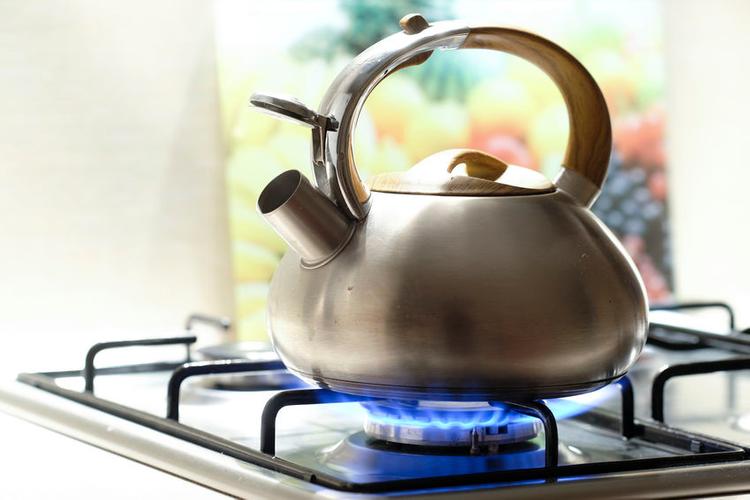 Your kitchen stove is probably the most essential appliance in your home. In Malaysia, many households are still fitted with conventional gas stoves or use portable variants as it is energy-saving and cost-effective when compared to electric stoves. Plus, it looks like it can take plenty of punishment  — do you remember when your parents last changed their gas stove? 
The best part about a gas stove is that it can be used when the electricity goes out, which is perfect for areas experiencing unwelcome power outages. 
For those unacquainted with their gas stove or looking to learn how to maintain it and stay safe, here's a complete guide of everything you need to know!
Why get a gas stove instead of an electrical stove? 
Gas stoves heat up faster than electric stoves. Electric stoves first need to heat the burner, which eventually heats the pan. But with gas stoves you get direct fire so your pan feels the heat as soon as you ignite the flame. Chefs prefer the instant fire of gas stoves and quick reduction of heat, plus they can see the level of heat just by looking at the fire. Good chefs recognise the perfect flame to caramelise onions or to sauté mushrooms. 
Remember that you're cooking with an open flame. Be sure to turn off the burner when you're removing a pan from it.
How to ignite a gas oven?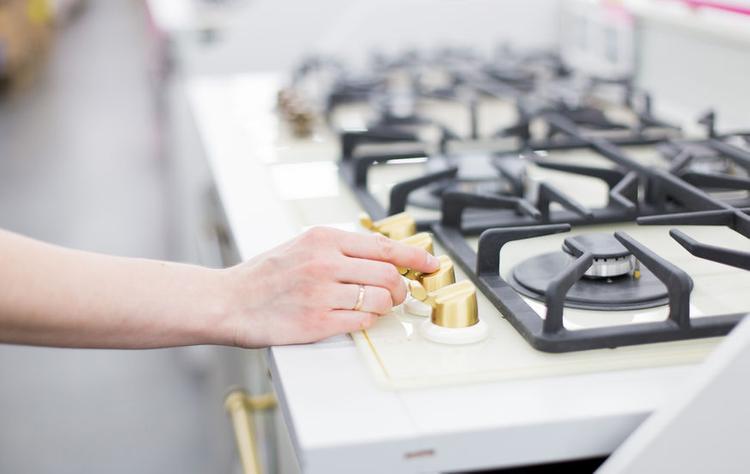 Your stove either has a built-in igniter or uses a separate igniter to start a fire. For gas stoves with built-in igniters, simply turn the burner knob until you hear clicking sounds — that's the sound of the igniter. Keep turning the knob until blue flames appear. It will be a big fire, so you need to turn it down immediately to get a lower, safer flame.
Most gas stoves in Malaysia use a separate igniter. Simply turn the knob first to release the gas and press the igniter to light up the burner. If the electricity goes out, you can use a match or conventional lighter but for safety reasons, light the fire first before slowly turning the knob to release the gas. Otherwise, there will be a burst of flames if there is too much gas released into the air.
When you're cooking with a gas stove, be sure your kitchen has enough windows or ventilation or you'll end up with a smoky kitchen that needs extra cleaning afterwards. Installing the right range hood helps vent fumes outdoors immediately.
How to clean a gas stove?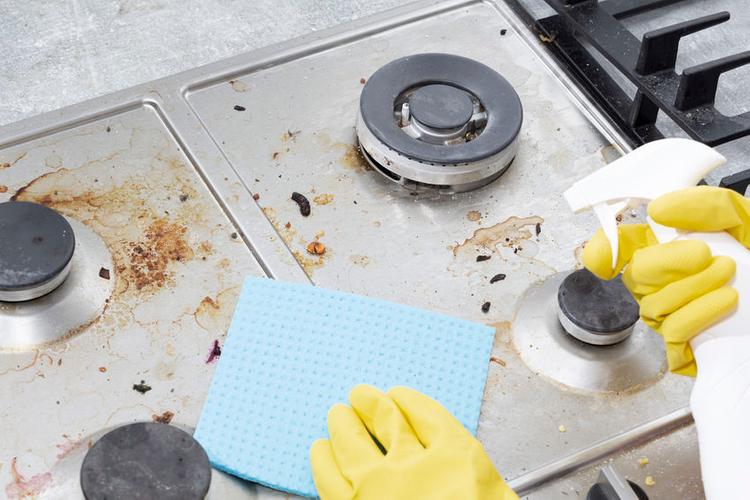 Your gas stove should last you a very long time, but to help maintain its long lifespan, you need to take good care of it. It's inevitable that food spills and drips will happen when you prepare a meal. Clean your stove often, especially if you use it on a daily basis.
Remove the burners and grates and wash them with dishwashing soap and water. Use a toothpick to remove possible dirt or food debris stuck inside the burner's holes. Of course, it goes without saying that you should not attempt to clean your stove immediately after cooking. Give it time to cool off, take care of stove maintenance later at night. 
Read more: How to clean your stove top like a pro
How to choose the right gas stove?
Unlike newfangled induction cookers (which only accept cast iron, enamelled cast iron and stainless-steel cookware) a gas stove accepts most types of cookware provided that its anti-corrosive, non-inflammable and the bottom covers the entirety of the flame when it's set to high — so the flame doesn't escape to the sides of the cookware. Technically any cooking pot or pan will do, but avoid glass, plastic and melamine, don't even leave them near the stovetop to avoid unintended fires. 
The best cookware materials are made from a combination of stainless steel, aluminium and copper. These are durable, with the latter two best at conducting heat and cooking food evenly. If you purchased a scratch-resistant, non-reactive, non-stick pan or pot, be sure to use mild, soapy water and a soft sponge to protect the coating.
How to tell if there's a gas leak?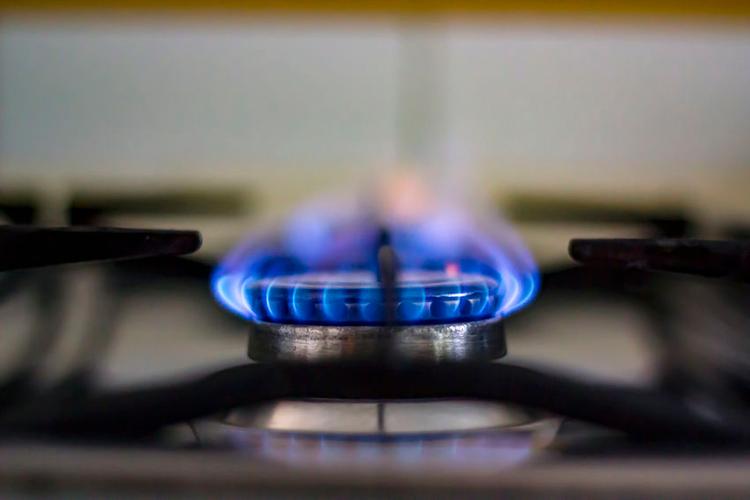 Before you cook up a storm, make sure you know where the valve switch to switch off the gas is. Gas leaks are extremely uncommon, but they can happen. Leaking gas smells like sulphur or rotten eggs. Alternatively, you might hear a hissing or whistling sound near a gas line. You need to be alert to this odd smell or sounds and quickly turn off the gas from the valve switch as soon as possible to prevent a possible fire. Don't switch the gas on until you're sure that the smell has left your home. If you still smell gas, there might be a possible leak. Seek help from a professional to check the burners, gas cylinder and pipes. 
The dangers of carbon monoxide poisoning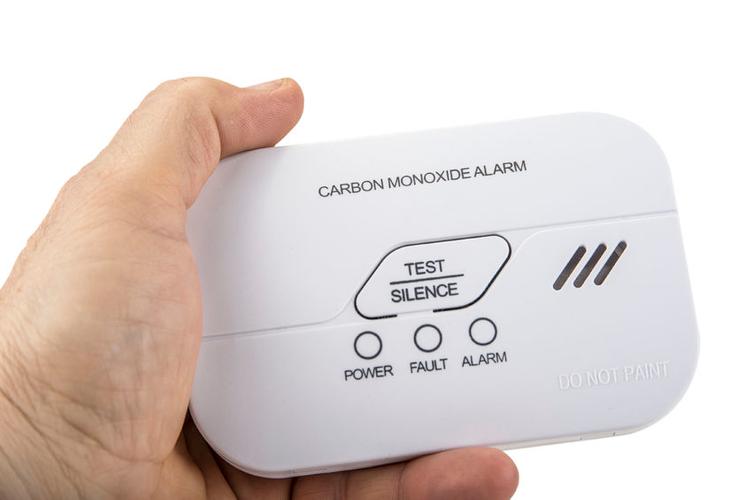 Gas stoves emit very little colourless and odourless carbon monoxide (CO), the byproduct of any open flame. When the gas stove is working as normal, it will not affect you health-wise. However, if you cook for prolonged hours without ventilation, or if there's an issue with the gas stove such as the fire burning without enough oxygen, you might experience the detrimental effects of CO exposure — headaches, dizziness and nausea. Install a CO monitor in your kitchen, it is affordable and it should alert you, should there be any problems with your gas stove. 
Gas stove safety tips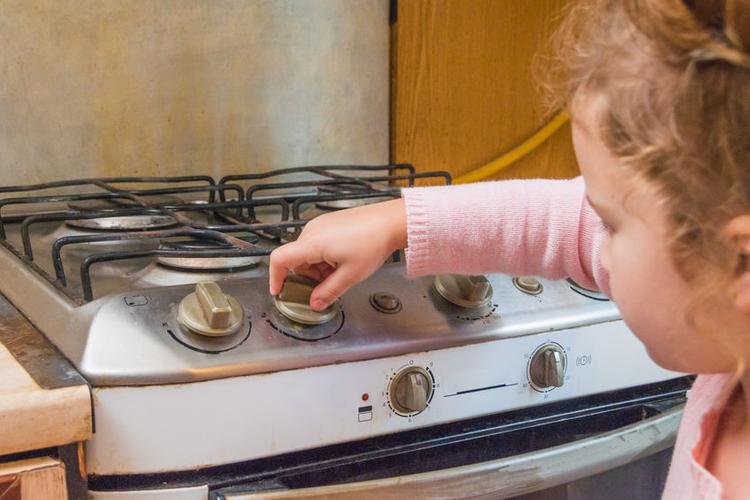 1. Don't wear loose clothing
When cooking with a gas stove, try not to wear loose clothing. If you have long hair, tie it up to be on the safe side. Children should not be allowed in the kitchen when someone is cooking.
2. Install a smoke alarm
Install a smoke alarm to alert you in case of an emergency. These little precautions don't guarantee safety but the smallest accidents can prove fatal so every little bit helps.
3. Keep inflammable objects away
Things like plastic utensils and foil paper wrappings must be kept at a safe distance from the stove to prevent it from catching fire. In fact, don't keep anything on or near the burners.
4. Keep a fire extinguisher at home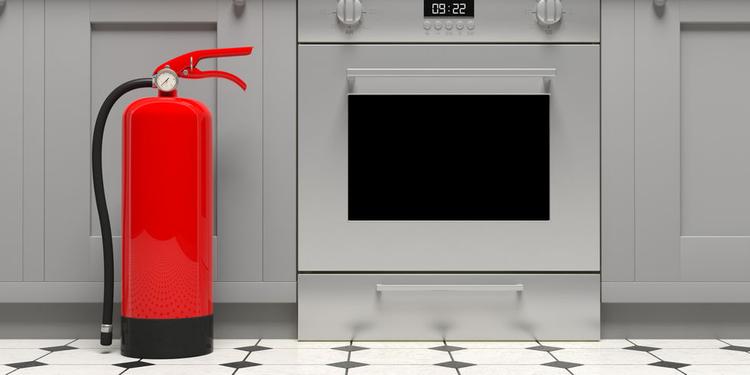 Not only will a small fire extinguisher be handy in your home, but it is also the perfect solution should a  fire get out of control in the kitchen. The fire extinguisher should be within reach of the kitchen. Don't use water to put out a gas stove fire. 
5. Install a carbon monoxide detector
Keep in mind that carbon monoxide is odourless, colourless and tasteless, so it's next to impossible to know if you have a gas leak at home. To prevent carbon monoxide poisoning, install a carbon monoxide detector and monitor if there's any spike on the level of carbon monoxide at home.
One final key takeaway; While there are two different types of gas — natural gas and propane — they both work the same way with your gas stove and don't make any difference. Just pick the one that's convenient for you.
And on that note, gas stoves are popular because they are affordable, readily available and easy to use. While it has a multitude of benefits, remember that you're using an open fire so it's best to follow the safety tips we've provided to stay safe and to continue enjoying delicious home-cooked meals for years. 
Disclaimer: The information is provided for general information only. iProperty.com Malaysia Sdn Bhd makes no representations or warranties in relation to the information, including but not limited to any representation or warranty as to the fitness for any particular purpose of the information to the fullest extent permitted by law. While every effort has been made to ensure that the information provided in this article is accurate, reliable, and complete as of the time of writing, the information provided in this article should not be relied upon to make any financial, investment, real estate or legal decisions. Additionally, the information should not substitute advice from a trained professional who can take into account your personal facts and circumstances, and we accept no liability if you use the information to form decisions.