READ THE UPDATED VERSION HERE: 'Blacklisted' For Bad CCRIS/CTOS? Here's 4 Tips To Get A Home Loan In Malaysia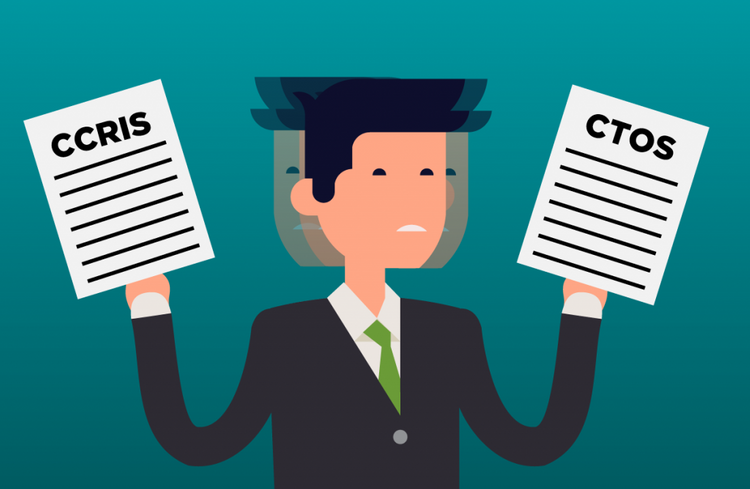 A credit report is a compiled database of your credit history that defines your financial health, which helps banks and other financial institutions to decide whether to approve or reject your application for financial products like home loans, credit cards, personal loans, etc.
It's important to note that although a credit report gives detailed factual information about an individual's credit history, most DO NOT give any opinion (like blacklisting or endorsing) on them. It's completely the bank's prerogative how it perceives a credit report when it considers extending a loan to the individual.
Having said that, you should always try and ensure you have a good credit report as an adverse report will seriously undermine your chances of getting the financial product of your choice.
The two major credit reports in Malaysia are Bank Negara's Central Credit Reference Information System (better known by its abbreviation CCRIS) and privately-owned CTOS.
Here's a FAQ on credit reports CCRIS and CTOS that many Malaysians will find very useful.
What exactly is a CCRIS report, and how to get one?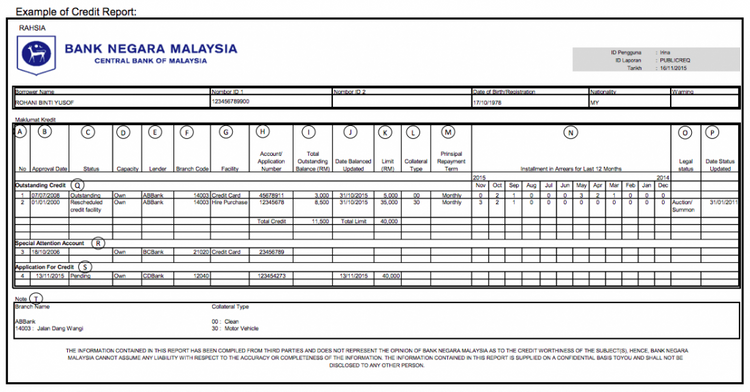 CCRIS is a computerised database operated by Bank Negara Malaysia that details an individual's credit information including outstanding loan amounts (if any) in the past 12 months presented free of cost in the form of a standardised credit report.
Every bank or financial institution in Malaysia have to submit all their customers' credit information to this centralised system. A CCRIS report can be accessed only by the individual concerned (not more than once in 3 months) or by a financial institution upon request.
You can visit Bank Negara's headquarters in Kuala Lumpur or any of its branches (with your MyKad and other relevant documents that can verify your identity like driving license, passport, etc.) to get a print of your free CCRIS report.
You can also download your CCRIS request form here and mail, fax or email the completed form along with supporting documents at:
BNM TELELINK
Jabatan LINK dan Pejabat Wilayah
Tingkat Bawah, Blok D
Bank Negara Malaysia
Jalan Dato' Onn
50480 Kuala Lumpur
Fax No: +603 2174 1515
Email: [email protected]
What information is provided in CCRIS report?
As mentioned earlier, a CCRIS report doesn't "judge" your finances or blacklists you. It merely summarises your complete credit history in the last 12 months, removing the older information.
A CCRIS report gives information on all your outstanding loans (like home loans, personal loans, credit cards, overdrafts, etc.) and their corresponding outstanding amounts, credit limits, payment misses, details of legal cases, etc. It also includes details if you've taken a joint loan or a loan in partnership with someone.
It also provides information whether any of your accounts are "Special Attention Accounts" — usually Non-Performing Loans (NPL) or any account which is under the close supervision of financial authorities.
Lastly, you'll also be able to get information about the total number of applications you may have submitted for various financial products in the last 12 months, with each one's status.
So which information in a CCRIS report usually raise red flags with banks?
If you have any Special Attention Accounts to your name
If you have ongoing legal cases filed against you
If you have too many missed or late payments on your outstanding loans
If you have maxed out your credit card or overdraft limits
If your total outstanding credit sums up to be a huge portion of your income. This is also called having a high Debt Servicing Ratio (DSR)
If you've applied for too many loans, credit cards, etc. in the last 12 months
What steps can be taken to improve CCRIS report?
Don't miss out on loan repayments: Yes, that's obvious. Be disciplined in your payments. See if you can repay your outstanding payments for 12 months before applying for a loan as that would reflect well on your CCRIS report.
Time your loan applications: The CCRIS system is updated on 15th of every month for every payment made until the end of the previous month. A pro tip would be to apply for a loan after 16th of a month in which all outstanding payments have been made before the end of the previous month.
Avoid late monthly payments: On many occasions, a recurring payment date (for e.g. last day to pay your monthly credit card bill) falls before your payday and you miss out on your payments by a few days on a regular basis. This avoidable issue, however, reflects poorly on your CCRIS report. Try and request your bank if they can change your payment date to match with your payday, or keep aside some funds for timely payments.
Stop random applications for financial products: It's always advisable to do proper research (in a financial marketplace like BBazaar Malaysia) about a financial product before applying for one. Multiple applications reflect your "desperation" and dents your CCRIS report.
Give standing instructions: If you feel you carelessly miss out on payments, give standing instructions to your bank to make those payments on a chosen date every month.
Do have a credit history: You may feel that having no loans or credit cards will help boost your CCRIS. But that's not true, as a good credit history helps banks in clearly assessing whether you'll be able to repay a loan or not.
Now that we've discussed CCRIS, it's time to dig deep on CTOS.
What exactly is a CTOS report, and how to get one?
A CTOS report is another leading credit report that is widely used by banks and financial institutions in Malaysia to assess the creditworthiness and repayment capabilities of individuals or business companies.
It's operated by a privately-owned company and archives the entire credit history of an individual or a company, unlike the 12 months duration of a CCRIS report.
The most important characteristic of a CTOS report is that it derives information from various sources in the public domain like Companies Commission of Malaysia (CCM), legal notices in newspapers, government gazettes, Malaysia Department of Insolvency (MDI), National Registration Department (NRD), Registrar of Societies (ROS) and information provided by creditors, 'trade referees' or by the subject themselves.
Any individual or company in Malaysia can access their free, basic CTOS report online after registering themselves on their website or mobile application. A more detailed MyCTOS Score Report is available for RM26.50. Also, note that you need to be a CTOS subscriber to access a CTOS report.
Like CCRIS, a CTOS report doesn't blacklist any individual or company based on credit history, but simply archives facts about their financial health.
What information does a CTOS report provide?
To begin with, a CTOS report contains an individual or a company's identification credentials like full name, identity number and business registration number.
It then details information whether the subscriber has ever been declared bankrupt in the past, what is the status of a legal case filed against the subscriber, the subscriber's business exposure, business ownerships and whether the subscriber has been a director of a business or not.
How is a CCRIS report different from a CTOS report?
Refer to the table below that highlights certain key differences between CCRIS report and CTOS report:

This article was originally published as Credit report FAQ: What's CCRIS and how is it different from CTOS? by bbazaar.my.
Disclaimer: The information is provided for general information only. iProperty.com Malaysia Sdn Bhd makes no representations or warranties in relation to the information, including but not limited to any representation or warranty as to the fitness for any particular purpose of the information to the fullest extent permitted by law. While every effort has been made to ensure that the information provided in this article is accurate, reliable, and complete as of the time of writing, the information provided in this article should not be relied upon to make any financial, investment, real estate or legal decisions. Additionally, the information should not substitute advice from a trained professional who can take into account your personal facts and circumstances, and we accept no liability if you use the information to form decisions.