Thinking of buying a landed house? Learn more about some of the most common types of landed houses in Malaysia — corner lot, intermediate lot and end lot — and decide which suits you best. 
Location is an extremely crucial factor when it comes to choosing a Malaysian house. Apart from selecting the appropriate city or township where you want to live in, you also have to consider the exact location of your home in a particular neighbourhood or development. Essentially, this article will talk about the type of houses by location, namely corner lot, intermediate lot, and end lot homes, as well as explain their advantages and disadvantages.
First off, let's differentiate these properties to help you distinguish each one from the rest. We will also discuss firewalls or firebreaks so that you will learn about the vital function it plays in protecting your home from going up in smoke.
What is a corner lot house?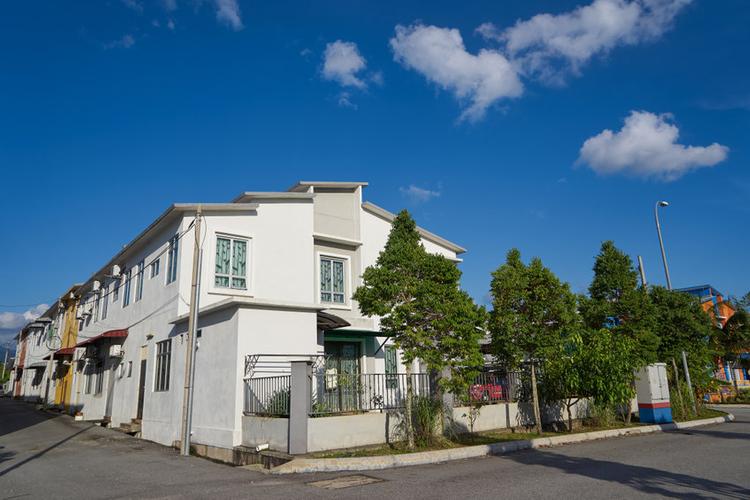 Corner lot homes are residential properties that are situated at the intersection of two roads. Given their corner location, these houses typically come with a bigger land area, making them ideal for homebuyers who are looking for plenty of space.
As such, these are often the go-to properties of people who are fond of growing plants, pet owners who like spacious backyards for their fur babies, or parents who want a grassy play area for their kids.
What is an intermediate lot home?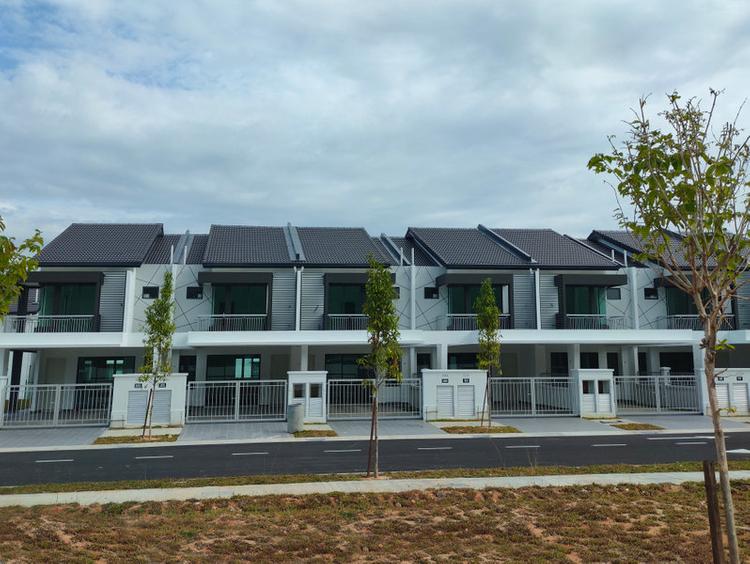 Think of this as a home that is sandwiched between two other residential properties. This is typically a home that has two other dwellings on either side of it, but each is separated by a wall, usually a firebreak or a firewall.
Intermediate homes are prized for their more secure design and arrangement, which makes it harder for thieves to break into and do a quick getaway. Moreover, such units are more readily available in the market compared to corner and end lot homes.
Read more: Condo vs Serviced Apartment in Malaysia: What's the difference and which one is better?
What is an end lot house?
End lot houses are residential properties that are similar to corner lot homes, as it is also located at the end of a road. However, there is no other lane that connects or intersects with that road. Usually, an end lot is the last unit on a row of identical-looking houses commonly called linked houses.
Depending on the project and end lot house design, end lot homes come with additional windows on one side of the property. This lets in plenty of natural lighting and helps keep the unit well ventilated. However, end lot houses tend to be more expensive than their intermediate counterparts.
What is a firebreak or firewall?
There is a saying that homeowners would rather face typhoons, floods, or earthquakes, rather than a fire, as the last one would leave you with nothing. This is where firebreaks or firewalls come into play. By law, property developers are required to erect firebreaks or firewalls between interconnected residential properties.
Basically, a firewall is a fireproof barrier that prevents a conflagration from engulfing another property. But because barriers that are 100 per cent fireproof are expensive to build, firebreaks or firewalls found in residential properties are typically just fire-resistant. This means it merely slows down the spread of the fire to give residents ample time to evacuate safely or delays the progress of the fire to give time for the fire brigade to arrive and put out the inferno.
Read more: All your 'burning' questions about house fire insurance, answered here
Corner lot/end lot homes vs intermediate homes
To determine if any of the three abovementioned property types are suited for you, we will discuss the main perks and drawbacks of each one. Kindly note that we have combined corner lot/end lot houses into one category as they are nearly identical.
Pros and cons of buying a corner lot or end lot house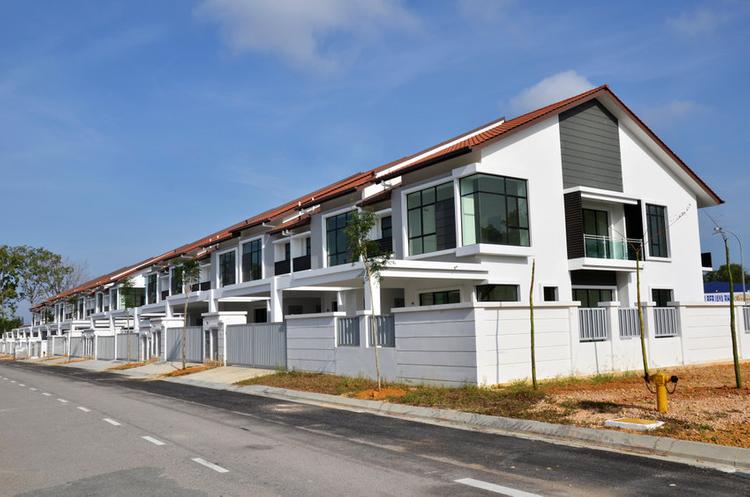 The top-selling point of a corner lot and end lot home is that they have larger areas. Consequently, these residential properties are preferred by bigger families as well as those looking to upgrade or renovate their homes in the future. For instance, if the house is adjacent to a road, the owner is permitted to enlarge their building up to the external wall.
Such homes also have a more pleasing ambience, as the greater number of windows lets cool air in and helps illuminate the interior. Aside from that, corner lot and end lot homes provide greater privacy, as you only have one immediate neighbour to contend with.
However, one of the biggest drawbacks of corner lot and end lot residences is that they come with a more expensive price tag due to their spacious built-up area or larger land plot. Still, these homes are considered as the less pricey cousin of expensive detached homes like a bungalow. Also, due to their limited supply, corner lot and end lot homes are harder to come by.
Another serious drawback is that corner lot and end lot homes tend to be targeted by thieves as their owners are believed to be well off. Unlike intermediate units, these homes are the first ones within the sight of burglars. They are also easier to steal from as some units are adjacent to a wall or walkway, which can provide access to your home and help thieves make their escape easier after pilfering your valuables.
Read more: What is a townhouse? Are they right fit for you?
Pros and cons of buying an intermediate lot home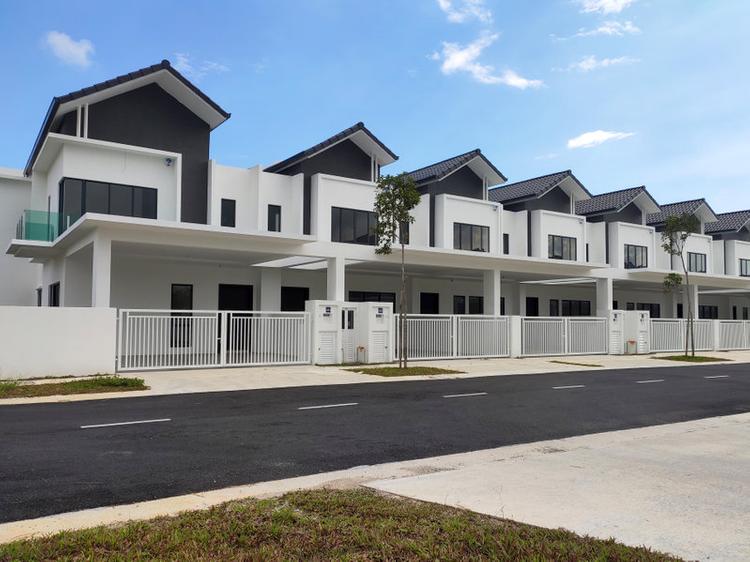 Thanks to their higher supply compared to corner or end lot homes, intermediate units are ideal for those who don't want to spend too much time house hunting or don't want to compete with other buyers over the limited number of corner lots or end lots. Apart from being more affordable, these units are more commonly transacted in the market. As such, the capital value of these properties actually tends to appreciate faster.
This is also the most recommended home for those who prioritise security above everything else, as intermediate lots are harder for thieves to break into, as there are fewer access points compared to corner lots or end lot homes.
However, intermediate lot homes come with several disadvantages. Among the main downsides is that there is less land or space as compared to end lot or corner lot homes. There is also less privacy as these units are nestled between two other residential properties. Also if you are staying in a condominium or serviced apartment with a balcony, curious neighbours can easily peep at your ongoings when you are on your balcony.
Such homes are also not advisable for those who give utmost importance to comfort. This is because intermediate units are equipped with fewer windows. Not only does it tend to be more warm and humid due to the lack of ventilation, but it also looks less welcoming aesthetically as there is less natural light.
Which type of landed home should you get? 
To sum it up, these three categories of residential properties cater to different types of buyers. For instance, corner lot and end lot homes are ideal for people with bigger budgets, larger families, and those who are planning to carry out upgrades or renovations. Such residential properties are also favoured by homeowners who have pets, those who love gardening, or those who are just looking for more land and space.
On the other hand, intermediate lot houses are preferred by home buyers with limited budgets and those who want less hassle in finding a home. These dwellings are perfect for smaller families and for those who give greater emphasis on the security of their belongings and loved ones.
Despite their downsides, there are ways to mitigate all the different types of units' disadvantages. For instance, a good home security system can help strengthen the security of corner lot and end lot homes. As for the privacy issues of intermediate units, especially those located in condominiums, developers have come up with innovative designs to improve the privacy of such units.  For example, every floor in La Grande Kiara Condominium has 8 units, but every unit is strategically positioned in a way that each is considered as a corner lot.