Keep cool the cheap way. Here are five easy tips to save electricity and air conditioner bill.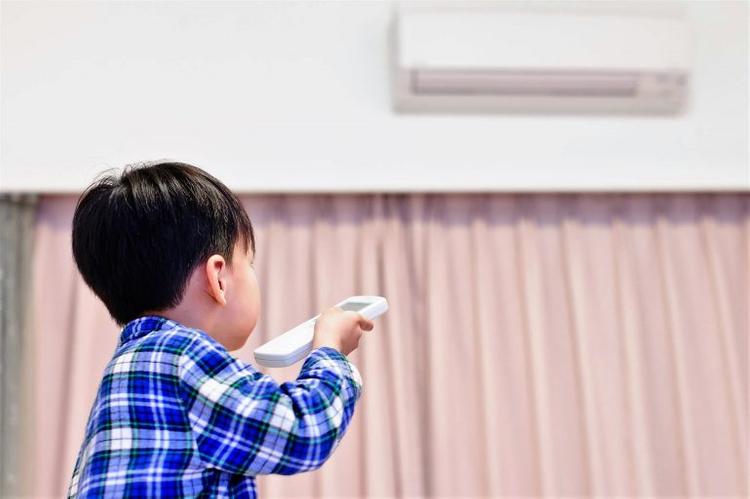 Malaysia is a land of abundance – abundant ethnicities, cultures, tasty food….and humidity. With a location so close to the equator, tropical downpours are a daily occurrence, explaining the dizzying levels of water vapour concentration in the air. Humid air is warmer than dry air, explaining the stifling heat.
Compounding this further is the pretty erratic weather of late; the past year has witnessed a few heatwaves, with the most notable one, 'El Nino' occurring in April 2016 and another in October 2017 brought on by Typhoon Lan. Each time, citizens were taken aback by the sweltering heat and most retaliated by cranking up their air-conditioning. Consequently, thousands experienced a staggering increase in their monthly electricity charges!
Is it any wonder that Malaysians love to spend their free time loitering in shopping malls?
You don't have to fork out extra dough the next time a heatwave hits – the 5 hacks below will not only bring significant cash savings but help your air-con unit run better too!
1. Pick the right air conditioner
Look at the brand
Stick with well-known brands who have been in the AC business for quite some time such as Panasonic, Sharp, Daikin and York. These established manufacturers keep tabs on technological advancements and are invested in the continuous improvement of their products. Also, it will be much easier for a consumer to obtain spare parts when the need arises.
Inverter or non-inverter?
Inverters are used in AC equipment to vary and to modulate the speed of the compressor. When switched on, the compressor will work to cool the room quickly, but once the set temperature is reached, the compressor slows down and works just to maintain said temperature. This ability to optimise cooling outputs eliminates excessive electricity consumption. Comparatively, a non-inverter AC has a fixed speed compressor. It does, however, cost significantly less.
An inverter AC is only worth it if you use your AC for long hours – it would be a waste if you are the type who switches on the air-con just for an hour or two each time, as it takes more than 2 hours for a compressor to reach the set temperature.
Energy-efficient feature
This is a must; aim to purchase a unit that has been certified with a 5-star rating for energy efficiency. According to Sustainable Energy Development Authority Malaysia (SEDA), using a 5-star energy air-conditioner could roughly save you RM277.42 annually, as compared to a conventional 3-star AC. On the ACs label, look out for: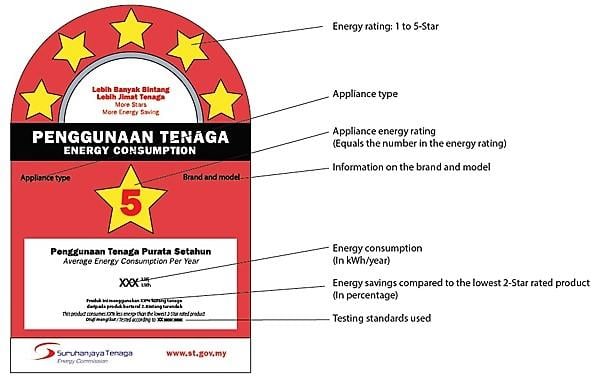 RELATED: What's making your electricity bills so expensive
2. Do the math 
Many may not know this, but an AC's cooling capacity is measured in British Thermal Unit (BTU). You should know the number of BTUs required to effectively and efficiently cool a certain sq ft of space. This will help you select an AC with the right furnace size or horsepower.
First, calculate the size of your space (Width X Length) – a typical room measuring 150 sq ft requires 5,000 BTU/hour while a large living room measuring 250 sq ft will need at least 6,000 BTU/hr.

There are a few other supplementary factors to consider including the number of people in the room (600 BTU per person), number and positions of windows and doors as well as the location of the AC unit. For instance, a very sunny room will require an additional 10% of BTUs while a kitchen will require a whopping 4000 BTUs more.
Noting down all these points will facilitate your air-conditioning distributor or contractor in selecting the best AC for the different rooms in your home. Alternatively, you can check out online calculators such as Daikin and Panasonic to get a rough idea on which AC will be the perfect fit for you.
MORE: 6 ways to save electricity at home
3. Help your air-cond work smarter
Take note that the faster it takes air conditioner to cool a room, the lower your electricity bill. Here's what you can do to help your AC reach the finishing line quicker:
Close all windows and pull down the blinds or draw the curtains – sunlight is your AC's no 1 nemesis.
Check the filters each month, especially if you live in a high-rise unit and replace as needed – a clogged filter could consume up to 15% more energy.
If you live in a landed home, do not place any plants, shrubs or pots less than 2-4 feet away from your outdoor unit (condenser) to ensure adequate airflow.
Switch on the ceiling fan or a stand fan in the first hour to help circulate the cooling air.
4. Hit that °C sweet spot
The saying "Good things come to those who wait" applies here – As recommended by Tenaga Nasional Berhad (TNB), the optimum temperature setting which will guarantee maximum energy savings is 24-26°C. This is because a compressor will reach these temperatures quicker as compared to 16-18°C. Remember that upon reaching the 'end goal', the compressor only has to work minimally to maintain the indoor temperature in the subsequent hours.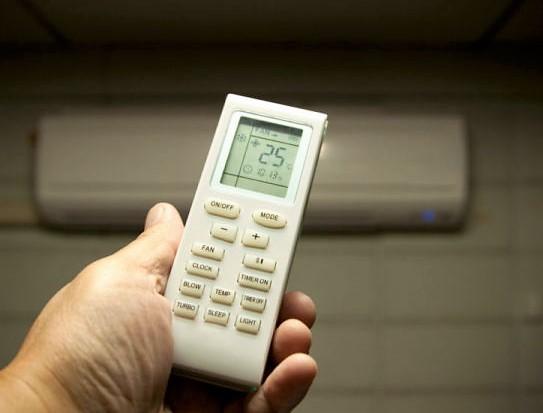 There's no denying that it will take longer for the room to cool down, but you will reap significant savings in return.
Read more: Here's how you can improve indoor air quality, according to Choo Mei Sze
5. Turn on the dry mood
The dry mode button on your air-con remote is actually a hero-in-waiting. This function reduces a room's temperature by removing a bulk of the humidity. When switched on, the air in the room passes through the AC and the water vapours condense on the evaporator. The resulting dry air will exit the unit and then flow back into the room. This function which can save you up to 20% in electricity expenditure, is perfect for the following situations:
When the temperature is fine, but the humidity is too high
During cooler months
Complement this hack by utilising the timer function. Often enough, most of us will leave the air-con running throughout the night. Experiment to determine the number of air conditioning hours you require – trust me, a few hours less will not compromise your comfort or sleep.
*This article was written in collaboration with Abdul Malik, Director of Kenchana Maju Electrical.
Disclaimer: The information is provided for general information only. iProperty.com Malaysia Sdn Bhd makes no representations or warranties in relation to the information, including but not limited to any representation or warranty as to the fitness for any particular purpose of the information to the fullest extent permitted by law. While every effort has been made to ensure that the information provided in this article is accurate, reliable, and complete as of the time of writing, the information provided in this article should not be relied upon to make any financial, investment, real estate or legal decisions. Additionally, the information should not substitute advice from a trained professional who can take into account your personal facts and circumstances, and we accept no liability if you use the information to form decisions.