As the country moved towards endemicity, the property market demonstrated a healthy rebound in the first half of 2022, in tandem with the normalisation of economic activities. Recent iProperty.com.my data also reflected similar growth patterns as we examined subsale property market activity to identify high-rise projects that performed well and demonstrated sound capital gain post-pandemic.
Current residential market sentiment in Malaysia
Referring to the latest NAPIC report, Malaysia's property market posted a better performance in the first half of 2022, with activity increasing by 34.5% in volume (188,002 transactions) and 36.1% in value (RM84.4 billion). The residential sector led the overall property market activity in the country, with 116,178 transactions worth RM45.62 billion. Residential market performance across all states also improved in the first half of 2022. Four states, namely Pulau Pinang, Wilayah Kuala Lumpur, Johor and Selangor, recorded an increase in transaction volume of 37.8%, 28.4%, 20.2% and 16.0%, respectively.
Although properties priced at RM500,000 and above accounted for only 20% of the total transaction volume (23,448 units), these high-end developments had a substantial increase of 36.3% during the first half of 2022 in both RM500,000 to RM1 million and the RM1 million and above category respectively. Interestingly, iProperty.com.my data shows that prices of select high-rise properties in prime locations in Malaysia with winning features and surroundings have continued to appreciate, and one-third of the properties in this list recorded double-digit capital gains
Here are the top high-rise residential properties in Kuala Lumpur, Selangor, and Penang with the highest H1 2022 capital gains:
Top projects with highest Capital Growth in Kuala Lumpur
Recently completed, South Brooks is a freehold residential development that sits on a 7.16 land acre within the affluent Desa Park City. This high-rise project has two 40-storey towers with 920 condominium units. There are 12 units on each floor with built-up sizes ranging from 876 sq. ft. to 1,537 sq. ft., ideal for working professionals and small families.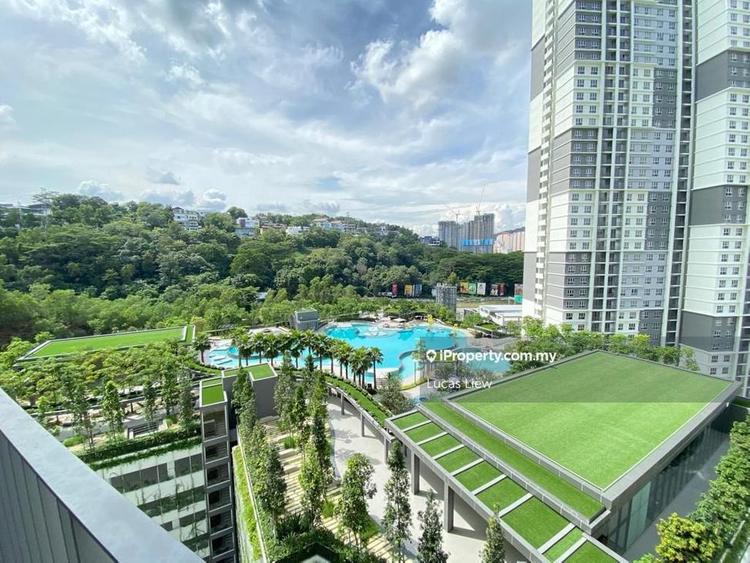 It is worth noting that the project's perimeter is designed with seamless elegance to bring out the nature of the building and keep some privacy for the residents. In terms of amenities, South Brooks provides club-level gymnasium facilities and boasts a landscape with tropical pocket gardens and a sky deck on the rooftop.
As South Brooks is within the Desa Park City enclave, it has the advantage of being connected by various highways such as Lebuhraya Damansara-Pantai (LDP), MRR 2, Duta-Ulu Klang Expressway (DUKE) New Klang Valley Expressway (NKVE) and Penchala Link.
Apart from being close to renowned establishments such as International School @ ParkCity and the ParkCity Medical Centre, South Brooks also boasts a very strategic location between 3 townships, i.e. Bandar Sri Manjalara (6 minutes), 1 Utama Shopping Centre (14 minutes) and Publika (20 minutes).
The Google online reviews by residents have been mostly positive. Still, some have expressed that the parking space is quite a drive from the main entrance and can be quite noisy due to the highways (although the developer has retained the rocky hills to shade the noise from NKVE).
The Park Sky Residence is a freehold serviced residence in Bukit Jalil, completed in 2019. This integrated development is part of the 50-acre Bukit Jalil City, managed by the Pavilion Group. The main highlight of this project is that one of its sides faces the Bukit Jalil recreational park (with easy access for residents with a linked bridge) while the other faces the Pavilion Shopping Mall.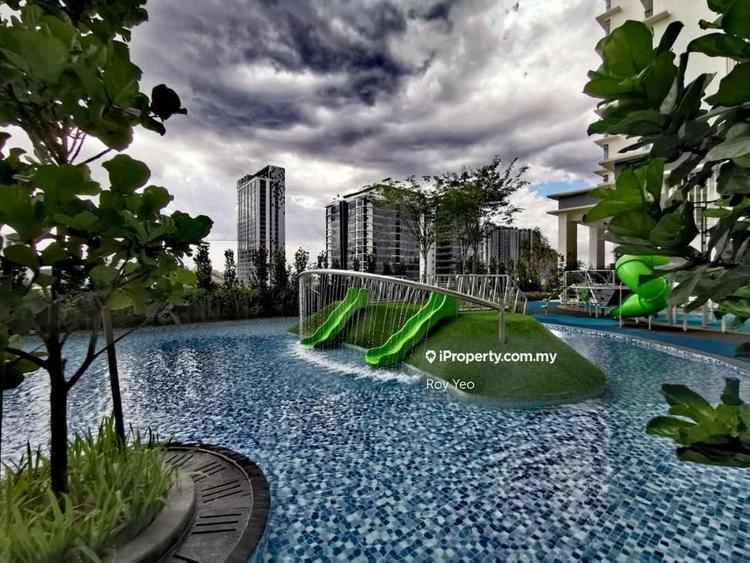 The Park Sky Residence consist of four towers, each with varying floor heights (Tower A and D: 40 floors, Tower B and C: 46 floors). With a total of 1098 units, the Park Sky Residence offers only eight units per floor to ensure the residents' privacy. It has six design layouts, including a dual key unit, ideal for intergenerational families. All units are partially furnished, allowing the new occupants to move in quickly.
Residents of this development also enjoy an array of luxurious amenities, from a 50-metre Olympic-sized swimming pool to working out at the sky gymnasium. Additionally, the Park Sky Residence units come with a water-based recreational park spread out over a massive 2 acres, where every tower will come with its own Sky Retreat.
The development is well-connected with a network of highways such as LDP, SKVE (South Klang Valley Expressway), MEX (Maju Expressway) and Federal Highway, to name a few. The development is close to several train stations, Awan Besar being the nearest (5 mins drive). There are also several well-known educational establishments near the development, including tertiary institutions, such as International Medical University (4km) and Asia Pacific University (5km).
As much as the development provides a luxurious atmosphere with a tranquil view within its perimeters, some Google online reviewers express dissatisfaction towards the poor architectural design and internal unit defects (water seeping from the ceiling, toilet leakage). Additionally, due to its proximity to the Pavillion Shopping Mall, the nightlife scene may impose noise inconvenience.
Other projects – Anyaman Residence and Sceneria @ North Kiara Hills reaped an average capital growth of 4.0%. Both developments provide the advantage of luxurious living space nestled in the city and yet offer a tranquil surrounding atmosphere. On the other hand, The Z Residence, a project strategically located in KL city centre with two train stations nearby (LRT Bukit Jalil and Muhibbah), gained 3.3%.
READ: Is Desa ParkCity a prime location to buy a house?
Top Projects with Highest Capital Growth in Selangor
| | | | | |
| --- | --- | --- | --- | --- |
|   | Property Name | Median PSF in H2 2021 (RM/PSF) | Median PSF in H1 2022 (RM/PSF) | Capital Growth |
| 1 | Koi Kinrara Suites | 374.5 | 434.6 | 16.1% |
| 2 | Venice Hill Condo | 163.7 | 188.3 | 15.0% |
| 3 | SetiaWalk Serviced Residences | 415.1 | 467.3 | 12.6% |
| 4 | Aman Heights Condominium | 307.0 | 335.2 | 9.2% |
| 5 | Palm Spring @ Damansara | 376.4 | 389.9 | 3.6% |
Koi Kinrara is a decade-old freehold condominium in the vicinity of Bandar Puchong Jaya. Its location is a winning factor as it is situated beautifully on a hill. This high-density condominium offers 1000 units, with built-up sizes ranging from 908 sq. ft. to 3,164 sq. ft., catering to different family sizes. The project consists of four towers with 20 storeys each.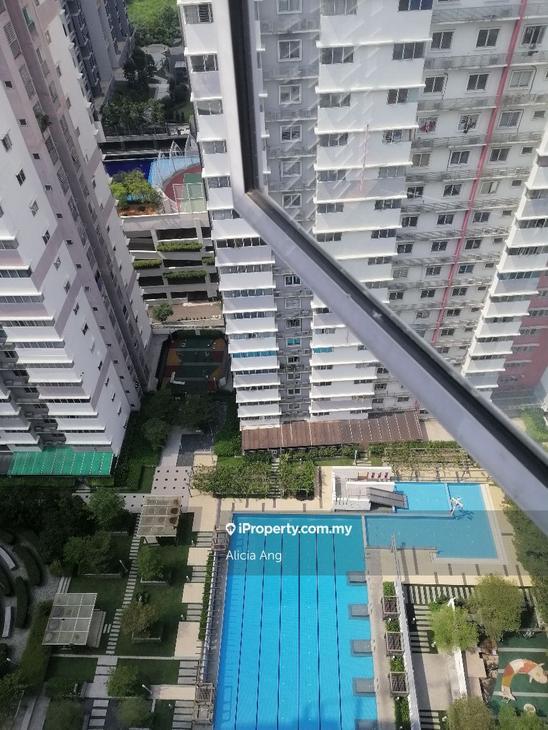 The project is equipped with modernised condominium amenities, including two large swimming pools and unlimited visitor parking. Regarding accessibility, Koi Kinrara is well connected to major highways such as LDP, KESAS Highway, ELITE Highway, and New Pantai Expressway (NPE). Reputed educational institutions such as Taylors College, Binary University College, SMK Bandar Sunway and others are located within short driving distance from this development.
Although this private residence is favoured by many due to its tranquil surrounding environment, it is pretty far from Jalan Puchong. The sole ingress and egress road, i.e. Jalan Pipit, is also relatively narrow and needs to be kept well. With more condominiums in the area, this road has become more congested and has very high traffic, especially in the mornings.
The oldest development on the list, Venice Hill, is a high-rise development located on a hill at Batu 9, Cheras. The condominium, built on freehold land, has 12 blocks, each ranging from 17 to 30 floors. These units come with five layouts, with built-up sizes running from 1,200 sq. ft. to 1,600 sq. ft. It also has penthouses at the roof level.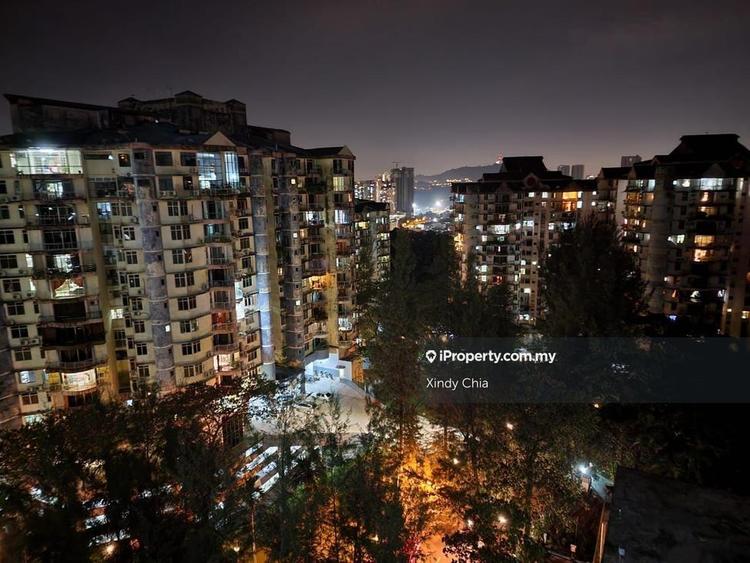 Although the building is clearly old and the exterior appears a bit shabby, the winning factor for this project is undoubtedly the lush greenery environment and spectacular views of the Kuala Lumpur city centre, thus enjoying huge demand mainly from the expatriates. The property also provides an array of amenities, including a sauna, gymnasium, swimming pool, mini-market, reading room, covered car park, jogging path, and playground, all at a very affordable monthly rent.
However, the development has limited accessibility, i.e. via Jalan Hulu Langat or Cheras-Kajang highway (exit Taman Suntex). The closest public transportation is Taman Suntex station, which is a nine-minute drive away. It is, however, near Pantai Medical Centre and two shopping centres, Cheras Sentral and Leisure Mall.
One of its kind, the SetiaWalk Serviced Residences (Solace, Brio and Vio) are part of SP Setia's mixed 'hybrid' development, which consists of retail blocks, offices, an entertainment complex and serviced apartments. This unique project was built on freehold land in Puchong and completed in 2011.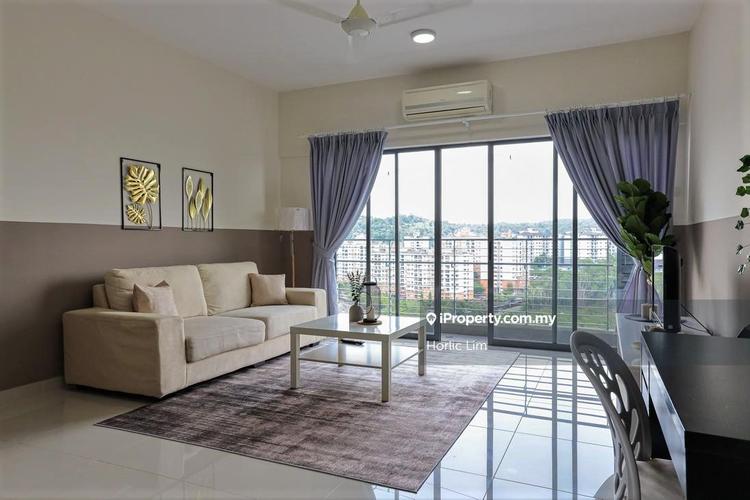 This project has three blocks of 27 storeys with 759 apartment units. The built-up unit sizes range from 845 sq. ft. – 1,396 sq. ft, catering to small families and young professionals. Set on higher ground, the serviced apartments at Setia Walk are at the rear of the development and overlook the commercial area.
Apart from offering excellent facilities like a wading pool and entertainment places along lush landscapes, the developer has also provided parking spaces for 4300 cars! Although the main access route to Setia Walk is LDP, the development is strategically situated at the heart of Puchong, enabling easy connectivity from all areas in this suburban town.
The residents and visitors of this place can travel in and out of the development without much hassle via several train stations located closely, such as Pusat Bandar Puchong and IOI Puchong Jaya.
Aman Heights Condominium is another project that reaped a reasonably high capital growth of 9.2% due to its tranquil surroundings, lush greenery and tropical resort architecture. Amongst the first few condominiums in the Kota Damansara area, Palm Spring @ Damansara, a unique development that has seven swimming pools at your disposal, also gained 3.6%.
SEE WHAT OTHERS ARE READING:
➡️Capital Growth or Rental Yield: Which is More Important in Property Investment?
➡️8 Residential properties in Malaysia with the Highest Capital Growth in 2020
Top Projects with Highest Capital Growth in Penang
| | | | | |
| --- | --- | --- | --- | --- |
|   | Property Name | Median PSF in H2 2021 (RM/PSF) | Median PSF in H1 2022 (RM/PSF) | Capital Growth |
| 1 | All Seasons Park | 458.1 | 548.5 | 19.7% |
| 2 | The Golden Triangle | 415.7 | 440.9 | 6.1% |
| 3 | Pangsapuri Palma Laguna | 322.7 | 336.5 | 4.3% |
| 4 | The Tamarind | 721.1 | 741.7 | 2.9% |
| 5 | Imperial Residences | 504.3 | 518.6 | 2.8% |
All Seasons Park is a residential high-rise built in 2013 by Belleview, a renowned developer for its quality and aesthetic work. This freehold development is located in Farlim, Bandar Air Itam, Penang. It consists of 4 towers with 30 to 31 storeys and 808 units with 12 layouts, including duplexes and penthouses.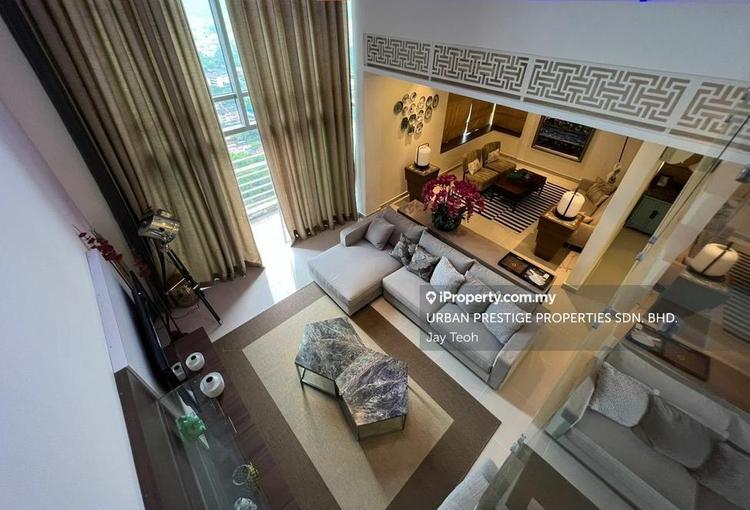 The key feature of this project is the clubhouse facilities, which include an infinity lap pool that spans the length of the 330m frontage. Additionally, there is an exclusive park for the residents, reflecting different landscaping themes, water features and hues of greens in keeping with the four seasons theme.
Situated along Thean Teik Highway, residents of All Seasons Park can easily travel to other parts of the city via Jalan Air Itam and Jalan Masjid Negeri. It is also close to Air Itam Rapid Penang Bus Hub and Penang Hill Lower Station for public transport convenience.
Another attraction of this development, especially for families with school-going children, is its proximity to several schools (approximately less than a kilometre) like SMK Air Itam, SK Seri Indah, SJK (C) Chiao Nan and Forest Education Centre.
Completed in 2019, The Golden Triangle is a residential high-rise of mixed development in Relau, Penang. This freehold condominium is positioned strategically in the middle of three prime locations, i.e. Relau, Sungai Ara and Bayan Lepas, Penang's international free trade zone.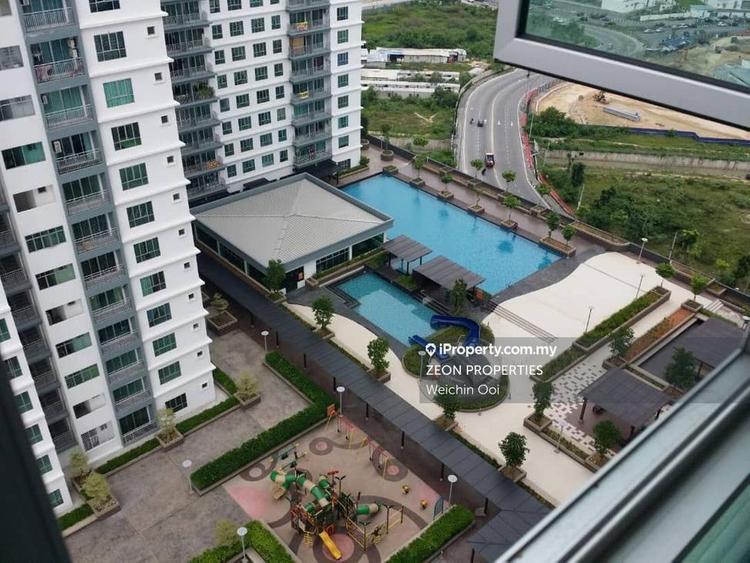 It is worth noting that the residential and commercial areas are separated with different entrances to protect residents' privacy. With 406 units in a 38-storey building, this low-density project has two spacious and modern design layouts (1,161 sq. ft. or 1,238 sq. ft.). Another highlight of this development is that residents can enjoy the vastness of lush greenery as it is located just opposite 1.9 acres of open space.
The development is easily accessible via Jalan Dato Ismail Hashim, which leads to Jalan Tun Dr Awang, which is connected to Tun Dr Lim Chong Eu Expressway. It is also surrounded by various known social spaces such as Bukit Jambul Country Club, Penang International Sports Arena, PISA Aquatic Centre and D'piazza Mall.
In terms of connectivity, Penang Bridge and Penang Bayan Lepas International Airport are just a short distance away from The Golden Triangle. Buses and taxis are readily available as well. The Google online reviews also are positive across the board, with most residents/visitors stating the project as self-contained development that provides convenience and a variety of food outlets.
Pangsapuri Palma Laguna is also worth noting, with a capital growth of 4.3%. This project is surrounded by several establishments, such as SMK Tun Hussein Onn, SK Taman Indrawasih, SMK Taman Indrawasih, and SMK Pauh Jaya, along with two tertiary institutions, i.e. UiTM Pulau Pinang and Politeknik Seberang Perai, 
Other projects are The Tamarind and Imperial Residence, which both gained capital growth of 2.9% and 2.8%, respectively. The Tamarind, built to immerse residents in a resort-like design, is ideal for young professionals and families looking to live in the seaside lifestyle of Seri Tanjung Pinang. It also takes less than 15 minutes to drive from the development to The Gurney Drive area. 
Meanwhile, the main attraction of the Imperial Residence is its spacious layouts, inspired by the bungalow and semi-detached homes. The development is further enhanced by the building's orientations, residing along the northeast and southwest bearings, pleasantly sheltered from direct sunlight. Similar to the Golden Triangle, it is also closely located at Bayan Lepas International Airport and Penang Bridge.
READ: Green Building Index (GBI): Key criteria, list of GBI developments in Malaysia
Conclusion
Based on the above findings, several commonalities in these projects have made them favourable in the subsale market. The most palpable factor for the properties in Kuala Lumpur and Penang is the luxurious living it provides residents on top of excellent architectural design and landscaping. Also, quite a few of the developments across the three states are located nearby open parks, and having direct access to green spaces is a feature much sort-after by city people, especially those with children. Together with winning factors such as good connectivity (highways, public transportation nodes, airport) and proximity to reputable hospital and education establishments, it can be concluded that these high-rise properties are ideal homes for working adults, families and investors.
FOOTNOTES
1) Capital growth is calculated as = Median PSF in H1 2022 – Median PSF in H2 2021 / Median PSF in H2 2021. Median Per Square Foot (PSF) is used to calculate capital growth due to various built-up sizes being transacted. 
2) Only properties that have more than 5 transactions in H2 2021 and H1 2022 were selected to negate the effect of any spikes. 
3) The data system from JPPH officially records a property transaction in Malaysia once the stamp duty for the Sales and Purchase Agreement is paid. Analytics is based on the data available at the date of publication and may be subject to revision as and when more data becomes available. 
The opinions stated in this article are not in any form an endorsement or recommendation by iProperty.com.my. Individuals are encouraged to perform their due diligence and seek independent advice prior to making any investment. 
Disclaimer: The information is provided for general information only. iProperty.com Malaysia Sdn Bhd makes no representations or warranties in relation to the information, including but not limited to any representation or warranty as to the fitness for any particular purpose of the information to the fullest extent permitted by law. While every effort has been made to ensure that the information provided in this article is accurate, reliable, and complete as of the time of writing, the information provided in this article should not be relied upon to make any financial, investment, real estate or legal decisions. Additionally, the information should not substitute advice from a trained professional who can take into account your personal facts and circumstances, and we accept no liability if you use the information to form decisions.