Residential property prices are poised for growth in 2022, but which property types are the top performers based on pre-COVID and post-COVID trends? This article breaks down the top property performer across Kuala Lumpur, Selangor, Penang and Johor while highlighting which will need more time to recover.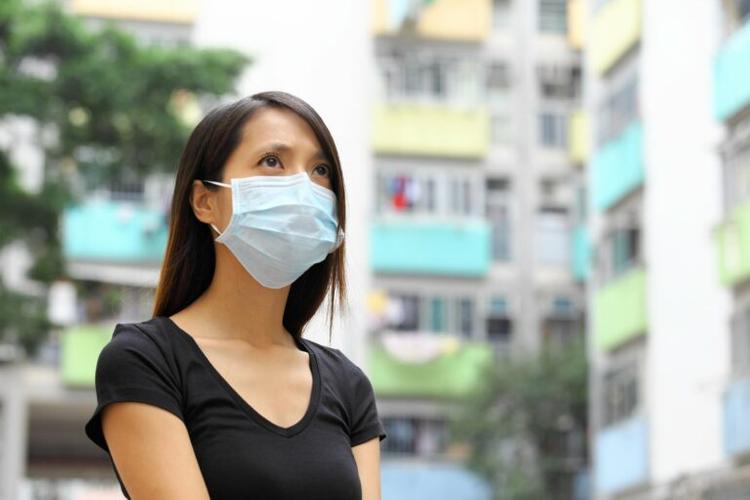 The Malaysian property market was on a steady path of growth prior to the onset of the global pandemic. The median transaction price in 2018 was RM315,000 while the median psf was RM215.41 in 2018.
Then in 2019, the first signs of political instability began to rear its head, while in the backdrop, concerns about a global pandemic began to take hold as the world struggled to contain COVID-19. These were some of the factors that contributed to a dip in market performance, which saw the median transaction drop to RM300,000 while median psf dipped to RM212.78.
In 2020, the nation coped with unprecedented turbulence, as the pandemic rapidly spread throughout the country, and economic activity was severely impacted by the necessary Movement Control Order (MCO).
Yet, at the lowest point of the market-wide dip, economists and market watchers pointed out that continued strong demand for residential property in the country would drive a recovery as soon as confidence returns to the general economic outlook. During 2020, the median transaction price held its ground at RM300,000, while the median psf value actually inched upwards nominally at RM213.33, exhibiting comparative resilience under difficult circumstances.
By the end of 2021, improved consumer sentiments had indeed begun to reflect in transactional data captured by iProperty.com.my. Overall, our data on transactions between the 2018-2021 period reveal that median transaction prices and median per-square-foot (psf) values recovered in 2021.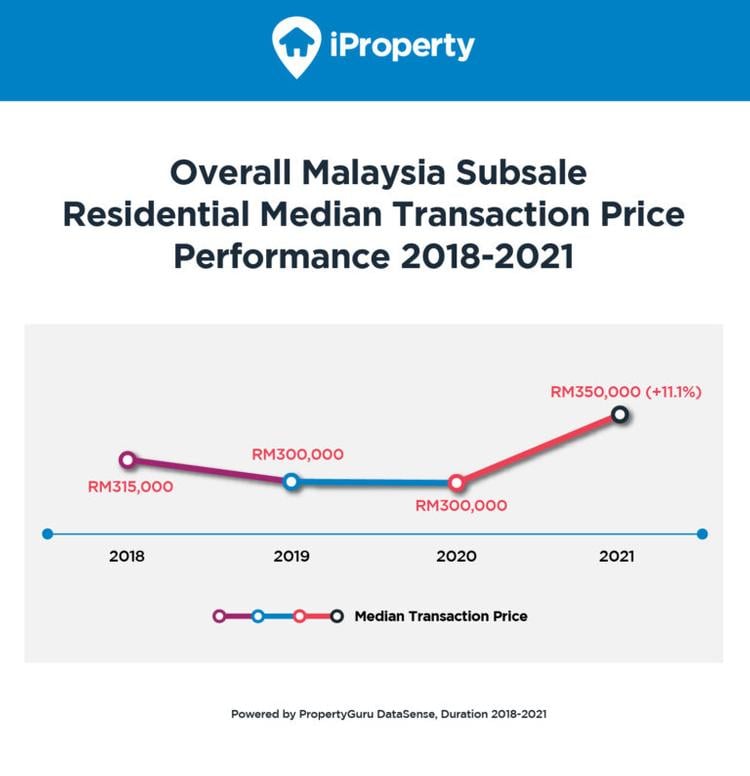 In fact, the median transaction price of RM350,000 and the median psf of RM228.91psf registered in 2021, exceed the price marks captured in the pre-COVID lockdown period of 2018 and 2019.
Our data also shows that the transactional volume had recovered to pre-COVID levels in 2021. The total number of property transactions captured last year was 124,996, which is close the 125,139 in 2019 but still behind the 137,128 in 2018.
iProperty.com.my takes a closer look at landed and high-rise property types, with a significant transaction volume from 2018-2021, across the four key states of Kuala Lumpur, Selangor, Penang and Johor to demonstrate how these properties performed in pre- and post-pandemic phases.
NOTES: Raw data is sourced from the Valuation and Property Services Department (JPPH) and then analysed by PropertyGuru DataSense, the data, analytics and solutions arm of PropertyGuru Group. We have also taken steps to ensure that any outliers have been removed to mitigate data distortion.
Transaction data in the article represents an official record of a property transaction once the stamp duty for the Sale and Purchase Agreement has been paid during the year 2018-2021.
What factors influenced the property market pre-COVID?
Prior to the onset of the COVID-19 pandemic, economic headwinds were already in play due to political instability on the local front during the 2019-2020 period, as well as a number of external global factors impacting Malaysian exports.
However, the property market remained resilient in the face of this, driven by urban population growth and sustained demand for housing.
The advent of the health crisis, and the subsequent lockdown periods, brought most economic activities to a halt for the greater part of 2020. Movement restrictions, economic uncertainty and poor job security due to a high unemployment rate of 4.55% resulted in an inevitable dip in transactional activity and property prices.
Softening the blow and aiding to keep property interest alive during this period, government initiatives such as the Home Ownership Campaign (HOC) 2020-2021 were introduced, creating a highly incentivised environment for buyers. At this time, many developers also leveraged heavily on e-commerce solutions for marketing and sales activities, which enabled transactions even at the height of the lockdown.
Overall, the HOC contributed to the sale of 34,354 residential properties and generated over RM25.65 billion in sales proceeds. This provided a much-needed boost during a very volatile period for the market.
While economic hardships and a high rate of unemployment was a harsh reality the country was coping with at this time, HOC incentives appealed to those who remained on sound financial footing – especially when house prices were suppressed and interest rates were at a historic low.
Median transaction prices in the 2019-2020 were at a low of RM300,000, while median psf prices hit a low of RM212.78psf. The Overnight Policy Rate (OPR) of 1.75% was also the lowest on record since 2004, according to Bank Negara Malaysia.
Factors that contributed to a turnaround in 2020/2021
By 2021, the successful rollout of Malaysia's vaccination programme began to have a positive impact on the overall outlook of consumers. With movement controls lifted, and commercial activity back in play, confidence began to trickle its way back into the property market. Gradual, but steady, improvements have since been making its presence felt in consistently improving transactional numbers for residential property.
This coincides with consumer sentiment, economic stability and improved job security, resulting in a revival of homeownership plans for many.
The most recent report from the National Property Information Centre (Napic) concurs with this. In its Property Market Report 2021, it said the total property transactions recorded (worth RM144.87 billion) represented a 21.7% year-on-year (YoY) increase.
While Napic conceded that 2022 would remain challenging, it recognised that the positive momentum in the market would result in continuous improvements for the property and construction industry throughout the current year.
High-rise vs landed performance between 2018-2021
Comparing the performance of high-rise properties against landed properties, a consistent pattern has emerged over the past four years. Between 2018 and 2021, landed properties have consistently outperformed high-rise properties, in terms of median transaction price as well as transaction volume.
Interestingly, this does not reflect in median psf values. Because stratified properties have typically smaller floor areas, the median psf values for high-rises are generally higher than landed properties, and this is reflected in our data for the past four years.
The data shows that the median transaction prices of both high-rise and landed properties in 2021, which were RM290,000 and RM367,000 respectively, have exceeded the median transaction prices recorded in the pre-covid period of 2018 and 2019.
Similarly, the median psf for high-rise and landed properties, RM326.42 and RM196.64, have surpassed the values recorded in 2018 and 2019.
Looking at a regional comparison of the four key states covered in this report, Kuala Lumpur registered the highest median transaction prices and median psf values throughout the 2018 – 2021 period, at RM3.825 million and RM768.91 respectively. Meanwhile, Selangor clocked in the highest transaction volume in the same period with a total of 138,682 transactions.
Overall, the lead-up to the current improved environment can be attributed to a handful of key factors. For example, Bank Negara Malaysia (BNM) noted that the value of home loan applications grew by 86% YoY from RM96.4 billion in H1 2020 to RM179.4 billion in H1 2021, on the back of the record low 1.75% OPR.
It also said that during that period, interest in terrace houses remained high, with a 29% increase in loan applications. Demand for condominiums and apartments also saw increases, albeit at a lower rate of 5.2% and 11.7%, respectively.
The consistent popularity of terrace homes is also illustrated in iProperty.com.my's H1 2021 Portal Demand Analytics (Residential Rental Market) data, which saw an overall growth of 1.9% YoY in H1 2021, compared to the -5.6% YoY recorded in H1 2020. The data also showed the increase was partly due to a significant rise in demand for terrace houses, which saw a 14.1% YoY increase.
Another positive development in the market is early indicators that the gap between house prices and household affordability is gradually shrinking.
Data collected by iProperty.com.my from January 1, 2021 to December 31, 2021 on LoanCare indicate overall median housing affordability of RM474,900 and median home loan instalment of RM2,000. When compared against new launches in H2 2021, it found that close to one-third of the properties on offer were within the median affordability of property seekers.
This will bode well for those who intend to revisit their purchasing aspirations moving forward.
As this occurs, space seems to be a high priority for buyers, illustrated by the consistent preference for landed homes during the 2018-2021 period, which was likely propagated by lockdown fatigue at the height of the pandemic. The focus on compact high-rise units in the pre-COVID period has also played a part in the current existing stock. However, as larger strata units make its way into the market, we could see a higher level of interest return for condos and apartments.
Kuala Lumpur property type performance trends 2018-2021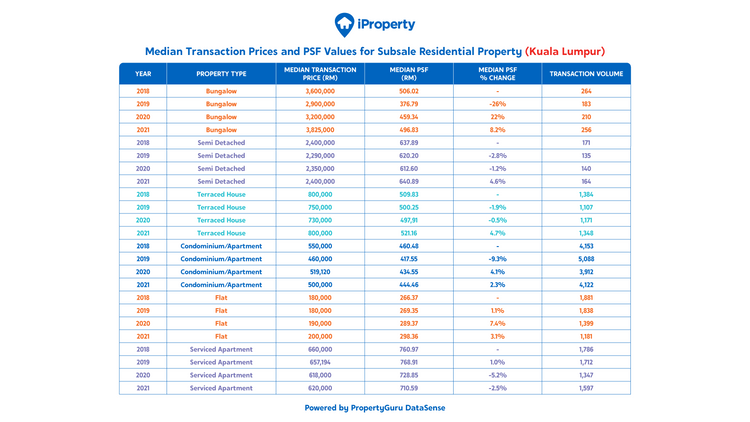 With a landscape that is dominated by high-rise structures, strata properties make up the bulk of residential units in Kuala Lumpur, making it the only state where high-rise properties outperformed landed properties during the 2018-2021 period.
Looking at specific high-rise property types, KL recorded a higher transaction volume for condominiums and apartments (17,275) than for serviced apartments (6,442).
Buyers focus on condos and apartments can be partly attributed to the decrease in median psf values for this property type. Experiencing a sharp drop of 9.3% in 2019, median psf values have since increased by 4.1% in 2020 and 2.3% in 2021.
Looking ahead, condos and apartments will continue to be the most popular type of housing in KL, and the gradually recovering median psf value will bode well for buyers and investors in the long run.
However, those with greater financial strength should take a closer look at luxury bungalows in the capital district, as the median psf value for this property type registered a sharp growth of 8.2% in 2021.
Selangor property type performance trends 2018-2021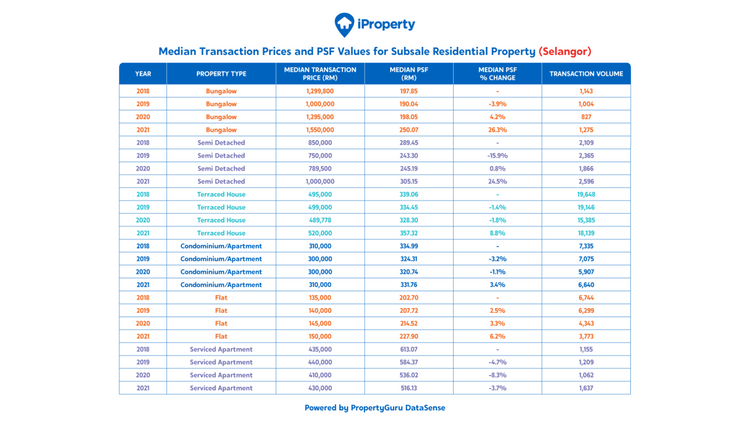 Terrace houses were consistently the most popular housing type in Selangor, with a total of 72,318 transactions recorded over the 2018—2021 period.
Being the most populous state in the country, Selangor's gravitation towards landed homes reflects a general change in perception amongst urbanised citizens, who are now seeking to balance work and lifestyle needs.
The emergence of the work-from-home solution, arising from pandemic restrictions, has now presented a long-term option for many companies and employees. This, in turn, is prompting many buyers to seek out comfortable spaces that can fulfil both home and career needs.
The ongoing popularity of terrace houses, coupled with positive increases in median psf values for most landed types of property in the state, suggests that this is where buyers have been focusing their attention.
In 2021, the median psf value for terraces rose by 8.8%, while semi-dees saw a 24.5% rise and bungalows saw a 26.3% rise. Rising values for landed residential properties in Selangor also make a strong case for investment attention.
Penang property type performance trends 2018-2021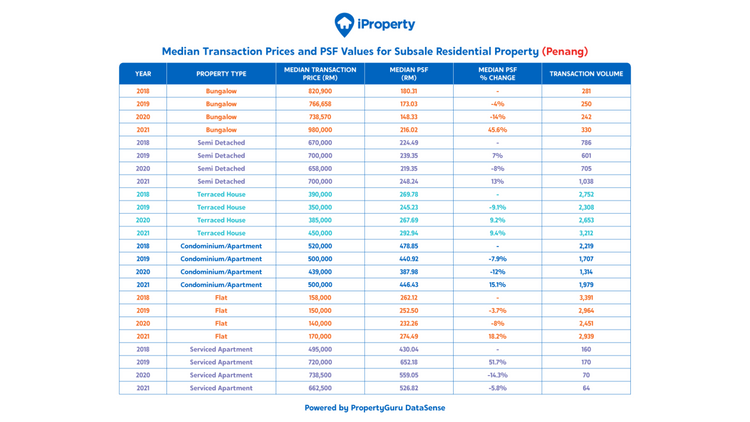 Serviced apartments witnessed the highest growth in median psf value in Penang – jumping as high as 51.7% in 2019 – but it also registered the lowest transaction volume during the 2018-2021 period. This points to a low appetite for investment, as serviced apartments traditionally appeal to investors looking for long-term rental income.
Flats proved to be the most popular type of housing in the state with a total transaction volume amounting to 11,745 during the period. This is likely driven by a previous shortage of affordable homes and the state government's ongoing drive to close this deficit with new properties targeting this economic group.
In 2021, it was bungalows that in fact saw the highest growth in median psf prices with a 45.6% rise. The other prime mover was condominiums and apartments, which saw median psf prices rise by 15.1% last year, offering a more affordable target for would-be buyers to focus their attention towards.
Johor property type performance trends 2018-2021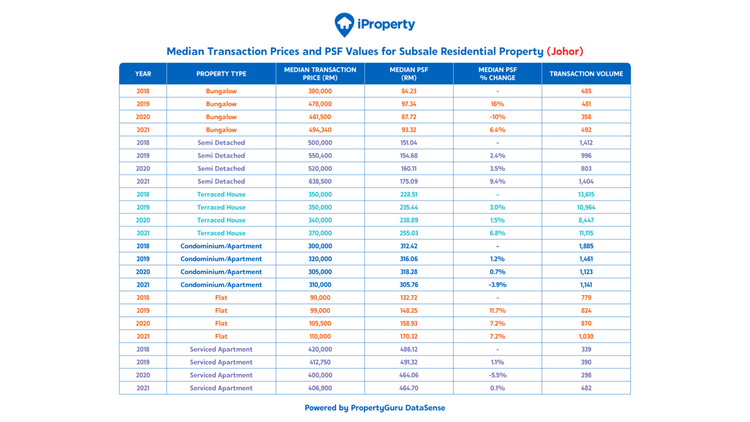 Despite the robust urban environment in Johor, its citizens continue to show a preference for traditional landed property and have shown very little appetite for many of the new high-rises that have emerged on their landscape.
Johor currently has the highest overhang volume for high-rise residences in the country, made up mostly by 16,425 units of unsold serviced apartments (as at Q1 2022), according to Napic.
As opposed to the focus on apartments and condos in KL, Johorians identify with terrace houses as the most ideal form of habitat, registering 44,141 in transaction volume between 2018 and 2021.
Landed houses in the state have also witnessed positive increases in terms of median psf values in 2021, with terraces rising by 6.8%, semi-dees rising by 9.4% and bungalows rising by 6.4%.
As terraces continue to represent a comparatively affordable option in the state, buyers will likely continue to be attracted to the logical prospect of more space and more comfort, while prices continue to be at an attainable cost.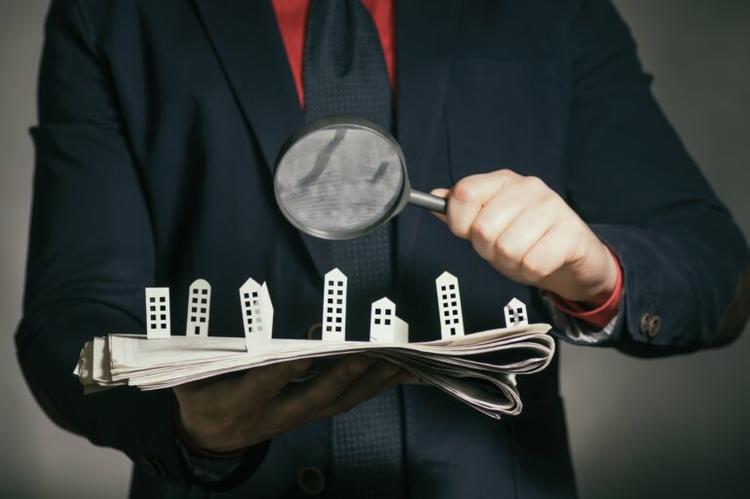 Where is the H2 2022 property market headed?
Looking at nationwide trends, the current strong demand for landed homes, particularly the more affordable option of terraces, is where investment attention should be focused on. Positive gains in median prices, as well as median psf values, adds further support to this perspective.
However, it should be noted that the real driver for this trend of consumer behaviour is the demand for space, especially among urbanites. With this in mind, large and spacious high-rise units, with plenty of common space and facilities, will also satisfy the aspiration of modern urbanites while adding the appeal of convenience.
While this option will likely be in an upmarket category, savvy buyers should identify this as a potential investment opportunity, especially when high-rise units generally feature a higher median psf value.
Also in play in the market currently is an adjusted OPR of 2.25% that will increase home financing costs. This, along with buyers will have to cope with an expected inflation rate of between 2% and 3%, as well as an inevitable period of uncertainty that comes with an election year.
However, improved confidence in the overall recovery of the economy, reopened borders and better job security will help mitigate some of the above concerns, especially among those who feel they are now on a better financial footing to revive their house-buying aspirations.
The annual Malaysian Property Market Report for 2021, released by Jabatan Penilaian Dan Perkhidmatan Harta (JPPH) in April this year, recorded a 1.5% increase in the overall volume of transactions (across all property types), while there was also a substantial 21.7% rise in the value of transactions.
As demand for housing continues to remain strong in the country, 2022 will continue to see a gradual pick up in transactional activity and positive movement for transactional prices.
The market will still have to deal with its overhang of service residences, which amounts to some 24,050 units worth RM20.45 billion (as at Q1 2022), according to Napic. Of these, 64.4% are priced between RM500,000 and RM1 million mark.
Providing some relief will be the fact the reopening of borders and international commercial activity could see the return of expatriate professionals to the country. This will fuel the return of investor appetite for service residential units in the mid-to-long term.
iProperty Transactions: Get the latest subsale property transaction data for FREE to help you make the best-informed property decisions. No sign-ups required!

Disclaimer: The information is provided for general information only. iProperty.com Malaysia Sdn Bhd makes no representations or warranties in relation to the information, including but not limited to any representation or warranty as to the fitness for any particular purpose of the information to the fullest extent permitted by law. While every effort has been made to ensure that the information provided in this article is accurate, reliable, and complete as of the time of writing, the information provided in this article should not be relied upon to make any financial, investment, real estate or legal decisions. Additionally, the information should not substitute advice from a trained professional who can take into account your personal facts and circumstances, and we accept no liability if you use the information to form decisions.