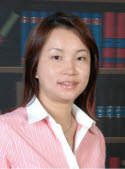 IQI Realty - Klang Lama
E(1)1584
9-3, 3rd Floor, Medan Klang Lama 28, Jalan Klang Lama, Jalan Klang Lama (Old Klang Road), 58200 Kuala Lumpur
Properties
352 properties by Elleean Liew
About Elleean Liew
Elleean Liew is a Licensed Real Estate Negotiator REN11165 for IQI Realty Sdn Bhd located in Kuala Lumpur. Elleean specializes in sales and rentals of residential homes, commercial & industrial. Whether you are buying or selling, Elleean is dedicated to providing every Real Estate client with unparalleled service in finding their next home or next property!
Elleean goal is to build long-lasting relationships with every one of her clients. She strives to make each Real Estate endeavour as stress-free as possible through constant communication, time management and being proactive every step of the way. Elleean wants to ensure her clients are pleased with the services she provides for them.
Please contact Elleean Liew on her personal line at https://wa.me/60193359335 for all of your Real Estate Needs!
Properties by Elleean Liew
For sale (92)
For rent (260)
Viewing 9 of 92 properties for sale