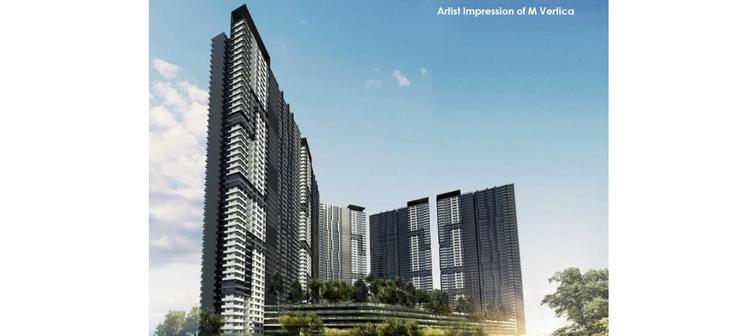 Kuala Lumpur, 2017 – Mah Sing Group Berhad (Mah Sing) today announced the acquisition of 2 new pieces of prime lands in Batu 2.5 Cheras Kuala Lumpur and Bukit Mertajam, Penang, to be developed into an integrated development and a business park respectively.
Mah Sing signed an agreement to acquire Cordova Land Sdn Bhd (Cordova), which has an offer accepted by DBKL to purchase the 11.233 acres of prime land just opposite Courts Mammoth along Batu 2.5 Jalan Cheras, Kuala Lumpur.
The land is just 1.8km from the Sunway Velocity Mall and will be developed into M Vertica, an integrated development with an estimated gross development value (GDV) of approximately RM2.2billion. M Vertica is targeted at first-time home buyers and some upgraders due to its value proposition of quality products at affordable indicative pricing from RM450,000 in the heart of Kuala Lumpur.
The total consideration of up to RM263.48million or approximately RM538psf after taking into consideration the share sales, land cost and estimated reconstruction and upgrading cost estimated at RM25million allocated for Stadium Badminton Kuala Lumpur is at a discount from the indicative market value of the surrounding lands, as per an indicative valuation by independent valuation company Rahim & Co for the land at approximately RM333.18million or approximately RM680psf. PricewaterhouseCoopers has also been appointed to conduct due diligence on Cordova. Under the share sale agreement, the payment for the shares in Cordova will be paid over a maximum duration of 21.5 months, subject to completion of Vendor's obligations. The land currently houses a surau, Kompleks Belia Bandaraya, and the aged Stadium Badminton Kuala Lumpur which will be reconstructed as part of Cordova's corporate social responsibility.
Reinventing Spaces. Enhance Life – M VERTICA to set a new benchmark for accessible lifestyle homes in the city
M Vertica will create new excitement in the mature neighbourhood which has a pent-up demand for well-planned, modern properties as most of the residential projects in Cheras are decades-old housing estates.
Mah Sing's Group Managing Director Tan Sri Dato' Sri Leong Hoy Kum said, "The prime KL city location coupled with the affordable entry level pricing provides an unbeatable value proposition. We are looking at residential suites from 850sqft at an indicative price from RM450,000 or RM529psf and a choice of bigger units at 1,000 sqft. The Maluri MRT and LRT interchange is only 600m or 7 minutes' walk and Taman Pertama MRT Station is only 800m or 10 minutes' walk from M Vertica. Upon the completion of MRT Line 1, Sunway Velocity Mall, My TOWN Shopping Centre and IKEA Cheras are all within walking distance from Cochrane station which is only one stop away from Maluri MRT station. It is also easily accessible via Jalan Cheras and is only 300m away from Besraya Highway. Good accessibility will definitely enhance the lives of our buyers. In fact we are already starting registration of interest for M Vertica on www.mvertica.com.my which we plan to preview in Q3 2017."
To optimise the potential of the location, M Vertica encompasses retail shops and competitively priced residential suites, and is planned as the tallest residential towers in Cheras. The development is planned to be affordably priced urban luxury, with flexible layouts from 3 to 4 bedrooms. This is to ensure that the homes are suitable for a wide range of target market including first-time home buyers, working professionals, young families and home upgraders who are looking to live in the vicinity of the city centre.
In line with current market trends, M Vertica will feature a fantastic KL view with a clubhouse, filled with ample facilities which include swimming pool, gym, landscape area and more for the residents' convenience and enjoyment.
Tan Sri Dato' Sri Leong said, "It is important for us to understand the market's needs and to cater the right product in the right location, at the right time and most importantly at prices that is affordable for all. While Cheras has a population size of 800,000 which is still growing, M Vertica will attract buyers from throughout Kuala Lumpur and the Klang Valley due to the strategic location and our value proposition."
"Within the immediate vicinity of the project, we expect to attract many young families looking to buy their first and new home since the majority of them are second and third generation locals who are familiar with the neighbourhood. Not only that, adults who are working in the city would also prefer to own a home in the vicinity of the city centre, at an affordable price," added Tan Sri Dato' Sri Leong.
The location and product fit well with the current market demand as well as the company's quick turnaround strategy due to the good connectivity, established catchment, ready infrastructure and amenities within the vicinity.
AEON Big Peel Road, AEON Maluri and Viva Home are nearby and there is also a park 700m away from M Vertica which is suitable for various recreational activities.  Within 5km, residents can access Prince Court Medical Center, Pantai Hospital Ampang, Hospital Ampang, Pantai Hospital Cheras, Hospital University Kebangsaan Malaysia, SMK Perempuan Pudu, SK Convent Jalan Peel, SMK Seri Bintang Selatan, SMK Seri Bintang Utara, Nam Kheung Chinese National School, Royal Selangor Golf Club and more.
Mah Sing Acquires 10.89 acres Freehold Land in Bukit Mertajam Penang for Business Park with estimated GDV of RM150million
Mah Sing has entered the Penang property market since 2007 and today added a new project into its stable with the acquisition of 10.89 acres of freehold land in Bukit Mertajam located along the south-western side of Jalan Permatang Tinggi.
The total purchase consideration amounts to approximately RM43.8million that includes the costs for conversion premium, land clearance, earthworks and development planning for the land which have already been paid by the vendor.  According to a valuation report by PPC International Penang Sdn Bhd, the market value of the Bukit Mertajam land is RM45.31million.
The land, with development order obtained and earthworks done, is ready for immediate development which fits in well with the quick turnaround model of the Group. However, the Group plans to submit revised development plans to the relevant authorities for approval to vary certain components of the development order to maximize the development potential of the Land.
Mah Sing plans to develop an industrial park using its award winning iParc concept. The proposed development, with an estimated GDV of approximately RM150million, will offer well-conceptualised multi-functional industrial spaces comprising a mix of shop offices and light industrial factories. The proposed development is scheduled for a preview in Q3 2017.
Mah Sing pioneered its iParc series in 1994 and subsequent iParc projects adopted the 4-in-1 business concept where both front- and back-end operational processes are catered for. Front-end operations like showrooms or corporate offices can be housed in the same space as back-end operations like warehousing and production.
The land is just 3km from Simpang Ampat and 10km from Bukit Mertajam. Access to the land includes North South Expressway 5.6km away, Penang Bridge 13.4km away, and Second Penang Bridge just 17km away. The Penang Port (18km away) and Penang International Airport just 31.1km also adds to the confluence of easy access to the land.
Streamlines Portfolio to Fit Business Strategies and Current Market Demand
Besides the 2 new lands, Mah Sing and the vendor of 85.43 acres of land in Sultan Salahuddin Abdul Aziz Shah (KGSSAAS) Golf Course, Selangor has mutually agreed to terminate the sales and purchase agreement as the land conversion approval and consent to transfer were not fulfilled. This termination will allow Mah Sing to focus on affordably priced products in other developments rather than high end products.
Mah Sing also sold its 51% equity interest in Convention City Development Sdn Bhd (Convention City) to Diverse Capital Sdn Bhd (DCSB) for a total of RM6.557million. The stake was acquired back in 27 May 2013 for RM1.632million as Convention City has the development agreement to develop 8.33acres of land next to Sabah International Convention Centre. However since the execution of the development agreement in 2013, the Landowners' obligations which include registration of land title with condition for commercial development, settlement of conversion premiums and delivery of vacant possessions have yet to be completely fulfilled.
Tan Sri Dato' Sri Leong said, "We will continue to streamline our portfolio of landbanks to fit our business strategies and match current market demand. With the new acquisitions, currently Klang Valley yields approximately 67% of our remaining GDV and unbilled sales, and we target to increase it to 75% within the next 2 to 3 years. To match market demand, we will choose lands that can be developed into quality homes with affordable pricing."
Tan Sri Dato' Sri Leong further added, "We are focusing on acquiring more lands in the Klang Valley and Greater KL as this region has proven to have the most resilient property demand in the country due to population and economic growth. According to the National Property Information Centre (NAPIC), in 2016, the value of property transactions in the Klang Valley itself was RM30.81 billion, accounting for nearly half of the RM65.6 billion achieved in the whole of Malaysia. Having aligned our portfolio and in line with our business strategy, we target to preview both M Vertica in Cheras and the business park in Batu Mertajam, Penang in Q3 2017."
He noted that several research houses including JP Morgan and MIDF research said the Malaysian property sales are poised to grow in 2017. This comes after three consecutive months of year-on-year increase in approved loans, which is a good leading indicator that property transaction values have increased and property developers' sales should improve. JP Morgan's recent research note said the pick-up in property loans could be attributed to "quality customers" coming back, as well as affordable properties below RM500,000 per unit. For the next 2 years, the Group will continue to focus on developing affordable landed and high-rise products priced below of RM500,000 to be in a better position to meet market demand.
Including the new acquisitions, the Group has a strong portfolio of projects with combined potential gross development value (GDV) and unbilled sales of approximately RM30billion which can support 8 years of revenue growth.
Disclaimer: The information is provided for general information only. iProperty.com Malaysia Sdn Bhd makes no representations or warranties in relation to the information, including but not limited to any representation or warranty as to the fitness for any particular purpose of the information to the fullest extent permitted by law. While every effort has been made to ensure that the information provided in this article is accurate, reliable, and complete as of the time of writing, the information provided in this article should not be relied upon to make any financial, investment, real estate or legal decisions. Additionally, the information should not substitute advice from a trained professional who can take into account your personal facts and circumstances, and we accept no liability if you use the information to form decisions.