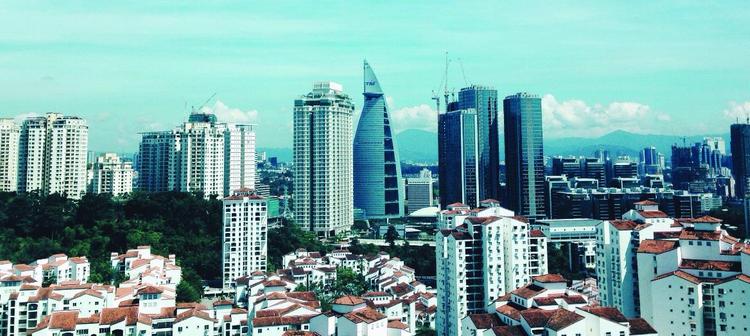 Expert's insights
OKR is famous for being one of the oldest and most historically significant roads in KL. It used to be the only link between Kuala Lumpur and Port Klang. Many established Chinese-Malaysian families have put down roots and are still based here as they still own shops along OKR. Many of these wealthy Chinese merchants also own property in OKR and live in the area with their families.
Area's appeal to home buyers
OKR's winning attraction is its strategic location – it is at the centre of everything as numerous roads and linkages lead out and into the area. OKR residents can easily get onto the Federal Highway and it is only a 20-minute drive to KLCC through the SMART Tunnel; onto the Shah Alam Expressway if they are driving towards Subang Jaya Shah Alam; hop onto the LDP Highway to head down to Puchong or take the Federal Highway and connecting Kerinci Link when travelling to the Damansara locale.
The New Pantai Expressway (NPE) toll is also a mere 4km away, making the commute to Sunway and Subang very convenient. Furthermore, the bustling commercial centres of Bangsar and Midvalley are within a 10- km radius.
Residents will have easy access to all these mature neighbourhoods which feature a slew of amenities and conveniences such as shopping hotspots, recreational parks, public transit nodes, major offices and hospitals.
Those who missed the opportunity to get into Bangsar can still get into the OKR area as it offers properties with lower entry prices and yields that are simply not available in prime addresses such as Bangsar anymore.
Unlike its more glamorous neighbour, Bangsar; OKR has not yet enjoyed the former's exponential levels of capital appreciation. Average property prices in the OKR area have historically been closer to RM400 sq ft. Given the growing number of high-end condominiums coming into the vicinity, however, I expect that the considerable growth in average prices is only bound to happen sooner than later.
The OKR effect has spilt over and contributed to the rise in popularity of its neighbouring residential enclaves too, i.e Seputeh, Taman Desa and Bangsar South. This is visible through various new and upcoming developments in whatever plots of land that are available in these areas.
Exciting developments
There is a lot to get excited about in OKR and its surrounding neighbourhoods. Home buyers and investors would want to take note of the following current and upcoming projects with bear attractive concepts, prices and facilities:
• OKR – Millerz Square by Exsim Group, 9 Seputeh by MRCB, The Scott Soho by Aston Villa Sdn Bhd, Tiara Mutiara by Vista Flame Sdn Bhd and Southbank Residence by UOA Group. There are many old buildings in this area that will be demolished in the near future to make way for new developments, as per the current and future market demand.
• Bangsar South – Novum Residences by Eupe Corporation Berhad and The Park Residences by UOA Group.
• Seputeh – Setia Sky Seputeh by S P Setia and Menara Seputih by Mitrajaya Land Sdn Bhd.
• Taman Desa – The neighbourhood will most likely not see many new developments as it is already densely developed. Nevertheless, there is the upcoming commercial hub, Desa Centre by UOA Group as well as various sub-sales opportunities including, 1 Desa Residence by UOA Group as well as Casa Desa, Faber Ria and Desa Permai by Faber Group.
• Mid Valley – ViiA Residences by S P Setia.The OKR conurbation is ideal for young professionals out there who are waiting for the opportune moment to purchase an affordable residence which also provides excellent connectivity to their workplace as well as to commercial and retail hubs.
Some of the reasons why this band of neighbourhoods check all the boxes:
Facilities & Amenities Highlight
What does the realtor say?
Most of the purchasers of secondary properties along Old Klang Road are home-buyers and most are buying high-rise residential units, as validated by the data above. As a bulk of the buyers are family-occupiers, popular residential options are those that range between 850 sq ft to 1,200 sq ft with a 3 bedroom + 2 bath layout.
Those with a higher budget will look for higher-end projects that feature luxurious facilities. Examples include Seringin Residences and Le Yuan Residence. Meanwhile, buyers who are not as financially blessed will opt for more affordable projects like OUG Parkland. Considering the past year's economy, this is the reason why OUG topped the area's residential sales list in 2016. Newly completed projects are also a top priority for these first-time homebuyers.
An exciting prospect for aspiring homebuyers will be Citizen 2 by Binastra Land. Slated to be launched in Q32017, the serviced apartments will have 2 layout options are available – 2-bedroom (725 sq ft) and 3-bedroom (883 sq ft). With prices starting from roughly RM500,000, many first-time homebuyers have their eye on this project.
Investors, on the other hand, are vying for the upcoming Millerz Square @ OKR by Exsim Group. To be built on an 8-acre plot, the project will comprise of offices and service apartments. There will also be an art college within the development which will be complemented by F&B and retail outlets.
Why should homebuyers look at properties in the area?
Most who purchase into the area love OKR's strategic location and the mature neighbourhood provides for an abundance of basic primary necessities – from sundry shops to entertainment outlets. OKR's proportion of commercial and residential catchment areas, both which are able to complement each other with a sufficient number of schools, banks and amenities to cater to its residents. The newly opened, "De Market" in Faber Tower in neighbouring Taman Desa is a popular grocery shopping stop for residents living in the vicinity as it offers quality local and international produce.
Parents love that there is an international school located in the locality – the Vikas International School. It is a co-educational school with hostel facilities and provides classes from pre-kindergarten to secondary level. On top of that, residents can have their pick from various government schools nearby namely such SJK (C) Choong Wen, Sri Sentosa High School, SRJK (C) Yoke Nam, SMK Katolik, SMK Assunta and SJKT Saraswathy.
Also situated in the area is the Megatech International College which specialises in producing electronic and electrical engineering graduates.
Most importantly, OKR is the midpoint for travelling to many places within Kuala Lumpur and Selangor. Located strategically between Petaling Jaya and KLCC, OKR is serviced by the East-West Link Expressway, Federal Highway, New Pantai Expressway, Shah Alam Expressway (KESAS), Damansara – Puchong Expressway (LDP) and Jalan Puchong.
Even though there are numerous developments along OKR, the "oversupply" situation is not on the cards as continuous demand will come from the surrounding mature neighbourhoods such as Petaling Jaya, Subang, Puchong, Bangsar, Cheras and even the KL City Centre.
"Even though there are numerous developments along OKR, the "oversupply" situation is not on the cards as continuous demand will flow in from the surrounding mature neighbourhoods such as Petaling Jaya, Subang, Puchong, Bangsar, Cheras and even the KL City Centre."
Surrounding area's growth prospects
The proposed KL Monorail line extension from KL Sentral to Bandar Sunway will cut through the Old Klang Road, and this will create a good potential for capital appreciation and higher rental yield for properties within the OKR vicinity and its neighbouring residential districts.
A few developments which will be banking on the transportation infrastructure boom factor are:
9 Seputeh by MRCB
This mixed development will be adjacent to the "River of Life" Project, an initiative under the National Transformation Programme to revitalise the Klang River's landscape. MRCB has planned beautification projects to rejuvenate and transform the scenery of the river by integrating promenades and boardwalks, in a sense, preserving the green lung of the area.
Connectivity in 9 Seputeh will also be greatly enhanced, as MRCB intends to build a dedicated link bridge to the NPE highway, as well as a dedicated covered link bridge to the proposed monorail station that is to be located along Old Klang Road.
Pantai Sentral Park By IJM Land
The future MRT Circle Line will form an interchange with the Universiti LRT station located roughly 7 minutes away from the development. Boasting the concept – KL's One & Only Urban Forest City, Pantai Sentral Park merges seamlessly with a 200-acre forest park. The mixed development includes commercial parcels and low-density residential units, where the launched Inwood Residences and Secoya Residences have been very wellreceived with the former being fully sold out within a few weeks.
KL Eco City by S P Setia
KL Eco City is the first integrated mixed-use commercial and residential development designed for Gold certification under the Malaysian Green Building Index (GBI). The development will be connected to the Mid Valley Megamall via a pedestrian bridge, thus providing direct linkages to the KTM station there, which is just one stop away from KL Sentral. Spread across 24.4 acres leasehold land, its components include residential, corporate offices, a retail podium as well as clusters of boutique offices.
Developers' viewpoint
Old Klang Road(MRCB Land)
Back in 1908, Old Klang Road (OKR) was the only route that connects KL to Port Klang. Today, the narrow old trunk road has been transformed into a six-lane major road surrounded by matured neighbourhoods. The OKR that we know today has turned in a prime location, bundled with both old and new amenities and facilities.
Our experience in transforming the old marshalling yard in Brickfields into the self-sustainable city of KL Sentral, coupled with our expertise in developing master plans and Transit Oriented Developments, has helped us identify the potential in OKR. So, when we found this sizeable piece of land that spanned across 17.5 acres of area, we knew that we've struck gold as land is scarce along OKR.
Some of the biggest strengths of this location is its proximity to Mid Valley City (1km), its ease of access as it sits right next to the New Pantai Expressway (NPE) and its one-sided river front view. We conducted a thorough planning and study to replicate the success of KL Sentral and 9 Seputeh's transformation.
Despite being a century old, OKR still maintains its charm and appeal to many. It holds so much of nostalgia to those who were brought up here or still have their parents or grandparents living here, especially the Chinese families who first established businesses in the area. As the neighbourhood matured and the families expanded, the need for new businesses and homes grew to accommodate the growing population. Amenities and facilities such as schools, supermarkets, coffee shops, eateries, convenient stores and clinics are abundant here which is why it is still a favourite haunt among the younger generation.This has led to a shift in trends – hip new cafes and famous F&B chains started mushrooming, while famous food stalls expanded into clean and comfortable restaurants – to serve the needs of the younger demographic.
In addition, the upgrades in the connectivity over the years i.e direct bridges and interchanges such as KESAS, NPE, East West Link and Federal Highways has attracted new population into the area. As the developer of 9 Seputeh, we will further enhance the connectivity to NPE by building a bridge that will directly link NPE to Old Klang Road. All the more reasons why home buyers and investors should have OKR on their radar.
Seputeh (S P Setia Berhad)
Seputeh perfectly encapsulates the 'best of both worlds' concept; despite being situated within the city centre, the residential neighbourhood offers a rare luxury for an urban setting – serenity and tranquillity as it sits on the elevated ground and is cradled by lush greeneries. This 'hidden' housing enclave sits smack in the middle of the KL Sentral-Bangsar-Midvalley triangle. Only its residents know that you can actually walk to Mid Valley Megamall, which is situated just 500m away.
Whereas Bangsar and KL Sentral are within a 10-minute drive, providing easy access to commercial and retail centres, office districts, medical facilities and public transportation, among others. Potential home buyers of our Setia Sky Seputeh project who have done their research shared with us how amazed they are with Seputeh's offerings – its strategic location enables for the complete urban life experience while making it ever so easy to come back home to Seputeh and escape the hustle and bustle of the city.
Bangsar South (Bon Estates Sdn Bhd)
Wedged between the 2 thriving townships of KL and PJ, Bangsar South is a hotbed of commercial activities and there are plenty of job opportunities.
Also, Bangsar has always had a strong appeal as a residential address; it is an established area for upmarket properties and has consistently attracted the expatriate crowd. The extension into South Bangsar has boosted the overall commercial lure of the vicinity.
Thanks to its MSC status, various corporate giants have come into the area to set up shop; Bangsar South is now home to 22 MNC rated office towers. In addition, there are various lifestyle and shopping amenities such as Nexus South, KL Gateway Mall, a convention centre and VE Hotel, a 4-star establishment.
Bangsar South's rise as a commercial business district has contributed to the demand for quality housing. Bon Estates decided to build our flagship project here after hosting an extensive research to understand the housing supply and demand demographic in the area. We determined the sweet spot for highly- sought after residential development, i.e. homes with sizes from 2,346 sq ft, featuring a minimum of 4 bedrooms. Most larger units are owner occupied, hence they tend to have a stable, sustainable appreciation over time.
Currently, properties in the area are transacting in the range of RM850-RM1,200 per sq ft. The closest product in terms of similarity of size offerings is the Park Residences, which is about 8 years old now. Recent sales of its units topped RM820 per sq ft and rental yields averaged at roughly 4.5%; a promising figure indeed given the lacklustre economic backdrop.
Disclaimer: The information is provided for general information only. iProperty.com Malaysia Sdn Bhd makes no representations or warranties in relation to the information, including but not limited to any representation or warranty as to the fitness for any particular purpose of the information to the fullest extent permitted by law. While every effort has been made to ensure that the information provided in this article is accurate, reliable, and complete as of the time of writing, the information provided in this article should not be relied upon to make any financial, investment, real estate or legal decisions. Additionally, the information should not substitute advice from a trained professional who can take into account your personal facts and circumstances, and we accept no liability if you use the information to form decisions.