If you don't have a good organising system in place, it's likely your wardrobe is an overwhelming mess that sucks up your clothes and accessories making it hard to choose outfits, find items and even consider de-cluttering the space.
Here, a range of professionals – from interior designers to fashion types – share their top wardrobe organising tips for a clean, well-organised wardrobe. In other words, you too can have a space that's easy to maintain and enjoyable to select outfits from.
1. Personalise your solutions
"I work with a lot of clients on designing new wardrobes, the biggest consideration in this is how do they like to use the space. For example, if they like to 'fold' jeans, or like myself, do they prefer to hang them. If hanging is their thing then more 'half-height' hanging space is best. Shoes are also a big challenge when trying to fit everything into your wardrobe, I personally like to store my shoes in clear plastic shoe containers as they are stackable. This means I can see which shoes are in which box and it protects them from scuffing each other."
– Greta Unkuri, interior designer at GU Interiors
An organised wardrobe space helps to create an organised mind. (picture: realestate.com.au/buy)
2. Create order
"Store your most-used items at eye level and use the same hangers throughout for a clean look that will help you stay organised. Remember to face hangers the same way, colour code or item-store your clothes to make everything easier to find."
– Christie Turvey, founder of Neue Blvd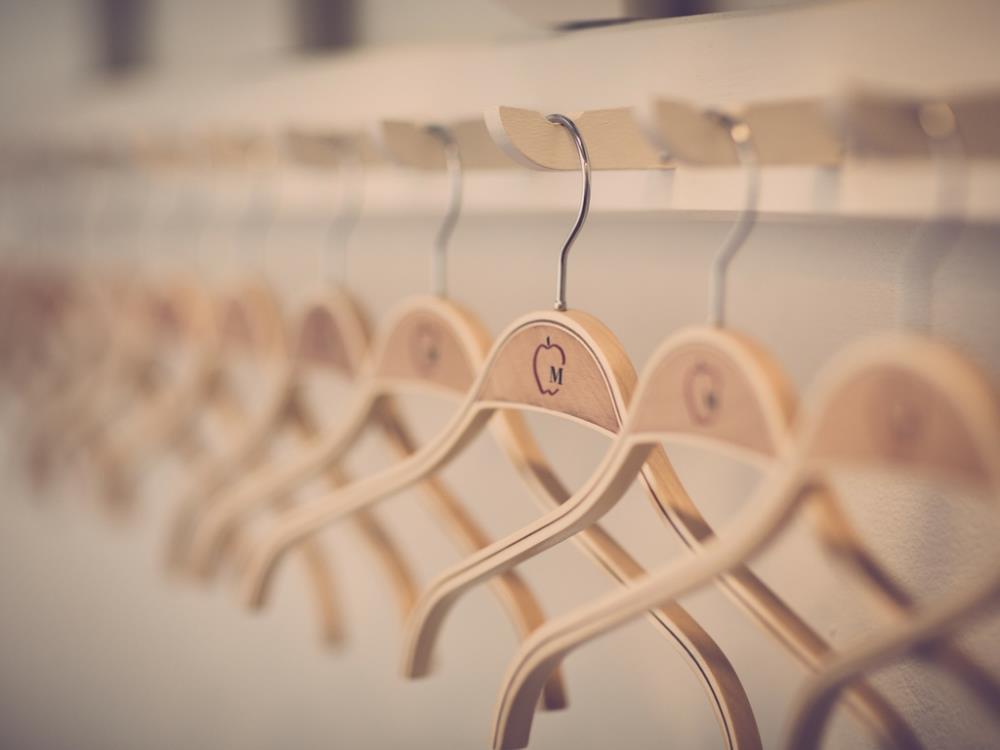 Use the same hangers throughout for a clean look that will help you stay organised. (picture: www.pexels.com)
3. Consider wardrobe lifts
"Wardrobe lifts are great for high ceilings, limited storage or short clients. They allow you to use the full height of a room or robe for hanging space. Operable either by pulling manually on a rod or a motorised device, the rail moves down to your level making higher hanging cloths easily reachable. Utilising more space for hanging means your clothes are less crowded, which keeps them in better condition by reducing creasing and increasing ventilation".
– Kate Connors, designer and owner at Kate Connors Interiors
4. Use Pliio
Pliio, or folding filers, are your drawer solutions for life! Rather than folding T-shirts, tanks and sweaters top to bottom in a drawer, use a folding filer and organise these items from front to back in a drawer, so that every item is visible at first glance.
– Lisa Adams, designer and CEO at LA Closet Design
Use a folding filer rather than folding T-shirts, tanks and sweaters top to bottom in a drawer. (picture: supplied)
5. Use the one-year rule
"If you haven't worn it in a year, get rid of it. No matter what it is or how expensive it was, the chances are you will never wear it again."
– Leeann Edelmuth, owner and buyer at Marshmellow Boutique
6. Style your space
"An organised space helps to create an organised mind, so it's worth putting in the energy creating a nice space to store your daily essentials. Keep the wall tones similar to the bedroom, consider using luxe wallpaper or colour on the walls and invest in nice coat hangers. Storage baskets are also fantastic and will look nice if matching. If you can customise drawers either in joinery or even a stand-alone chest to store away small items, your zone will always look more organised. Try hanging clothes in colour blocks and store shoes socks and ties – any small messy-looking items – away in baskets or cupboards. If space allows, a central ottoman is great to sit on whilst putting on shoes and can also double as additional storage space."
– Justine Wilson, director and principal stylist at Vault Interiors
Storage baskets are fantastic and will look nice if matching. (picture: supplied)
7. Ensure adequate lighting
"In order to be able to see all of your items and keep things in good order, you need good lighting! Lighting is key to making your wardrobe more glam and grand yet practical, too."
– Christie Turvey, founder of Neue Blvd
8. Hang scarves
"A scarf rod is a design element that I would incorporate into my luxury closets; thus, it qualifies as one of my favorite wardrobe organising ideas. Use a towel bar as your scarf rod! I encourage my clients to hang their scarves as opposed to folding and piling them into drawers, so they are visible and apt to be worn."
– Lisa Adams, designer and CEO at LA Closet Design
Use a towel bar as your scarf rod. (picture: supplied)
9. Use non-slip hangers
"Go out and buy yourself black velvet hangers. They're an amazing space saver and your clothes won't fall off the hangers when you're looking for something to wear – my pet hates it when I'm in a rush to get dressed."
– Leeann Edelmuth, owner and buyer at Marshmellow Boutique
This article was sourced from realestate.com.au
Featured image: stocksnap.io