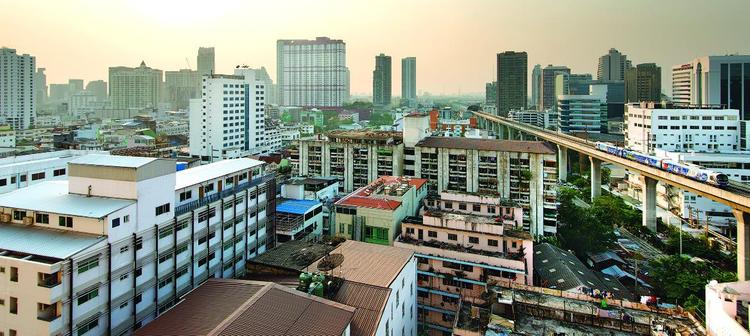 There is no denying that the mushrooming of residential strata developments within the affordable range in the city centre is good news for young working adults and aspiring homeowners. Given some Malaysians' lackadaisical attitude over maintenance, however, one has to wonder could these condominiums/ apartments possibly turn into urban slums?
A KL migrant myself and having being a tenant here for the past 3 years, I welcome the many residential options available within the Klang Valley. Nevertheless, I cannot help but note a worrying trend – many mid-cost condominium units in my area are quick to lose their shine in the following few years upon completion. Though it is nowhere near as dire as the Indian shanty towns depicted in the Hollywood blockbuster, Slumdog Millionaire; these strata developments are slowly taking a turn for the worse.
My concern is not an isolated one. During the recent REHDA Property Forum 2017, an industry expert highlighted a similar issue – the emergence of slums in Malaysian urban areas is real and a trend which could escalate further if we are not careful.
An urban renter's concerns
The condominium unit in which I am renting – a 170 sq ft room with a monthly rental of RM800 is a prime example. Here I am paying good money for a residential unit that is located in between a 4-star hotel and a private hospital, there's an LRT and monorail station within a 400m distance and KL Sentral is a mere 10-minute drive away.
Nevertheless, though completed a mere 4 years ago, the condominium's elevators are constantly out of service, the gymnasium has a grungy feel to it and the sauna and steam rooms have been out of service for the past 2 years! Furthermore, when it rains heavily, the water level can reach ankle-deep in the parking lots and the corridor lights on half the floors are not working.
The building has not been repainted and can be described as weary. I have also observed that the number of local tenants has dwindled considerably and the surrounding area has developed a somewhat ghetto vibe. Even worse, I no longer feel comfortable and safe in my own residence. It has gotten to a point where I have to frequent the gym at odd hours to avoid being harassed by shady foreign tenants.
Why is this happening? – An expert's insight
Siva Shanker, Axis REIT Managers Bhd Head of Investments and Malaysian Institute of Estate Agents Immediate Past President says that the slum effect that we are seeing in many strata developments at the moment is a knock-on effect of the rampant speculation during the 2010-2013 period.
"Those years when the Developers Interest Bearing Scheme (DIBS) was allowed, coupled with promises from 'property gurus' on how investors could make money out of thin air from 'no money down' properties, fuelled a spike in demand for properties that people neither could afford nor needed," explained Siva.
This 'artificial' demand encouraged developers to build more properties in 'hot' areas, which were quickly snapped up. These investors are now struggling to make their monthly repayments as it is tough to secure tenants in a slowing economy.
Desperate times call for desperate measures, hence a growing number of property owners are getting more desperate to rent out their properties in order to avoid foreclosure, Siva laments.
"This has resulted in properties being rented out to less than savoury characters or renters with no proper credentials and background and even cramming up to 10 tenants into an apartment unit. Sometimes, these tenants tend to be foreign workers, who bring with them their less than satisfactory standards when it comes to matters such as cleanliness and public manners," he said.
Furthermore, due to overcrowding, common facilities such as elevators, swimming pools, sports facilities, etc will be subjected to heavy wear and tear, and thus are often not accessible to other owners. There are also issues of general cleanliness, public safety, inadequate fire safety measure and overall security in such projects.
Siva shared, "Speculators are not the only one to be blamed, current genuine home buyers seem to bite off more than they can chew too. Gen Ys especially are attracted to lifestyle properties which offer a slew of facilities and services. Most of these are serviced apartments which many do not realise are actually commercial titled properties. Thus, residents will have to pay commercial rates for utilities such as water and electricity as well as for quit rent and other taxes. With this 'unexpected' cost, what makes you think that these owners will keep up with their service charges?"
It is another blow to your wallet when you factor in all the fancy facilities. The property's selling price might have been within the affordable range, but your Japanese koi pond, Rock Garden, Sky Gym etc call for considerable upkeep which translates to high monthly maintenance fees. It is no wonder that many strata management committees face a high number of service charge defaulters. The consequence – your building will be under-maintained and will appear rundown in a few years, added Siva.
Lackadaisical attitude is a problem
Sarkunan Subramaniam, Managing Director of Knight Frank Malaysia believes that a core factor for strata slums is the apathetic mentality when it comes to property management. "Malaysians seem to think that only high-end residences and commercial properties call for high property management standards," laments Sarkunan.
There is no emphasis on hiring qualified property managers for the maintenance of mid-cost and low-cost strata developments. Strata property management is always outsourced to 'budget' managers who do not have valuable hands-on experience and the necessary technical knowledge related to building management.
Also, property management is almost always not taken into consideration during the planning stages of development for most projects in Malaysia. Instead, the emphasis is on cutting costs as well as location and aesthetics of the building that can attract buyers.
That is why after a few years, various problems such as building defects, facilities disrepair and higher consumption of utilities crops up. "Seeing all these problems, residents will not want to pay their service charges even more, further compounding the maintenance problem," explained Sarkunan.
Besides that, lax development policies and regulations could further worsen the urban slum threat among low-cost developments in the Klang Valley. For instance, the lowcost People's Housing Programme (PPR) flats have been abused by unresponsible parties for many years now.
According to Sarkunan, these homes are being sold by recalcitrant individuals in certain political parties to their friends and family who in turn rent out these units to foreigners. There is no central agency or local council body who is overseeing the sale of these residential units.
Also, the lack of enforcement means that most tenants can get away with not paying rent, let alone management fees. This unchecked behaviour has led to most of the PPR flats turning into ghetto areas – most of the developments are riddled with horrible living conditions as well as vandalism and social issues. "Not only will real estate values of surrounding properties become depressed, but these areas will be prone to crime and gangsterism too, further negating the quality of life in the neighbourhood," cautioned Sarkunan.
Need for an overhaul in mindset
Many would have heard of the broken windows theory but most do not grasp what it actually means. It states that tolerance of small acts of disorder creates an environment that leads to rising amounts of serious crime. Siva says that the same concept applies to curb the deterioration of strata developments in urban areas.
Citing an example, he said," There is a law that only registered real estate agents are allowed to sell properties but illegal brokerage is still rampant in the country as enforcement is far from satisfactory. To date, no offender has been successfully prosecuted for this offence."
"We must make a concerted effort to overhaul our nonchalant attitude for all rules and regulations relating to the property industry. Only then, will the public take strata living and their responsibilities as a landlord, tenant or homeowner seriously," recommends Siva.
Disclaimer: The information is provided for general information only. iProperty.com Malaysia Sdn Bhd makes no representations or warranties in relation to the information, including but not limited to any representation or warranty as to the fitness for any particular purpose of the information to the fullest extent permitted by law. While every effort has been made to ensure that the information provided in this article is accurate, reliable, and complete as of the time of writing, the information provided in this article should not be relied upon to make any financial, investment, real estate or legal decisions. Additionally, the information should not substitute advice from a trained professional who can take into account your personal facts and circumstances, and we accept no liability if you use the information to form decisions.