Interested to know more about the different types of traditional houses in Malaysia and what makes them so unique? Start here.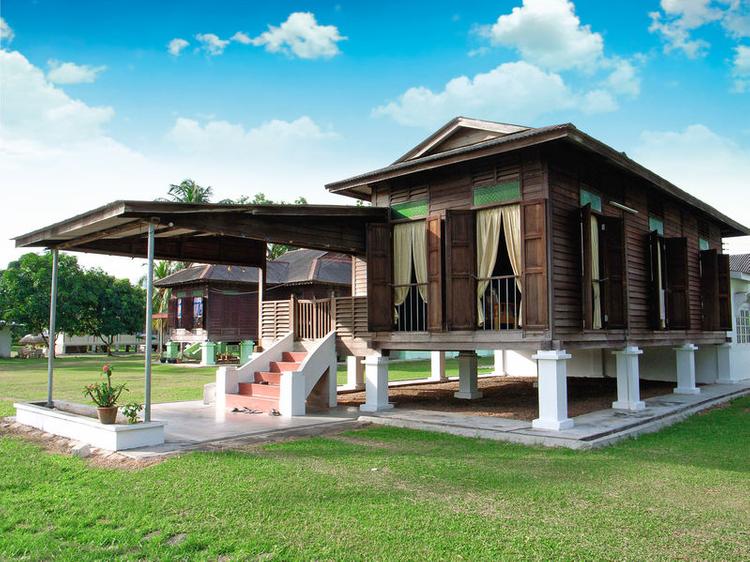 Read the BM version here. 
Malaysia, like a lot of culturally rich countries in the world, is a hotbed of culinary surprises, beautiful art forms and yes, architecture. Malaysian architecture draws from influences around the region like colonial and Islamic designs and Asian touches to create something that is uniquely its own.
In time for Merdeka this year, we thought it would be a great time to visit the different types of traditional houses here in Malaysia and how they contribute to making Malaysian traditional architecture such a thing of beauty.
SEE WHAT OTHERS ARE READING:
? See how this interior designer transforms her home into a beautiful living space.
? Here are the top interior design trends of 2021.
1. The Malay Kampung house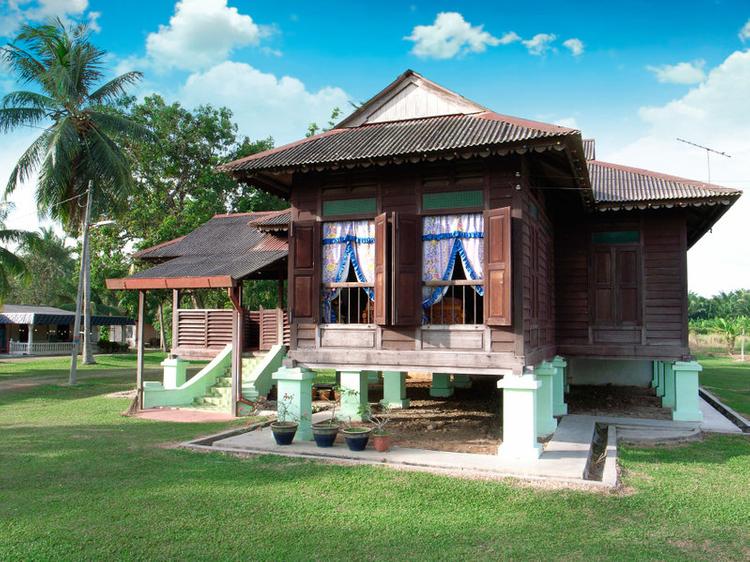 Traditional Malay kampung houses or 'rumah kampung' were constructed by the indigenous ethnic Malay people in Sumatra, Borneo, and the Malay Peninsula. These houses not only represent a home but were designed to reflect strong community aspects such as opening your home up to others and living in harmony with nature.
In its classic iteration, the Malay house is a structure raised on stilts high above the ground with thatched roofs and wooden walls. The size and sophistication of the home were synonymous with the size and wealth of the family. This tropical house design was constructed this way to protect families from wild animals, floods, and to increase ventilation. The house layout usually has partitioned rooms, stairs at the front of the house and a vernacular roof. The most distinctive feature of the Malay House is the wood carving designs that adorn the home, based on Malay motifs.
The design and architectural inspiration of Malay houses can differ between different states here in Malaysia. We've picked 5 unique types that you should know.
Read more: 5 most popular roofing for Malaysian homes
What is the difference between Malay houses built in the past and now?
Traditional Malay houses were built without using modern architectural materials and construction methods, but these structures require significant maintenance compared to modern buildings. Malaysia's tropical weather and the presence of termites can be challenging for the wood-based Malay house.
As such, modern Malay houses started incorporating more modern house design elements to ensure they are easier to maintain over time. This includes using cement blocks to fortify the foundation and certain sections of the house, plus the use of nails and screws to tighten certain key joints so that they are more durable in the long term.
a. Rumah Bumbung Panjang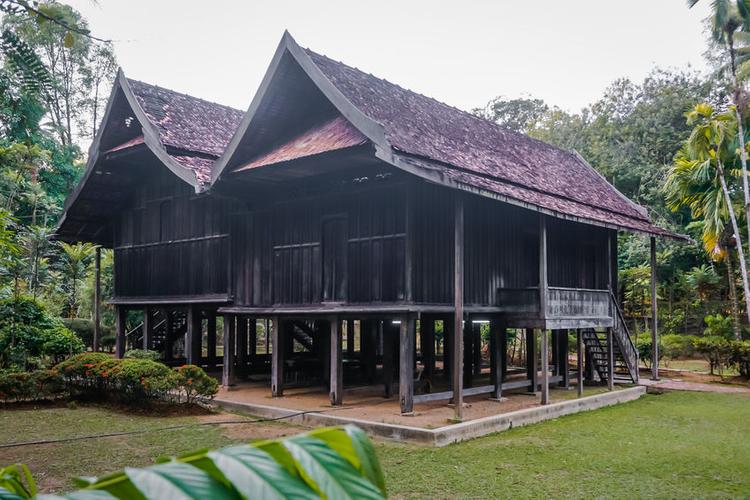 'Rumah Bumbung Panjang', translated to "house with long roofs", can be considered one of the original iterations of the Malay house. This Malay house style predates even the arrival of the Dutch to these shores. These houses are characterised by the tall and long slopes that the roof is shaped in.
b. Rumah Negeri Sembilan
It's clear where this style originated from. The Rumah Negeri Sembilan style is considered one of the more unique designs for Malay houses. The main feature of this Malay house type is the curved shape of the roof design which bears a strong resemblance to the Rumah Minangkabau. This is due to the ancestral history of the Malay people in Negeri Sembilan, many of whom migrated from Sumatra. The Rumah Negeri Sembilan also features elaborate woodcarvings on doors and window.
c. Rumah Perabung Lima
Rumah Perabung Lima got its name due to its distinct roof design that resembles a five-sided pyramid. The design borrows a lot from 'Belanda' (Dutch) house architecture style. This style of Malay house can be found more commonly in states such as Kelantan, Terengganu and Perak and this design style was favoured by royal families for their palaces in those parts of Malaysia. A good example of this is the Istana Kenangan in Kuala Kangsar.
d. Rumah Limas
Rumah Limas, or sometimes known as Rumah Potong Belanda is predominantly found in Johor, where it is also known as Rumah Muar. Malay houses built using this style uses stone piers instead of wooden stilts and features a Dutch-style roof that resembles a pyramid. This roof style is commonly used in government buildings and famous landmarks in Malaysia, most notably Muzium Negara.
e. Rumah Kutai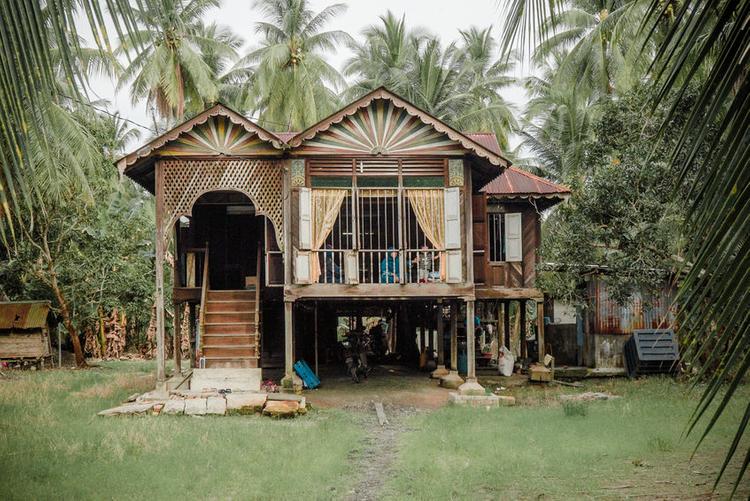 Rumah Kutai is also known as Rumah Tua ('Kutai means 'old' in the local Perakian dialect. This style of Malay house is mostly found in Perak, specifically near Kuala Kangsar where the royal family was located. That is why this luxurious style is characterised by the elaborate and complex carvings on the door, porch, awnings, and windows.
These are just some of the types of Malay house designs you can find across Malaysia but there are plenty more, each of them influenced by its own unique history. Malay or 'kampong' houses are a testament of a rich architectural heritage here in this country and we should not allow it to fade away with modernisation.
2. Pre-war Shophouses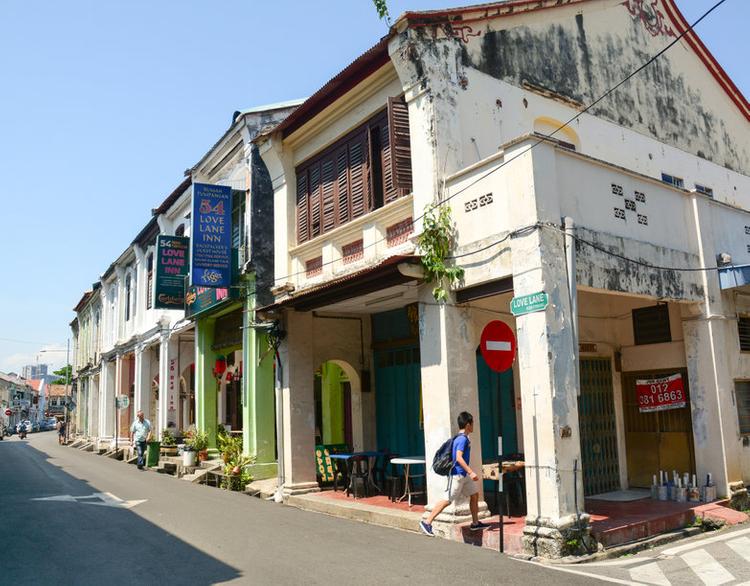 Pre-war shophouses can still be seen in many parts of larger urban cities in Malaysia such as Kuala Lumpur, specifically in Jalan Pudu, Jalan Tuanku Abdul Rahman, Jalan Ipoh and more; but they can also be seen in smaller towns such as Malacca and Penang.
Built from the 19th to 20th century, shop houses or 'Rumah Kedai' were built for shared use of space with commercial businesses occupying the ground floor while multi-generational living spaces on the upper floors. Over the last 200 years, these shophouses have started including features that are a reflection of the multi-cultural society, with Chinese, Malay and even British colonial influences being incorporated.
They were originally built with wood and 'atap' but after several fires and storms in the early 1880s, the then British Resident of Selangor, Frank Swettenham, required that all buildings be built from brick and tile.
In recent years, businesses such as cafes and offices have started seeing the charm and value in converting these pre-war shophouses into modern spaces to suit contemporary lifestyles but at the same time preserving the architectural history of the area.
3. The longhouse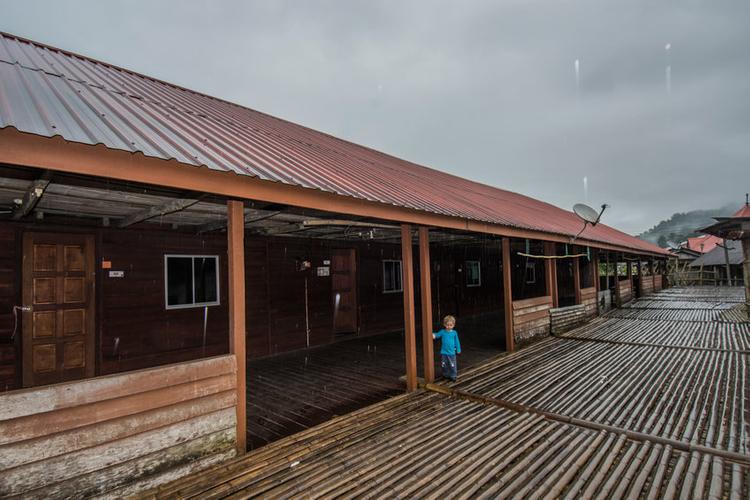 The longhouse or 'rumah panjang' remains an important communal symbol for the indigenous tribes in Sabah and Sarawak.
The element that distinguishes the longhouse has less to do with its architectural merits and more to do with how life was built around it in older times. Longhouses have been known to house hundreds of individual families under a single roof. There is always a unifying veranda where these families will commune and spend time socialising with one another.
Originally built with bamboo and wood, the longhouses have over the years started incorporating more modern furnishings and materials such as brick and mortar so that they last longer.
4. Bajau Laut Sea Home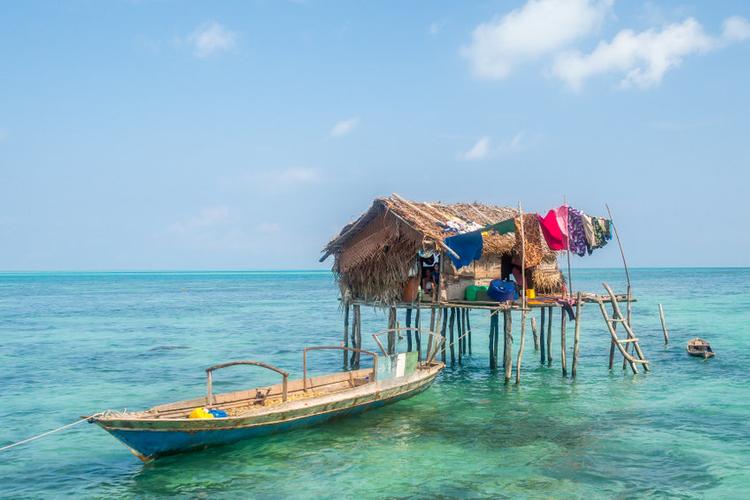 The Bajau or sea gipsy community that resides in the coastal regions around Sabah have existed mostly at the fringes of the sea for centuries. Traditionally, the Bajau are known to live on seaboats known as 'Lepa'.
These days, the Bajau has abandoned their exclusive sea-living so that they can build their home (Bajau homes) on stilts out in the sea and even on land on rare occasions. Some of these houses on stilts are built a little far from the shore and can only be accessed by boats. The Bajau community have been known to be 'landsick', preferring to spend most of their time at sea.
The layout of Bajau homes varies depending on the usage of the home. Some are built intentionally for the raising of children while others are built to reflect other practical uses such as basic shelter and economic activities. The materials used to build these houses are based on wood materials that can be found in the surrounding area of the village.
5. Colonial homes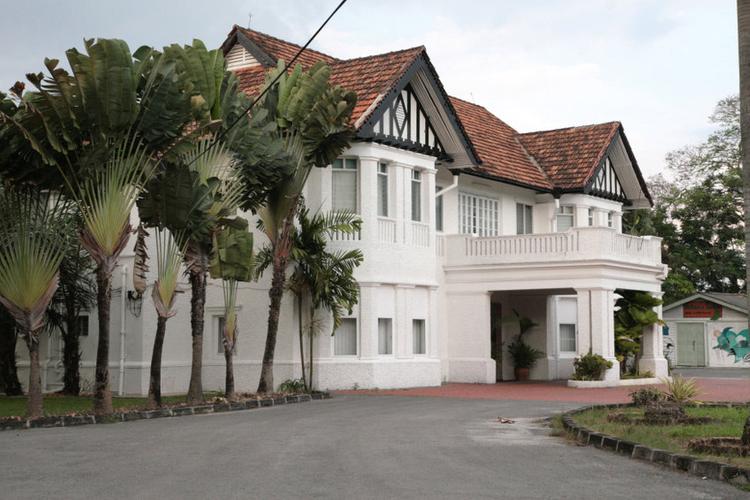 The colonial homes are remnants of the British's colonisation of Malaya. During those times, the British would establish living stations across the cooler climate highlands in this country. These were mostly built as holiday retreats for them to escape the heat and be reminded of their homes back in England.
This is why colonial architecture can be seen more prominently in hill stations such as Bukit Fraser, Cameron Highlands or even Bukit Bendera (Penang Hill). Colonial buildings that you can find there include majestic bungalows and quaint cottages reminiscent of houses in England or Scotland.
These days, most colonial homes have been transformed into hotel accommodations. Offering you a chance to sample what it was like to live in a completely different time.
6. Peranakan house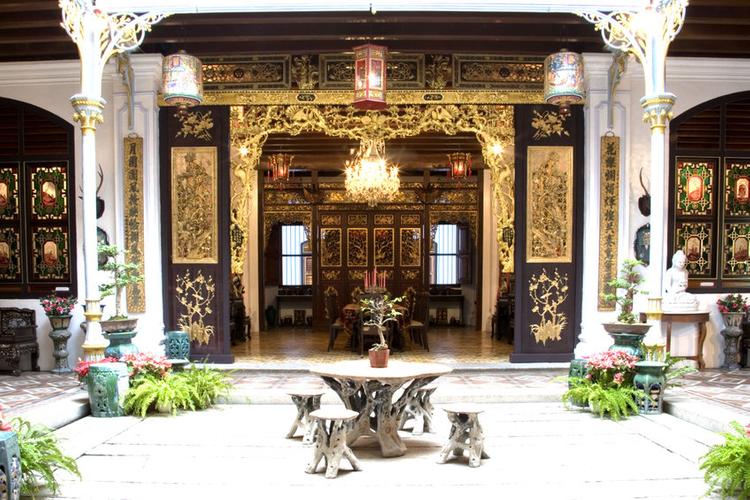 One of the most colourful and eclectic styles of traditional houses is probably the Peranakan house. This is mainly due to the strong blend of two distinct cultures – Chinese and Malay. These houses were built by wealthy Baba-Nyonya communities in Malacca and Penang.
The style incorporates architectural influences from both cultures, such as a large indoor courtyard, which is a distinct feature for Chinese-style homes, carved wooden panels that are reminiscent of the Malay kampung houses and even the colourful English-style tiles are a nod to colonial influences.
It's truly important that Malaysia starts recognising its rich architectural heritage and do absolutely what it can to preserve these important pieces of history. These homes and architectural designs give us huge clues and notes about what life was like back then here in this country and how it has evolved over the years.
To also celebrate our nation, we are also showcasing our Great Property Deals. Don't miss out on exciting homes across Malaysia now. Click the link: https://bit.ly/3iPAhKe
TOP ARTICLES JUST FOR YOU:
?️ What other furniture brands available besides IKEA? Here's a list of them.
✨ No time for house chores? Just hire a house cleaning service to help you with your housework.
?? If you're into vintage furniture, then check out these secondhand furniture shops in Malaysia.
Disclaimer: The information is provided for general information only. iProperty.com Malaysia Sdn Bhd makes no representations or warranties in relation to the information, including but not limited to any representation or warranty as to the fitness for any particular purpose of the information to the fullest extent permitted by law. While every effort has been made to ensure that the information provided in this article is accurate, reliable, and complete as of the time of writing, the information provided in this article should not be relied upon to make any financial, investment, real estate or legal decisions. Additionally, the information should not substitute advice from a trained professional who can take into account your personal facts and circumstances, and we accept no liability if you use the information to form decisions.