No space? No problem. Just follow our simple tips and tricks to sneak in more storage space into your home.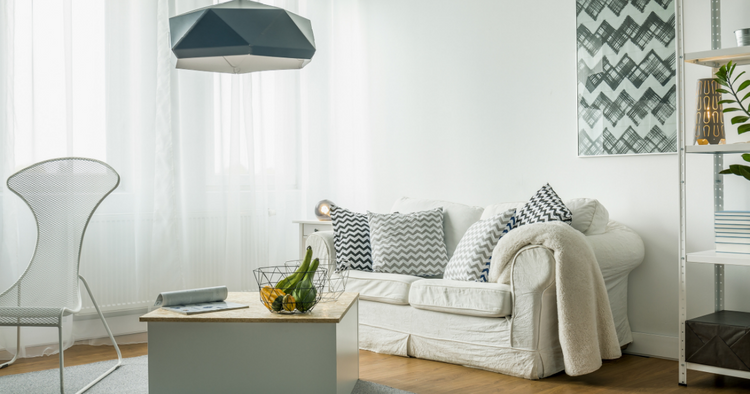 This article was updated on 24 September 2020. 
The idea of a tiny house with that minimal lifestyle is on the rise. Just do a quick google search and you'll find a gazillion articles and blogs of people promoting the "tiny house movement" — a social movement that promotes simple living in small homes. Even Netflix is in on it, just check out the show Tiny House Nation! While the concept of 'less is more' brings an abundance of benefits like reducing one's carbon footprint, having fewer house chores to do, getting cheaper rates for renovation and decoration, and conserving energy — it does pose a significant problem: Storage space.
When you're living in a small home where living space is limited, it can be frustrating to find storage area. Fret not, no matter how small your house or your room is, there are ways to sneak in extra shelves or baskets in places you wouldn't otherwise consider! Think open corners and floating shelves.
Follow our comprehensive guide to adding more storage space into your home without any renovation.
1. Add a floating shelf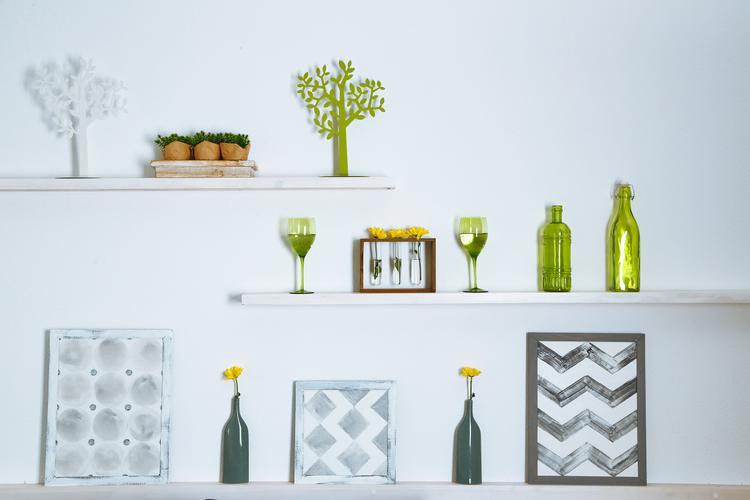 The last thing you want in a small room is clutter. Not only does it diminish the size of your living space significantly, but not having a proper place for each and every one of your items might stress you out too. The strategy here is to provide a small but effective way to stow away your essentials, and you can do this by installing a rectangular shelf unit for open storage. And this method works wonders because this shelf unit looks great in every part of the house and it helps free up your coffee table too! If you have indoor plants, it's also a great way to display them out in the open.
For odd corners that are too small for any furniture to fit, take advantage of these "dead" spaces, install a couple of sleek V-shaped wood panels and voila, a new storage space for you to stash your items.
2. Go for a hanging shelf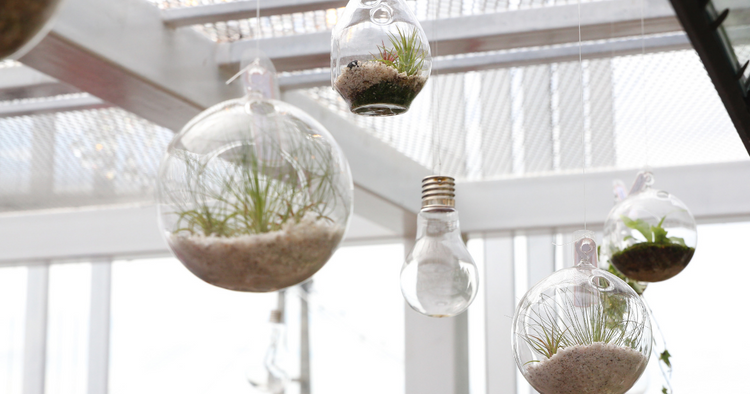 Another creative way to sneak in storage space into your interior design is by introducing hanging shelves at home. Unlike floating shelves that involve installing it against a wall, you can literally place hanging shelves anywhere you want. Not to mention, they free up floor space and allow more legroom for you to roam around without kicking something by accident. Additionally, you can elevate the design by weaving your own macrame shelf. It's cosy, it's creative and most of all, it adds storage!
Follow this step-by-step guide to make your own macrame shelf:
3. Get a desk riser
Convert your regular work desk to something more ergonomic and functional with a desk riser. It helps to elevate your desktop, leaving more storage space to lay out your books, papers, stationeries and important documents in your home office. 
Having a desk riser could potentially improve your posture too! When you sit in front of your computer for long hours, you're likely to hunch or slouch. But with a desk riser, you are forced to sit up straight to look at your screen
Read more: These small kitchens are so stylish, it's easy to forget their size
4. Consider under-bed storage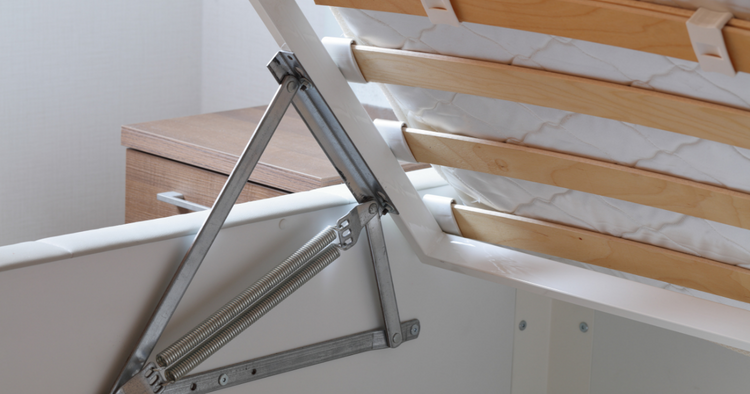 If your bedroom feels cluttered, then it's time to organise it. 
First thing first, are you utilising the space under your bed for storage? If your answer is no, then you've just identified an extra storage space for your home. Instead of throwing everything into the guest bedroom or bedside table, maximise your space by ordering a set of storage baskets and boxes, and tuck it under your bed. Go for the stylish wooden ones if you're willing to splurge.
If you're short on cash, those with plastic or canvas designs are good, too. The key to success is to keep the space neat and tidy so you know where everything is. Stick a plastic label on each of your boxes to help identify its contents.
Alternatively, if you have an old bookshelf at home, upcycle it by lying it on its back. It's short enough to slide under your mattress and it comes with built-in compartments for you to separate your items. How amazing is that?
Your bedroom is designed for comfort, make sure it stays that way.
Looking to add pops of colour to your bedroom, read these tips.
5. Hang a pegboard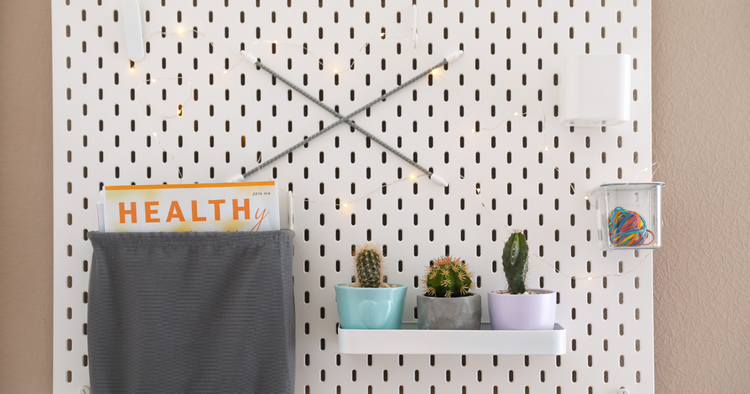 Don't underestimate the effectiveness of a pegboard — yes, the one we see in garages and workshops — for it provides solutions to your storage problem, without occupying any space. With just a few screws, you can put up your pegboards literally anywhere you want to store your stuff.
No place to store your pots and pans? Hang them up on the pegboard. Want to display your accessories instead of keeping them in a box? Put them up for the world (or just your visitors) to see! Besides, it's also easier for you to pick and choose what pieces to go with your outfit in the morning.
Dreamt of owning a Carrie Bradshaw shoe closet but never had the space for it? Simply build a pegboard shoe rack and fix it to the back of your closet door or an empty wall. Now you can exhibit your shoe collection with pride.
Read more: 5 easy ways to increase storage around the home
6. Opt for a magnetic organiser
Free up your precious kitchen counter space and dining table, and occupy your wall space with a magnetic organiser that can hold recipe books, paper towels, spices and lightweight kitchen supplies. You can hang the magnetic plate anywhere you want, but the easiest solution is to fix it to the door of your magnetic fridge. If convenience is what you're seeking, store the items you use for cooking and place it near your cooking station. That way you won't have to walk back and forth to get what you need.
Tip: Don't put anything heavy on the organiser as it can't hold the weight!
For more magnetic organiser ideas, watch the video below:
7. Go for light or neutral paint colour
When it comes to colour, white is always go-to colour for painting a small room. The light hue makes a room feel bigger, creating an illusion of space. Add depth and dimension to the all-white room with patterns and subtle prints and accents.
Read more: 9 dreamy small bedroom ideas
8. Section it
If you're living in a one-bedroom studio apartment, you might want to place a room divider to make your bedroom a little more intimate and cosy. Constructing a wall would be next to impossible, what you can do is to add a curtain or a sliding door to divide the bed and the living space. Spruce up the walls with bold wallpapers to inject characters into the space.
9. Invest in double duty furniture
Multi-purpose furniture will save you tons of money and space in the long run. Thankfully, there are lots of furniture shops that offer double duty furniture items now to cater to apartment dwellers. From dining table to bed, they come in a variety of style and design. Some can even be folded and put away easily to make room to move around.
Want more tips? Check out these decorating tips by top interior designers in Malaysia.
Disclaimer: The information is provided for general information only. iProperty.com Malaysia Sdn Bhd makes no representations or warranties in relation to the information, including but not limited to any representation or warranty as to the fitness for any particular purpose of the information to the fullest extent permitted by law. While every effort has been made to ensure that the information provided in this article is accurate, reliable, and complete as of the time of writing, the information provided in this article should not be relied upon to make any financial, investment, real estate or legal decisions. Additionally, the information should not substitute advice from a trained professional who can take into account your personal facts and circumstances, and we accept no liability if you use the information to form decisions.