*This article was updated on 8 May 2020 – Refer to New Update para on Hire-purchase loans. 
In light of the COVID-19 outbreak, Bank Negara Malaysia  (BNM) has initiated a loan deferment program to give some relief to loan borrowers. We also help you decide what repayment option you should select after the 6 month ends.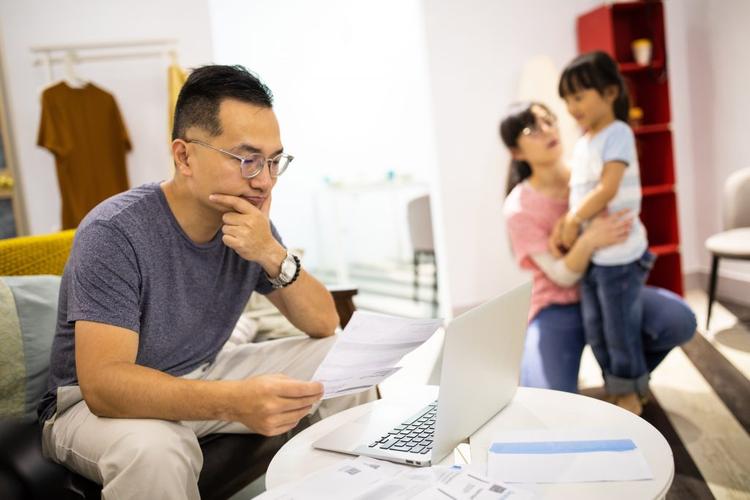 Recently, our Prime Minister Tan Sri Muhyiddin Yassin, announced that individual borrowers and SMEs will enjoy an automatic loan moratorium for six months, starting from 1st April 2020 onwards.  This move is lauded to be in the right direction as many Malaysians are finding themselves out of jobs, put on unpaid leave or given a pay cut; while many SMEs are closing down. This loan holiday especially favourable for those who are in a financial bind due to loss in income. The freed-up money could be used to purchase necessities such as food and household items.
However, the automatic moratorium leaves a lot of confusion and unanswered questions in the air – While the terms may differ from bank-to-bank (and may be updated by banks from time-to-time), we have answered the most asked questions to help you understand the terms of this arrangement better, and what happens after.
New Update as of 6 May 2020 – For Hire-purchase loans (both conventional &  Fixed-rate Islamic financing)  
It is official – Borrowers of Hire Purchase loans (both conventional & Fixed-rate Islamic/shariah-compliant loans) will NOT have to pay any additional interest during the six-month moratorium period. As per the latest announcement from the Ministry of Finance on 6 May,  this would mean that there will not be any changes to the instalment payments after the moratorium period ends and that only the repayment period will be extended for six months.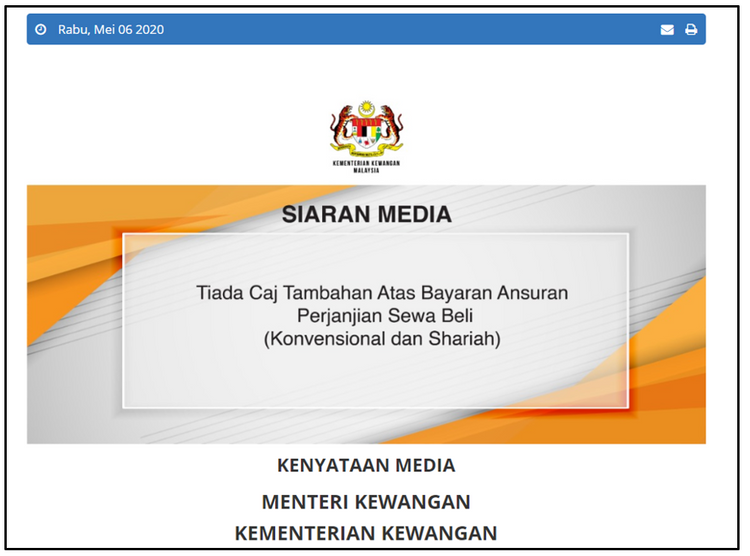 This latest announcement is a reversal of the announcement made by Bank Negara Malaysia (BNM) on April 30, which stated that loan interest for HP and fixed-rate Islamic financing would now be accrued and accumulated during the 6-months moratorium. According to an example calculation provided by Bank Negara Malaysia, the accrued interest will result in a 2% increase in monthly instalment from October 2020 onwards. Fortunately,  for borrowers, this will not take place now.
According to Malaysia's Finance Minister Tengku Datuk Seri Zafrul Abdul Aziz, the Ministry of Finance has acted on the government's call on the banking industry to waive accrued interest charges and MOF have reached an agreement with the banking industry on this matter.
We understand if you are a little bit confused after the whole roller-coaster of events in the past week – please refer to Q6 and Q7 for the latest information.
1. What is an automatic moratorium?
In a nutshell, an automatic moratorium can be referred to as loan deferment; as defined by the dictionary – It is a legal authorisation, usually by a law passed in an emergency, to delay payment of money due, as by a bank or debtor nation.
In this case, one's loan payment – which includes both principal and interest – is deferred for 6 months as per Bank Negara Malaysia's (BNM) announcement. Borrowers need not take any action as it is automatically applied. However, if the borrower prefers to continue paying the loan instalment as usual, they can do so by informing the bank. Do take note that if your loan is already in default for over 3 months, it will not qualify for the deferment.
2. Who is eligible and who can apply?
All Malaysian individuals and SMEs are automatically eligible. It also covers all types of loans – from hire purchase to personal and home loans, and so on. The only exception is credit cards, which are treated differently.
3. What about loans borrowed from licensed money lenders?
To be eligible, it must be a financial institution registered with BNM. Unfortunately, credit companies or licensed money lenders do not fall under this category. 
4. Does this mean that the 6 months are interest-free?
No it does not. It is only a deferment, which means that you WILL still need to pay the accrued interest after the 6-month period. Depending on the bank, there are a few repayment options you can choose from, which we will explore in detail below.
5. Can the moratorium be extended after the 6-month period?
Borrowers who require an extension can apply with their banks, by giving valid reasons on how they are affected by the COVID-19 pandemic, along with verifiable proof, which the banks will ask for. The approval for extension depends on the bank which may take anywhere from 3 days up to 2 weeks – therefore, it will be wise to apply for an extension before the moratorium ends.
6. For Hire purchase loans, how will repayments be calculated and will my 

monthly instalments 

change after the deferment period?
Interest for (Hire Purchase) fixed Islamic loans will remain fixed, as it follows Shariah principles. Meanwhile, interest for conventional hire purchase loans will also not be charged any interest and interest will also not be compounded (further explanation on compounding below). This means that your interest will not be increased, and your monthly instalment amount will remain the same after October 2020. The only difference is your tenure will be extended.
For example, say you have been paying RM1,200 each month for an existing car loan, and your loan is due in December 2021. You will continue to pay RM1,200 from October 2020 onwards until the end of your tenure, which is now June 2022 – having been extended by 6 months.  Other than that, you will not pay any extra interest or additional charges.
It is recommended that borrowers evaluate whether they need to take up the 6-month moratorium or not. Should you be financially capable, it will be prudent to pause the moratorium offer and clear any arrears you might have since April 2020 (Refer to Q9).
Please do call or e-mail your bank if you need more information, or if you need to discuss alternative payment arrangements.
7. It was previously announced that the 6-month payment deferment for Hire Purchase (HP) and fixed-rate Islamic financing is automatic. Has there been a reversal in this decision?
The payment deferment is still automatic for HP and fixed-rate Islamic financing – borrowers do not need to apply for the moratorium. What is required now is an additional step to comply with procedural requirements under the Hire-Purchase Act 1967 (HP Act) and Shariah. This additional step is required to incorporate the changes to the payment schedule and/or amounts as a result of the 6-month payment deferment in the loan financing agreement.
Borrowers only need to complete the documentation required to give legal effect on the moratorium – they will be advised by their respective banks on the next few steps either via text message, email or registered mail. An example of a text message from the bank asking you to confirm whether you would like to proceed with the loan moratorium is shown below: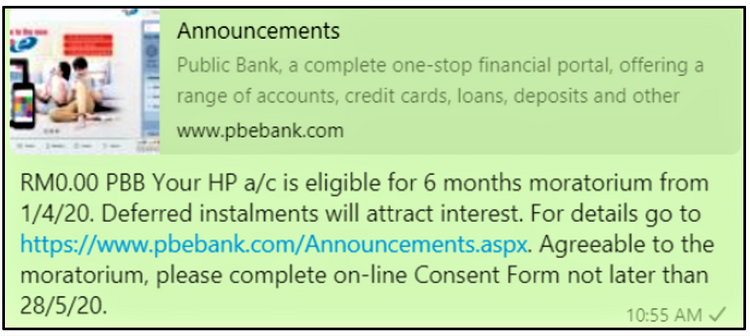 8. I have not made any payment in April since I did not opt-out of the deferment earlier. If I decide to opt-out now, will I be charged any late payment penalty? What will happen to my CCRIS record?
No, banks will not impose any late payment charges on borrowers who decide to opt-out of the deferment now. Your bank will inform you of the timeframe provided to pay off the deferred instalments since 1 April 2020. Your CCRIS record will also not be affected, as long as you settle this amount within the repayment timeframe as notified by your bank.
9. Compounding vs Non-compounding interest – What's the difference?
Now that we've established what an automatic moratorium means, let's move on to another issue that's baffling many borrowers. While both types of interest will increase over time, there is a big difference between the two.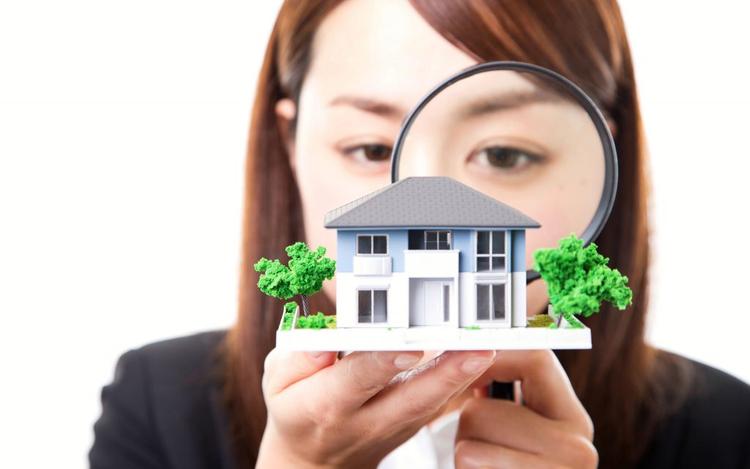 Simply put, non-compounding interest is only paid on loan's principal, while compounding interest is paid on both the principal and all of the previous interest. Usually, conventional home loans adopt a compounding interest while Islamic mortgage products which work on the basis of interest-free loans do not compound interest rates. 
Let's review an example – Here we assume that you have a home loan amount of RM500,000 which has an effective lending rate ( ELR) of 4.5% and that each month has 31 days.
Loan Amount (LA) : RM500,000
Effective Lending Rate (ELR): 4.5%
Interest Charge = (LA x ELR)/365 days x 31 days
Initial Monthly Instalment = (RM500,000 X 4.5%)/365 days X 31 days = RM1,910.95
Loan With Compounding Interest
| | |
| --- | --- |
| MONTH | Interest Charge Accrued (RM) |
| January | RM1,910.95 |
| February | RM1,918.26 |
| March | RM1,925.59 |
| April | RM1,932.95 |
| May | RM1,940.34 |
| June | RM1,947.76 |
Total Interest Accumulated = RM11,575.52
With compounding interest, the bank will add on the interest upon both the principal and previous interest amount. It will be treated as interest upon interest. In this case, it will bring the total interest for 6 months to RM11,575.52.
Loan With No Compounding Interest
| | |
| --- | --- |
| MONTH | Interest Charge Accrued (RM) |
| January | RM1,910.95 |
| February | RM1,910.95 |
| March | RM1,910.95 |
| April | RM1,910.95 |
| May | RM1,910.95 |
| June | RM1,910.95 |
Total Interest Accumulated = RM11,465.70
For non-compounding interest, the charge is constant every month as it is only charged upon the principal amount. Therefore, the total interest for 6 months is RM 11,465.70.
The difference between compounding and non-compounding interest is only RM 114.15. It's not a significant sum for a RM500,000 loan. Additionally, Malaysian banks have also announced that they will not compound interest and profit rates on their loans during the deferment period.
The thing which consumers should take note of is what they should do AFTER the moratorium period ends. Let's look at this below.
CHECK OUT: What happens if commercial & residential tenants are unable to pay rent due to COVID-19?
10. How should you settle your monthly instalments after the deferment period ends? 
NOTE: The options laid out here are for loans with compounding interest. For Islamic loans which forbid the usage of compounding profits, the monthly instalments will remain the same across all repayment options – borrowers will just have to pay off the interest accrued during the 6 month deferment period.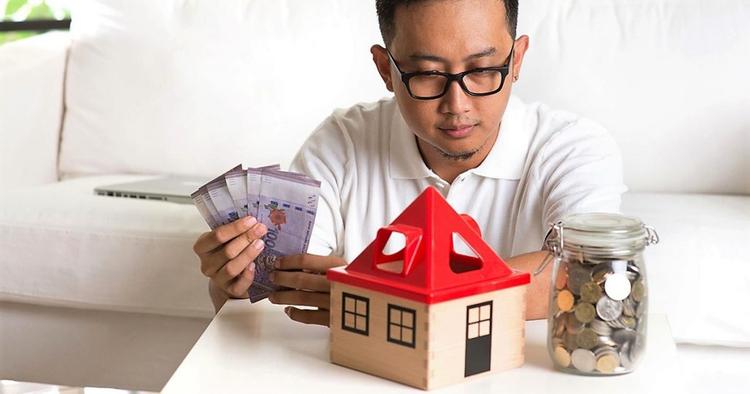 Here are three of the most common options available at most banks, but bear in mind that there may be other additional options available as well:
1. Increase monthly instalment amount from October 2020 onwards
The accumulated interest charge from the 6-month deferment will be spread across the remaining tenure years. Using the example above, the RM11,465.70 will be accrued on your remaining monthly repayments. This would mean a slight increase in your monthly instalment amount moving forwards – however, it would not be very significant.
Here is an example from BNM on what a home loan repayment will look like after the 6 months deferment period, with no extension in the loan tenure: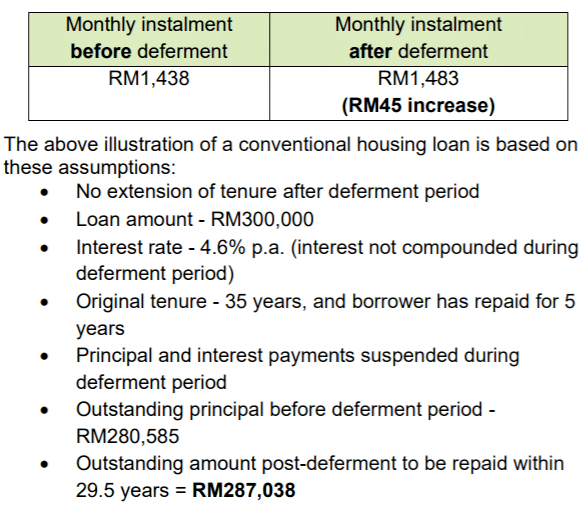 From my perspective, I think many people will opt for this option.
2. Lengthen the number of loan tenure years
If you wish to maintain your monthly instalment amount, there is the option of lengthening the tenure of your home loan instead. However, this is subjective as it depends on many calculation variables based on your individual loan. Please check with your bank- the loan tenure extension might be more than 6 months. If that is the case, this option is no longer attractive as you will end up forking a lot more on interest payments in the long run.
If you have already maximised the loan tenure years (35 years according to BNM), then your bank will pick Option 1 by default for you.  the bank will revert to Option 1. You may write in to the bank for an appeal.
3. Maintain both of the above, and make a lump sum payment to settle the 6-month accrued interest 
For this option, you can maintain your years of tenure and not bear a higher monthly instalment after October 2020.  All you have to do is to pay the accrued instalment in one lump sum in October 2020 on top of your usual monthly repayment.
This might be tough to do as you will have to come up with roughly seven month's worth of monthly repayments in one go.
4. Maintain both of the above, and a portion of principal amount is deferred to last instalment payment
How this works is the bank will adjust your monthly instalment monthly payment from October 2020 onwards by increasing the interest portion of your repayment. As the monthly instalment amount is being retained, the principal amount will be deferred to the last instalment payment at the end of your loan tenure. In other words, on your final instalment payment you will have to pay a higher amount which includes the principal amount owed previously.
11. Can the money deferred under the moratorium be used for investment?
Those who are not in a financial bind might think of leveraging on the loan deferment initiative by using the "freed up" money for investment purposes – although you have to be prudent with the current shaky global economic situation. Most experts predict that we are already on the brink of a recession.
RELATED: How to invest in property in Malaysia? Here's a complete guide for beginners. Tips included!
At the end of the day…
The Bottomline here is that you will need to be prepared to pay for everything you still owe, choosing the option that works best for your financial situation. The recommended options would be (1) and if you can afford to finance your monthly repayments during this difficult time, you can even opt-out of the deferment programme and maintain your current loan package rather than pay unnecessary additional interest in October 2020.
Even with our comprehensive Q&A guide, there are still many questions left unanswered. The best advice would be to check with your bank or read their FAQs. BNM might have given a blanket directive for the loan moratorium, but different banks will have their own set of guidelines.
If you enjoyed this guide, read this next: Is it smart to buy a house during a recession?
Edited by Reena Kaur Bhatt
Disclaimer: The information is provided for general information only. iProperty.com Malaysia Sdn Bhd makes no representations or warranties in relation to the information, including but not limited to any representation or warranty as to the fitness for any particular purpose of the information to the fullest extent permitted by law. While every effort has been made to ensure that the information provided in this article is accurate, reliable, and complete as of the time of writing, the information provided in this article should not be relied upon to make any financial, investment, real estate or legal decisions. Additionally, the information should not substitute advice from a trained professional who can take into account your personal facts and circumstances, and we accept no liability if you use the information to form decisions.