When designing or remodelling your kitchen, it's best to put more thought into your choice of kitchen cabinet design as it can make or break the room's aesthetics, functionality and even your budget! Design aside, the types of kitchen cabinet materials you use is important as well. Whether you're opting for an aluminium kitchen cabinet or a melamine kitchen cabinet, you want to make sure that it will look modern and sophisticated. Here are 9 of the best materials for your kitchen cabinets in Malaysia. 

Kitchen cabinets help to keep your cooking space neat and organised while lending credence to the kitchen style. When deciding on the type of kitchen cabinet material and kitchen cabinet design for your home, it's important to take note of cost, durability, and style because these babies basically anchor the entire room. We've selected seven of the best materials for your home, so you, too, can have a set of modern kitchen cabinet.
Now, let's dive into the different kitchen cabinet ideas:
What material is best for kitchen cabinets? 
1. Melamine kitchen cabinet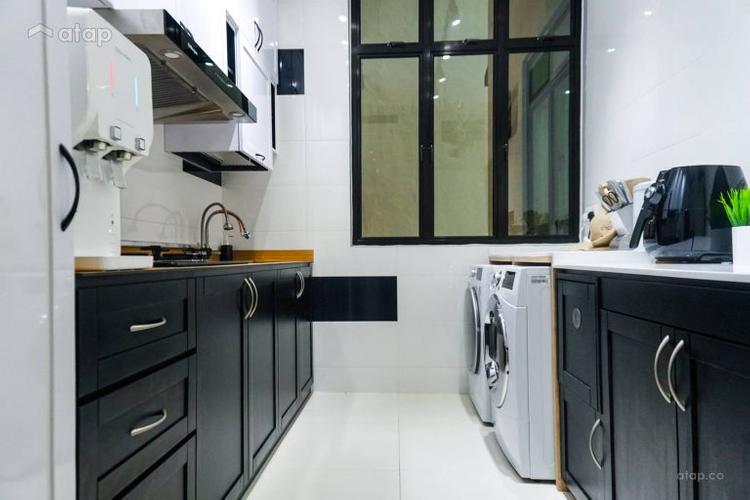 If you're looking for the most affordable option, chipboard with a melamine finish is the way to go. This material is made out of wood chips that have been soaked and bonded by synthetic resin that is later compressed to form boards. This is the material largely used in IKEA kitchen cabinets. The strong solid surface of the melamine kitchen cabinet makes it resistant to scratch, shock, and even fungus but high humidity levels can cause the wood to swell and chip. Our advice is to install the melamine kitchen cabinets in your dry kitchen instead of the wet kitchen.
2. Blockboard kitchen cabinet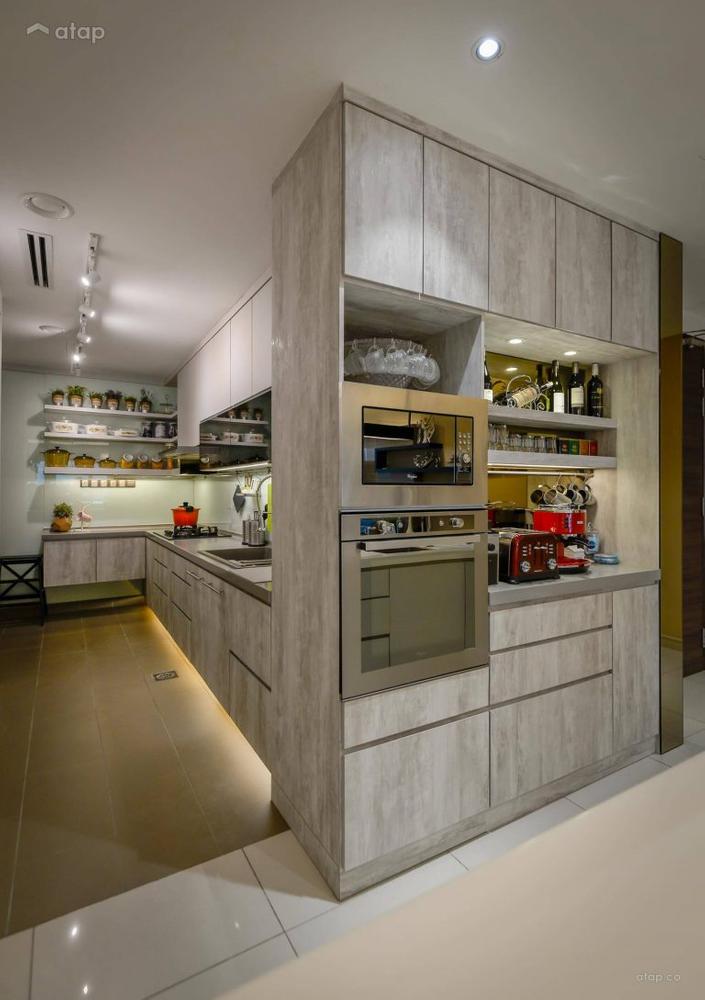 This kitchen cabinet design is made up of softwood strips lined up side by side with a layer of melamine glued to the top and bottom. As chipboards have a low resistance to water, blockboard can be used instead in the interior of cabinets or storage that are exposed to humidity to avoid cracking. You can also install a glass door to elevate the style. 
3. Plywood kitchen cabinet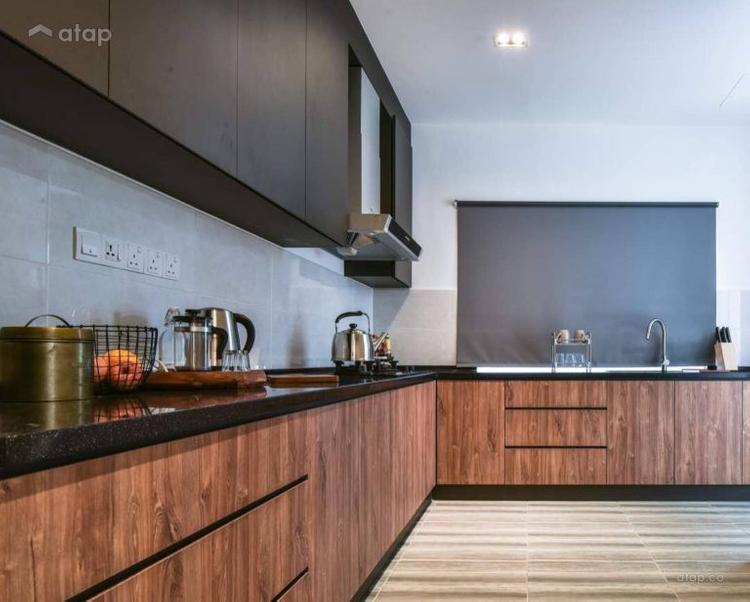 Plywood is made of many thin layers of wood glued together to form a hardboard. This board is usually laminated with plastic to give it a cleaner finish. Laminated plywood is more solid, abrasion- and moisture-resistant, and easier to clean and maintain. This material also comes in various shades and textures making the only downfall the lack of uniformity or consistency as no two boards together could match up perfectly.
Plywood also comes with wood veneer finishes so homeowners can get the look of solid wood cabinets without the hefty price tag. 
Read more: Hot kitchen cabinets styles to try
4. Concrete kitchen cabinet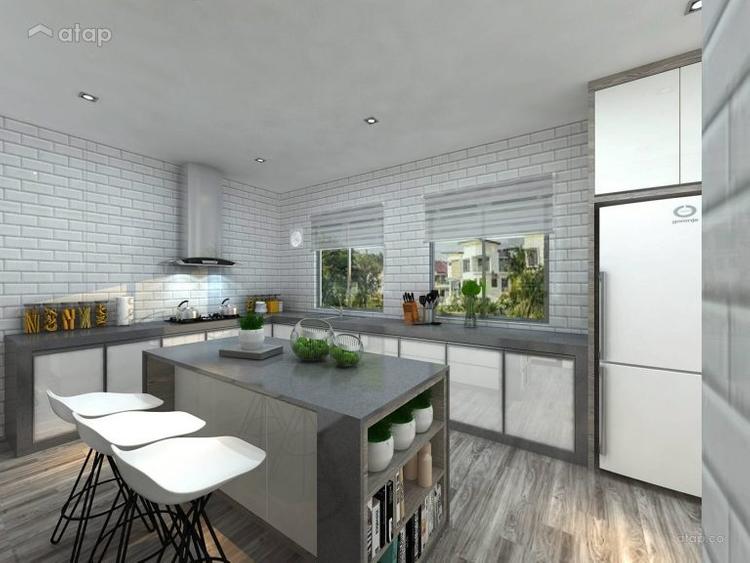 Aside from wood cabinets, homeowners can opt for an equally rustic look with concrete kitchen cabinets. These are more permanent additions to a home. Concrete is a very solid, heavy, and durable material and can be tiled over for added colour and design.
5. Stainless steel kitchen cabinet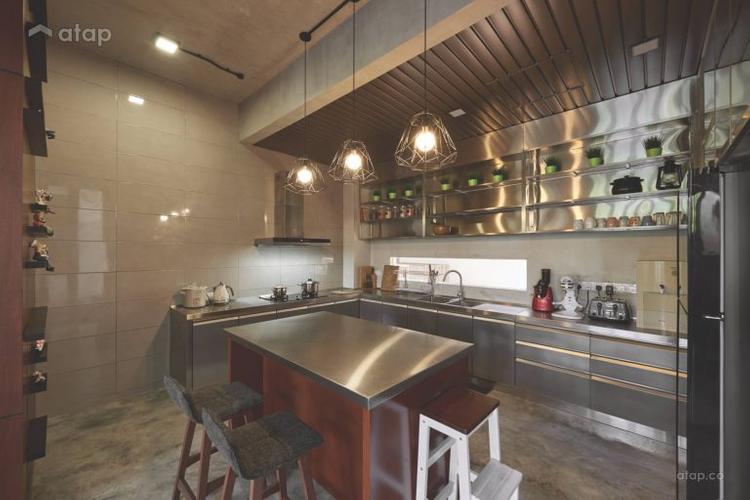 If you like the rustic or industrial look, then you'll also like stainless steel kitchen cabinets. Before, it was reserved only for commercial kitchens for that shiny and clean look, but it's quickly becoming a favourite for contemporary and industrial homes. These cabinets are durable and easy to clean but can be quite costly. If the theme of your home is industrial, we'd highly recommend you to go for the stainless steel kitchen cabinet to fit your home's aesthetic. Its shiny surface also makes it easier to clean and more durable as compared to some. 
Read more: This is your ultimate list of Malaysian kitchen designs and layouts
6. Brick kitchen cabinet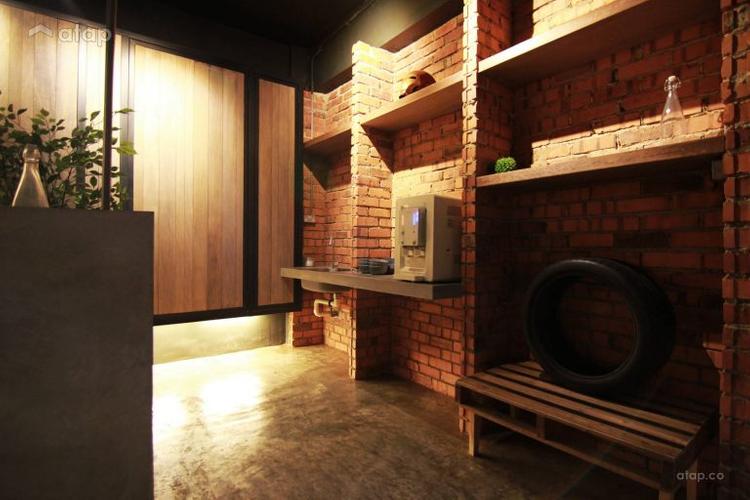 Brick cabinets are coming back in style. What used to be a cheap and easy alternative for homeowners has become a trendy industrial option for homes that want a rustic feel. Bricks are used to create the shell of the cabinets while wood or laminate slabs can be used for the doors.
7. Aluminium kitchen cabinet
Like stainless steel, you can expect aluminium kitchen cabinet to be strong and durable as well. Aside from being rust and stain-resistant, they are mostly unaffected by heat and humidity as well (perfect for your wet kitchen) and they're also easy to clean! The only downside to this material is that you need to polish it every now and then to keep it in its tip-top condition. If you don't fancy having the entire wall cabinet covered with aluminium, you can always change your current wooden cabinet doors to aluminium ones. Alternatively, you can pair this shiny material with glass to lighten the mood.
8. Hardwood kitchen cabinet
Out of all the different types of wood kitchen cabinets, hardwood is by far the most durable materials out there as it is made of solid wood. Some materials are scratch-resistant while others have intricate patterns that will spruce up your kitchen space. If you're looking for a sleek material with rich colour, we suggest getting the maple or oak as it's highly durable and come with an affordable price tag. Some other wood cabinet materials include cherry, birch, beech, spruce and pine. Remember to check the pricing of the materials before installing them for some can be quite pricey.
9. Alternative material & design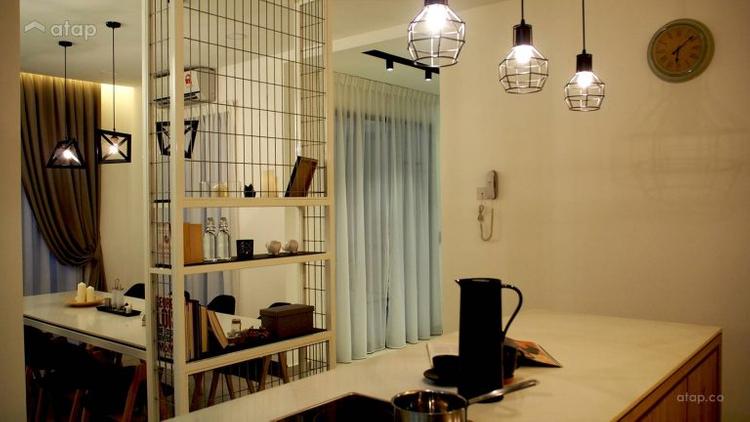 This kitchen opted for a wire and metal shelf that blends perfectly into the home's industrial theme. If you love exposed storage, this is a great option for you.
Read more: These interior design styles are trending in Malaysian households right now
How to choose the right kitchen cabinet material for your home? 
Now that we've listed down the types of kitchen cabinet materials, it's time to choose one that fits your home. While the process of choosing the right one can be daunting, it's an important decision nevertheless. We've come up with some tips to help you with your decision:
Tip 1: Custom or prefabricated?
First thing first, how much is your budget? If you have the money to spend, custom kitchen cabinets are a good investment. You can get an interior designer or a contractor to draw up a custom plan that will maximise storage and efficiency of your kitchen cabinets. With custom cabinetry, you can also design it according to your liking. Basically, the options are limitless and the only downside is the cost.
For those of you with a restricted budget, prefabricated ones like IKEA are good enough. Though you can't design it however you like, there are tons of designs out there to choose and more importantly, they're way cheaper then custom made.
Tip 2: Maximise storage space
Unless you have a huge kitchen, you're likely to have a storage problem — especially those who enjoy cooking. Where do you even find the place to stow all your appliances, utensils, cooking ingredients and food? As such, it's good to think about maximising space in your kitchen cabinet before you do any installation work. Do you have a lot of empty space in the cabinet? Add a drawer or two to maximise the vertical and horizontal space. Want to find out more about how to maximise your kitchen storage space? Read our guide on 9 kitchen storage hacks and solutions for your home.
Read more: 5 simple ways to upgrade your kitchen without renovation
Tip 3: Which kitchen utensil do you use most?
Ask yourself this, what's the main function of the kitchen. Is it a cooking-only kitchen or you're only using the space for food preparation? Because there's no point in having a highly functional kitchen with drawers and drawers of storage if you're only going to store a few utensils. On the flip side, if you know that you'll be cooking on a daily basis and that you'll be having tons of cooking appliances, then yes, do incorporate more storage space for your cabinets.
Tip 4: What about the colour scheme?
An all-white kitchen is nice, but you know what's better? A kitchen that's not afraid to play with colours. If you've decided on a colour scheme, then the next step is to find complementary colours that you can apply in the area. For example, if white is your core colour, pick beige or taupe for the floor and walls. To make the whole space pop, choose a bold colour like pastel yellow for kitchen cabinet doors. You may also opt for brass for the handles or faucet to elevate the space.
Tip 5: Decide on the right fitting
Often overlooked, things like door handles and other small fittings can make a huge difference to the design. Choose the wrong colour, material or finish and it will put the whole vibe off. For instance, a modern kitchen cabinet with an old-school handle will look out of place. But if you change the materials of the handle into something more contemporary, you'll be surprised at how well they complement each other.
How much does it cost to install kitchen cabinets?
If you're looking to install cabinets at home, you can expect to pay an estimated figure of RM5,000 to RM8,000. But of course, this depends on the type of quality, design, cabinet materials and countertop materials you choose. The better the quality and design, the higher the price it'll be. Consult with a professional kitchen design firm or you can get advice from an interior designer on the type of cabinets to have at home.
How to design and install kitchen cabinets at home?
Make a stockpile of everything you want to store in your kitchen before deciding on kitchen cabinet design and storage options. When picking a colour, keep in mind that cabinets take up a large portion of the room. If you don't want a kitchen that's primarily red, don't opt for red cabinets. Secondly, ensure your kitchen cabinet installers know what they're doing as what may seem like small mistakes can really affect your kitchen in the long run.
For more kitchen or home improvement tips, click here.
This article was originally published as A Guide to Choosing Kitchen Cabinet Materials and Design for Your Renovation by atap.co and is written by Lydia Lohshini. Additional content by Stephanie Yap. 
Disclaimer: The information is provided for general information only. iProperty.com Malaysia Sdn Bhd makes no representations or warranties in relation to the information, including but not limited to any representation or warranty as to the fitness for any particular purpose of the information to the fullest extent permitted by law. While every effort has been made to ensure that the information provided in this article is accurate, reliable, and complete as of the time of writing, the information provided in this article should not be relied upon to make any financial, investment, real estate or legal decisions. Additionally, the information should not substitute advice from a trained professional who can take into account your personal facts and circumstances, and we accept no liability if you use the information to form decisions.