One of the decisions you must make when deciding to live in a highrise is which floor to live on. Is the higher or lower floor better? Here we look at the merits of both.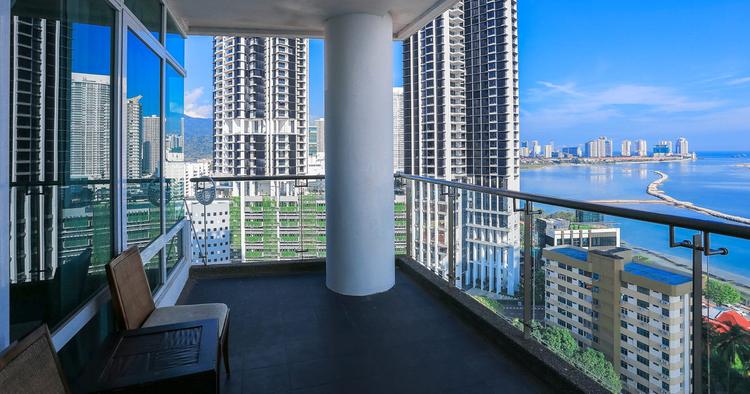 Subscribe to us on Telegram for the latest property insights and updates.
When it comes to property, we all know that location matters. But when it comes to highrise buildings such as flats, apartments, condominiums, SOHOs, and duplexes, another factor comes to play when deciding which unit to choose, what floor is it located on. Are the higher floors of a building a better choice than the lower ones?
This is an important question to ask as the demand for such properties is soaring. According to the National Property Information Centre (NAPIC), highrise properties accounted for 2,960 of the 6,087 residential new launches in the country during Q3 of 2020.
With amenities such as a swimming pool, spa, gym, cafe, and 24/7 security, living in a highrise building is an attractive choice. Furthermore, if you pick the right floor to live on, your time spent there will be even better!
What are the advantages and disadvantages of living on a higher floor?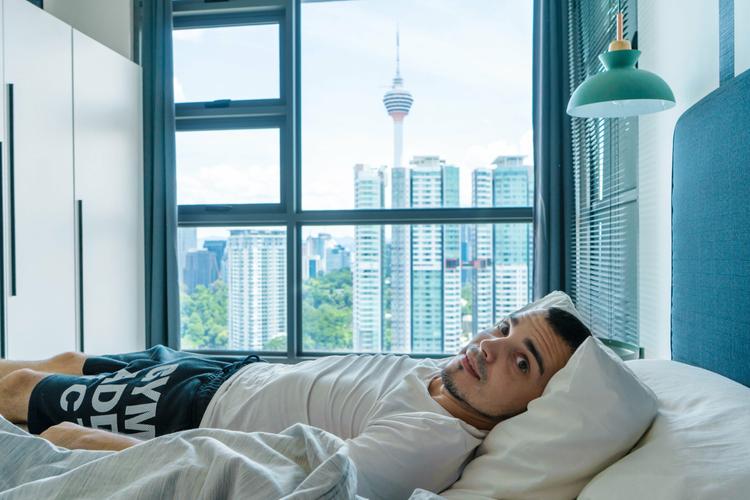 Living on a higher floor might be the popular choice but let's analyse it a little deeper. No matter where you choose to live, there are always pros and cons.
READ: Budget 2022: 4 main property sector initiatives for Keluarga Malaysia
Pros of living on a higher floor
If you're thinking of getting a house on a higher floor, these are the advantages that you will enjoy.
1. Panoramic views
You've probably heard the expression: "The view is better from up here". Well, the same applies to highrise buildings. The higher you go up in these buildings, the better the view! This would especially apply to beachfront homes or residential properties located along the coastline.
2. Serenity
You have more peace when you live on the higher floors, as are you far removed from street-level happenings. Road traffic sounds and vibrations caused by public rail transportation will be muted. Top floor apartments also rarely have to deal with noise from foot traffic, both inside and outside of the building.
3. Security
Accessibility to your unit requires flights of stairs, elevators, and high windows. This makes it less likely for break-ins to occur as thieves tend to choose places with a quick getaway.
4. Lack of pests 
By pests, we don't mean your annoying neighbour but instead creepy crawlies, insects and bugs! Because of the sheer climb, they are less likely to make it up to your unit. The same, however, can't be said of mosquitoes – so you might want to look into these natural mosquito repellents.
5. Protection from floods
You might think that only those living along the east coast need to worry about floods, but the major floods experienced in Klang Valley in December 2021 have proved us otherwise. Recent heavy rainfall in the KLCC area also resulted in vehicles being submerged and landed homes nearby being infiltrated by floodwater. You could be future-proofing your home by purchasing a higher floor unit.
Cons of living on a higher floor
You may enjoy living on a higher floor but there are a few things that you might want to consider.
1. Inconvenient movement
The higher floors of a building are less accessible. Even if your take out the stairs, waiting for the elevator is longer compared to the lower floors as there are simply more tenants and floors to pass through. This might make the movement of furniture and daily items such as groceries and shopping bags a hassle.
2. The heat
If you paid attention to a physics class in school, you will know that heat tends to rise. Therefore, cooling down the higher floors of a highrise requires more energy. This can send your air conditioning bill soaring.
3. Emergencies
We have established that the higher floors of a building are harder to access. This also works in the opposite direction, it's harder to exit in the case of an emergency. Whether it's a fire or an expectant mother that is going into labour, you'd want to be able to exit the building fast! Imagine an emergency evacuation situation and the stairs are already packed with residents from the lower floors – your mobility will be reduced.
4. Higher rent
It's common knowledge that the higher floors are the more popular choice due to the perks it offers in term of privacy and scenic views.  Hence it is not surprising for higher floor units to command a selling or renting price that is 10-20% higher than its lower floor counterpart.
What are the advantages and disadvantages of living on a lower floor?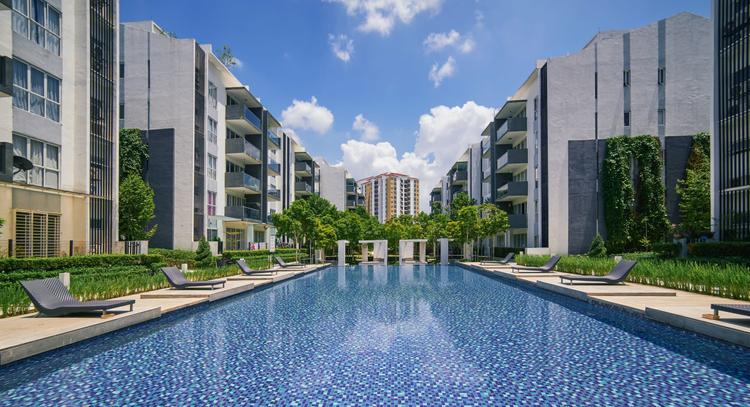 We now look at the other side of the coin and what it means to live on the lower floors of a highrise.
Pros of living on a lower floor
Lower floors make a nice choice to dut to reasons below:
1. Cheaper price
The lower floors of a highrise are usually the "less glamorous" choice. This makes them much cheaper. When you factor in that they have less expensive air conditioning bills, you will be able to save quite a bit of money.
2. Accessibility
With increased accessibility, you will be able to avoid high climbs up the stairs or waiting too long for the elevator. Easy access in and out of your ground floor apartment means the main door is always a few steps away.
3. Outdoor space
Living on the ground floor could also mean access to a backyard or courtyard for townhouse occupants. This is a plus factor when it comes to tenants with pets, kids, or people who love entertaining outdoors.
4. Cooler temperatures
As aforementioned – seeing that heat tends to rise, it takes less energy to cool down the lower floors of a building. This results in much cheaper air conditioning bills.
Cons of living on a lower floor
Here are things that you should expect if you live on a lower floor.
1. Noisier and lack of privacy
Being closer to the street level means increased exposure to noise. It's common for people living above you to bring the noise with them, not to mention to sound pollution from the street. If your unit is near to a common pool, your afternoons and weekend mornings might be interrupted by other loud tenants.
2. Less secure
The flip side to more accessibility is a higher risk of break-ins. Thieves tend to choose places with a quick getaway and they will see opportunity in the lack of stairs and waiting time for elevators, in addition to lower windows.
3. Pests
No one (except hikers) loves a long climb. Bugs and insects are no different. The lower floors of a building are more susceptible to 'break-ins" by mice, cockroaches and lizards.
READ: Top 10 properties available for B40 in Malaysia
Edited by Rebecca Hani Romeli
Disclaimer: The information is provided for general information only. iProperty.com Malaysia Sdn Bhd makes no representations or warranties in relation to the information, including but not limited to any representation or warranty as to the fitness for any particular purpose of the information to the fullest extent permitted by law. While every effort has been made to ensure that the information provided in this article is accurate, reliable, and complete as of the time of writing, the information provided in this article should not be relied upon to make any financial, investment, real estate or legal decisions. Additionally, the information should not substitute advice from a trained professional who can take into account your personal facts and circumstances, and we accept no liability if you use the information to form decisions.