While there are many carpet cleaning services out there, have you considered trying DIY carpet cleaning solutions?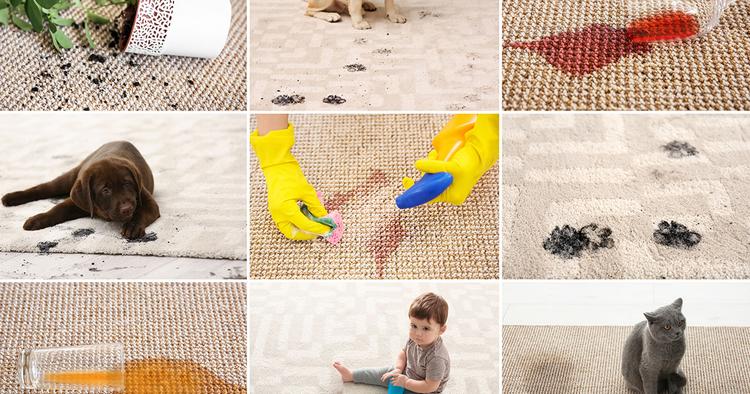 It is not easy to maintain a clean and fresh carpet, especially white carpets when you have kids and pets running around your house. Some stains and dirt are so ingrained that it's difficult to melt those greases and get rid of musty odour. But worry not. Here are some of the cheapest ways to clean carpets.
How can I clean my carpet at home without a machine
Ever thought of how to clean a carpet without a vacuum or a steam cleaner? Well, don't worry because you don't need to buy or rent expensive equipment to get stains out of your carpet. There are DIY carpet cleaning hacks that you can try out to deep clean it. Let us show you some easy ways to clean carpets by hand.
Baking soda – Can I use baking soda to clean my carpet
Yes, you can use baking soda to clean and deodorise your carpet. Baking soda is a superhero-worthy ingredient when it comes to DIY cleaning recipes.  It's so amazing how a single ingredient can do so much – from removing stains, deodorising carpets and rugs, to baking cakes.
How to clean carpet with baking soda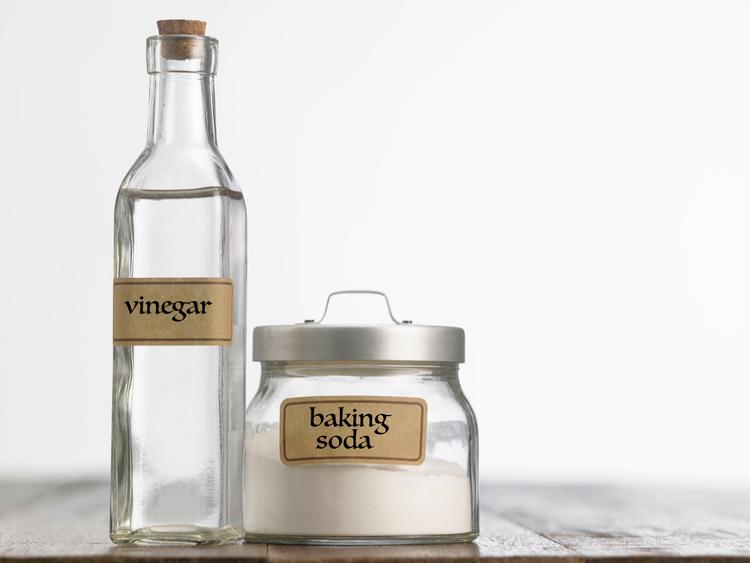 There are so many ways to use baking soda to clean carpets. Not just that, you can mix it with another ingredient to make it even more powerful. No stains or residues will survive these baking soda cleaning hacks. Let's look at these baking soda carpet cleaner recipes.
1. Baking soda and vinegar 
Baking soda is absorbent as it is very effective at dissolving grease and absorbing odour. Vinegar on the other hand is a natural disinfectant. Combining these two powerful ingredients means you not only clean your carpet but also disinfect it from bacteria and germs. 
How to clean carpet with baking soda and vinegar
Step 1: Mark the stain and pour vinegar, enough to cover the stain.
Step 2: Then, sprinkle baking soda over vinegar
Step 3: Let the mixture bubble up, sit and absorb the stain
Step 4: Now, rub it away with a damp cloth and let it dry
2. Baking soda and hydrogen peroxide 
Baking soda and hydrogen peroxide is a stellar cleaning combination. You can use this mixture to clean bathroom faucets, dissolve food residue in pots and pans, whiten grout, shine tubs and tiles, and a lot more! If you have kids and pets, this is the perfect solution for vomits and urine.
How to clean carpet with baking soda and hydrogen peroxide
This mixture is great for cleaning up vomit from the carpet. You'll need baking soda, hydrogen peroxide, and liquid dish detergent. 
Step 1: Mix ½ cup hydrogen peroxide with 1 teaspoon of liquid dish detergent/. You can mix this in a bowl.
Step 2: Sprinkle baking soda on the soiled area.
Step 3: Pour the solution on the baking soda (the stain)
Step 4: Rub the area with a cloth or a soft-bristled brush
Step 5: Let it sit for about 10 minutes. Let it sit longer if the vomit has dried.
Step 6: Use a cloth to absorb the liquid. Let it dry or vacuum the area.
You may want to repeat these steps for tougher stains.
READ: 10 biggest pros and cons of using an air fryer
How long should you leave baking soda on the carpet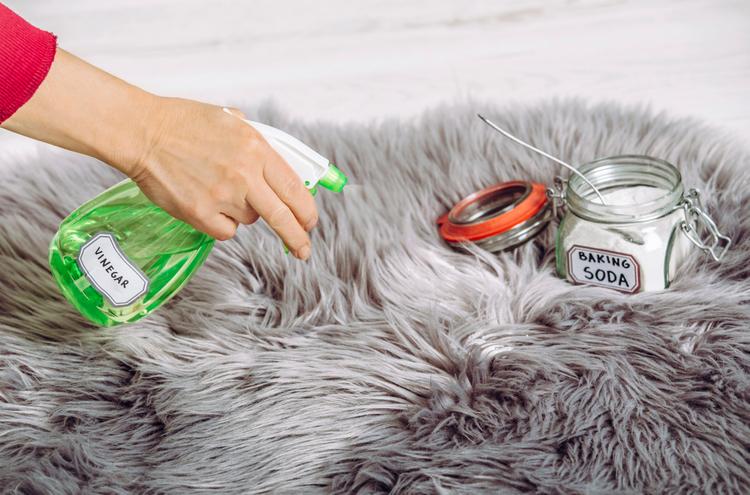 To remove the stain from the carpet, you need to allow the baking soda for at least 15 minutes. Leave it for an hour or overnight for a heavily soiled carpet.
Does baking soda damage carpet
Baking soda won't damage your carpet but it may damage the floors beneath it. Make sure to clean it thoroughly after sprinkling baking soda when you deep clean the carpet. 
What is the best homemade carpet cleaning solution
Before attempting to DIY your carpet cleaning solution, first, you need to figure out what your carpet is made of. Is it a synthetic carpet or a natural fibre carpet? This is to prevent your carpets from being damaged by the acidity of the solution. Here are the best ingredients and solutions for every carpet. 
3. Carpet cleaning hack for synthetic carpets
You should never pour DIY cleaning solutions directly onto the carpet or rugs. Make sure to dip a white cloth into the solution, then apply it to the stain.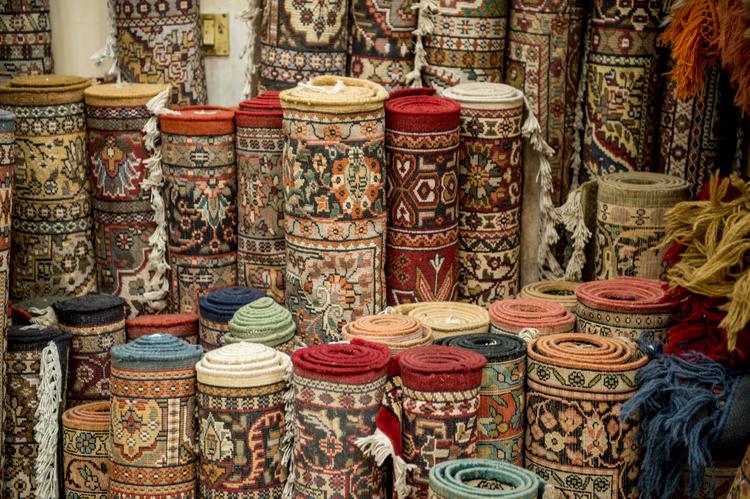 Mix ¼ teaspoon a liquid dishwashing detergent with one cup of lukewarm water. You can use any detergent of your preference.
Mix 1 cup of white vinegar with 2 cups of water.
Use an oil solvent to clean up the stain on your carpet or use a nail polish remover. Non-acetone polish remover works as well.
4. Carpet cleaning hack for natural fibre carpets
You may put these DIY cleaning solutions in a spray bottle and mist them lightly onto the stain.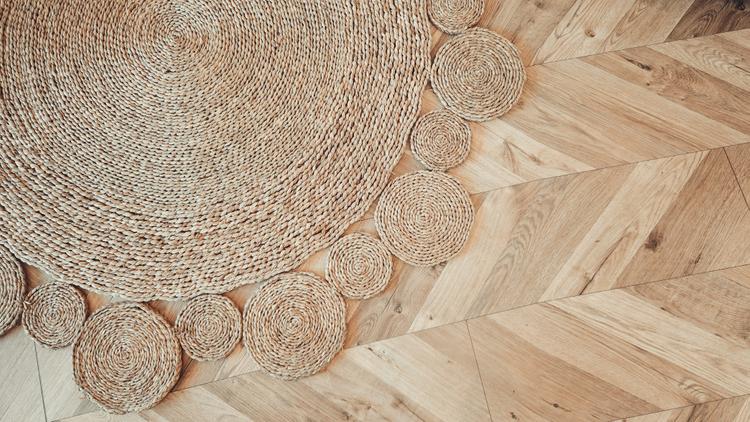 Mix ¼ teaspoon a liquid dishwashing detergent with 1 cup of lukewarm water. You can use any detergent of your preference.
Mix ¼ cup of white vinegar with ¼ cup of water.
Mix 1 tablespoon of clear household ammonia with ½ cup of lukewarm water.
You can also use the solvent solution or nail polish remover. Use the same method for cleaning a synthetic carpet. Do not spray it directly on the stain.
How can I naturally freshen up my carpet
Ever tried cleaning the carpet with baking soda and essential oils? You can deodorise your carpet using these two simple ingredients.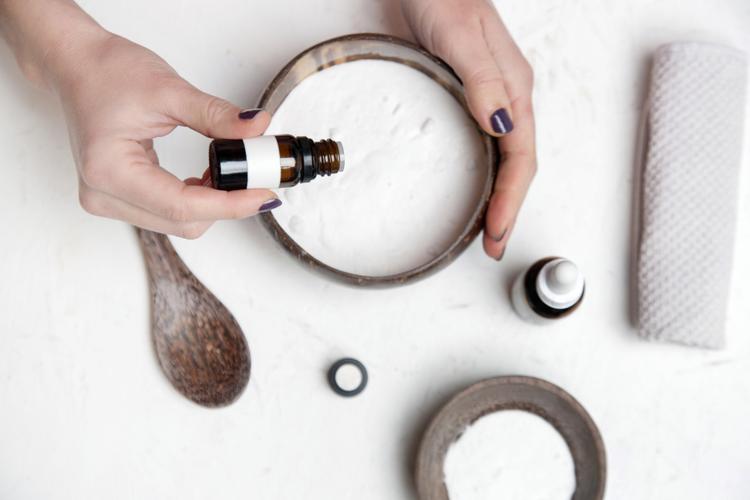 5. How to make a natural carpet freshener
Ingredients:
½ cup baking soda

20 to 40 drops of essential oil (pick your favourite)
Step 1: Mix baking soda and essential oils together. Use a spice jar or any containers with holes in the lid.
Step 2: Let the mixture sit overnight to allow them to mix well.
Step 3: Sprinkle the mixture on the carpet. Then, leave it for an hour. After that, use a vacuum to clean up the residue.
How do I protect my carpet after cleaning
Professional carpet cleaners will apply a carpet protectant while the carpet is still wet. This protectant is stain resistant and repels soil. Get professional help if you need this.
READ: 5 most common plumbing problems in high-rise apartments
Carpets beautify your home, but you may opt for rubber floor mats if you find it time-consuming to clean and care for them. They are more economical, durable and won't slide. Also, you can use rubber mats for a home gym as they're water-resistant and easier to clean.
Disclaimer: The information is provided for general information only. iProperty.com Malaysia Sdn Bhd makes no representations or warranties in relation to the information, including but not limited to any representation or warranty as to the fitness for any particular purpose of the information to the fullest extent permitted by law. While every effort has been made to ensure that the information provided in this article is accurate, reliable, and complete as of the time of writing, the information provided in this article should not be relied upon to make any financial, investment, real estate or legal decisions. Additionally, the information should not substitute advice from a trained professional who can take into account your personal facts and circumstances, and we accept no liability if you use the information to form decisions.