From ceramic tiles to porcelain tiles and mosaic tiles, here are some of the most popular tiles in Malaysia. We've also detailed the price for each of them.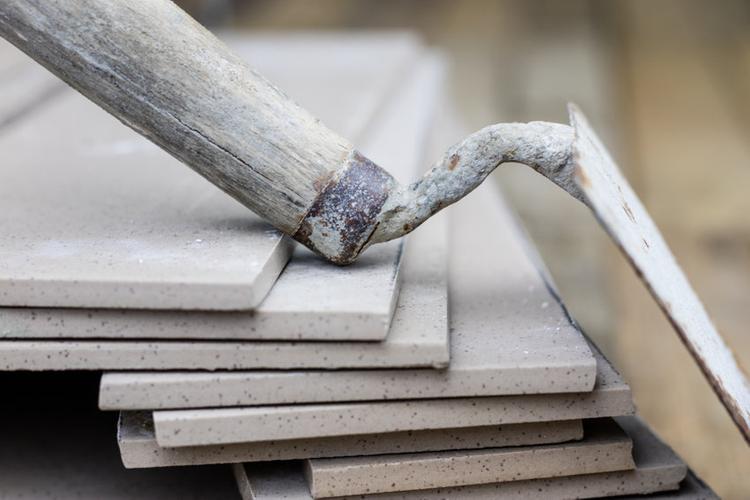 Take a look at your home, you probably have tiles covering your floors or your walls. Especially in the bathroom and kitchen. Malaysians love installing tiles for their home, and for good reason, too! Not only are tiles waterproofed (when properly sealed), they're also very durable and you can create all kinds of designs with them. Asides from that, tiles also come in a myriad of colours, textures and sizes. So there are plenty of ways to spruce up your kitchen or bathroom with tiles.
That said, variety also makes it difficult to select the right tiles for your home. If you pick the wrong colour or design, the whole look and feel of your home will feel off. And installing them is no easy feat as well — hiring an inexperienced tiling contractor will ruin the tiles. Then there's also the matter of prices.
To help you with your tile buying journey, we've rounded up some of the most important information in this article — materials, designs and prices. Check it out!
What to look out for when buying tiles in Malaysia?
1. Durability
Tiles are well known for their durability and long-lasting characteristics. When properly installed and cared for, tiles can last a long time without any change in colour or form.
2. Maintenance
One of the biggest selling points of tiles has to be its low maintenance. Not only do they need very little maintenance, tiles can also withstand heat, water, spills and stains. Normally, soap and water will be sufficient to clean your tile floor. And, if one of your tiles gets chipped or cracked, that single piece can be replaced.
3. Emissions
If you are worried about exposure to harmful indoor chemicals, tiles emit little to no volatile organic compounds (VOCs) that can cause various health problems. This is because all tiles are baked in high-temperature kilns, which would have removed most of the VOCs that come with them.
4. Fire resistance
Unlike wooden, laminate or vinyl flooring, tiles are baked in a kiln at high temperatures. This creates a product that will not catch fire once installed.
5. Design
The most important reason for choosing tiles is in the variety of designs. Homeowners who prefer a clean, matte floor can choose large tile slabs in grey tones. Others may want to create a mosaic pattern such as those found in old European churches or Peranakan houses. Or you may want a tiled feature wall where the tiles are raised to give a staggered 3D effect. Whichever look you are going for, there is a tile design that will suit your needs.
What are the different types of tiles?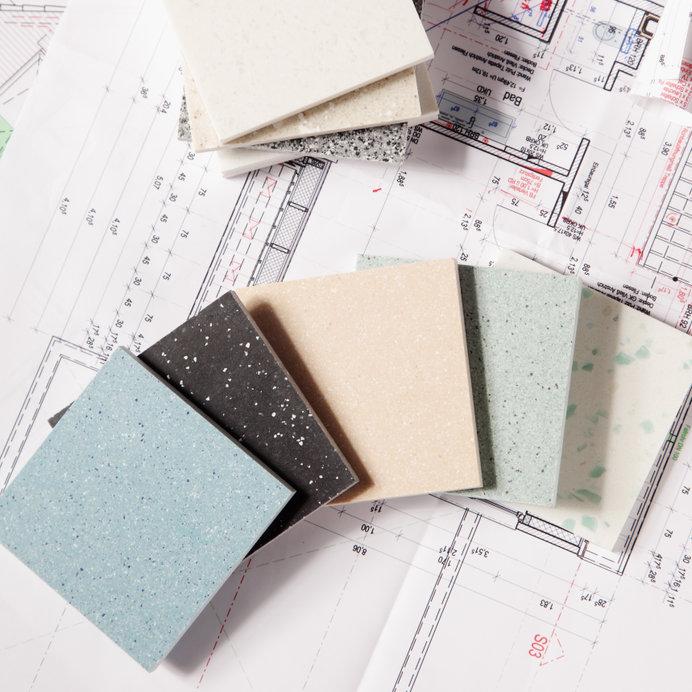 There are three common types of tiles – ceramic, porcelain, and homogeneous tiles. Ceramic and porcelain are used home renovations, while homogenous tiles are used in commercial spaces.
1. Ceramic Tiles
Ceramic tile is composed of natural clay, sand and water. These ingredients are moulded to form square or rectangular tiles before being baked in a kiln to remove most of the moisture.
Ceramic tiles are mainly used for rooms like living room and bedrooms. Designed to be used indoor, ceramic tiles are also suitable to be installed as wall tiles due to their lightweight. They are lighter and available in both gloss and matte finishing. They are also considered the most basic tiles and the cheapest amongst the three.
According to Citicon Ceramic managing director Joe Chew, "lighter tiles are preferred for the walls, to reduce the risk of them falling off. The smaller the tiles, the better they stick".
2. Porcelain Tiles
Porcelain tiles are also made from clay, sand and water. However, the density of the clay used in porcelain tiles is higher compared to those used for ceramic. Porcelain tiles are baked at a very high temperature for a long period of time so that almost all moisture is removed. The denser clay and longer drying time make porcelain tiles much harder and durable than ceramic.
Porcelain tiles are available in a huge variety of colours, designs, and surfaces. Not only do they come in both gloss and matte surfaces, they also have other unique appearances like sugar surface, which can bounce back light that shines on them.
Porcelain tiles are very versatile as they can withstand heavy foot traffic and stronger resistance against wear and tear. This makes them suitable to be installed for both indoor and outdoor use as well as light- or medium-duty commercial applications. Porcelain tiles are normally found in bathroom, kitchen, porch and balcony.
3. Homogeneous Tiles
Homogeneous tiles are also known as heavy-duty tiles, and are mainly used in commercial applications for places like shopping malls, airports and hospitals, with very heavy foot traffic. As its name suggests, these tiles do not have any fancy textures or designs and most of them come in solid colour. They are even harder and more durable but also much more expensive than porcelain tiles.
The popular brands of tiles that can be found in Malaysia are White Horse, Guocera, Kimgres, Alpha, Venus, MML, Niro, Johnson, and Feruni.
Where to install tiles in your home
Because tiles are so durable and water-resistant, they are best suited in the bathroom. The floor and walls around the shower and bathtub area are where you would find the best application of tiles.
When installing floor tiles for wet areas such as the bathroom, remember to ask for tiles that have higher slip resistance
The next natural location to use tiles is as kitchen tiles. Many older kitchen counters were built as a concrete platform and covered with tiles. Many of these counters are still going strong, even after 30 years! However, instead of tiling the counter, you can also use kitchen tiles on the floor and the backsplash.
However, tiles are not limited to the bathroom and kitchen alone. Many landed properties prefer to use heavy-duty porcelain tiles in their driveway for minimal maintenance. The same goes for balconies. And for the Peranakan touch, you can add the occasional decorative tile above your doorway or along the kitchen backsplash.
How tiles are installed?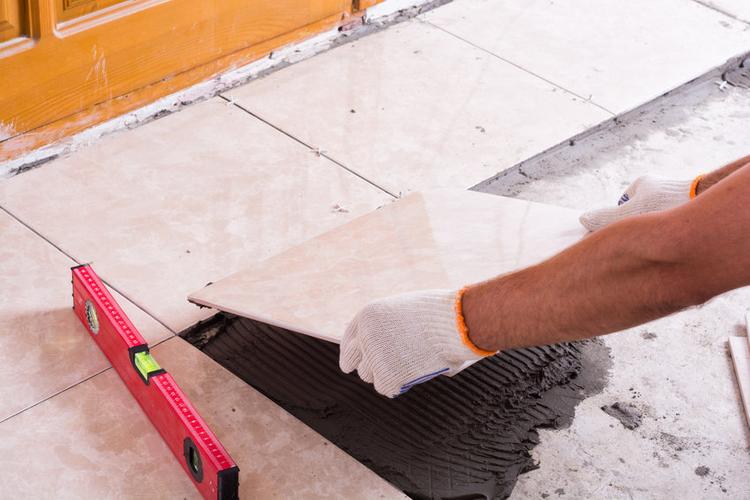 A proper tile installation process includes:
Hacking

. If existing tiles are being replaced, they will need to be removed

Waterproofing

: A waterproof membrane is painted onto the subfloor and left to dry. Waterproofing is needed for wet or outdoor areas such as the bathroom, swimming pool, backyard, or balcony

Screed/levelling

: Adding a layer of cement to make the floor level

Installation

: Tiles are installed by applying a mortar (or thinset) to the floor as well as the underside of the tile. The thinset acts as glue that holds the tile to the floor. The same method is used for applying tiles to the wall. For better adhesion and drying, contractors will use a modified thinset that contains latex polymer (locally known as susu gum)

Grouting

: Grout is used to filling in the gaps between tiles

Sealing

: Grout is sealed to make it waterproof
"Some owners may skip the levelling process to save cost, but is risky as an uneven subfloor may cause water retention and eventually lead to cracking, buckling or tiles becoming uneven," – Joe Chew, Citicon Ceramic
What are the tile prices in Malaysia?
Like all renovation services, tiling works are costed by materials and labour. However, labour charges will make up the bulk of the cost, due to the skill needed in tiling.
A 30cm x 30cm ceramic tile can cost around RM1.80 per piece, while a porcelain tile of the same size costs RM2. Just for comparison, a heavy-duty homogeneous tile of the same size may cost up to RM2.70 per piece. So, a typical bathroom of 60 sqft would cost about RM120 in tiles alone.
According to Chew, contractors will typically include the cost of tiles into the total charge, and calculate the installation by the total square footage of the area.
This means tile prices including installation in Malaysia ranges between RM11.20 to RM14.80 per square feet, depending on the type of tile that is chosen. "Normally, the bigger the tile size, the costlier it will be," he said.
This bundled cost also includes building materials such as mortar, as well as labour for installation, and rubbish disposal afterwards.
Of course, there are handcrafted premium tiles that can go for RM40 per piece. But these are limited to decorative, hand-painted tiles commonly found in old Peranakan homes.
Popular tile designs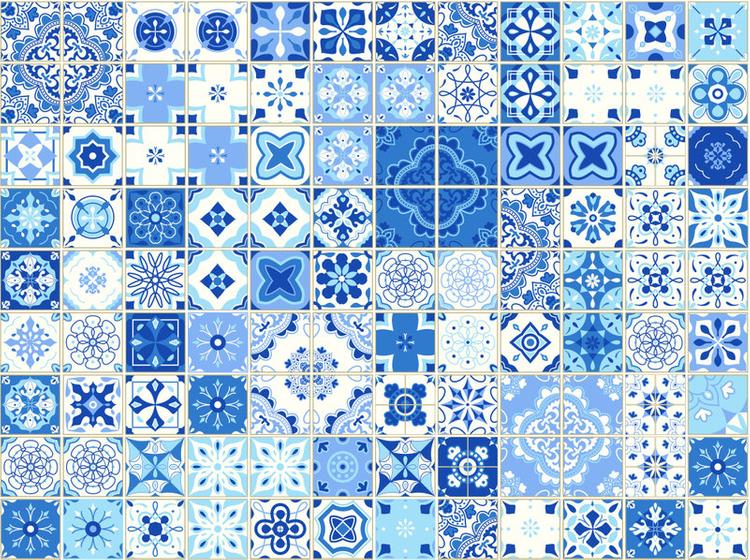 There are so many possible designs that it's difficult to say which ones are the most popular.
Many years ago, the trend would have been to use smaller tiles in a mosaic tile pattern. But, according to Chew, the current trend in Malaysian homes is to have large floor tiles, with smaller mosaic patterns used sparingly.
The reason for this is to reduce the amount of grout lines that can get dirty. Less grout lines also make the room feel bigger. However, the drawback is that larger tiles can be slippery, since there are no grout lines to add more grip for your feet. Therefore, make sure you install tiles with higher slip resistance in high traffic areas.
The common size of tiles for bedroom and living area is 80cm x 80cm while 60cm x 60cm is used mainly for kitchen. For bathroom, 30cm x 60cm is the popular choice.
As for tile designs, tiles that resemble natural stone and marble are the popular choices amongst homeowners. Chew said this is because many homeowners use tile to bring in a natural look into their homes.
However, there are also newer tile designs that resemble wood. This type of tile is becoming popular because home owners want to create a Scandinavian interior design in their homes that incorporates light-toned hardwood flooring, even in the kitchen.
However, since they don't want the hassle of maintaining a wood floor, many are choosing tiles with wood designs.
"Tiles with wood-like appearance can be installed in areas with high humidity like the bathroom, without the limitation of real wood," – Joe Chew, Citicon Ceramic
Since all tiles are long-lasting, the main factor when purchasing tiles would be the price. "Choose what is within your budget. Of course, when you have a huge budget, you may have a wider selection that offers you a variety of designs and textures," he said.
Also bear in mind to check the tile finishing when you are shopping for tiles. "You may need to see how delicate the printing of the design and the texture is. If you are choosing something wood-like or stone-like, do check how strong is the resemblance of it is to the real thing," he said.
Disclaimer: The information is provided for general information only. iProperty.com Malaysia Sdn Bhd makes no representations or warranties in relation to the information, including but not limited to any representation or warranty as to the fitness for any particular purpose of the information to the fullest extent permitted by law. While every effort has been made to ensure that the information provided in this article is accurate, reliable, and complete as of the time of writing, the information provided in this article should not be relied upon to make any financial, investment, real estate or legal decisions. Additionally, the information should not substitute advice from a trained professional who can take into account your personal facts and circumstances, and we accept no liability if you use the information to form decisions.