Factors that make a dining table perfect for your home goes beyond ringgit and size.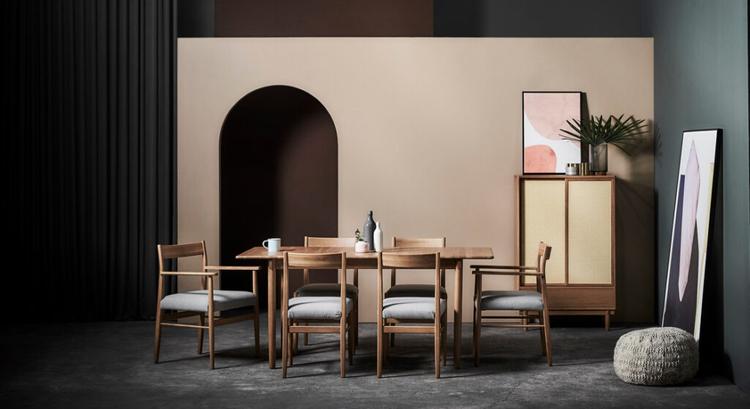 Second to the kitchen, the dining area is one of the most important spaces in a Malaysian household. It is the heart of the home, where we create meaningful bonds and make important decisions over shared meals. In particular, now that working from home is the norm, the dining table takes on additional importance by doubling as a workspace outside of mealtimes.
From a design standpoint, your dining table should be the star of your dining area, but it doesn't mean that you have to spend thousands of Ringgit on it. The right dining table for your home should fit your budget without having to compromise on quality and style. To help you make the right decision, we've put together a comprehensive guide that answers all your dining table-related questions.
1. How do you size a dining room table?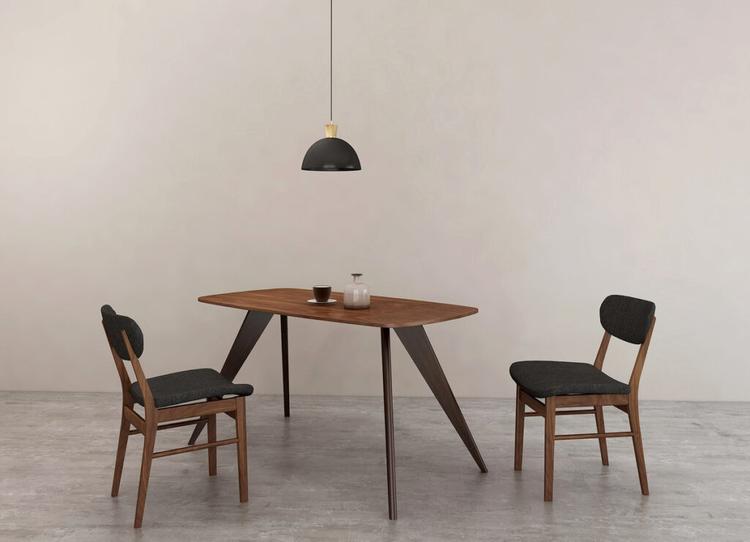 The number one rule when choosing a dining table is to make sure it actually fits in your dining area. The dining table can be deceptively large and you need to take other furniture in the space into account. In addition to the size of your dining table and table set, you want to ensure room for at least 90cm of clearance between the table and the wall or other furniture.
Measure the length and width of the area you will dedicate for the dining table. Then subtract about 180cm from the two measurements to get the rough dimensions of your perfect dining table size. Don't forget that each place at the table needs between 55cm to 60cm of table space, plus larger-scale chairs will require more.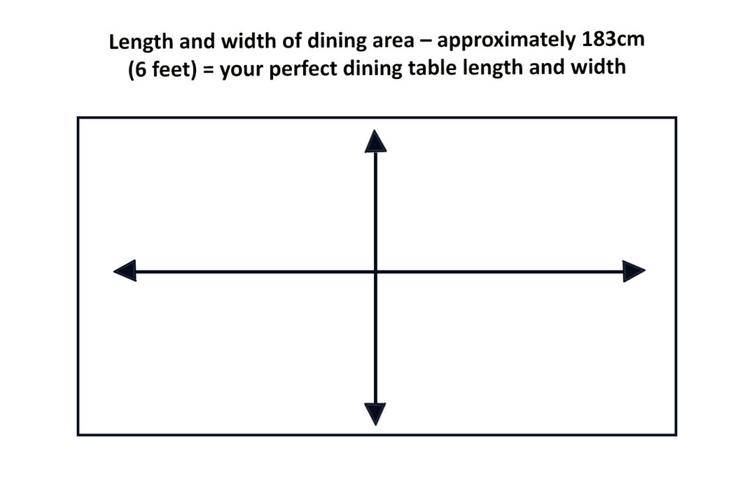 What is the standard height of a dining table?
The standard height of a dining table is between 70cm to 76cm, paired with 45cm to 58cm chairs.
What size dining table seats six?
The following is a dining table size guide that outlines the number of seats that can fit comfortably for each table size:
| | |
| --- | --- |
| Table Size | Number of seats |
| 122cm | 4 |
| 152-182cm | 6 |
| 200-220cm | 8 |
| 230-275cm | 10 |
| 305cm | 12 |
| 107-122cm-diameter round table | 4 |
| 152cm round table | 6-8 |



2. Round or rectangular – pick the right dining table shape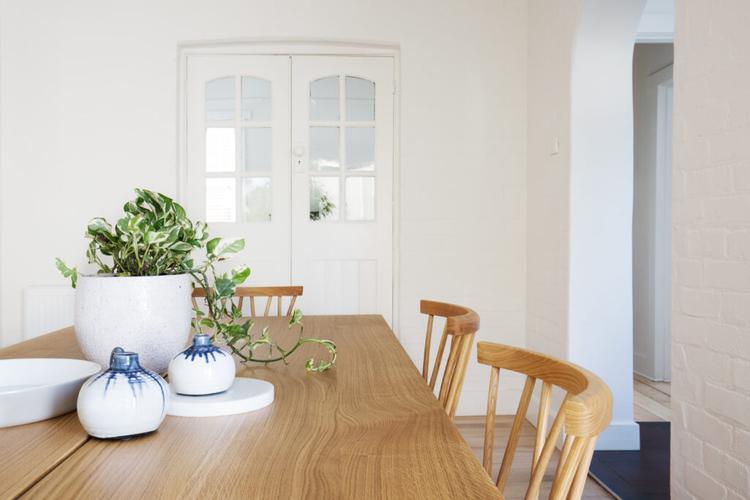 Dining tables usually come in either classic rectangular or circular shapes. The rule of thumb for choosing the rectangular or circular is to consider the shape and size of the room or space it will be in. Is it a rectangular dining room or an open plan kitchen?
When it comes to matching proportions, a rectangular dining table looks best in a lengthened room. Rectangular tables, especially if they can be extended like the Flint Dining Table from Commune, will offer more space for food and tableware. This is great for big families or those who love to have many guests over. You can easily push it against the wall when you need the extra space too.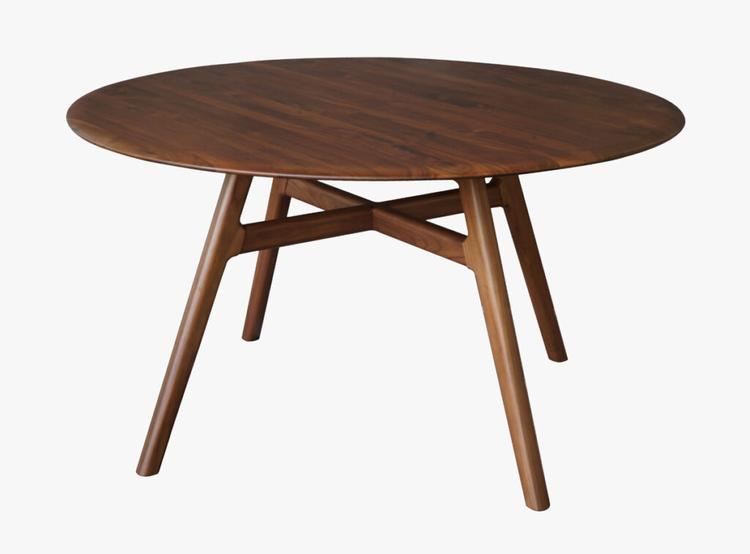 On the other hand, a round or oval dining table like the Westland Dining Table or the Scotch Dining Table from Commune fits better in smaller spaces as the design takes up less space compared to a rectangular dining table. Its shape will make the room feel more spacious, plus it's perfect for dinner parties and special occasions. Round dining tables encourage more social interaction as everyone is seated within the same distance – so no one is left out of a conversation. Round dining tables are perfect for single homeowners or couples just starting out.
3. Comfortable legroom for your dining table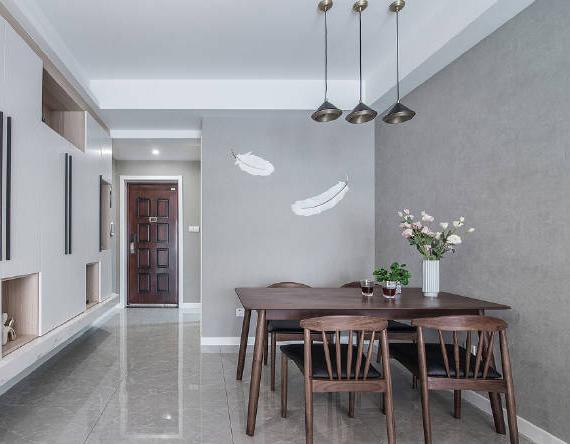 Here's something you may not have thought about – the base of the dining table that supports it, such as the legs, a pedestal, or a trestle, and how that affects the amount of people you can comfortably fit at the dining table.
When you go shopping for a table, do actually try to sit at the table. Get a feel of how comfortable you are. See if there is enough space for your legs under the table, and whether your knees or feet will hit the table's legs or pedestal. A good test would be to know if you can cross your legs underneath the table without banging into anything. Sit at all areas, even at the corners and at the ends.
Picking a table with thinner legs at the corners makes it easier to squeeze an extra chair. But make sure the table is sturdy and stable. The same goes for dining tables with a pedestal or trestle base. Dining tables with a trestle base have ample room across the length but no space for seating at both ends. Circular tables with a pedestal base usually have room all around, but can be unstable if the surface area is too large to support the tabletop.
4. Which is the best material for your dining table?
Speaking of the tabletop, one of the biggest questions people have when looking to buy a new dining table is what it's made of. Choosing a strong, durable tabletop material could mean a dining table that lasts a lifetime. You need to weigh up your budget, its ease of maintenance, and how the material will match the rest of your décor.
Some of the most popular materials used to make dining tables are:
i. Wood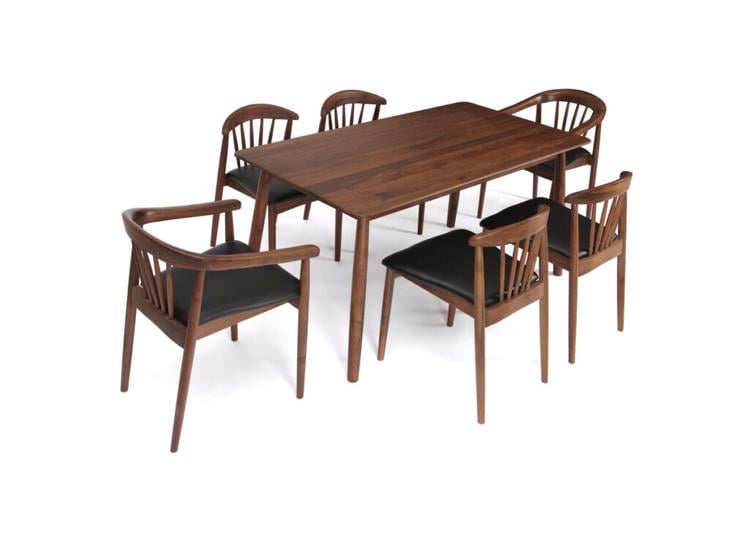 Solid wood dining tables are a staple of many homes. This is a strong, versatile material that is easy to repair. Solid wood dining tables come in many different finishes, sizes, shapes, and styles.
What are the best woods for dining tables?
One of the more commonly used types of solid wood is oak, which comes in American red and European white. Oak dining tables are most resistant to moisture, making it a perfect dining table with a distinctive wavy grain look. Another popular solid wood type is walnut. It has a beautiful brown colour and the material results in a more ornate dining table matching a contemporary chic décor, but you would need to pay top dollar for good quality.
What are the pros and cons of having a solid wood dining table?
Solid wood has been the construction material of choice for houses and other infrastructure throughout history because it is extremely sturdy, durable, and can probably outlive you. The natural look of a solid wood table is aesthetically pleasing too. However, moisture can be an issue (though not necessarily if it has been properly sealed). Rapid temperature changes could cause wood to contract or expand too. Another risk with solid wood is an insect infestation, but proper chemical treatment should do the trick.
ii. Veneer
Many people mistaken veneer to be inferior to solid wood, but the material is often used in high-end furniture. Veneer consists of a thin layer of wood that is glued or pressed onto particleboard, plywood, wood, or MDF (more on MDF below). As only the surface is natural wood, veneer is more affordable and environmentally friendly. Like with solid wood, veneer wood is very durable and easy to clean. It is however more resistant to warping.
iii. Stone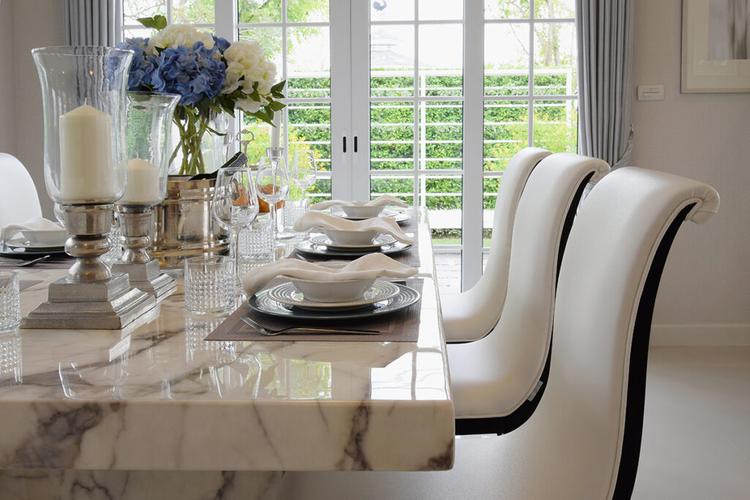 Stone dining tables include those made of marble, quartz, or granite. A stone table is strong and heavy, and can be cleaned easily with a wet cloth. However, it can chip or crack with enough force, and the porous tabletop material absorbs stains when not cleaned immediately. Moreover, it can be very expensive depending on the tabletop material. While maintenance can be a chore, a quartz or granite tabletop is simply elegant and looks at home among contemporary style interiors.
Which one is better, a marble or a wooden dining table?
It really depends on your personal taste and how the material fits with the overall décor of the space it is in. Marble tables really elevate a space, giving it a classy formal look. With marble, you're getting a durable and sturdy dining table. However, it needs regular resealing and any drink spills needs to be cleaned up immediately or else it will seep into the stone. Plus, heavy objects could scratch or damage the marble. Wooden tables fit well in both casual and formal settings. With wood (we're talking solid wood), these age well through the years even with scratches and dents. Solid wood dining tables are also quite hardy, but they are super heavy and high price-wise.
iv. Metal
Metal dining tables include those made of stainless steel, brass, or zinc. Metal is an extremely shiny material, so it shows every fingerprint. It is also very hygienic, which is why you usually see metal tables made of stainless steel in high-end restaurant kitchens and surgery rooms. All-metal tables are uncommon in homes, but the material is usually used for a table base accompanied by another material for the table top.
v. Medium-density fibreboard (MDF) 
Medium Density Fibreboards (MDF) are engineered wood composites. MDF is made up of leftover hardwood or softwood. It's known for its durability and quality, so much so you can't even cut it with a typical table saw. The denseness of high-end MDF could make it significantly heavier compared to solid wood, but that's precisely why it's able to hold more weight and it's less likely to warp. Treated MDF dining tables are very easy to maintain and clean too. Unfortunately, MDF doesn't really compare to the elegance of a hardwood dining table, but it's more wallet-friendly, so that's a big plus.
5. Quality workmanship starts at the joinery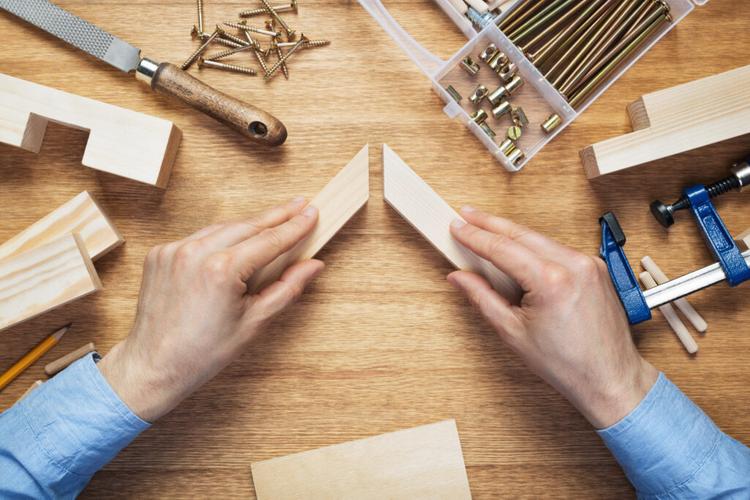 While the material of a dining table is the key factor, what determines its sturdiness is the joinery. The joinery is the connection point between the base of the dining table and where the tabletop fits together. The more solid the joinery, the longer the dining table will last. The simpler the joinery, the better. When buying a dining table, look out for staples on glue on the joinery of inexpensive tables. These are tell-tale signs of a dining table that is unlikely to last. Another thing to look out for is pieces at the joinery that are beginning to separate, corner gaps, or if it is wobbly – these are all signs of bad quality.
It can be difficult to determine the right-sized dining table for your space…
Especially when you're using a measuring tape. Sometimes your measurement can be a little off. It can be difficult to picture how the dining table will look like in your home, especially when you're at the furniture store comparing the table to the blurry photo on your smartphone.
When you're shopping for a new dining table from Commune's website, you can use their AR (augmented reality) web browser feature to better visualise how it will look like in your dining space – all within the comfort of your home. All you have to do is browse the furniture you like on the Commune website, scroll down to "3D Model & AR", and click the icon on the bottom right of the 3D image. This will activate your smartphone's camera, and now you can visualise how the furniture looks like anywhere in your home. You must use Google Chrome to enable this AR web browser feature.
Commune's major design philosophy is versatility, so you can be sure that the dining table you choose from Commune goes well with any furniture across their various collections. Top-notch workmanship means you're getting subtle details for your dining table such as rounded edges, in addition to the use of high-quality sustainable materials such as heavily solid American oak and walnut, plus truly genuine leather. The best part is that Commune's luxury design doesn't burn a hole in your wallet – the various collections are priced affordably so you get the very best quality at the best price.
Sign up as a Commune member and receive the latest news on new collection launches and promotions to make the most bang for your buck. Do also check Commune's online exclusive promotions, designer work-from-home set up and Dining bundles. Saving has never been so stylish.
Visit their website at thecommunelife.com.my to shop online and try their AR web browser feature, or go to their showrooms located below to have a feel of their quality for yourself.
Commune KL

Commune Toppen (Johor)

Address: L2, 98-100, Toppen Shopping Centre. 81100 Johor Bahru
Official website:
Maps | Waze
Commune Malacca

Address: No. 12 Jalan Klebang Kecil, Klebang Kechil
Official website:
Maps | Waze
Disclaimer: The information is provided for general information only. iProperty.com Malaysia Sdn Bhd makes no representations or warranties in relation to the information, including but not limited to any representation or warranty as to the fitness for any particular purpose of the information to the fullest extent permitted by law. While every effort has been made to ensure that the information provided in this article is accurate, reliable, and complete as of the time of writing, the information provided in this article should not be relied upon to make any financial, investment, real estate or legal decisions. Additionally, the information should not substitute advice from a trained professional who can take into account your personal facts and circumstances, and we accept no liability if you use the information to form decisions.