Takut Hantu? Here are some of the most haunted houses and properties in Malaysia. Scroll down to read if you dare…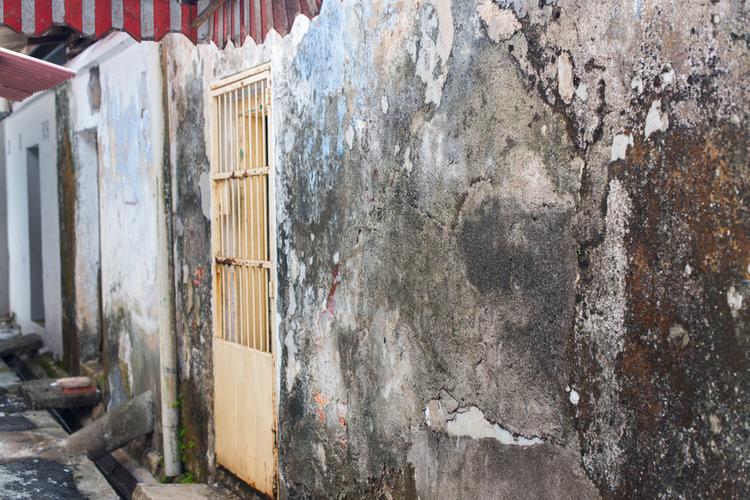 Do you believe in ghosts?
From Mona Fendi to Villa Nabila, Malaysia has its fair share of haunted places throughout the country – from Johor all the way to Penang.
These haunted houses or properties, officially termed "stigmatised properties", are called so because of reports of paranormal sightings and unusual activities that follow after terrible cases of murder, death, or even black magic happens at a residential or commercial property.
Have you stepped foot at a stigmatised property? How about one of these places?
Here are 12 of the most haunted houses or places in Malaysia:
1. Mona Fendi aka Mona Fendey
When it comes to the most haunted place in Malaysia, the name Mona Fandey (or Mona Fendi) comes to mind. The singer turned bomoh murdered politician Mazlan Idris in 1993 apparently in a magical ritual to grant Mazlan riches and power. Suffice to say, it didn't turn out as expected as she chopped him up into 18 pieces and buried him in her backyard.
They say rumah Mona Fendi in Seksyen 12 Shah Alam remains haunted to this day, as she purportedly said she will "never die" before she was executed in 2001.
2. Villa Nabila
When it comes to stigmatised properties, besides rumah Mona Fendi the other spot at the top of most people's list is Villa Nabila. This place in Johor Bahru was named after the daughter of the family that lived there, Nabila.
There are many reasons supposedly – the deaths of its inhabitants, a chain of murders caused by a hitman, a father purportedly killing his entire family because of financial trouble… no matter what the hantu origin story is, only the most daring (or stupid) would dare to trudge into Villa Nabila.
3. Highland Towers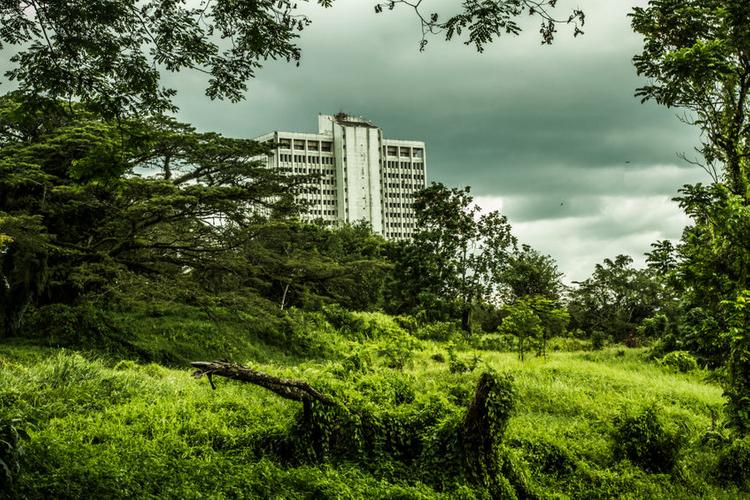 You can't have a list of the most haunted places in Malaysia without mentioning the Highland Towers. The building in Bukit Antarabangsa collapsed in 1993, killing 48.
The notorious structure has been well-explored by ghost hunters, who commonly say an old lady and a baby traverses this abandoned building. Could this be the ghosts of an 8-month baby and 77-year old grandma who died during the collapse? We'll never know.
Plans have been proposed to demolish Highland Tower but oddly, it has never come to fruition.
4. 99 Mansion / Byram Estate / Caledonia House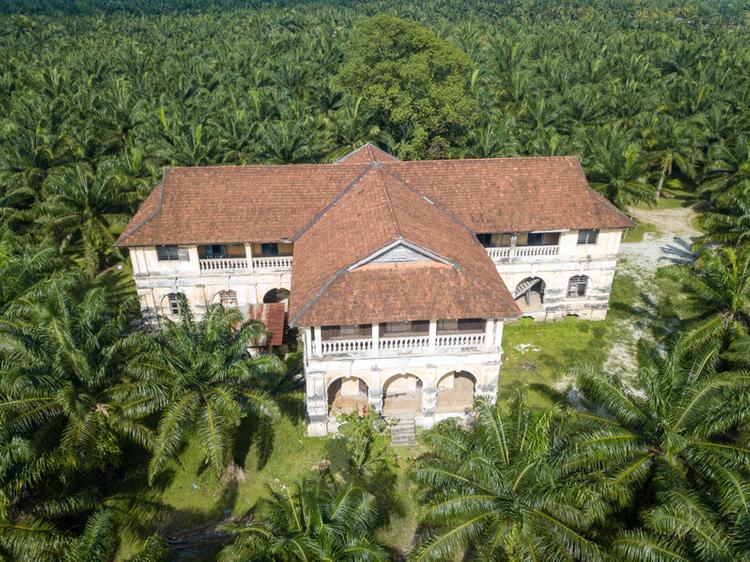 The story behind 99 Mansion / Byram Estate / Caledonia House in Penang, more than 150 years old, is riddled with a history of murder and black magic.
Stories tell of a hired-murder of the grandson of the family living in 99 Mansion, and later on, the whole family was killed when the Japanese invaded Malaya.
Later, apparently, a witch doctor took residence in the place and used black magic – if you snuck into 99 Mansion after the sun sets, you'll be surrounded by demons that were summoned by the witch doctor. Chills down our spine.
5. Bukit Tunku
A lot of rich people stay in Bukit Tunku, in fact, one of the properties Bukit Tunku was ranked the most expensive homes sold in 2020. But there are some properties here that seem abandoned or is said to have a haunted history.
Some Bukit Tunku ghost stories include a spirit haunting a British colonial mansion after she committed suicide or a mysterious ghost that roams Bukit Tunku dead at night.
6. Bungalow at Taman Tenaga Puchong
This lone bungalow on a hill was abandoned apparently after the owner said to have seen supernatural stuff, while other stories point to a family mass suicide after being harassed by loan sharks.
Only the brave dare to step into this decrepit building at Taman Tenaga Puchong. Some visitors recall seeing red candle wax, a sign of occult activity.
7. Kellie's Castle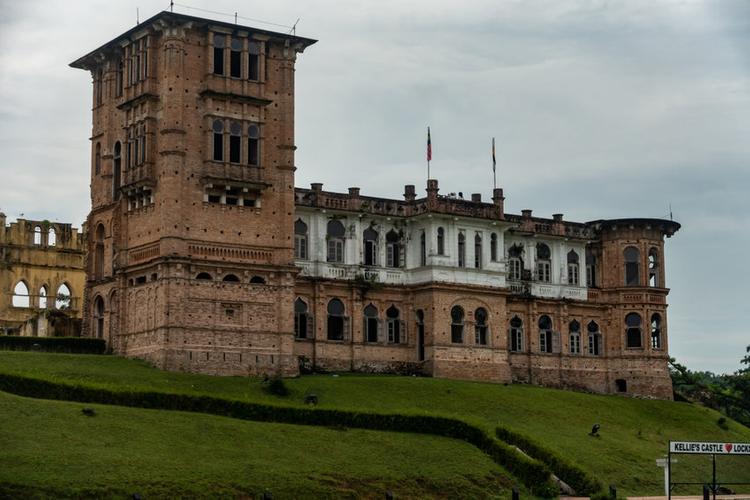 This Scottish mansion in Batu Gajah, Perak was built by William Kellie-Smith for his family, wife Agnes and children Helen and Anthony. The castle was supposed to be an opulent sign of his success – but poor investments meant it would never be finished.
Worst still, William died of pneumonia at the age of 56 in Lisbon. The grieving family sold the property, but the new owners left the building derelict.
It's been said the Japanese used Kellie's Castle to torture and kill prisoners during the war. Others say they see ghosts or floating spirits roaming the building. Either way, nobody knows for sure.
8. Bukit Gasing Haunted House / SG House
Nothing to do with Singapore, the name SG comes from the big "SG" plastered on this bungalow's front gate. You'll know you're in the right place when you see a parked (and abandoned) Alfa Romeo and a Porsche.
Why this place is haunted remains a mystery, but the story was the owner's wife killed the owner's mistress after discovering an affair – the man died of a heart attack when he found out and the wife hung herself. There's another story of a spiritual black magic guru who practised the occult at the premises. Whatever the story is, don't step foot into the haunted house unless you're looking for trouble.
9. Hotel Mandarin Pacific
There are rumours of Hotel Mandarin Pacific in the heart of KL being haunted. People claim to hear doors and chairs moving at night, or marbles dropping on the floor (according to Malay culture, means the place is haunted). All stories point to room 1102 as the main culprit.
10. First World Hotel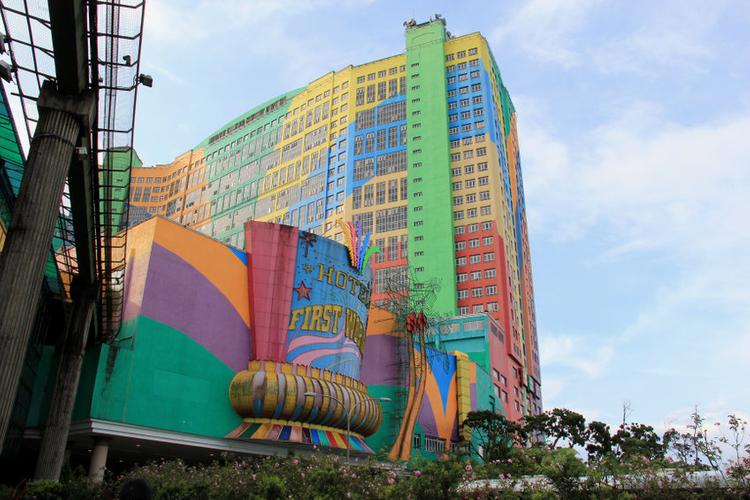 It's hard to believe, but there are stories of First World Hotel being haunted by the hantu suicide victims who became bankrupt from the casino. Proof? Some guests falling mysteriously sick, the smell of incense in some areas (which means ghosts are present, according to Chinese belief).
Apparently, some of the rooms are never occupied too, for whatever reason.
11. Mimaland
Before Sunway Lagoon and the Lost World of Tambun, there was… Mimaland.
It's difficult to believe that Mimaland in Gombak was "the" wet water theme park in Malaysia, but it was definitely the first theme park in the country.
Many issues plagued Mimaland, beginning with the death of a 27-year old Singaporean tourist. A landslide and a number of security issues later, it was closed permanently in 1994. There have been plans for redevelopment, but it has fallen through.
Not many people have seen ghosts, but walking through the abandoned lot does get really creepy for sure. We wouldn't take chances.
12. Jalan Turi bungalow
In 1992, the security guard of this bungalow killed two kids and a maid here, dumping their bodies in the septic tank behind the house.
Some people said they have seen ghosts of children looking out from this abandoned bungalow in Jalan Turi, Taman Bukit Bandaraya.
The Jalan Turi bungalow has now been demolished, but who knows what remains.
How do I know if am about to buy into a haunted property or stigmatised property?
Did you know that your property agent isn't bound by law to tell you if the place you're buying is haunted? Only if there are material defects to the property such as faulty wiring, piping, or worn-out furniture and appliances.
Granted, it's pretty unethical if they do, so most agents won't put their reputation on the line.
Alternatively, should you choose to buy a property at auction, you nor your property agent won't be able to examine said property either.
It is best you do your due diligence especially if you've heard rumours of the supernatural.
Always engage with a trusted property agent.
Search online for any news reports related to the property or the area its located.
Speak to people living in the area, such as neighbours or shopkeepers
You can hire a lawyer to conduct an investigation into the history of the property.
Conduct a religious ceremony before moving in.
If you unknowingly bought a haunted house (and found out about it after you've completed all the paperwork), here's what you can do in the eyes of the law.
Disclaimer: The information is provided for general information only. iProperty.com Malaysia Sdn Bhd makes no representations or warranties in relation to the information, including but not limited to any representation or warranty as to the fitness for any particular purpose of the information to the fullest extent permitted by law. While every effort has been made to ensure that the information provided in this article is accurate, reliable, and complete as of the time of writing, the information provided in this article should not be relied upon to make any financial, investment, real estate or legal decisions. Additionally, the information should not substitute advice from a trained professional who can take into account your personal facts and circumstances, and we accept no liability if you use the information to form decisions.