We spoke to some strata property owners who have faced and dealt with the dreaded inter-floor leakage in their units. Check out their tips on what steps to take when you encounter a water leak issue of your own.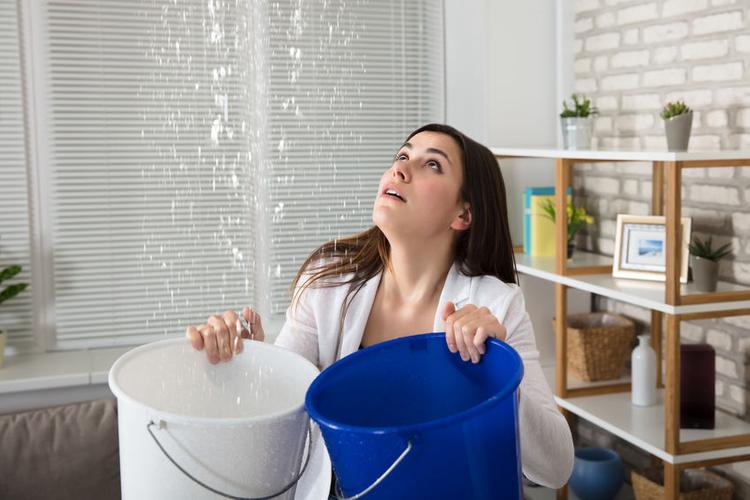 Many of us have experienced it. You suddenly notice a gnarly water stain on the ceiling. It indicates that a water leak has sprung up somewhere and because it is on the ceiling, it may involve the unit upstairs. You groan because you know it won't be resolved that easily as it involves a few parties.
We spoke to some property owners to understand how they dealt with their water leakage issue and what we can learn from their experience.
How to identify if I have water leakage in my condo/apartment?
If you found a water stain at a corner of your home that you've not been taking notice of, do not panic immediately as it may be an old stain and the leak has already been fixed. In some cases though, a dry water stain may indicate that perhaps, there is no one living upstairs at the moment.
When I moved into my new home, I noticed a water stain in the kitchen wall and ceiling. My contractor said it was dry, so he just painted over it and told me to monitor it. Turns out the unit upstairs was vacant at the time. As soon as someone moved in a week later and started turning the taps on, the water stain became damp again -Michael Wong-
However, if a water stain has suddenly appeared on either your ceiling or wall overnight, it probably means that an active leak has sprung somewhere which is not good news of course.
Determining who is liable for water leaks in your condo or apartment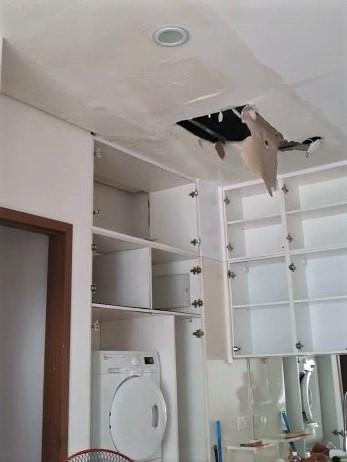 Here are the steps homeowners can take:
1. Take pictures or videos of the water leak
"Take sufficient pictures when the leak happens as this will make it easier for you to build your case on the severity of the leak to your management office. That was what I did immediately when I found my leak," says Daniel C.
Time was also of the essence for another condo owner Michelle, who because of the severity of the water leak in her ceiling, actually went upstairs to the unit above to identify the leak source and requested that the tenants living there to stop using their kitchen sink taps and washing machine. "I got the rental property owner's contact, informed him and he got a plumber to come in and fix it the next day thankfully."
If your leak is bad enough to have active drips of water, it is best to take some videos or pictures to show how the leak is happening. Assuming you are quite handy yourself and is willing to pop up into the plaster ceiling to try and locate where the leak is originating from, do also get photographic and video evidence of the water leak.
This is because water leaks can sometimes be quite temperamental and may depend on how often the source of water is used. So, there is a possibility that when your management office turns up with their plumber to investigate the leak, it may not be occurring at the time of inspection. This makes it hard for them to ascertain where the leak is coming from. Hence, why a video or pictures are important.
Sometimes, you may even receive delayed updates. For Daniel, his ceiling leak had suddenly stopped and he was told that the owner above had repaired the leak, "I just need to monitor it now to make sure it doesn't return."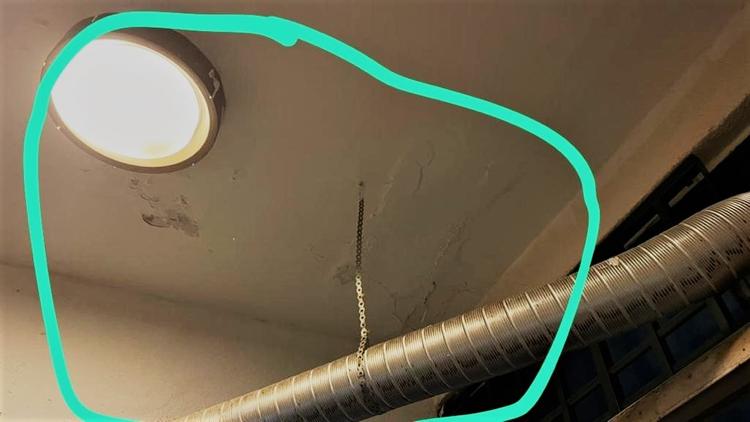 NOTE: If you have bought a high-rise property for investment or if you are not living in it yet – make it a point to check on your property as often as you can as water leaks can happen suddenly and the longer it's left unattended, the greater the damage it will cause. The image above shows the beginning of property damage brought about by water leaking.
2. Contact your condo or apartment's management office
When facing a water leak issue, is important to involve your condo or apartment's management office as they can then be the objective third party in case of any dispute.
One of the key roles your JMB or MC will play is initiating contact between both parties and to also hire and assign a technician/plumber to assess the cause of the leak and which party is responsible for fixing it.
3. Be patient when locating the actual source of the leak
While it may seem logical in most cases that a leak affecting your home is probably due to the unit upstairs, this is not always the case. According to Michael, "I previously had a water leak in my kitchen which was caused by my upstairs neighbour. When a new leak occurred in my bedroom, I assumed it was the same inter-floor leakage from before and it is now affecting my bedroom (which flanks the kitchen).
As it turns out this wasn't the case. After some confrontation with my neighbour and further investigation, I discovered that the new leak was due to a sewerage pipe that was situated within that wall, so the onus of overseeing the repair falls on my condo's management body.
SEE WHAT OTHERS ARE READING:

Waterproofing wet internal areas in your house: What you need to know

House waterproofing: Materials used and the costs involved
How to deal with inter-floor leakage? It's not that straightforward unfortunately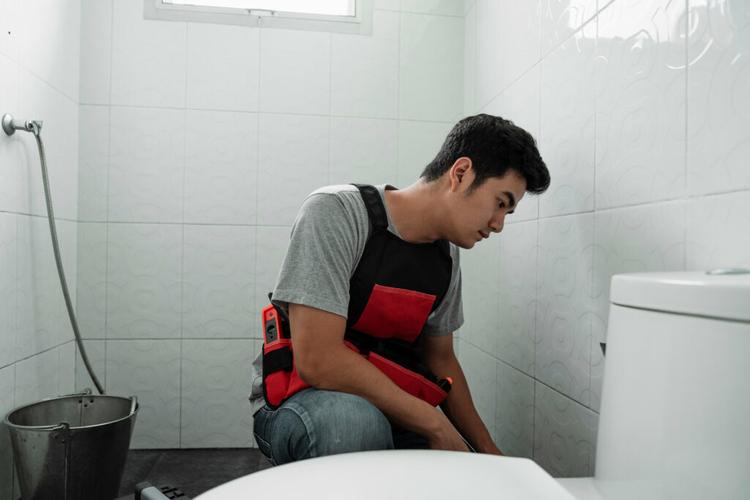 In cases where the cause of the leak is determined to be the unit upstairs, the management office would have to initiate contact with the owner upstairs to inform them of the issue and what the next steps are.
From here, the issue can either be resolved very quickly, or it can become a frustrating exercise for the suffering party. Unfortunately, for Michelle, it gradually became more of the latter,
My upstairs neighbour arranged for the plumber to fix the leak immediately yes, but they started twiddling their thumbs after that. The neighbour and JMB started stalling when the time came to discuss about compensation for the property damages caused by the leak. Meanwhile, the JMB kept stalling and said that they prefer to only discuss after the possibility of an insurance claim is explored."
Things won't always align as well. Michelle had to start engaging a contractor to start repairing the damages even without confirmation on reimbursements as her kitchen cabinets and flooring have started to discolour, peel, and get mouldy. "All of this was happening while chasing the building management on the status of the insurance claim and the owner upstairs on the possibility of them compensating. The MCO also slowed the whole process down."
The end is not yet in sight yet for Michelle. She thinks her case may take a long time to resolve and may end up being referred to the Strata Management Tribunal. She is exploring the possibility of insuring her unit now against these issues in the future.
Is the strata law on your side at least?
Yes. If it is clearly determined that the owner of the unit above you is responsible for the leak, there are clauses within the Strata Title Act 2013 that protects the victims of such leakages inclusive of a fine of RM50,000 if the responsible owner denies access to their property for inspection and rectification.
For more detailed information on how the law is applied in cases of inter-floor leakages, read Water leak: Who is responsible & how to prevent inter-floor leakage?
The role of the management office in achieving a resolution
The role of the management office in many cases of inter-floor leaking issues is mostly to be an intermediary. They will initiate contact between both parties, and they are also responsible for issuing a Certificate of Inspection (Form 28) stating the cause of leakage and whether the responsible owner or management is liable for rectifying the leakage.
In the case of KC who owns a property in Mont Kiara, her management office merely acted as the in-between party, passing communication from both sides, "Honestly, I would have preferred if they played a more active role in informing me of my rights as an owner in this situation based on the Strata Title Act. They did send a technician to locate the source of the leak but that was about it."
For Michelle, she was a little luckier in that her management office was a little more proactive by helping her explore the possibility of an insurance claim for the damages on her unit because of the leak.
CHECK OUT: Can strata owners sue their management? When can the JMB or MC take legal action against you?
Thankfully, they are some responsible neighbours
For every owner that chooses to renege on their responsibilities in the event of an inter-floor leak, there are also those that are responsible and try their best to rectify the problem as quickly as they can. Michael shares his experience, "In my case, my upstairs neighbour was very responsible. Even though he was living in another state, he rather promptly came by with his own plumber to assess the cause of the leak and fixed it immediately. He even gave me his number and asked me to contact him if it happened again."
What if the water leak source is from your unit?
While this article mostly deals with situations where you have been the victim of a leak that has affected your unit, there are going to be situations where you may be the cause of the leak. How can you be a responsible strata property owner yourself? If you are moving into a new housing development, you can try to contact the unit below and help them determine if there is an existing leak in your unit.
This can be done by clogging your drain holes and flooding your bathroom floors (bathrooms are the most common causes of leaks) to see if any water stains appear in the unit below. These leaks are often fixed by the property developer during the first 24 months of the Defect Liability Period, so they won't cost you anything.
Michael was thankful for how swiftly the owner of the unit above took responsibility for the situation and fixed the water leak. In fact, he had an opportunity to pay that forward a few years later, "The unit below me started complaining of a leak in their unit, which seems to be originating from my bathroom. It's an older development so there are issues like these are quite common. I took the initiative to be responsible and to fix the leak swiftly because of my past experience. The owner below was very thankful that I did."
Yes, there is no two ways about it – dealing with inter-floor leaking issues can be complicated and messy sometimes. It is important for you to know what your rights are in such situations as the parties you are dealing with including the management office may not always be familiar with strata laws. Knowing your right gives you a head start in ensuring the situation resolves in your favour. It is also important to see things from the other perspective like Michael and pay it forward when the time comes for you to be responsible.
Read up more on A beginner's guide for strata property owners in Malaysia.
Disclaimer: The information is provided for general information only. iProperty.com Malaysia Sdn Bhd makes no representations or warranties in relation to the information, including but not limited to any representation or warranty as to the fitness for any particular purpose of the information to the fullest extent permitted by law. While every effort has been made to ensure that the information provided in this article is accurate, reliable, and complete as of the time of writing, the information provided in this article should not be relied upon to make any financial, investment, real estate or legal decisions. Additionally, the information should not substitute advice from a trained professional who can take into account your personal facts and circumstances, and we accept no liability if you use the information to form decisions.