Moving more and eating better is key to managing stress and maintaining a healthy body and mind. Here's how you can ensure your well-being while being homebound.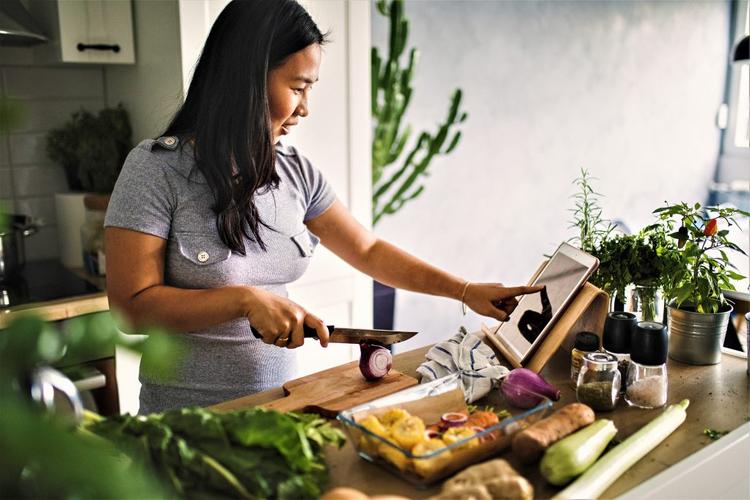 If you have to work from home for an extended period of time, or your company has decided to change to a remote working system, it does not mean that you need to survive on food delivery and fast food. Eating healthy doesn't have to be time-consuming or require fancy chef skills.  
Tips for buying food, planning and sticking to a healthy diet
1. Make meal planning a personal KPI
You might be familiar with the adage – failing to plan is planning to fail. This is the veritable truth when it comes to healthy eating. The main reason why many cave in and reach for their phones to order in Dominos or McDonald's is because they either are too tired to think what to cook after a long day or they don't have the required ingredients/produce to whip up a wholesome meal. Not to mention, how convenient food delivery services are these days!
Make it a point to sit down over the weekend and plan out what you want to cook and eat for a week. With a weekly meal plan, you can determine what you want to cook in advance and prepare a shopping list for the exact things that you will need. This move is a great way to combat stockpiling or panic buying too.
To make things easier, forgo recipes that require rare, exotic or seasonal ingredients. Use recipes that incorporate common ingredients that are easily available in most grocery stores, markets and supermarkets.
2. Allocate at least 70% to whole foods
Try to portion more than 70% of your grocery shopping to natural ingredients, these include fresh or raw vegetables, fruit, fish, seafood, chicken and tempeh/tofu. Having healthy, balanced meals will help you stave off cravings for sweets and sodium-laden treats such as chocolate, ice cream and chips.
Opt for more vegetables that have a longer shelf life, such as cabbages, root vegetables (carrots, potatoes, sweet potatoes), pumpkin, zucchini and fresh corn on the cob. Also, chicken, fish, seafood and meat can be purchased in bigger volumes as these can be stored in the freezer for up to a month.
These days, you can even opt to buy your groceries online too, and have them delivered right to your doorstep. For a list of outlets that provide this service, check out 16 online grocery stores with delivery services.
3. Pick the right processed foods
The rationale behind buying processed food is that it provides a quick and easy meal with a much longer shelf life – but it contains preservatives, additives and too much salt/sugar, among other things. Processed food is usually found in the frozen section. This does not mean that you should avoid them entirely. You can buy and use them to supplement your meals once in a while. For example, I like hash browns, so I occasionally cook one for breakfast, with eggs and toast.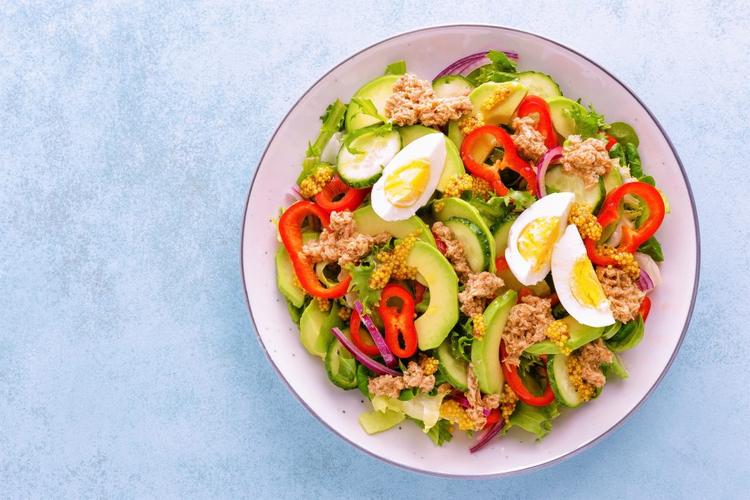 Look out for canned foods which are not drowned in heavy sauces or syrup – for example, tuna in brine, sardines, mushrooms and baked beans. These are great supplementary ingredients and have a long shelf life to boot.
Stay clear of frozen meals as they tend to be high in sodium. Alternatively, whip up an easy stir-fry by throwing together frozen veggies and meat with some rice or noodles. When buying (healthy) snacks, avoid buying single portions of energy bars or yoghurt which costs more. Instead, buy in bulk or larger sizes and divide into smaller portions as needed.
4. Practise meal prepping
You can prep chicken, fish, seafood and meat before putting them into the freezer. Divide them into single-meal portions and store them in containers suitable for the freezer or zip-lock bags. You can also marinate them before freezing, if you already know what recipe to use. Label your containers and bags clearly.
Wash, peel and cut your vegetable ingredients ahead of time, like the night before, and store them in the fridge. If you have children, you can get them to help you with this. Make it a family activity. Cooking is an important life skill and it will be good for the kids to learn basics when they are young. They will thank you for it when they are students studying at the university, or working adults living on their own.
Some cooked meals are suitable to be frozen, such as soups and stews, which can be divided into several meal portions to be stored in the freezer for later. Please note that green, leafy vegetables should be eaten freshly cooked. They are not suitable for freezing and become mushy and discoloured when thawed.
MORE: These Malaysian banks are offering financial relief to help loan borrowers cope during COVID 19 outbreak
Working out at home ideas
5. Create your own "gym" at home
If you have the money, of course, you can invest in a home gym system, buy a treadmill, or even engage a personal trainer. However, you can also exercise with minimal equipment – working out does not have to be complex. It can be as simple as practising Qigong or Taichi in the garden, a 30-minute pilates session on your yoga mat or a Zumba/aerobics dance-along in your living room – YouTube has tonnes of free videos to follow. All you need is comfortable clothing and a good pair of shoes if you intend to exercise outdoors or in your porch area.
You can even use your kid's video game console as an opportunity to work out! The Nintendo Wii is a great tool which allows one to combine video games with exercise – also known as exergaming.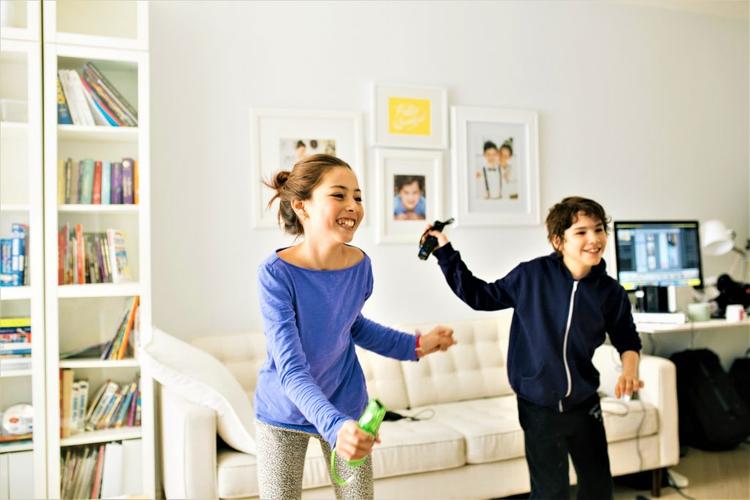 The exercise video games incorporate fitness workouts through role-playing, dancing or even running from zombies. Examples include Ring Fit Adventure, created for the Nintendo Switch console and Beat Saber, a virtual reality music game. This option is perfect for those who are not a fan of regular fitness routines.
Exercising together can be as simple as investing in a ping pong table for the family too.
CHECK OUT: These common household cleaning products can destroy viruses
6. Commit to a daily exercise routine
If you are serious about staying healthy and fit, and you should be, then it is a good idea to have a daily exercise routine. The biggest challenge we all deal with is commitment or willpower, so why not challenge yourself to make exercise a part of your daily routine – just like brushing your teeth and having a cup of coffee! Depending on your fitness level, you could have a daily 30-min high-intensity workout, or a one-hour workout at a lower intensity.
If you require some motivation, why not rope in your friends to keep each other accountable? Plan for exercise sessions together with your friends via Skype or Zoom. You can take turns leading the group workout to mix things up a bit. Set it as a weekly or bi-weekly group activity for more fun.
7. Invest in fitness apps or an online fitness course
Imagine bringing Class Pass to the comfort of your own home by streaming workout videos (via a fitness app) which comes complete with a personal trainer!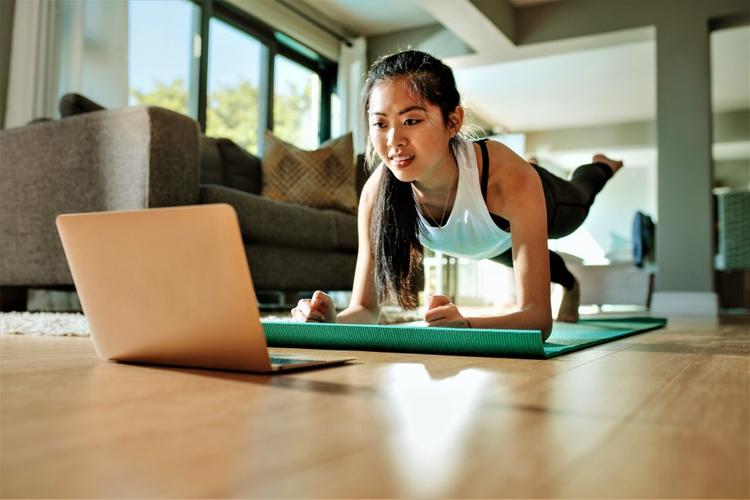 You can survey and download fitness apps to provide you with workouts and help you keep on track to reach your fitness goals. As you know, people cannot live without their phones, so it was a matter of time before the mobile phone became part of the exercise regime. All you need is WiFi. However, you should do your research and get the most suitable app for you, in terms of exercise plans, fitness goals and subscription price.
Nowadays, there are many courses available online, and fitness courses are included. I signed up for one last year on Udemy.com, called the Yoga of Awakening by Seane Corn, and it gives me access for life, so that I can revisit and redo the course again anytime I like. All I need to access the course is a stable Internet connection and a smartphone or laptop.
8. Utilise free exercise videos
As mentioned above, you can search online for free exercise videos and tutorials from YouTube. It will be fun to try something new every week. Various exercises for different fitness levels are available.
Here are some suggestions for beginners:
Parents could opt to look for fun exercise videos suitable for the whole family and make it a family activity. In our modern urban society, many people tend to be sedentary outside of work, so this is a good opportunity to build lasting habits.
Next, you might want to read about How to stay sane working from home.
Edited by Reena Kaur Bhatt
Disclaimer: The information is provided for general information only. iProperty.com Malaysia Sdn Bhd makes no representations or warranties in relation to the information, including but not limited to any representation or warranty as to the fitness for any particular purpose of the information to the fullest extent permitted by law. While every effort has been made to ensure that the information provided in this article is accurate, reliable, and complete as of the time of writing, the information provided in this article should not be relied upon to make any financial, investment, real estate or legal decisions. Additionally, the information should not substitute advice from a trained professional who can take into account your personal facts and circumstances, and we accept no liability if you use the information to form decisions.